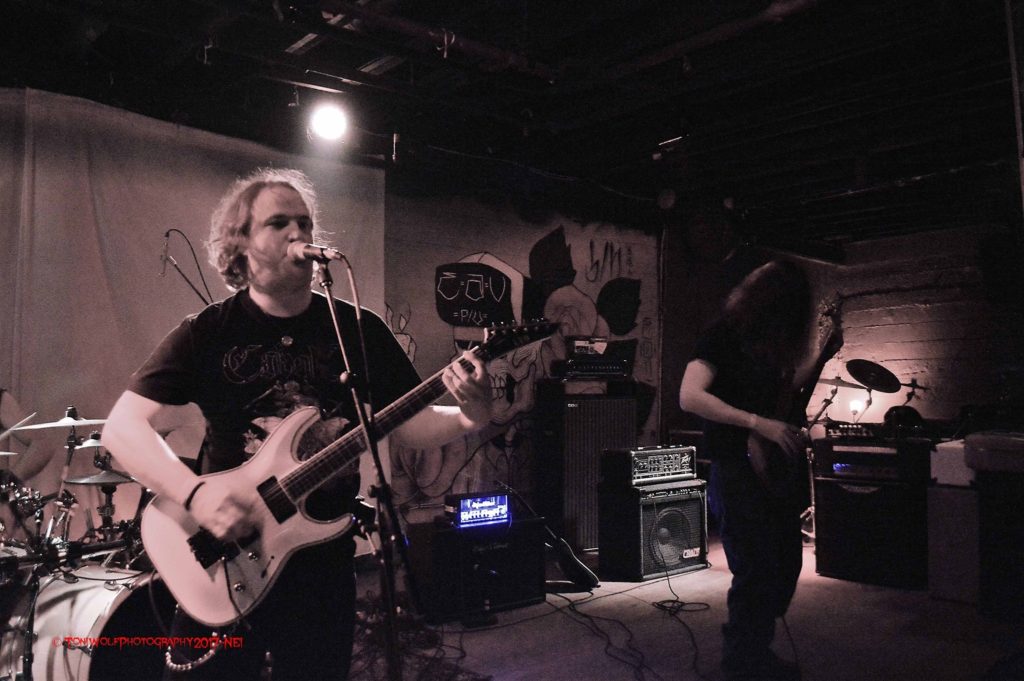 ---
*This is a part of our State Of The Art series, showcasing bands every Monday from the featured state.*
This month's state is Georgia!
---
Hey there! Welcome to this week's edition of State Of The Art, where we help rupture your virginity about the unknown and the underground. We visit Georgia this month, yes! Home of Grammy winners MASTODON, THE ALLMAN BROTHERS, R.E.M. etc. It's evident that Georgia houses some incredibly talented musicians spanning all genres of music. I normally feature thrash, death bands when my turn on this segment comes. But today, just to break this monotony I chose to feature symphonic folk metal band CROWN OF SORROW from Fayetteville. Among the very few symphonic bands like those of DEVILWRAITH, KYLE MORRISON, AMIDST THE WITHERING, ETHIRIA etc. in the state of Georgia, today's featured band CROWN OF SORROW is really working it's way up the ranks of Georgia's metal scene. It is really good and satisfying to see a band bring back the lost glory of good old classical and folk metal, in an age where thrash and death metal have been enjoying the throne for a bit long.
CROWN OF SORROW is a symphonic folk metal band that has a tinge of doom metal and surplus western classical elements in it, making it feel like a fine old wine. They are a fairly young outfit having released their first demo just in 2013, which featured three songs. With the demo working out for them, they released their debut full length record in 2015 titled, 'Exile'. Before all of this, the band was earlier named The Blasted Heath. What we know today as CROWN OF SORROW is a reincarnation that sought life when the former burned out in 2012 after hanging in on there since 2006. Let's take a look at CROWN OF SORROW, shall we?
As I said, CROWN OF SORROW started back in 2003 under the moniker of The Blasted Heath. But things never did work out on the sunny side for the band back then. Although, they recorded several demos which were never released to this day, The Blasted Heath could not really gather up enough gas to make themselves noticeable in the scene, let alone hitting the limelight. Later when things were just being a deadbeat, the band members realised that and hence just put the group on hold. "The demands of other musical forays..", which the band says on their Facebook about section is also a reason why the precursor went out of steam.
After doing not really much, The Blasted Heath spawned back to life but in a different avatar, this time it would be called CROWN OF SORROW. Ever since then the band has been working their asses off and already has a demo and a full length under their belt. Their debut full length attracted me to a great extent, even though it was not something extra ordinary or love-at-first-sight kinda thing, I can't ignore that it certainly is organic and very well crafted. CROWN OF SORROW are mainly a folk/symphonic band with doom and classical elements sprinkled in generous amounts, I can hear a lot of Bach, Paganini in them. I love when bands directly take inspiration from classical legends. Let's talk a a a bit on their debut full length, 2015's 'Exile'.
'Exile' is an excellent listen. Clocking in a little less than an hour, at about 40 minutes, it is an old school treat. Ten songs is what you get in this album and it truly reeks of all things classic. Vocalist Albert Melear's growls even though not the heaviest and the lowest ones you might encounter, perfectly fits the band's music and demeanour. The opening track "Sands That Spit in the Eye of Time" is a one of my favourites on the record, it is groovy, heavy and is an out and out doom tune. As things progress, the second track "When They Come For Me" turns the speed up while also at the same time maintaining the groove and the ambience the synth/keyboards builds. The quick and juicy riffs meanders over those folkish synth like it's knife on butter. The flag of synth and folk flies high on their fifth number, "Marked", with ample amount of flute. The wonderful upbeat festive symphony makes you wanna dance like the ones the Scots do when they hear of bagpiper, something truly indigenous in folk music. The classical element here can be heard at the offset, it's progressive, the heavy riffs just adds the icing on top of the cake. I must say the drumming has been excellent too, Aaron Baumoel has stepped up and delivered whenever he has been asked to. There are tracks where his snare hits resemble a light machine gun and then he pulls of those groove and laid back headbanging chops. The pace of the entire album varies and is a good strategy to keep the fans glued to their headphones in it's entirety. Also, I love the fuzzy tone the guitars in this album brings. As a person who loves variety, I really love and respect bands who can pull off several things at a go, it is hard, but is an aural pleasure. I would recommend you to check this album out, I loved it. Just buy that album from the Bandcamp link below, and shower them some love.
CROWN OF SORROW are still building the stepping stones to the destination of what they might have imagined to be their goal. With the debut effort sounding promising, the band has a lot to offer with infact the next studio material just around the corner this year as per the Instagram post of the band below. Hitting back to the studio after about two years, the quartet from Fayeteville will drop the new record anytime soon and I am hella stoked for it. Meanwhile, CROWN OF SORROW have opened for big bands like STRIKER, MANILLA ROAD and have played shows near and wide across the US. As of now, they will be playing their first show at Furnace 41, Georgia on April 28th along with CONTROL THE DEVASTATOR, DEAD RECKONING, and COREGATED. Go check them out and see what you think?
CROWN OF SORROW is:
Albert Melear – Vocals, Guitar, Compositions
Aaron Baumoel – Keyboards, Drums 
Daniel Wilkinson – Bass
Sergio Quesada – Guitar