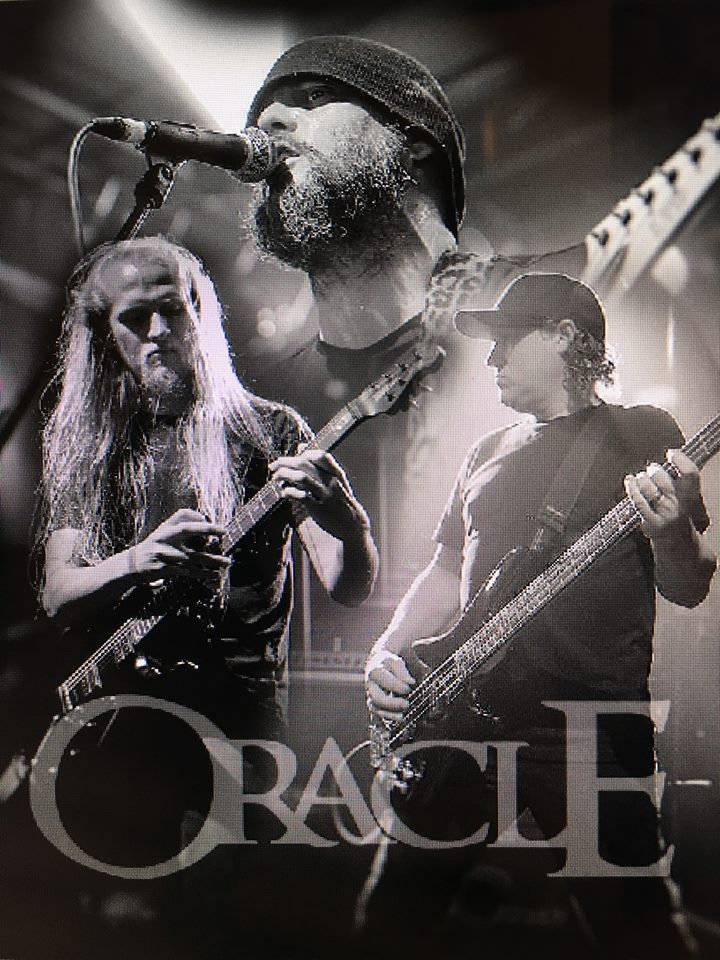 *This is a part of our State Of The Art series, showcasing bands every Monday from the featured state.*
This month's state is Alabama!
Hailing from Mobile, Alabama, Oracle offers extreme metal with intention.  Ranging from melodic to outright bludgeoning brutality, it's the elaborately well-conceived song structures that bring together all of the interesting musical elements for a truly exciting listening experience. Like an intricately crafted movie plot with multiple twists and turns, Oracle takes the same approach with their music. Tracks transition through multiple moods, tones, and tempos not simply because they can, but because they need to in order to achieve such monumental levels of depths and dynamics this band delivers.
Formed originally in 2016, the trio now consists of the father and son duo Trey Ozinga (lead guitar) and Ray Ozinga (bass); along with Jason Long (vocals/guitar). To date, Oracle has released two full length studio albums – 'Beyond Omega' (2016) and 'Into the Unknown' (2017). Trey and Jason handled drumming for 'Into the Unknown' via programmed drumming after the departure of original drummer, BG Watson. From their latest album, the band has recently released two music videos for "The Liquid Answer" and "Drafted."
Stylistically, Oracle takes their cue primarily from melodic death metal while infusing ample amounts of groove and thrash. And of course it wouldn't be southern metal without a few generous helpings of sludge thrown into the mix – such as on the track "Drafted," whose powerful lyrical message is especially hard-hitting. Additionally, interwoven for dynamic effect are atmospheric keys that can often emanate with black metal coldness for an extra layer of depth as exemplified on darker tracks such as "The Liquid Answer."
Vocally, Long barks and growls menacingly with a guttural to mid-range rasp that melds seamlessly with Oracle's extreme brand of metal that can, at times, reach Meshuggah levels of riffing intensity. Instrumentally, each member performs at a degree that is nothing short of awesome while demonstrating multiple facets to their playing ability, not merely limited to metal alone – such as on powerful tracks like "A Breathless October," that must be heard to be appreciated.
For fans of similar music such as Gojira, Avatar, Machine Head, Lamb of God, and Amon Amarth, be sure to check out the inspiringly entertaining Alabama extreme metal from Oracle, which you can find in the links below – and stay tuned for a brand new EP coming this summer!