Sourvein reveals details for new album, 'Aquatic Occult'; launches first single "Ocypuss", featuring Lamb of God's Randy Blythe and Corrosion of Conformity's Mike Dean and Reed Mullin.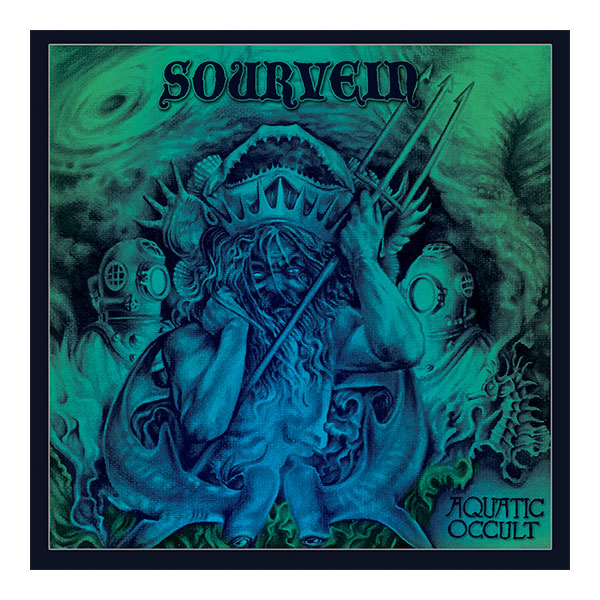 For over two decades, Sourvein front-man T-Roy has managed to keep the roving pirate ship that is his band afloat through sheer will alone. Pushing through poverty, the deaths of friends and family, bouts of severe depression, periods of alcohol abuse, and an absence of the stability provided by a consistent record label, T-Roy has over the course of two decades managed to build the band into a highly respected force in the metal, doom, sludge, and crust underground.
Over twenty long dues-paying years later, Sourvein has at long last found a proper home for their doom-laden Southern noise with Metal Blade Records. T.roy has consistenly dominated small venues and built a huge underground fan base that is well deserving of what we expect this masterpiece of a new album to be. The upcoming full-length and Metal Blade debut, Aquatic Occult, will reveal itself to the masses on April 8th.
Pre-orders for the album begin today at www.metalblade.com/sourvein. While there, stream track three from Aquatic Occult – "Ocypuss". The track features guest vocals from long-time supporter, Lamb of God vocalist Randy Blythe, and a guest performance by Mike Dean (bass) and Reed Mullin (drums) of Corrosion of Conformity.
Aside from Blythe, Dean and Mullin, the album features additional guest performances from musicians Stig Miller (Amebix), Keith Kirkum (ex-Weedeater), Dean Berry (Iron Monkey), Dave Capps (All Tore Up), Chris Holcombe and Joel Martin (Subrig Destroyer), and Kevin Rochelle (Sea of Tyrants). Reed Mullin performs drums on all but four album tracks, as indicated below.
Aquatic Occult is produced by Mike Dean and mastered by Brad Boatright (Sleep, Yob).
Aquatic Occult track-listing:
*Reed Mullin on drums
1. Tempest (Of Desire) (feat. Stig Miller)*
2. Avian Dawn*
3. Ocypuss (feat. Randy Blythe, Mike Dean)*
4. Aquanaut (feat. Dean Berry)
5. Hymn to Poseidon*
6. Mermaids*
7. Urchins
8. In the Wind*
9. Cape Fearian*
10. Capsized (feat. Dave Capps)*
11. High Tide
12. Bermuda Sundown (feat. Keith Kirkum)
13. Coral Bones*
14. Oceanic Procession (feat. Stig Miller, Randy Blythe on organ)*
Follow Sourvein now on Facebook!