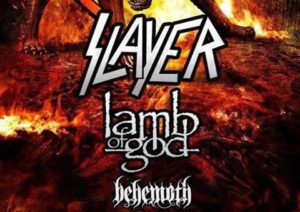 ARE YOU KIDDIN' ME?!?
I mean, just look at at that lineup! Our friends over at WOLVERINE KILLS gave us a heads up here at the Nexus about the upcoming tour between larger than life legends Slayer, the MIGHTY Behemoth, and the ferocious Virginia based Lamb of God (themselves now ubiquitous on the ever expanding metal tabula rasa) are launching a monster expedition that'll take them all over North America starting on July 12th through August 2oth (full dates and locations below).   This tour package should be towards the top of most metal heads' 'not to be missed' list for this year, and WOLVERINEKILLS has the goods on a contest that can net you a pair of FREE tickets to the date of YOUR choice of what will prove to be an ass kickin', one-for-the-papers show! The rules and all necessary info to get yourself in-it-to-win-it are posted below, along with all the necessary linkage to get you entered.  Go get on it, metal fam, and give us a shout out if you happen to win!
Winner announced 05/01, so click here to get the instructions on how to enter.  While you're there, give WOLVERINEKILLS a follow to keep up with their announcements and contests!
SLAYER/BEHEMOTH/LAMB OF GOD  – 2017 North American Tour Dates and Locations
JULY
12 Sanford Center, Bemidji, MN
13 Rock Fest 2017, Cadott, WI (Slayer and Lamb of God on this bill)
15 Rock USA 2017, Ford Festival Park, Oshkosh, WI (Slayer and Lamb of God on this bll)
16 Chicago Open Air Festival, Toyota Park, Chicago, IL (Slayer, Lamb of God and Behemoth on this bill)
18 Express Live!, Columbus, OH
20 Red Hat Amphitheater, Raleigh, NC
21 St. Augustine Amphitheater, St. Augustine, FL
23 Electric Factory Outdoors, Philadelphia, PA
25 Blue Hills Bank Pavilion, Boston, MA
27 Theater at Madison Square Garden, New York, NY
28 Pier Six Pavilion, Baltimore, MD
30 Municipal Auditorium, Nashville, TN (Goes on Sale Friday, March 10th)
AUGUST
1 Providence Medical Center Amphitheater, Bonner Springs, KS
2 1stBank Center, Denver, CO
4 The Joint, Las Vegas, NV
5 The Forum, Los Angeles, CA
9 Bill Graham Civic Auditorium, San Francisco, CA
11 The Cuthbert Amphitheater, Eugene, OR
12 WaMu Theatre, Seattle, WA
14 Encana Events Center, Dawson Creek, BC CANADA
15 SMS Equipment Stadium, Fort McMurray, AB CANADA
17 KettleHouse Amphitheater, Missoula, MT
19 Isleta Amphitheater Albuquerque, NM
20 Comerica Theater, Phoenix, AZ
Follow SLAYER on Facebook here, BEHEMOTH here, and LAMB OF GOD here.