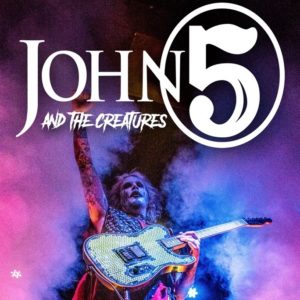 What can be said about John 5 that has not been said a thousand times by ten thousand different people since his meteoric rise in the music business started way back when he moved to Los Angeles from Michigan at the ripe old age of 17? Hell, his resume reads like a veritable who's who in a wide variety of genres, playing and writing with the likes of Rudy Sarzo, David Lee Roth, Paul Stanley, Marilyn Manson, Rob Halford, Rob Zombie all the way to John Wetton (Asia), Salt–N–Pepa, Ricky Martin, k.d. lang, Meat Loaf, Lynyrd Skynyrd and many, many others. One hot commodity, to say the least! Now, guitarist friends and I might say that it is his guitar playing that makes him stand apart from the rest of the crowd. Big surprise with influences like Malmsteen, Satch, Vai, Hendrix, Page, Albert Lee, Les Paul, Chet Atkins, Paul Gilbert, Bumblefoot, Jim Root, Buckethead and Eric Johnson. Others may think that it is the company that he keeps and the bands that he has played and written for that makes him great. Still others may hold the opinion that he is just plain fun to watch live. Well, I am here to tell you that all three apply to this wizard of six-string sorcery, especially having just recently been initiated into John 5 and The Creatures live show at 1904 Music Hall here in Jacksonville, FL.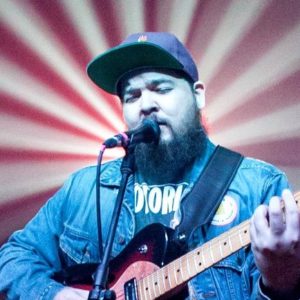 Opening the night's festivities was local newcomer Jackie Stranger. Having never heard anything by the trio and not taking the time to look them up before the show, there was no sense of what we were in for. Metal? Maybe. His drummer, Jeremy Langham, also plays with one of my favorite local Metal bands, Inner Demons. Jackie plays a Telecaster, but so does John 5. No hint there. Cowboy hat? Better not be Country (or whatever this new stuff coming out of Nashville is supposed to be). Don't get me wrong; I love old Country, but don't think the Pop version of today's Country would sit well with this particular crowd. By the time guesses were running out, their set began. Wow. Simply blown away. I love Americana (maybe Rockabilly to some), and this was one of the best modern interpretations of it that I have heard since Tracy Chapman and Chris Isaak. Definitely hear some Dylan in there along with ruminations of Tom Petty and the Heartbreakers, Stray Cats, Otis Redding, John Cafferty and the Beaver Brown Band and just a little of the, ever so cool Pop/Folk sounds like Toad the Wet Sprocket. Needless to say, these guys had no problems with this crowd. Brutally honest and heartfelt, good music just speaks to anyone, right? By the end of his Bluesy Rock guitar solo intro, the crowd had already warmed to Jackie and settled in for his set. This is sway your hips, bob your head, make you want to dance kind of music and the audience was doing just that. I don't dance but also could not sit still. Here is some insight on what to expect from this talented, young man from his media outlets: "Jackie is trying to build a bridge with modern technique and technology to give back to the blues, field hollers, work songs, game songs, soul, gospel, country, folk, and spirituals of days gone by. This is not a "throw back" project. This train is a modern love train with a lot of respect for the people who tirelessly labored laying its track. This is Americana at its finest." Throw out all preconceptions of what this is supposed to sound like though, because the real magic is in the passionate lyrics, Teflon-smooth playing and roots groove this band just sparkles with. Maybe his influences from Sam Cooke, American Aquarium, Michael J. Sheehy, Kaki King (also one of my favorites), Anais Mitchell, Justin Townes Earle, Jason Isbell, Ray Charles, Luke Peacock, Joe Pug and Sara Watkins will give you a better feel for this dude's vibe. The band's set list included the aforementioned intro, "Hurley", "Fight For My Name", "I Hope That It Hurts", "Acceptance", "Denial" and "Flamingo Avenue" (which has a much heavier groove than the rest of the tracks and was a favorite of the crowd). I spoke with Jackie after the show and he is exactly the same as his stage persona would hint to. Passionate, gracious and extremely friendly. He also shared that his new album entitled "For Goodness Sake Tamera" is due out on April 6th. There's definitely something to look forward to. In the meantime, please take a minute and check out some of his prior work that can be found in the links below.
More on Jackie Stranger can be found on the Web Facebook YouTube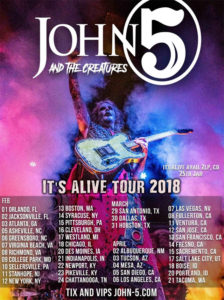 Alright. I have been a big fan of John 5 for quite some time, but never seen him play live as a solo act. As a guitar nerd who likes all types of music, what's not to like and be stoked about, right? John 5 is an absolute master of the instrument and I find it fascinating that he chooses to play everything: Metal, Jazz, Rock, Bluegrass; he has no limit. Solo guitar work tends toward filling a very small niche and performed by a chosen few that have the talent to entertain to a very limited audience at a very high level of acumen. As demonstrated earlier, this is simply not the case with John 5 and he so apparently loves music. Sure, Metal is his main thrust, but his Jazz playing is soulful and pure chord melody genius that does not waste notes or played in finger-exercise technical sterility. Even when he is shredding in Neo–Classical style, he manages to keep everything musical and clean. Absolutely a song writing beast. This also shows his unusual and impeccable technique. His right hand picking style is accentuated by his back and forth tapping to create lengthened chords that would be impossible with the left hand only. At the speed he amasses these changes, I was left memorized, confused and dazzled to the point of amazement. His playing is like watching a thunderstorm: you see him play a run like lightening, but by the time your mind registers the sound of his thunder, John 5 has already moved past the next run. This also carries over to banjo and mandolin he breaks out in the middle of the show. Nothing compares outside of Bella Fleck and Bill Frisell. Mind-bending, really. Don't think for a minute that bass players and drummers in the audience were not equally impressed with bass monster Ian Ross and Logan Nix behind the kit, serving as The Creatures. Ross traded the quickest of licks with John 5, with never a misstep or bobble while Nix ripped drum lines that would get the attention of some of the best drummers in the world. Both are spectacular and show talents deserving of accompanying John 5. Not an instrument nerd like myself? Not to worry, because John 5 and The Creatures puts on a show to be remembered. Surrounded by an inflatable, glowing graveyard of skeletons, pumpkinheads and monsters and a screen playing altered snippets of Planet of the Apes, the eyes were just as happy as the ears. Hell, where else are you going to hear such incredible talent while guitars shoot lasers into the audience or see a clear, Lucite Telecaster filled with yellow liquid, looking like a lava lamp from the 70's? How about a six string banjo or an electric mandolin. Not enough? One of the coolest guitars was wired with LEDs over its entire surface. Seen a lot of guitars, but nothing like these things! His set list included "Flight of the Vulcan Kelly", "Here's to the Crazy Ones", "This Is My Rifle", "Making Monsters", "Jiffy Jam" (Jerry Reed cover), "Hell Haw I.G.R.", "El Cuuy", "Season of the Witch", "Enter Sandman" (Metallica cover), "Portrait of Sidney Sloan", "Dr. Evil's Spookshow / First Victim / Ddd", "The Black Grass Plague", "Behind the Nut Love", "Six Hundred and Sixty Six Pickers in Hell", "Guitars, Tits and Monsters", a covers medley including everything from Van Halen and Pantera to Rush and then returning for an encore of Michael Jackson's classic, "Beat It". The crowd was encouraged to sing along with all of the covers and did so with gusto and passion. As good a songwriter/player as John 5 is, he emanates nothing but fun and enjoyment, equal parts virtuoso and showman, loving every single second and note of his stage time and always playing to the crowd instead of standing there letting everyone bask in his otherworldly talent. Very, very entertaining from every single perspective. He so obviously loves what he is doing and does it so damned well, be it as a guitarist, songwriter or as a performer. John 5 has cut out a definitive and successful niche, population: 1. This is just the start of a pretty long touring schedule, so watch out for him and don't make excuses why you're not going. He is entirely entertaining and every bit as stunning live as he is heard on any CD. Definitely one to remember!
More on John 5 and The Creatures can be found on the Web Facebook Twitter  YouTube