Sacred Steel is:
Gerrit P. Mutz – Vocals
Jens Sonnenberg – Guitar
Jonas Khalil – Guitar
Kai Schindelar – Bass
Mathias Straub – Drums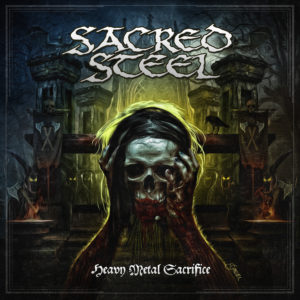 Germany's traditional, European Metal icon, Sacred Steel is set to unleash their eleventh, highly anticipated album, Heavy Metal Sacrifice on the Cruz Del Sur Music label October 14, 2016 as they celebrate twenty years of kicking teeth in. With a sound that vacillates somewhere between pure, NWOBHM and early Thrash at a time when we are seeing a resurgence in the popularity of both, Sacred Steel is assured continued success with Heavy Metal Sacrifice. In all honesty, I don't give a damn how popular it is (although I sincerely wish them all the success in the world!), because good music is good music; Heavy Metal Sacrifice kicks some serious ass and they pride themselves on being trend neutral as reflected by their motto: "SACRED STEEL is a trademark in the metal scene: all METAL with its own attitude, never everybody's darling – and damn proud of it!"

While very popular in Europe, those uninitiated may want an overview of this killer band, so we will start there. From Ludwigsburg, Baden-Württemberg, Germany, Sacred Steel started back in the 80s as a side project formed from members of various underground bands which eventually became the primary. Noted for being the first German band signed to Metal Blade Records they released their debut Reborn in Steel back in 1997 before joining forces with producer Bill Metoyer of Slayer, Omen and Sacred Reich fame, to release their, now classic album Wargods of Metal back in 1998. By 2000, the band had matured musically and lyrically and released their first concept album, Bloodlust which grew their fan based immensely and allowed them to tour Europe with notable bands like Nevermore, Wardog, Lefay, Destiny's End, Nocturnal Rites, Children of Bodom and Primal Fear and epic festivals like Wacken, Bang Your Head and Summer Breeze. In 2002 Slaughter Prophecy was released on their new label, Massacre Records which was their brutally heavy, raw and angry answer to the growing trend of keyboard laden Power Metal that included overt cues from Morbid Angel and Death. Continuing on this path, Iron Blessings was released to rave reviews a year before their first live album/DVD Live Blessings in 2006. In the same year, after some lineup changes, Hammer of Destruction was cut loose with the production guidance of Harris John who has recorded Sacred Steel band favorites Saint Vitus, Voivod, Kreator, Helloween and Tankard that spawned their first video clip for "Maniacs of Speed". By 2009, Sacred Steel's popularity had grown to a point large enough to support shows in Croatia, Serbia and Slovenia along with many world renowned festivals after the release of Carnage Victory. 2013 saw Sacred Steel's first album with Cruz Del Sur Music, The Bloodshed Summoning which was recorded in Poland under the direction of Bart Gabriel.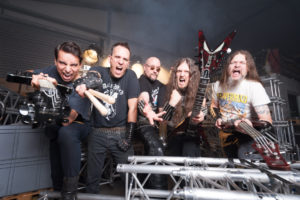 Now that we are all on the same page, let's talk about Heavy Metal Sacrifice. This 49 minute Metal free ride begins aptly with "(Intro) Glory Ride", a melodic little ditty reminiscent of timeless battle cries as armies march off to war over the ages. Just a taste of where this beast is headed. The title track quickly follows at a blistering pace. With an anthemic feel, this thing blows up with screaming, duel guitars, a killer solo and the reintroduction of the throaty, powerful and unique pipes of Gerrit P. Mutz. Having a medium-fast tempo, "The Sign of the Skull" gives us breath, putting more stress on its catchy and driving rhythms. Pretty cagey since it almost has a very heavy ballad styling that builds and builds, but never fully explodes. "Hail The Godz of War", however, does. This Thrashy monster has very heavy drumming, moves faster than a scalded dog and contains one of the coolest and most memorable breakdowns on the CD. Moving a little more toward the NWOBHM, "Vulture Priest" has some of the best, Iron Maiden–esque dueling guitar point and counterpoint guitar harmonies available outside this classic band. The flow of the song mimics that of all of the previous songs with periods of ferocious speed traded with slower, yet heavier breaks before abruptly ending in a cyclone of pandemonium. My favorite song on the album "Children of the Sky" follows. Interesting and impressive guitar riffs, an early 80s, Thrash-heavy interlude and its overall harmonic impression spotlight the range and songwriting prowess of Sacred Steel beautifully. Almost as a continuation of the title track, Metal hymn, "Let There Be Steel" is next. It is paced a bit more slowly though and has a sadder, more reflective feel that is further stressed by its Bluesy, emotive guitar solo. Tongue in cheek self reference also distinguish this tune. Love the subtle humor that is definitely a throw back to a less arrogant day when music was fun. A slower rendition of the song's intro carries us over the horizon on this on. In stark contrast is "Chaos Unleashed". Hugely heavy rhythms and the strongest vocal presence on the album are what make this monster live. With a much more push and pull tempo, "The Dead Walk the Earth" continue to pound your eardrums and has the best guitar solo tracking. "Beyond the Gates of Nineveh" picks up on the slower parts of the previous song and builds into a huge, fist in the air, head-banging anthem that is sure to stir the coals in the belly of any Metal fan. And then there was one. Leading out Heavy Metal Sacrifice is the short, Heavy Punk influenced "Iron Donkey" that moshes like many early and mid-80s Thrashers including S.O.D/M.O.D. and Anthrax. Absolutely love this thing and is a fitting finale for this 20th year celebratory classic. A legendary album from a legendary band!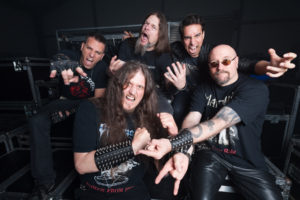 Heavy Metal Sacrifice has everything going for it: off the charts talent, a unique Roots Metal sound played by a legendary band that refuses to be stuffed into anyone's shallow definition of what Metal should be. Screw all that in-fighting because Sacred Steel have it nailed down. Love this album. The only negative thing I have to say about it is that I am not happy that I will now have to wait for their next one. Damn, I wish there were more bands that drive music as hard as Sacred Steel do…
Tracklist for Heavy Metal Sacrifice:
"(Intro) Glory Ride"
"Heavy Metal Sacrifice"
"The Sign of the Skull"
"Hail the Godz of War"
"Vulture Priest"
"Children of the Sky"
"Let there be Steel"
"Chaos Unleashed"
"The Dead Walk the Earth"
"Beyond the Gates of Nineveh"
"Iron Donkey"

More about Sacred Steel can be found on:  Web  Facebook  Cruz Del Sur Music  Cruz Del Sur Music Facebook