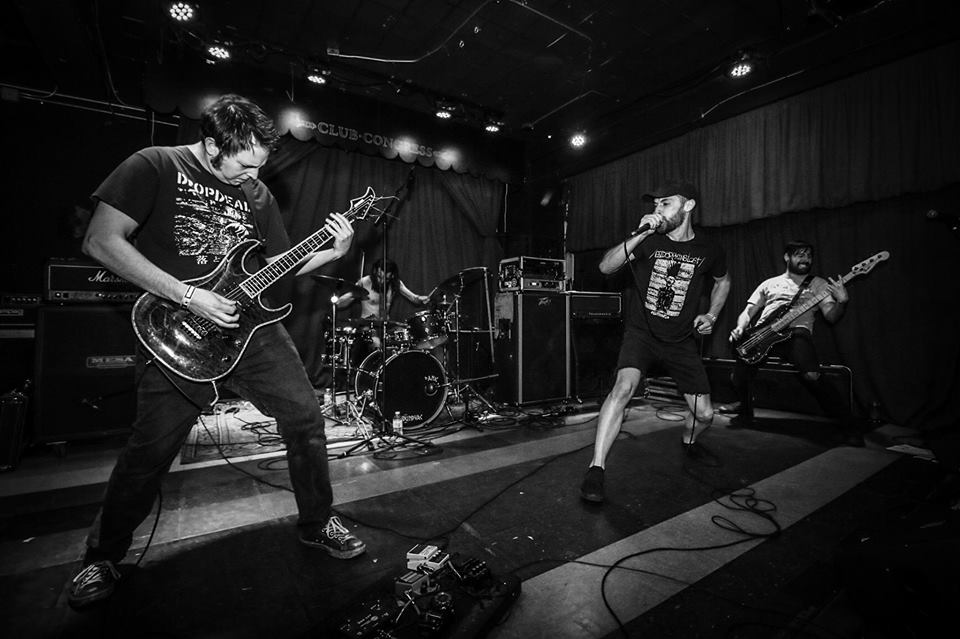 WOUNDVAC is a hardcore/grind quartet from Phoenix, Arizona. The band formed in 2014 The band's most predominant styles are hardcore and grind, but you also can hear some punk influence within their sound as well. The band has 7 varying format releases so far in short amount of time they have been formed. Everything was started with the bands 'S/T' EP that released in 2014, and then followed up with 'DISGRACED CONVERT' 7″ in 2015. In 2016 the band had 4 different releases. The first of which was a 'WOUNDVAC // COLUMNIII Split' 7″ that featured 2 tracks from WOUNDVAC and one from fellow the Arizona natives COLUMNIII. It was on this release that current vocalist Rich joined the band, taking the place of the bands original singer. The next release was the single "Sentient Cancer" which is features an array of political themed lyrics. Next was another split released in October of 2016, this time released on cassette. The 'WOUNDVAC // GLITTERBOMB Split' Cassette which featured 2 songs by each band. The 4th and final release of 2016 was a two track flexi disc release titled 'They Eat Their Own Young / Rumination'. The flexi disc is a record made of a thin, flexible vinyl sheet with a molded-in spiral stylus groove, and is designed to be playable on a normal turntable. Though the flexi disc was created in the 60's their popularity was brought back by Decibel Magazines monthly flexi disc series that features exclusive songs. Now WOUNDVAC has started off the New Year strong with yet another release. 'Infamy' was released on February 17, 2017. Drums recorded at Arcane Digital Recording with Ryan Butler (Exhumed, Ghoul, Nightrage), the Guitars, bass, and vocals were recorded and mixed by Kiel Siler and Additional vocal mixing by Zachary Rippy at Sound Signal Audio. The album was mastered by Ronald J. Llewellyn (The Freeze, Destruction Unit) of Welshman's Pride. WOUNDVAC has not only proven that they have achieved the sound in which they have been progressing towards, but their vast discography in less than 3 years as an active band shows the immense work ethic they have.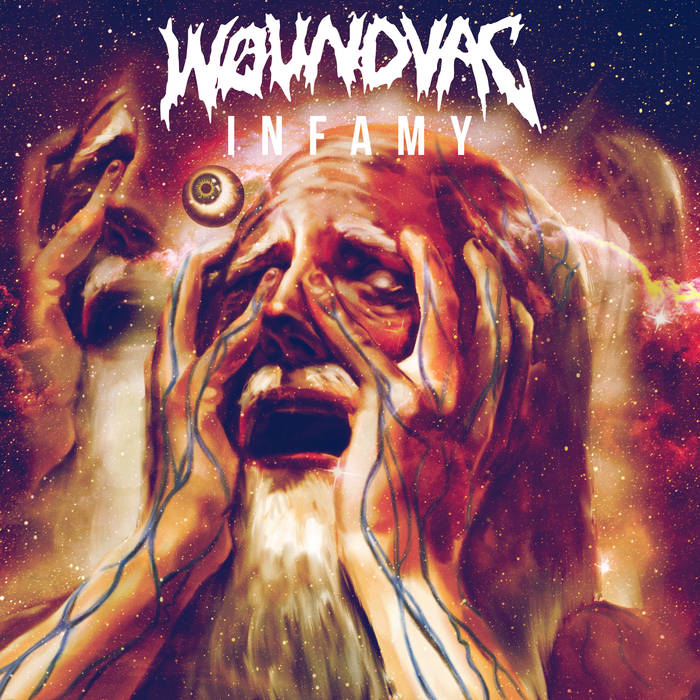 Like any good album WOUNDVAC the introductory track "Dwell" starts with a gut wrenching scream. Vocalist Rich has this perfect tone that is harsh yet still understandable. Though he's only been singing with the band for around a year, Rich really feels at home and you can hear that within his vocals. His style and tone is a perfect median that fits their music like a glove, keeping it heavy but also comprehendible to ensure their lyrics are heard. The riffs created by guitarist Drew really bring life to the song. The speed variation of his riffs in the song create a seesaw like rhythm becomes quickly addictive to the ear. Just when you thought things couldn't accelerate anymore the track "A Remedy So Vile" comes along. This song really gets your blood pumping with the faster pace and the onslaught of beats by the drummer Brian. It doesn't boast an overwhelming amount of groove but there is just enough in there to corral a mosh pit of blood thirsty metal heads. The lyrics here also show a darkened creativity from the band. "Take your filth, name your price, Embrace it, and make it mine." WOUNDVAC doesn't pen long verses and pages of lyrics, but their approach is dark, and simple yet thought provoking. The song "Bringers of Carrion" really brings to light a different side of the band. Their sound here is more in the vein of blackened thrash. The list some of their styles as punk, hardcore, grind, and thrash and you can hear those all within this album. Each song sometimes includes a different element that propels the band into a different category and that is one of the unique qualities about the band. The band has included 2 bonus tracks on this album, one of which is a cover. WOUNDVAC's original music is achieving at a high level, and they don't disappoint with this cover either. The song is "Suicide Note Pt. 2" made famous by the infamous Pantera. The song was on Pantera's 1996 release 'The Great Southern Trendkill." The track features lyrics of someone determined to take their life by gunshot. It's one of the darker and more experimental tracks that Pantera released, and WOUNDVAC put their unique spin on the song and totally own it. It's here where the band shows more of their grindcore influence. Musically the riffs, bass, and drums are on point. It's not easy to cover Rex, Vinnie Paul and Dimebag but WOUNDVAC was successful here. The vocals take on a much deeper pitch in comparison to Phil's original version but it works wonderfully and really adds a harsher dimension to the song. On 'Infamy' it's easy to see that the band is creating music that they love. You can hear the passion within their music and that passion transfers across to the listener. This release leaves nothing to be desired, it's impressive from start to finish.
Follow WOUNDVAC on Facebook here and check out their entire discography on Bandcamp.
Check them out on their current tour!