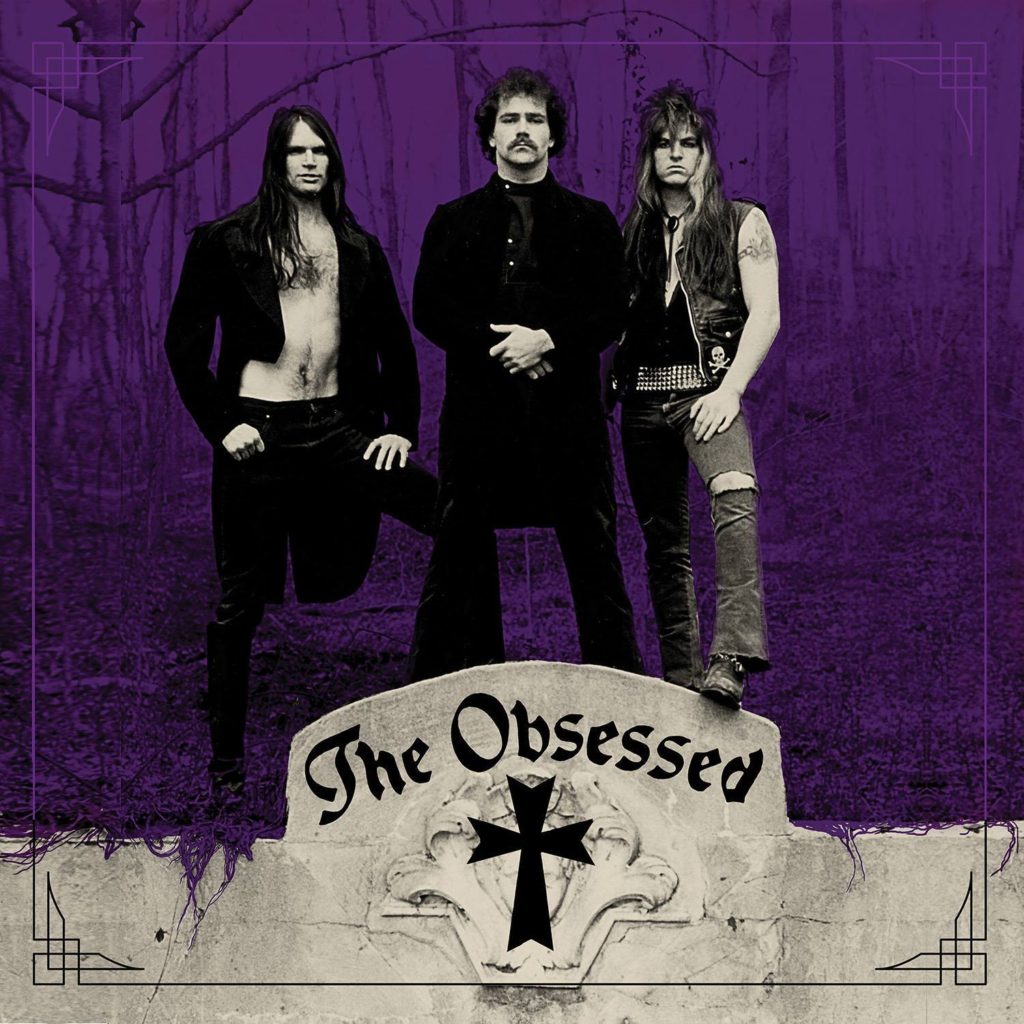 When it comes to Doom Metal there are few figures who have had a career as illustrious as Vocalist/ Guitarist Scott "WINO" Weinrich. The man is a LEGEND plain and simple. With a career spanning 40+ years, Wino has effectively set the standard for Stoner Rock and Doom Metal with standout albums like 'Mother-Teacher-Destroyer' by The Hidden Hand, 'Born Too Late' by Saint Vitus, and even the Self titled debut from the short lived band Shrinebuilder (which featured members of bands such as The Melvins, SLEEP, and Neurosis). Of course Wino is most commonly remembered for his time in a little band knows as The Obsessed! For those not familiar, The Obsessed was formed in 1976 (originally under the name War Horse). In 1983 They released the 'Sodden Jackal' EP and had one track ("Concrete Cancer") featured on Metal Blade's 'Metal Massacre VI'! The band broke up in the late 80's after Wino moved to California to join Saint Vitus, although different versions of The Obsessed have existed since then with the current line up consisting of Wino (vocals/guitar), Reid Raley (bass), and Brian Costantino (drums).

Originally released in 1990 and out-of-print for almost two decades, the now legendary debut album from doom godfathers The Obsessed will once again see the light of day in multiple deluxe formats. Now completely remastered with previously unreleased bonus tracks, including the highly sought-after 'Concrete Cancer' demo, expanded artwork, never-before-seen photos, and extended liner notes from frontman Scott "Wino" Weinrich, this is the definitive edition of The Obsessed's self-titled debut, a true piece of doom history. The deluxe 2xCD includes a bonus disc containing the 'Concrete Cancer' demo from 1984 and a full live set from 1985 in Washington, DC! The 'Concrete Cancer' demo will also be available separately as a limited edition LP.
Wino comments: "This record defines the passion, the pureness, and vibrancy of youth, and the fierce love, loyalty, and dedication to this music. I am happy and proud it lives once again! Thanks to all who believe, Wino."
As for the songs themselves you'll find that (for the most part) they aren't as dark as Saint Vitus, but instead seem to focus on the spiritual aspect of things. "Tombstone Highway" and "River of Soul" are good examples of this, as they both have a more mellow vibe to them with more sorrowful vocals. However this release also has a more aggressive side to it, which you'll notice on songs such as "Inner Turmoil" and "Red Disaster" which represent the anger of the debut, as they both have pummeling riffs that honestly still put most bands to shame! The Obsessed's self-titled reissue is due out November 17th on 2xCD, LP, 2xLP, and digital formats via Relapse Records. Pre-Order the album here.
Early this year, The Obsessed unleashed 'Sacred', the band's first studio album in over twenty years. With renewed energy and purpose, The Obsessed sounds heavier and more relevant than ever before. On 'Sacred', the band doubles down on enormous, heaving riffs and pummeling low-end across twelve tracks of eternal doom. Rounded out by Wino's lyrical honesty and iconic throaty vocals, 'Sacred' is an album that further pushes The Obsessed into the annals of heavy metal history, well worth the two-plus decade wait.
The Obsessed is currently in the midst of their fall headlining tour which kicked off on September 27th in Asheville, North Carolina and will conclude on October 27th in Baltimore, Maryland. Direct support will be provided by Cobalt and Iron Tongue on select dates. Additionally, the band will join Clutch and Devin Townsend Project for a winter run of shows to close out the year. See all confirmed dates below.
THE OBSESSED [remaining dates]:
10/16/2017 7th St. Entry – Minneapolis, MN *
10/17/2017 Cactus Club – Milwaukee, WI *
10/18/2017 Barauerhaus – Lombard, IL *
10/19/2017 Woodward Theater – Cincinnati, OH *
10/20/2017 Trixies – Louisville, KY *
10/21/2017 Chameleon Club – Lancaster, PA *
10/24/2017 Saint Vitus – Brooklyn, NY *
10/25/2017 The Cafe at Parlor – Newport, RI *
10/26/2017 Voltage Lounge – Philadelphia, PA *
10/27/2017 Metro Gallery – Baltimore, MD *
^ w/ Iron Tongue
* w/ Cobalt
w/ Clutch, Devin Townsend Project:
11/29/2017 Cone Denim Entertainment – Greensboro, NC
12/01/2017 House Of Blues – Myrtle Beach, SC
12/02/2017 Revolution – St. Petersburg, FL
12/03/2017 Revolution – Fort Lauderdale, FL
12/05/2017 Backyard Stage @ St. Augustine Amphitheater – St. Augustine, FL
12/06/2017 Vinyl Music Hall – Pensacola, FL
12/08/2017 Varsity Theater – Baton Rouge, LA
12/09/2017 The Aztec Theater – San Antonio, TX
12/10/2017 House Of Blues – Houston, TX
12/12/2017 Gillioz Theater – Springfield, MO
12/13/2017 Bourbon Theater – Lincoln, NE
12/15/2017 Limelight Eventplex – Peoria, IL
12/16/2017 Marathon Music Works – Nashville, TN
12/27/2017 Upstate Concert Hall – Clifton Park, NY
12/28/2017 Starland Ballroom – Sayreville, NJ
12/29/2017 The National – Richmond, VA
12/30/2017 The International – Knoxville, TN
12/31/2017 Express Live – Columbus, OH