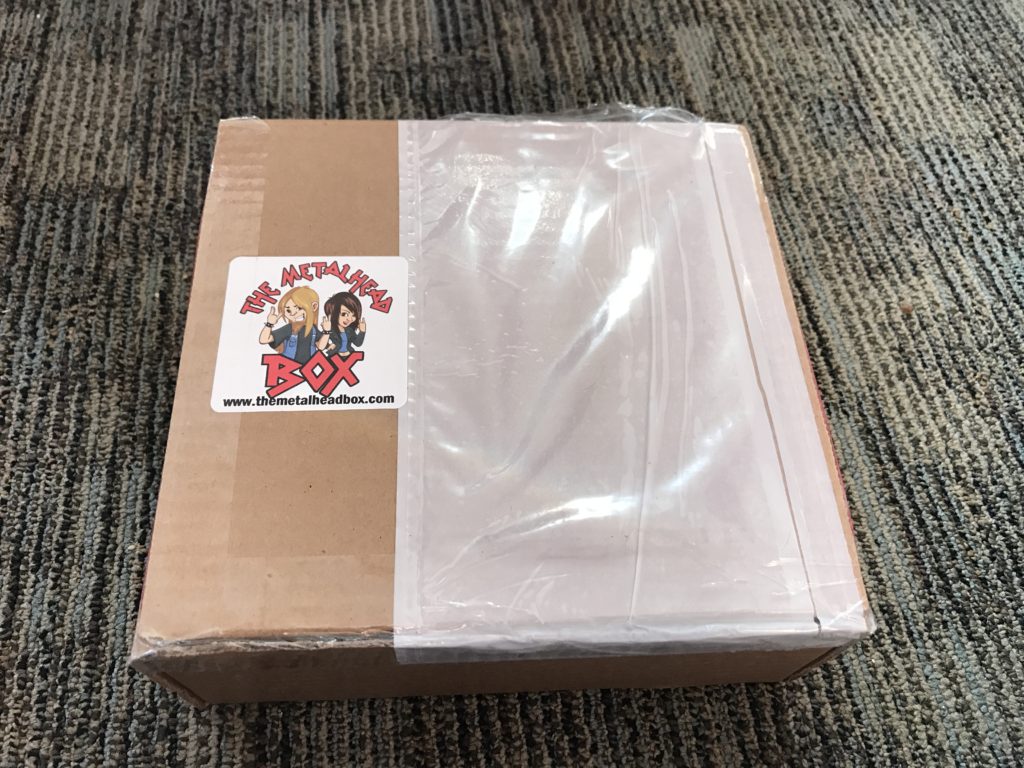 This is the box I was greeted with at my front door this past week. A seemingly small box that is claimed to be filled with goodies for metal heads. For those of you who have never seen or heard of this box before, I'd like to share with you my very first opening of one. But first a little bit of information about The Metalhead Box. This box contains everything from mugs, pictures (signed and unsigned), CDs, shirts, buttons and patches. The list could go on and on. Every month the box is filled with different things as far as genres and bands go. From hard rock to black metal merch and everything in between. Let's take a look inside of the box for February 2017.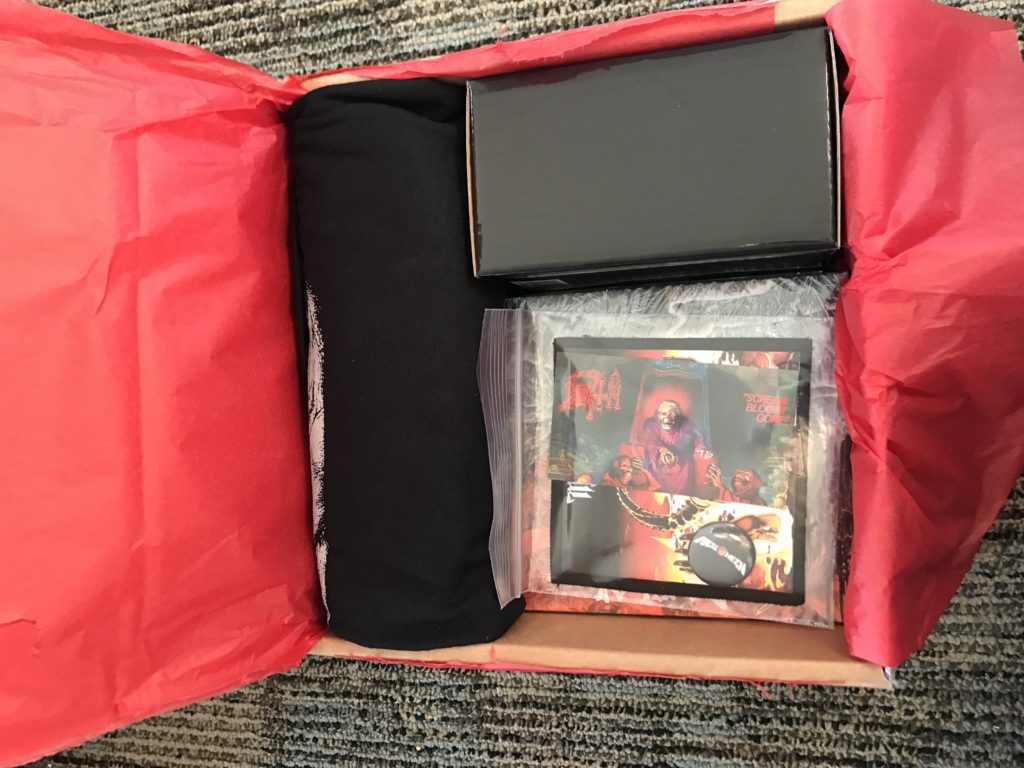 This is what the box looked like as soon as I had opened to have a peak of what was inside. My first reaction is to rip the shirt out of the box. I felt like a little boy at Christmas time. I resist my temptations and dissect the box carefully revealing 1 item at time.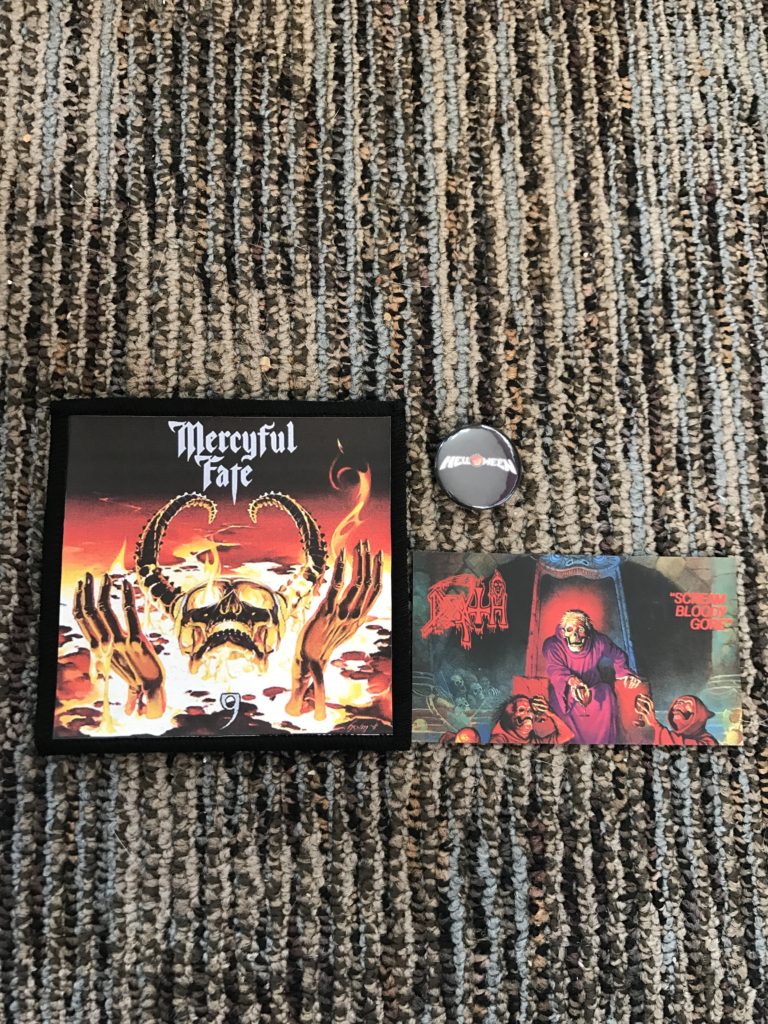 Our first goodies out of this box is a Death "Scream Bloody Gore" fridge magnet, Helloween pin and a Mercyful Fate patch. How ironic that it includes a Mercyful Fate patch since today is the 30th anniversary of front man King Diamond's solo album 'Abigail'. Not sure if this was planned but it's such a sweet surprise. My metal nerd alarm is sounding off! The fridge magnet is pretty damn cool. Anything Death is cool, vocalist Chuck Schuldiner has been a huge influence to the whole genre of metal, and especially in Florida. I'll be adding the pin and patch to my battle vest in the very near future. So far I'm pretty damn impressed.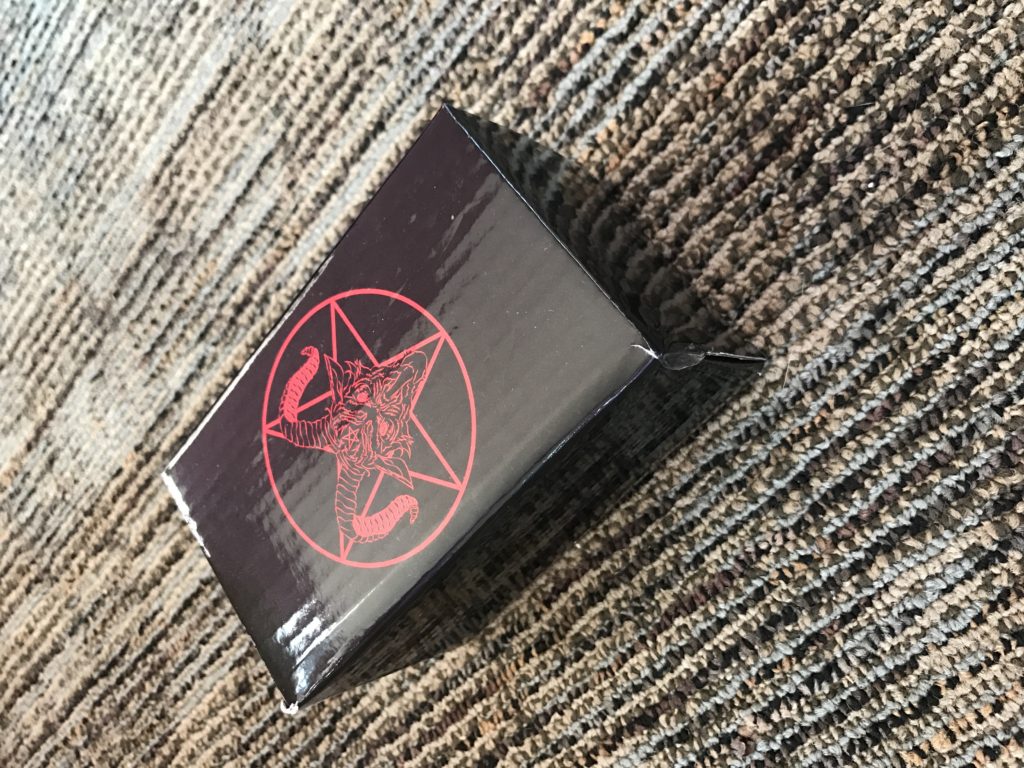 Up next was some CD's and this box. I put the CD's aside in pure wonder as to what could be in here. The sheer mystery of not knowing what you are going to get with these boxes is what makes it exciting. Now they have doubled the fun with this.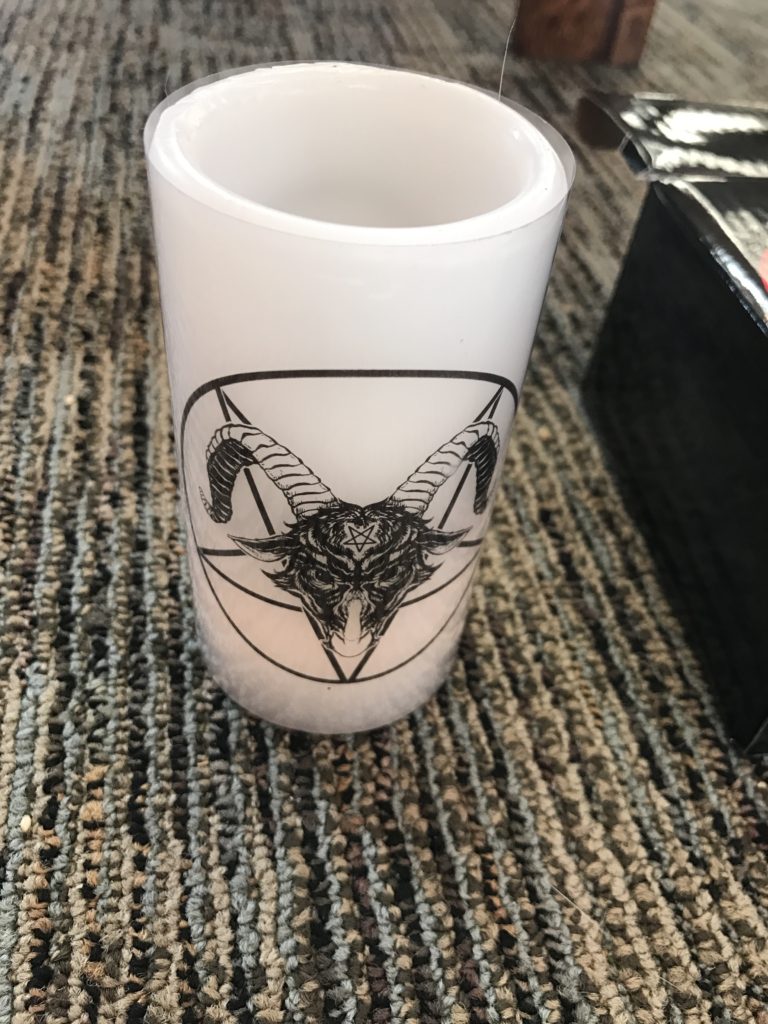 A flameless candle! What metal head doesn't love Baphomet? Seeing this symbol is almost as iconic as the metal horns. Black metal lovers will easily love this piece. Let the ritual commence.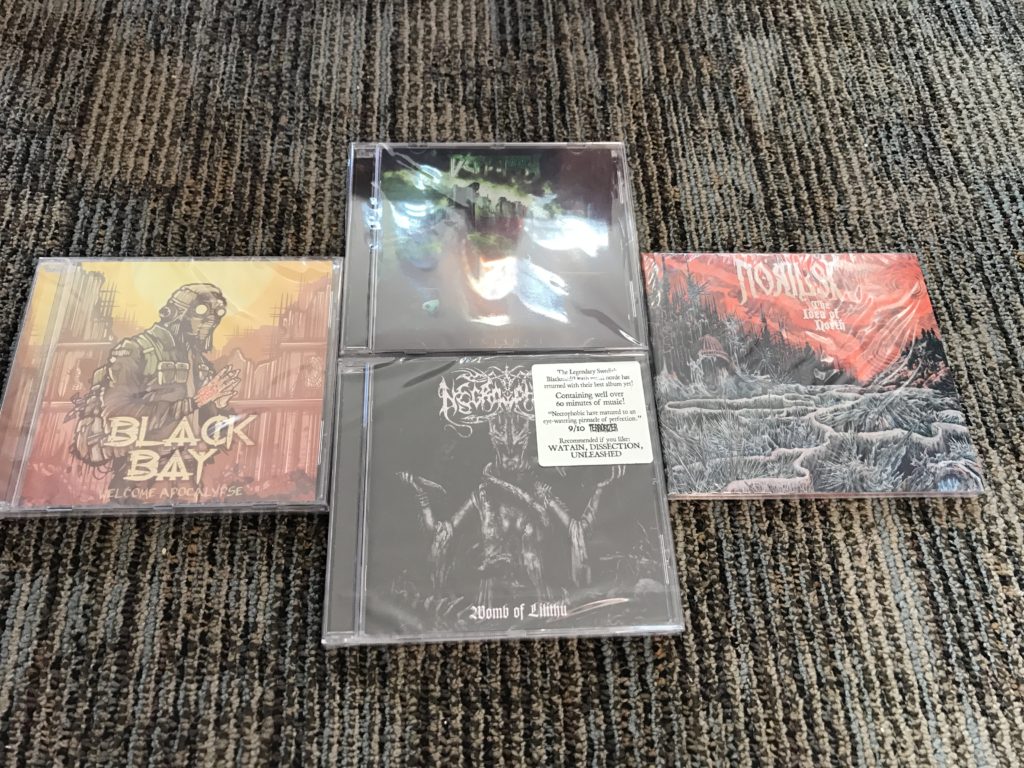 Let's take a closer look at the CD's that were in the box. I have only had the chance to listen to the Black Bay 'Welcome Apocalypse' (far left in picture) album and the Defiatory album entitled 'Extinct' so far and they're pretty good. The album art for Black Bay is just awesome, it caught my eye right out of the gate. I don't know what it is but I just love it.
On Black Bay's ReverbNation page, they describe themselves as thrash or progressive metal. This particular album has a great mix of hard and aggressive screams and lighter clean singing. The instrumentals follow that same tune. Heavy thrashy bits with some more hard rock sections. Pretty good album and I'm very happy The Metalhead Box introduced them to me.
Next on the middle bottom is an album by Necrophobic entitled 'Womb of Lithulu'. I haven't heard this record yet but I did look the album info up and Necrophobic can be described as a blackened death metal band. As for the album "Womb of Lithulu", it was met with moderately high review scores. On the CD you get within this box, there is a sticker on it saying "Necrophobic have matured to an eye-watering pinnacle of perfection" and was rated 9/10 by Terrorizer.
Next album on the middle top is an album by the band Defiatory. The album is called 'Extinct' The band is pretty new to the scene judging by their Facebook profile, but from what I hear on this record, they're right in line with a newer Megadeth, instrumentally speaking. Gruff and gravelish screams or growls on the vocal front. Pretty good album and I recommend it.
Last but not least, we have a band called Norilsk with the album titled 'The Idea of North'. I have had the chance to listen to this record yet but the bands Facebook page has them listed as a "Doom, Sludge and Death, with a pinch of atmospheric metal." By that description I'll be throwing this disc into my CD player as soon as I can.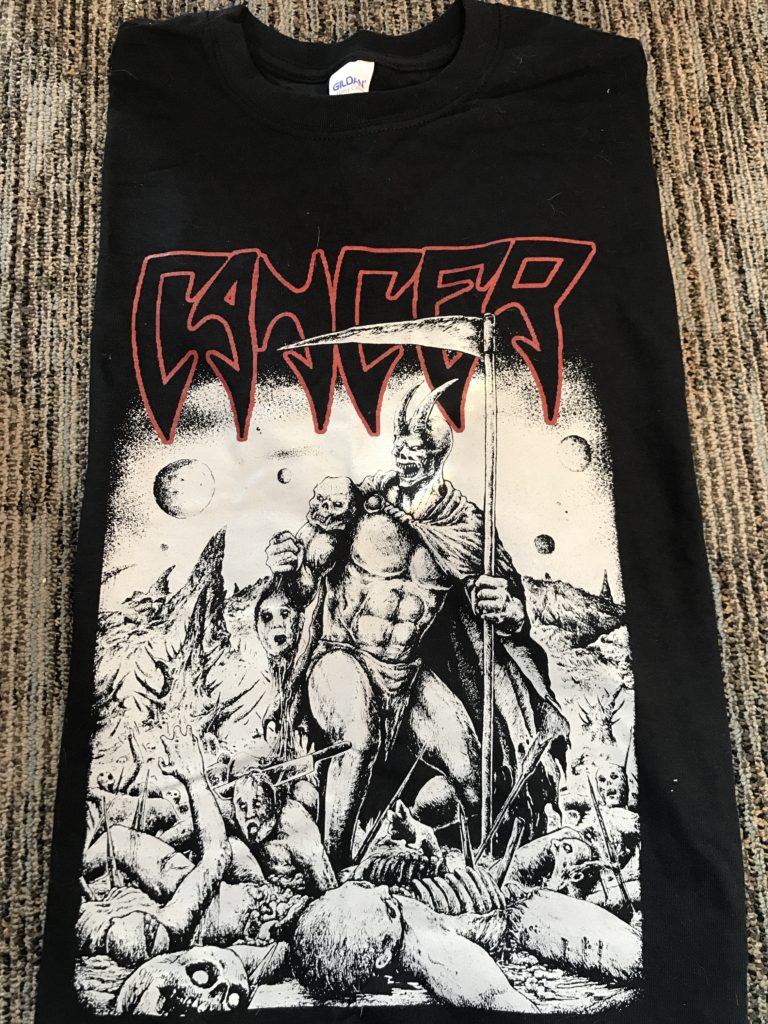 A CANCER SHIRT! This shirt is from a band called Cancer. The band split up after their latest album release titled 'Black Faith' but there have been rumors circulating of a come back in the not so distant future. They're a  fantastic death/thrash band from the UK . I couldn't have been more surprised with this shirt.
Below I will post a gallery containing the other items in the box for you to take a look at. The fine folks over at The Metalhead Box also asked me to let you guys know that they're teaming up with Decibel Magazine to come out with a Decibel Tour themed box for next month. That tour is being headlined by Kreator, and not to mention Obituary on the line up so I'm pretty excited to see what goodies we have in store for that box. These Decibel Tour boxes will be launched for the March 2017 shipment so I urge you guys to get your hands on them and pre-order your boxes now!
Check out The Metalhead Box here – Click me!
Check out Black Bay at these links
Check out Necrophobic at these links
Check out Defiatory at these links
Check out Norilsk at these links