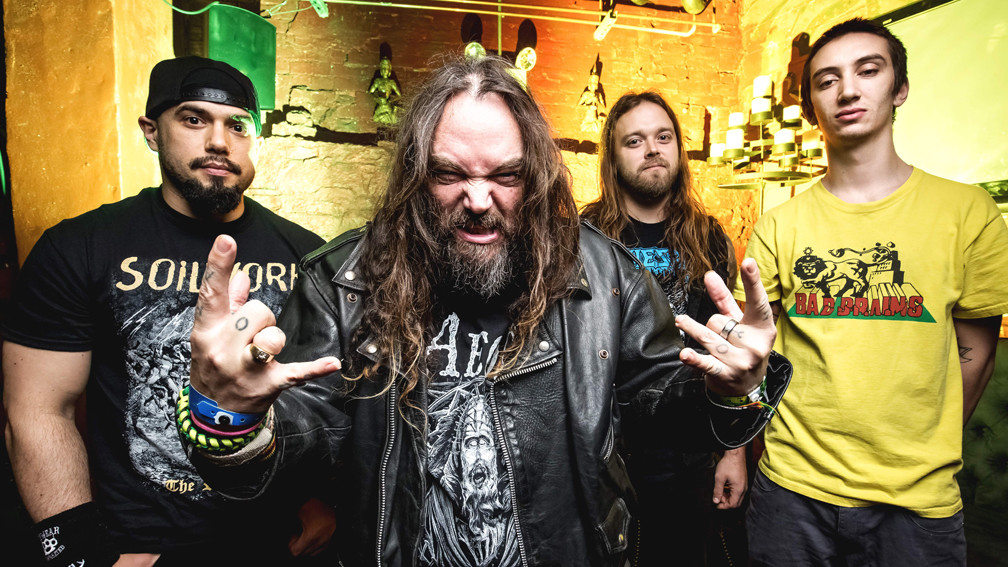 This October 19th, 2018 Brazilian metal veterans Soulfly are set to release their 11th full-length album, 'Ritual' via Nuclear Blast.  In recent interviews, frontman/guitarist Max Cavalera has described the new album's sound as "tribal-death-thrash." In the early years, Soulfly could be described as more of a nu-metal act that incorporated elements of thrash, tribal percussions, and reggae into the mix, so the direction of 'Ritual' was intended to be something of a return to earlier form for the band which has taken on more of a traditional groove-thrash approach as of late. Max, who left the legendary Sepultura to pursue Soulfly as his main musical outlet in 1998 has traditionally invited a number of guest artists to feature on each album, while the main band lineup itself has been something of a revolving door for a number of years – aside from lead guitar shredder Marc Rizzo since 2003. In 2012, Max's son Zyon Cavalera joined the group as drummer and has continued on as a permanent member ever since, while providing progressively more impressive skills behind the kit with each new album release. Appearing for the first time on album with the band and signing on in 2015 is Mike Leon on bass. Staying true to tradition, 'Ritual' features powerful guest performances from metal heavy-hitters Randy Blythe (Lamb of God) and Ross Dolan (Immolation).
Since essentially doing their best to kick the nu-metal label like gum stuck to their soles, Soulfly has released, for the most part, semi-yearly albums to prove how "thrash" they really are to discourage any naysayers from casting them off as merely a gimmick of the early 2000's metal scene. The major shift began with 2005's 'Dark Ages' and reached its sonic pinnacle with the pulverizing 'Conquer' in 2008. It was around this time that Max reunited with his estranged brother, ex-Sepultura bandmate, and drummer Igor Cavalera to create the arguably slightly more aggressive Cavalera Conspiracy as a side project. Having sufficiently shed their nu-metal skin, Soulfly then went on to release several more albums, each pushing the heaviness further than the previous. In 2015, Soulfly released 'Archangel' which seemed to infuse more of the Cavalera Conspiracy hardcore/thrash style than ever before into their sound. It's based on this formula that 'Ritual' largely takes its cue, yet still manages to elevate the music to the next level of extreme.
Starting things off is the familiarly tribalistic intro sounds of the title track with its lead guitar lines reminiscent of Soulfly's "Prophecy." It maintains a grooving, mid-pace trudge during the verses and a chorus that features throwback tribal-scat style vocals from Max. There are a couple decent breakdown sections and facemelting solos from Rizzo, while Zyon provides sufficient power on the drums for this well-rounded album opener.
"Dead Behind the Eyes" dives headfirst into death/thrash extremeness with some impressive vocal work between Cavalera and Blythe as they tell their twisted story of Hellraiser's Cenobite. As if attempting to out metal one another, both vocalists seem to conjure a bit more vileness to their deliveries to put on equally hellish performances. Max throws in a few uncharacteristic, but scathingly sick, black metal-esque shrieks to accent his lines. Instrumentation is top-notch by all players throughout the five-minute plus ride and ends with a crushingly doomy outro for one of the album's all-around strongest tracks.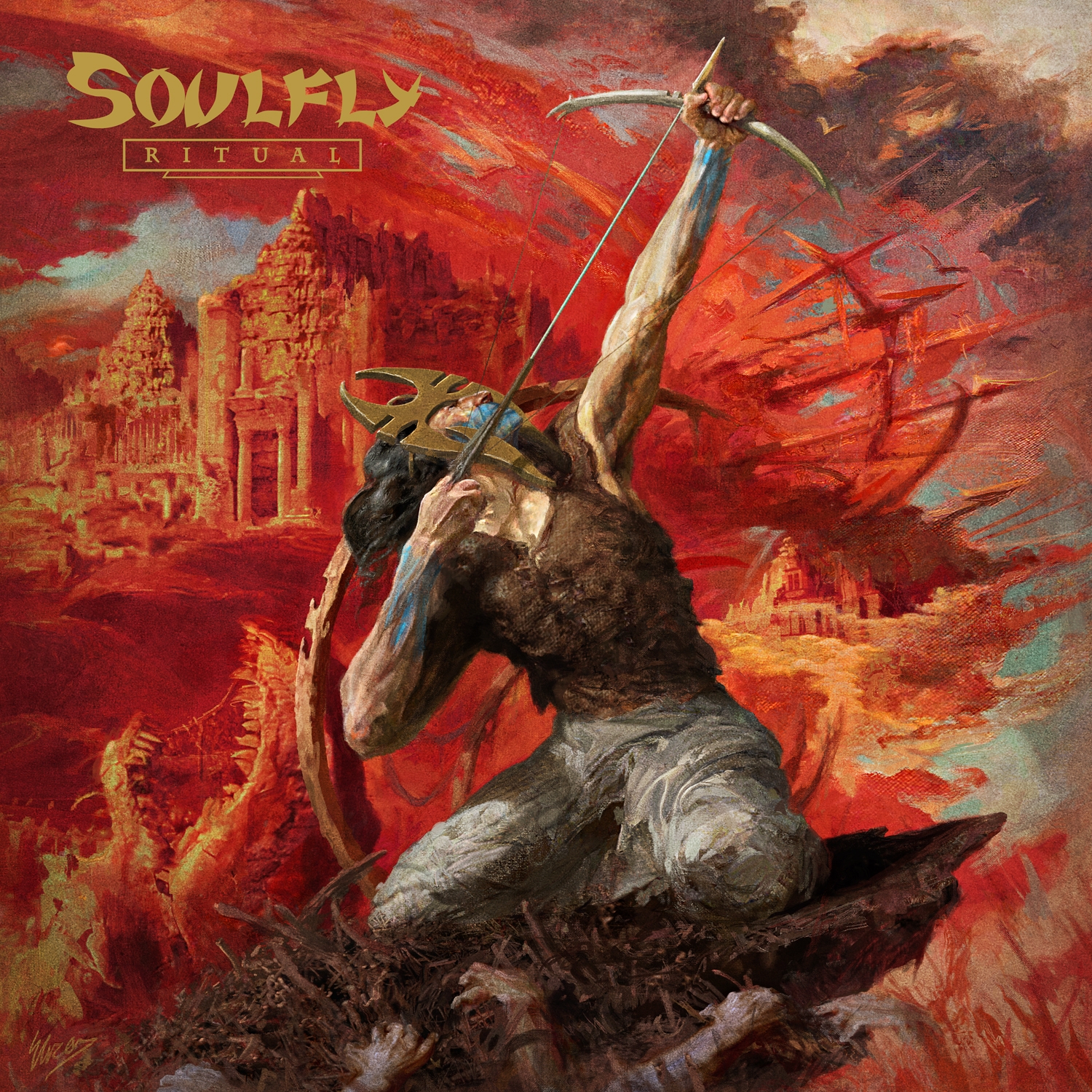 "The Summoning" showcases yet another dimension of extreme as it comes in full-force with more black metal-inspired tremolo picking and – was that a blast beat I just heard on a Soulfly record? Goddamn right it was – as Zyon continues to dish out a destructive performance behind the kit. Riffage is equally powerful throughout and Max does his best to nearly blow out his own vocal chords during the chorus to reach yet another uncharacteristic dimension to his range.
"Evil Empowered" is pure headbanging groove while being the album's most reminiscent to what made 'Archangel' a successful formula. Whether intentional or not, the track's "rise above, rise above" chant may sound reminiscent enough to Black Flag's "Rise Above" to inspire you to go back and listen to that classic song afterward. I know it did for me, and I didn't mind one bit. Both are killer tracks.
Where things really reach the peak of brutality is on "Under Rapture." As Max stated in much of his press leading up to this album, his influences lately have been coming from various forms of extreme metal such as death metal and black metal. The result of where Max's musical taste's have taken him these days becomes clearly evident in this track which is essentially a death metal song and, in my opinion, the best song of the album. Purely from a creative standpoint, it incorporates so many different elements that blend effortlessly together into a crushingly heavy slice of metal. Riff transitions progress naturally to build tension and rage that climaxes into some of the album's most pummeling and heavy moments. Death growls, blast beats, and tremolo picking fit flawlessly without feeling forced or gimmicky with the help of Immolation's Ross Dolan. The midpoint features one of the record's sickest riffs and drumbeats with subtle yet killer ride cymbal work from Zyon that sounds as if inspired by his uncle Igor's performances on Sepultura classics like 'Chaos A.D.' It's the album's longest track, but never feels like it with so many tasty elements to enjoy.
The second half of 'Ritual,' while still containing some impressive moments, is largely the weaker half by comparison. "Demonized" features a Sepultura "Beneath the Remains"-esque acoustic intro before transitioning into 'Chaos A.D.'-style riffing patterns. "Blood on the Street" is a heavy song with some great riffs and interesting lyrical imagery while "Bite the Bullet" features some throwback sounds of 'Roots'-era Sepultura and Soulfly's self-titled debut. "Feedback!" mixes things up a bit with Motörhead-flavored punk/thrash riffage that makes for a uniquely aggressive track.
Finally, track 10, the obligatory album-concluding instrumental is "Soufly XI." From the beginning, it starts off as something of a Black Sabbath "Planet Caravan"-style stoner ballad, but quickly things take a turn for the late-night softcore porn with the introduction of a super-cheesy saxophone into the mix. The one positive of this track is that it will undoubtedly incite a moment of intense laughing if played around your buddies. Aside from (unintentional) comic relief, it's a song that could have easily been left off of what would otherwise have been a very strong nine-track ass-kicker of a metal record without it.
Once again, Soulfly has produced a solid record in their ever-evolving and extensive catalog. Not one to be satisfied with just one style, it's good to hear Max remaining inspired to implement fresh ideas into his music this late into his career. Perhaps with his son Zyon on board, it helps keep the youthfulness going to compete against contemporary metal bands, which 'Ritual' certainly does unquestionably. Max promised "tribal-death-thrash" and delivered exactly that, however, the tribal elements this time around often felt like more of an afterthought when compared to early works such as 'Roots' and 'Soulfly (self-titled)' where the tribal sounds were more integrated into the music. Overall, however, 'Ritual' is a quality playthrough and easily contends with Cavalera Conspiracy's 'Psychosis' as one of this year's best from the Brazilian metal masters.