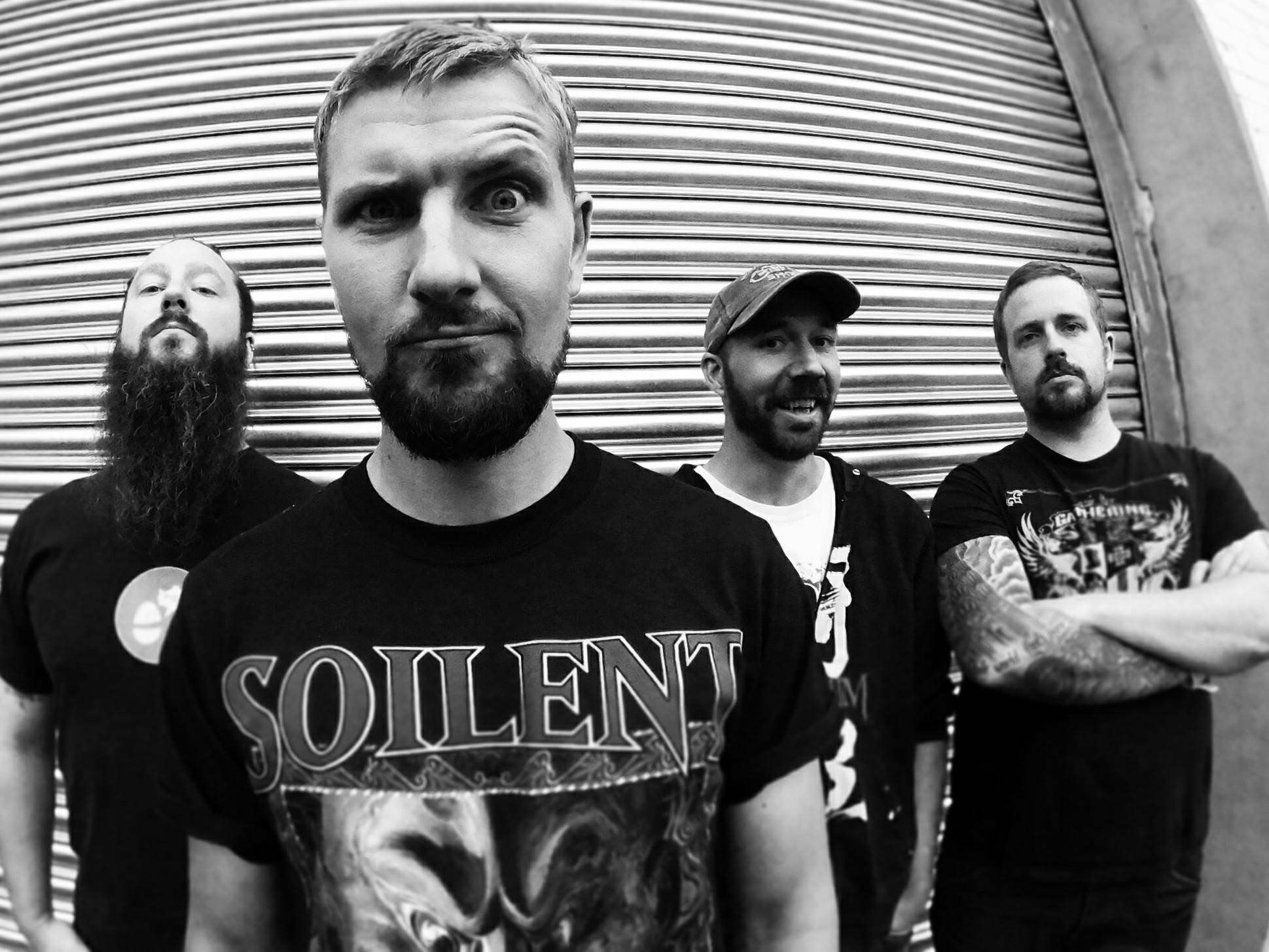 Hailing from Norwich, England, SoulBorn serve up American-style, southern-fried metal with heavy portions of groove; or as the band describes themselves, "This is proper beer-in-hand, good time music."  Their visually striking album cover, featuring a topless chick wearing only boxing gloves leaves little doubt that their full-length, debut release, 'Crash and Burn' not only promises a good time, but also packs plenty of punch.
SoulBorn personnel consists of Mike Wallace (vocals/guitar), Gareth Day (guitar), Matt Gamble (bass), and Peter Betts (drums).  All nine tracks on 'Crash and Burn' were written and recorded by SoulBorn, with additional mixing and mastering handled by Justin Brand of NRSIX Studios.
Stylistically, the band seems to take influence, most notably, from the New Wave of American Heavy Metal (NWOAHM), southern metal, sludge, and alternative.  With big, catchy riffs combined with the soul of the American south; growling vocals that often delve into death n' roll harshness; groovy basslines; and heavily-effected, Tom Morello-esque soloing; SoulBorn brings a sound that is often nostalgic but uniquely their own.
Starting things off for 'Crash and Burn's thirty-five-minute ride is "Fill the Void."  The riffing on this first track, at times, has flavors of Down; with vocals sounding reminiscent of Phil Anselmo's harsher moments in Pantera during this mid-tempo, hard-rock/groove-metal opener.  "Beck and Call" opens with a very "Revolution is my Name" intro and continues on with swampy, chuggy riffs at a bit sludgier pace.
"Penitent Man" offers a variety of sonic elements including 'Undertow'-era Tool-style riffing, Alice in Chains vocal accents, a funky bassline, and a Jerry Cantrell/Tom Morello-inspired guitar solo.  One of the more "metal" sounding tracks is "We Grow."  It features powerful, mid-paced galloping thrash riffage during the verse, and grooving chorus melodies.  The song's midpoint intensifies the thrashiness with blistering, fast-picked riffing before transitioning into a sludgey, alt-metal outro.  Definitely one of the album's highlights.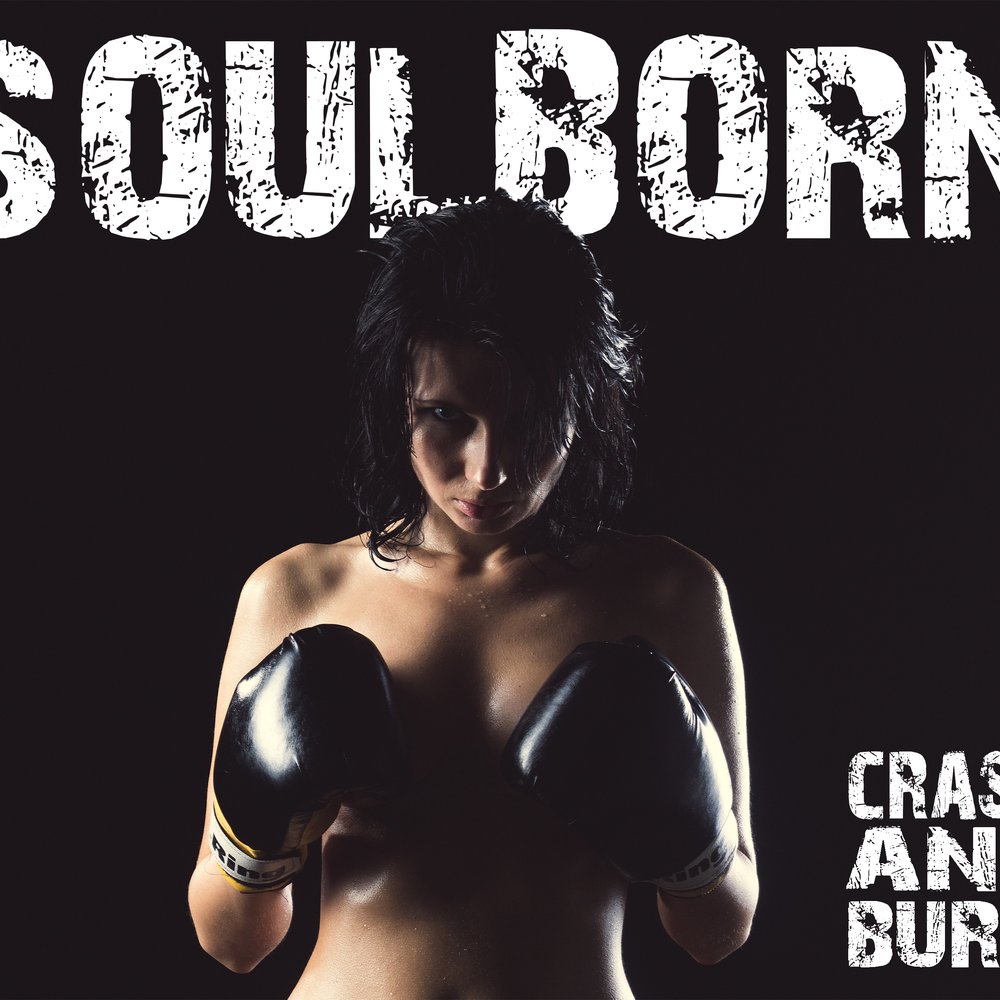 Other standout tracks are "Sonofabitch," showcasing some of the grooviest guitar riffs and creative transitions, along with exciting bass work and plenty of vocal attitude.  "Zero" starts off as one of the more melodic tracks with a very cool, mid-tempo, alt-metal main riff and meandering guitar leads.  By midpoint, the song transitions sharply into a more metal-flavored start/stop chugging section and guitar solo before coming back around to the main groove for the outro. 
The final track, and my personal favorite, "Strive," showcases everything SoulBorn seems to do best.  With the perfect blend of mid-paced, hammer on/off groove riffing, interesting drum patterns, and standout basslines; along with Wallace's guttural barks, the band really hits their stride here allowing each element to shine.  The song becomes progressively more rewarding as it plays through and includes a badass Pantera "Domination"-esque breakdown section with a brief guitar chug/bassline battle.
I personally enjoyed this debut album from SoulBorn and will continue to give it repeat listens.  It is, however, not entirely without its flaws.  Not to take anything away from the album's strengths (which far outweigh any weaknesses), but on the production side of the things, the drums sadly feel significantly lost in the mix.  Where the bass kicks and snare hits could crush, on this record they come across feeling noticeably stifled and unable to convey their true power.  The vocals, which are intentionally very guttural, at most times fit well but at others have the potential to feel a bit overly harsh next to the instrumentation which occasionally seems to call for additional vocal melody. 
Overall, small gripes aside, SoulBorn's 'Crash and Burn' is a strong record with catchy, heavy tunes, and metal fans should definitely give it a try.  Fans of similar music such as Pantera, Black Label Society, Crowbar, Rage Against the Machine, and Down are sure to enjoy this album. 
Click here to grab your copy today!