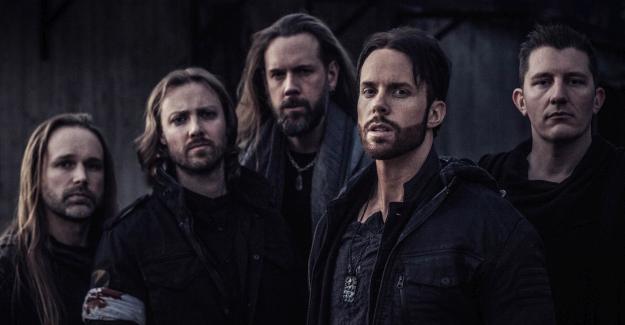 It has been eight years since the release of their last full length, "The Great Escape," so "highly anticipated" is an understatement for their fifth record. The Swedish, melodic and progressive metal phenomenon, Seventh Wonder are finally ready to grace the world with their latest musical endeavor from Frontiers Music s.r.l. One one hand, eight years is quite some time. But on the other hand, vocalist Tommy Karevik joined Kamelot in 2012. Perhaps that may be the greatest reason of all for such a delay. No longer must we wait though, as "Tiara" drops on October 12th.
A regal introduction opens the gates to a new world. The keyboard has a tremendously compelling sound, almost sounding a little more evil than previously heard from Seventh Wonder. "The Everones" picks up from eight years prior with that familiar flavor. The singable melodies take make the complexity of the song structure easier to digest.
One of the most distinct characteristics of this band is undoubtedly the prominence of the bass. Founding member, Andreas Blomqvist is the bassist and produced this record with Karevik. Blomqvist is perhaps one of the most underrated talents out there. His elaborate bass lines drive the song more the the guitar does at times. Johan Liefvendahl on guitar is nothing to sleep on, however, and together with Andreas Söderin on keys, they create this hybrid instrument together. During some of the leads, they complement one and other so beautifully.
Stefan Norgren holds everything down on the drums. Being a drummer for a progressive metal band has to be one of the most prestigious accomplishment a musician can achieve. It is necessary to gush about how gorgeous Tommy Karevik's voice is in yet another piece, so refer to the Kamelot album review for that. Rest assure, his voice is still stunning. It is quite interesting to hear the same singer take on two different forms in the bands he fronts. Seventh Wonder gets the more dynamic version of Karevik. The high end of his range is showcased best on these records.
"Victorious" was the first single from "Tiara," is an excellent example of his range. It is a classic power metal piece, lyrically, musically; a fist raising anthem. "Tiara" harkens back to the sound of "Mercy Falls" (2008), more so than their previous release, "The Great Escape." This album will be very well received amongst fans that have been with their career for a while now. "Beyond Today (Farewell Pt. 3)" is an homage to their multi-part songs from previous records. They craft these epics that effortlessly flow together. This song in particular is stripped down, piano, strings and vocals. The following track, "The Truth" is a pleasant surprise of a track. With a world music sound to it, this is nothing like they have written before.
It was worth the wait. Seventh Wonder truly makes some of the best progressive metal out there. They have found the balance between intricacy and palatability. For those who are versed in this genre, consider this a new record for the arsenal. For those new, here is a perfect introduction.
"Tiara" comes out on October 12, 2018 on Frontiers Music s.r.l.
Seventh Wonder typically does not tour much, if at all. However, one festival they are always welcome and have been re-booked time and time again for is ProgPower USA in Atlanta, GA. They headline the third day, September 6, 2019. See details here.