Behemoth is just one of those bands that really do not require an introduction.  Spawning from pure darkness in Gdansk Poland in 1991 and emerging on to the black metal scene with raw, unfiltered ferocity, they maintained this style with heathen lyrical content into the late 90's where they shifted to occult, and thelemic inspiration and showed that they could also be a reckoning force in the death metal scene with the release of "Satanica". At this time the world also quickly came to realize that Behemoth was unique in it's own way thanks to the drum styling of Inferno, multi layered vocals and some middle eastern influence. Behemoth is now comprised of Nergal (vocals/guitar), Orion (bass/vocals), and Inferno (drums).  There are plenty of those who would like to say that Behemoth is a blackened death metal project, but Nergal prefers to consider them without a label, which to me is completely acceptable when facing a true artist who does in no way conform to the status quo. Behemoth has released 10 studio albums since conception, and tomorrow, October 5th 2018, they grace the world with their 11th release "I Loved You At Your Darkest" via Metal Blade Records.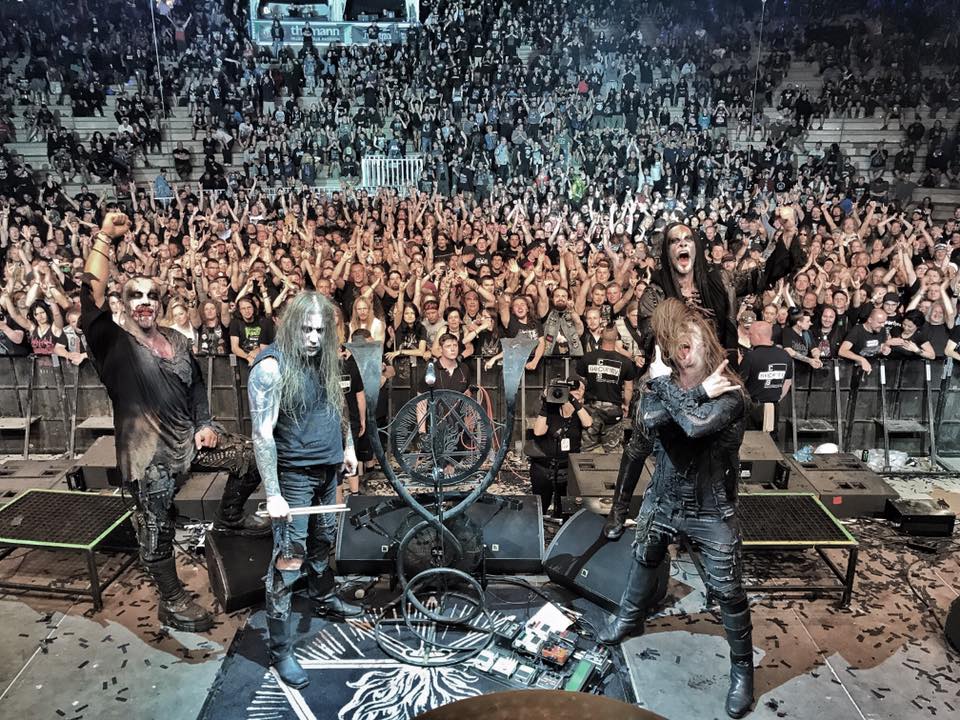 Now, I know that this title might come as a bit of a surprise as it doesn't necessarily fit in with the dark and blasphemous themes of previous albums, but don't let the name fool you. This album and its title are much more in tune with Nergals blasphemous M.O. than you might think, as it is translated from a quote from Jesus Christ himself. To anyone with his views, its pretty much common sense that if you are going to wage war on any religion, the best approach is to understand their holy text better than most who follow the certain belief.  In the bible in the book of Romans Chapter 5, Verses 6-8 state "You see, at just the right time, when we were still powerless, Christ died for the ungodly. Very rarely will anyone die for a righteous person, though for a good person someone might possibly dare to die. But God demonstrates his own love for us in this: While we were still sinners, Christ died for us." Where some feel like the war on Christianity has played out, to Behemoth the religion itself is a direct threat to their physical freedom, and so they continue to march proudly against those who would seek to silence them with "I Loved You At Your Darkest"
Upon listening you will find out that this is definitely a transition album, and it was apparent to me from the very beginning of this album that Nergal didn't merely set out to create a blasphemous album to add to the massive Behemoth discography, he set out to create Art, and that's the only word I find worthy to describe it. No more are the days of Behemoth trying to brings the fires of hell upon the living world, but more so telling you that the end is inescapable, and that it will be here much sooner than we think. The opening track 'Solve' is the unaccompanied and eerie chant you may have heard if you have paid attention to the first music video released from the album 'God = Dog'. "Elohim! I shall not forgive. Adonais! I shall not forgive. Living God! I shall not forgive. Jesus Christ! I forgive thee not!" which is trailed by two of the three tracks released prior to the album. 'Wolves Ov Siberia', followed by 'God = Dog', which could possibly be one of the most ambitious song titles to come out this year.  The album is full of great moments, and shows a clear head nod to Behemoths past black metal influences, but also shows that the music that influences Behemoth can be a bit surprising with multiple rock influenced solos placed throughout its entirety. Possibly my favorite track on the album 'Ecclesia Diabolica Catholica' instantly pulls the listener in with a well written intro riff that transitions into a mid tempo monster of a song with plenty of black metal influenced riffs, genius use of a backing choir, and well placed soloing. Something that came as a surprise to me was 'If Crucifixion Wasn't Enough' because the title brought me to expect the raw Behemoth of the past, but I was met by a kick ass tune that almost felt Punk in its own right. No matter how you look at it, this album has some of the best work Behemoth has ever put out, but of course there will be those who sneer and turn their cheek because it isn't the Behemoth of the mid 90's or early 2000's. For me as both a writer, and a die hard fan of Behemoth, the album showed me that the evolution of a bands sound can most definitely be a good thing. There were so many things about this album that I loved, and very few things that I did not. Check out "I Loved You At Your Darkness" via Metal Blade Records tomorrow, October 4, 2018 and hear for yourself.