The Caveat is:
Michael Stancel – Lead Guitar
Kyle Neeley, Guitar
Nik Schafer – Bass
Paul Christiansen – Drums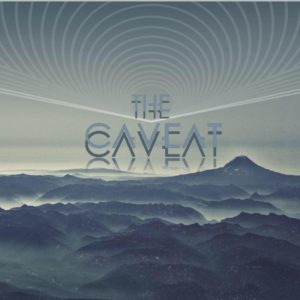 Artwork by Mikey Stancel
After recently reviewing The Caveat (Review) I was given the opportunity to get my hands on a signed, pre-release copy by the generosity of the band. I have listened to the singles extensively since being introduced to this killer band by my friend Ben Gleason, the guitarist/vocalist for my number one spot on last year's best album, Return to Nothing by Source, but was not quite prepared for the difference that organizing the singles into a cohesive CD makes. The singles are obviously good by themselves and stand strong individually but as a full album, they are nothing short of amazing! This is already a peremptory favorite for Best of 2017! There must be something in the water in Colorado…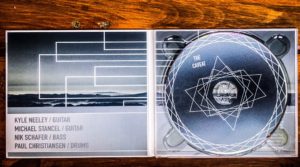 To quote them again for some needed perspective on the direction The Caveat has chosen for themselves: "The Caveat is a distillation: it is a thorough, focused effort to refine and augment the greatest aspects of modern extreme music, while sloughing off the limiting vestiges of its previous iterations. Its members are motivated by the idea that music, like people, the world and life itself, has an obligation to move forward. With a carefully-crafted tapestry of expression, virtuosity, improvisation and syncopation as its creative language, The Caveat is a singular example of what can be brought to bear at the crossroads of concept and dedication." In other words, this one serious band, playing some very, very seriously exciting music. Screw genre categorization too. Yes, they have definite underpinnings in Metal, but that is as far as it goes. There are influences from all over the map and should entertain music lovers from every corner of musical preference. You like shred guitar? Michael Stancel and Kyle Neeley rail their axes throughout this entire debut album. Hell, you can almost smell the burning fretboard ash and melted frets listening to this thing. Are you more of a Jazz and Fusion kind of person? Got that too, especially with the incredible bass lines Mr. Shafer lays down. Jaco, Burton and Lee would assuredly sit in awe of this master of the big strings; proud that they had some influence on his otherworldly playing style. His virtuosic playing is one of the many defining features on the album. Adding yet another layer of interest, Paul Christiansen's drum skills also bring wide variety and zing that can be found nowhere else. Just damn! Digging the more modern, ultra-refined, so-called Progressive Rock and Metal? The Caveat may just be your new favorite band then. The rich, distinct textures of tone and syncopation demonstrated here are inconceivably good. Usually not fond of instrumental music? Well, not to worry, because The Caveat sings. Even though I absolutely love instrumental music since it requires a different level of musical understanding to do well, I cannot remember a band that has me singing along with the instruments like I do with this album. I know it inside and out now, just like it had verbal lyrics. I find this absolutely fascinating! Never has a band done this to me before. Each instrument is such an integral part of the overall tone that vocals would do nothing but add an unpleasant and unneeded hindrance, much like adding curb feelers to a Ferrari F40. Why add fluff to realized perfection?!?

"Transversal" starts us off on our journey with relaxing, celestial guitar work that builds itself into a cheerful, albeit heavy line of inventive thought. Just as our lives change from day to day, the song changes tempo, becoming more daunting before ripping off in another direction on a whim. A blazing guitar solo leads to an uplifting end to the opening track. On deck is "Mirrors". With a rather mystical feel, bass lines that would feel at home on any Rush album rumble over djent rhythms as cleanly played guitar rings just below the surface. As everything gracefully locks in a gravitational embrace as one, guitars fray the edges to create a full, deep and rich sound that makes this one of the most memorable tracks. "Radials" carries this cleanly forward with a Thrashy vibe, utilizing interesting and unusual chord progressions. With a rather ominous chorus, slow bridges are used before dropping us into some of the heaviest lines yet to be realized. Eventually, just before the song explodes into a void of chaos we are slowly and softly allowed to disengage and escape the impending madness. "The Savior Has Come" follows with driving Math that speeds up dramatically with tremolo picked lead guitar and bass. This culminates in an emotive, dual guitar solo, a la Iron Maiden. Tension builds slowly before being released at the former, quick tempo. Dark guitars growl as accusations fly and things get unhinged. Beautiful Jazz is injected as a bridged answering any recriminations. Guitars blast as a restatement of outrage. A final, sad and reflective line of Jazz dies as djent heaviness crushes all. Clean shred carries us, and the song to a very dark and dispirited outro. This is probably my favorite track on the album. So beautiful, yet so passionately fierce. Next in line is "The Crown Jewel". Following in the footsteps of the previous song, cool Fusion welcomes us in just before transitioning to huge, shredded guitar. With bass driving the sections of clean instrumentation, we zig zag back and forth between this point and counterpoint. Head banging and catchy riffs spill over just as the two ideas congeal into a final, epic breakdown to a jagged, stuttering end. This edgy song will likely appeal to to widest breadth of music lovers and shows the staggering song writing talents The Caveat bring to bear. "Daedalus" shows the raw power that a drummer can bring to a song. Over his skilled presentation of rhythm, semi-clean guitars transcend to an ethereal bridge that builds into wave after wave of heavy, full band riffing. With a rather frantic feel, dueling guitars hover over the stuttering rhythms creating the heaviest tone on the release. Gorgeous and moving, echoing guitar emerges into a solo that smoothly pulls in the rest of the band for a soothing fade to black. The final stop on our travel is "Vectors". Soft, almost fragile guitar frames a buildup driven by bass played in the high registers. As this beast bites down, fast guitar slams down and the fuse is lit. As this goes off, catchy sections of well organized speed and intensity degenerate into crushing Math. A very unique bass and drum section send the impending guitar solo soaring into the heavens. As the song settles into a medium tempo with the tension of slight dissonance, the song and album fade to a clean finish. Set it on a loop and listen to it all over again. And again. And again…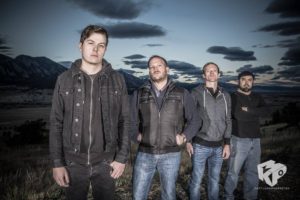 To say that The Caveat's self-titled debut is impressive is a huge understatement. Being an instrumental band of this high caliber, it almost seems unfair and ironic to describe it with mere words. It is just sick from every aspect: song writing, playing, feel, variety, production; the list goes on and on. There is simply nothing to pick at or ding them for on this, their first album. If The Caveat stays on this path, there is no telling where or how high they will go. I sit with reflective pause and in absolute awe of the band and this album. On the night of this release, January 6th, 2017, The Caveat will be hosting a CD release party at the illustrious Marquis Theater in Denver, Colorado along with Source (who are just coming off of their whirlwind national tour with Hellyeah and In Flames), WiddlyWah (just returning from his tour with The Lord of War) and The Pandoramic (I will be checking these guys out shortly!). If you are in the area, I enviously encourage you to show up for what is sure to be one of the best shows this year! Wish I could be there, but I will stick to the Florida warmth this time of the year. Zero tolerance for the cold anymore. The Caveat will be heating thing up for those of you in the damn-all, sub freezing degree weather for you. I'll have to wait until they go out on tour. Until then, this CD will be used and abused for years to come!
Tracklist for The Caveat:
"Transversal"
"Mirrors"
"Radials"
"The Savior Has Come"
"The Crown Jewel"
"Daedalus"
"Vectors"
More information on The Caveat can be found on: Facebook YouTube BandCamp