Grasping at the Shadow is:
Dylan Holcomb – Vocals
Daniel Avalle – Guitar
Kimberly Hovencamp – Violin
Jon Kaufman – Drums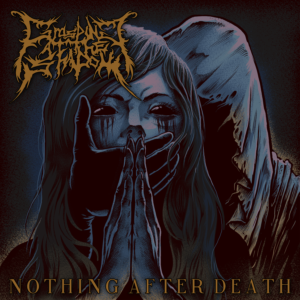 Every now and again, a band crosses our paths that is so new, so cool and so unique that they simply must be afforded a place among the best Metal has to offer, no matter how big or how small they are. Grasping at the Shadow is just such a band. Being introduced to them by showing up early for the Cavalera brothers "Return to Roots" tour late last year (Review), I got to behold this emerging band visually and sonically right out of the gate. No hearing the killer band and then trying to make the time to see them at a convenient live performance at some later date. Nothing like full emergence right from the start. Upon finding out that a new CD was on the way, I asked the fine folks in Grasping at the Shadow for first crack at a pre-release review and they graciously agreed, recently forwarding me the new tracks for Nothing After Death, due out June 16, 2017.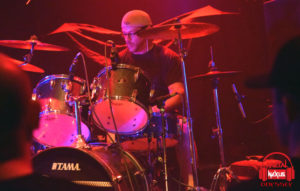 Hailing from Bradenton, FL, Grasping at the Shadow was formed in 2011 by guitarist Daniel Avalle and violin player Kimberly Hovencamp in an effort to release the musical beast deep in their collective chests. Over the course of the next few years, Grasping at the Shadow has made multiple personnel changes, striving to create the heaviest, Doom/Death Core sound available anywhere on the planet today. With the eventual addition of Jon Kaufman on drums and Dylan Holcomb on vocals, Grasping at the Shadow was solidified as a unique force to be reckoned with in the Metal world. While the band is currently auditioning bass players, their sound has now been distilled down to its purist form on Nothing After Death. Acknowledging the influences of Lamb of God, Killswitch Engage, Heaven Shall Burn, Mirrorthrone, Job for a Cowboy, Amon Amarth, Behemoth, Bring Me The Horizon, Pantera, Anthrax, Slayer, and Wolves in the Throne Room, and playing with acts like Decapitated, Lorna Shore, Rings of Saturn, and The Browning, Grasping at the Shadow takes the best of all of them and adds the unusual harmonic dissonance of the violin. Sure, other instruments have been used in various forms of Metal over the years, they are usually used as background or as introductory and/or bridge material. Members of Grasping at the Shadow have taken just the opposite approach and put the violin in the center of the action; driving tempos, attitude and feel throughout their growing catalog of killer material.
This brings us to the new EP. Nothing After Death was recorded in Cape Coral at Kirkbride Recordings, run by guitarist and drummer for King Conquer and Dealy Plaza, Jesse Kirkbridge and Chris Whited, respectively and reflects the attention to detail and production expected from such long-standing standing musicians. Motivation for this passionate EP was made crystal clear by the band: "We wanted to make heavy music about our distrust for religion, our government, and dealing with most of the bullshit we deal with on a daily basis." Goal accomplished, because this this thing is so hard hitting and heavy that traditional EQ settings had take a milder setting to control their brutally oppressive tone. Starting the album and opening song "Alse Young", this tone is introduced in all of its spine chilling splendor. Following a short, dark solo violin intro, huge cymbal crashes thrust the listener into a world of extremely heavy guitar riffs and Death Metal growls over slower, Doomish leads and concussive drums heavy enough to drive your eyeballs into the back of your skull. Inspired by Alse Young, the first woman persecuted for witchcraft in Winsor, CT in 1647, this song sets the tone for what is to follow. Fast forward to 2017, and we are hit with the disillusioned frustration of our fracturing national culture in "Damned Nation". Dissonant and sad violin harmonies are played just over very angry and crushing guitars and blasting drum lines. A mixture of Death barks and wicked, Black Metal screeches juxtapose the same emotional inflections in theme. By mid-song, tremolo guitarwork replicate this Black Metal influence and any sense of timidity is put to instant rest. Dropping like an imploded building on a fire ant hill, "Child of Rage" ranks among the most considerable tracks on Nothing After Death. Based on a documentary about a young girl suffering Schizophrenia, the song (not surprisingly), seethes with sadness and frustration versus the overtly angry emphasis held throughout the rest of the album. Fear not; "Deceit of Light" returns with resentment of the concept of life after death. Having one of the coolest bridges mid-song, heavy, djenty guitar leads drive this depressive monster just below the vocals and, ever-present, slick violin disharmony that slowly turning the dull blade of the other instruments thrust between your ribs. Simply crushing. Leading out Nothing After Death, "Hail to the Night" takes a quicker tempo, lead by the violin and earth-shattering drums. The menace of the vocals and growl of the axe further reinforce the theme of staying true to those that are true to you and not being lead off-course by those that lend support solely for their own, selfish gains. This would be a positive end to the EP if not for the furious attitude. In this case, anger and frustration serves the overall feel anyway.
Grasping at the Shadow's long-awaited Nothing After Death was well worth the wait. This EP is brutally heavy and a good place to start for Metal fans in search of extreme music with a twist of something new, emotionally effective and very different. Because of the privilege of seeing them live, thus knowing their entertaining stage presence, this band is destined for much bigger things and an expanding influence on the genre. Super cool and highly recommended.  If you are in the area, I would also suggest heading over to HOWL in Fort Meyers on June 16th for their CD release party.  Certain to be a killer time!
Tracklist for Nothing After Death
"Alse Young"
"Damned Nation"
"Child of Rage"
"Deceit of Light"
"Hail to the Night"

Check out Grasping at the Shadow on Facebook  and ReverbNation