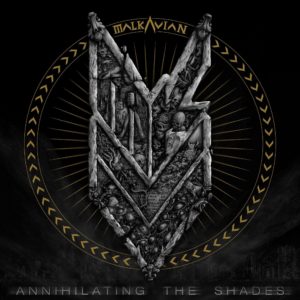 I had a flashback, some deja vu of sorts, when I first saw the name Malkavian come across my screen.  A little synapse in the back of my head lit up, screaming about how familiar that name was.  After some ponderance, my brain finally hit upon the source while listening to the band's latest release: the Malkavian were a race of vampires in the popular role playing game Vampire: The Masquerade, most notably known for being insane.  Whether or not this is the true source of their name, French thrash metal spiked with technical groove maestros Malkavian certainly play to the chaotic nature that is a key feature of the species.  Originally formed in 2008, Malkavian released their first EP in early 2009.  After hitting the road to make a name for themselves in France's metal scene, the band worked through 2010, making some tweaks to what would be their finalized lineup around 2011, and eventually got the chance to open for well known deathcore act Suicide Silence come 2012. Their first full length,  "The Worshipping Mass",  saw its biggest distribution in 2014 under current label Finistrian Dead End.  Ever since, Malkavian has kept busy by working the dual grind of festival and tv appearances, and are ready to drop their 2nd full length on March 31st. 
Malkavian counts such stalwarts as Pantera, Lamb of God, and Entombed among their influences and it's easy to see their love of these bands peppered throughout their latest release, "Annihilating the Shades".  Malkavian takes bits of off those bands, reassembles and restructures their features, and filters through their own perception and experiences.  The album is self produced and features guitar hooks that sink their sharp teeth deep, with a pulsating backbeat that lurches, chugs, and flat out beats the listener into submission at points.  Rounded out by a thick bottomed bass that's featured prominently, Malkavian have released a rather masterful interpretation of heavy, groove-boosted neo thrash injected with huge chunks of technical metal stylings.  'Resurgence', the opening track, lumbers in like a sleeping giant, ominous in it's introduction, before launching into a face melting assault.  Containing some top notch string shreds, 'Resurgence' contains what has to be some of the best lead guitar work of the entire album; from the blistering attack at 2:00 minutes in to the more elaborate solo a couple of minutes later, this song is a solid album highlight.  Vocalist Riko Lamare plays to his strengths, utilizing a vocal style that fits nicely between clean and fierce, pulling up ferocious high and low growls that carry the mood of the songs; on the track 'Altar of the Damned', he unleashes a beastly howl of a scream that sounds like it was pulled from the very depths of darkness.  'Ruins' opens with a dichotomy of traded guitar licks, the vox pedaled along by a pulled-straight-from-the-swampy depths bass line.  Thick and syrupy, it hits like a sledgehammer in bullet time and features fretwork inspired by orchestral movements.  Another album stand out is 'The Great Overset', which opens with some spooktastic, horror–movie–background ambiance before the guitar cuts in like the killer dropping the blade. In some passages, the dirty, fat bass combined with the vocals is evocative of southern sludge as the song swings back and forth in tempo. Overall, Malkavian's "Annihilating the Shades" is solid, and really gives the impression that these guys are not to be missed when they play live.  There's plenty to like here that will appeal to the old and new fan alike; for anyone curious, their previous effort "The Worshipping Mass" is available for streaming via Bandcamp here, or check out the lyric video for new track 'Encryption Process' on Youtube by clicking below!
Get more information and keep informed about Malkavian's whereabouts by following them on Facebook by clicking here.