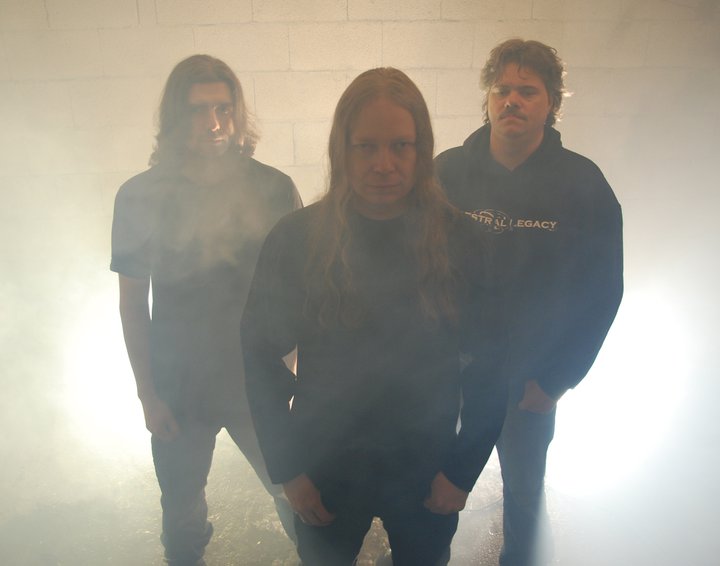 What is it that invades the sanity in your mind once when you stumble across the word, 'Norway' ? If you're a trve bred metalhead, 'black metal' is the only thing that will take over your mind. The grim, dark and blasphemous genre has a really deep connection with the country of Norway and why not, that is where the genre started to sprout into a global epidemic of unholy cacophony. Bands like Mayhem, Darkthrone, Enslaved, Burzum, Dimmu Borgir etc have created a niche for the genre so deeply engrossed, it's almost like Norway is the face of the genre. Whether be it an old band or a new kid on the block, they surely know their black metal very well. It has also seen the face of diversification and a lot of experimentation, many bands have taken a different approach than the genre flag bearers, incorporating elements of majestic symphony, eerie surrealistic ambience, or just adding folk elements indigenous to their viking and pagan heritage. Whatever blend of black metal they churn out, it's always great to listen to and connect.
Today I bring to your notice an excellent album by one of the rising symphonic black metal bands from Norway, LEGACY OF EMPTINESS. As the name suggests, they are a three piece band playing the blend of black metal I love the most, i.e., 'Symphonic black metal' or 'Ambient Black Metal' with a lot of folk and avant garde elements sprinkled here and there. The founding members Eddie and Kjell-Ivar formed this group as a "tongue in cheek" BM-project previously known as 'Permafrost', back in 1995. Recording a couple of demos for their self interest just like the way many bands start out, a few years later Øyvind joined in on keyboards and completed the line-up. They went on to record a couple of more demos, and disbanded in 2000. 2010 saw them make a comeback and gel up together again, as they realised the previously recorded songs were "too good to be left behind". So they re-recorded them and released it as their debut in 2011.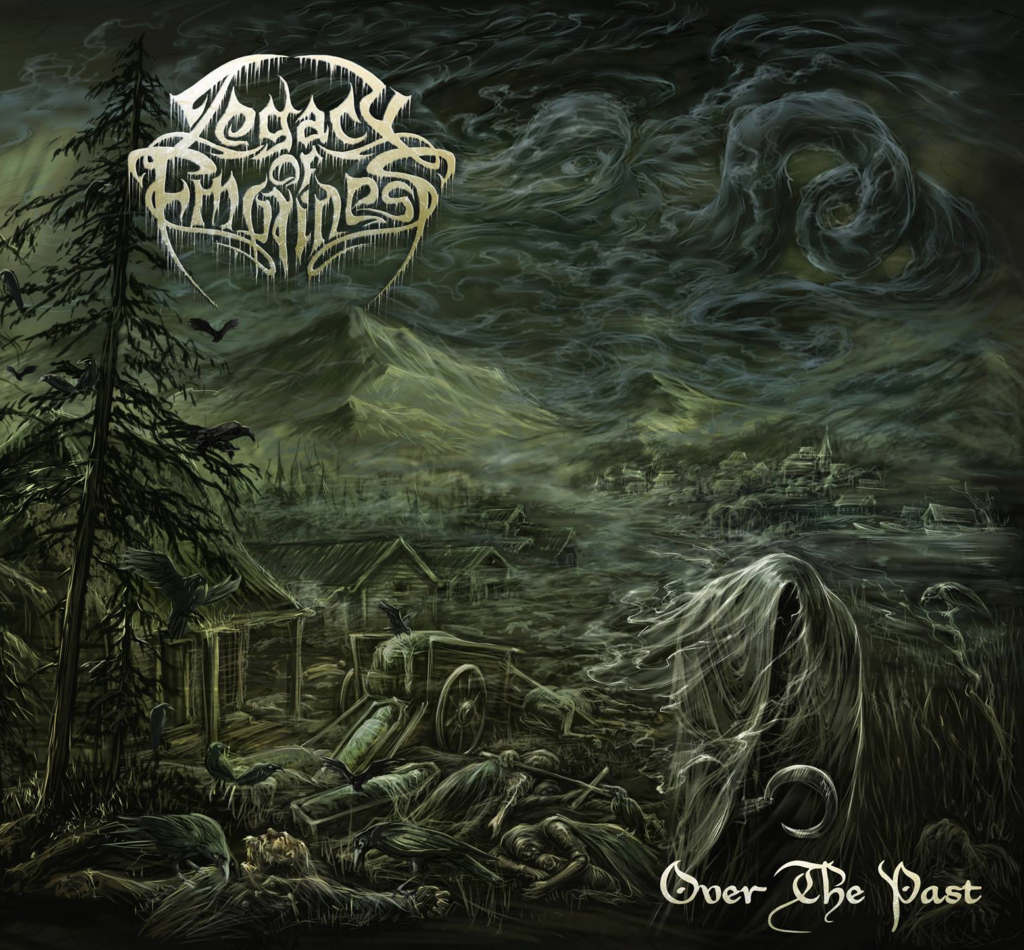 'Over The Past' is the second studio album by the Norwegian outfit. As the name suggests, this album reflects all the hardships, the battles in the long run of their lives, such as accidents, cancer and other illnesses and how they came over the hurdles. The album is an uninviting and sombre approach on the lyrical context, a cold account of darkness, depression, void and of some historical events. The cover art was done by Alex Tartsus and is based on their song 'Four Hundred Years' which is a tale of Norway's past when they were ruled by foreign kings. The album was recorded at 'Where There's No Tomorrow Studio' in 2013-14 and early 2017. Produced excellently and engineered as well by both bandmates, Eddie Risdal and Kjell-Ivar Aarli to perfection. Dan Swanö(ex-vocalist – Nightingale, ex-Edge Of Sanity, ex-Witherscape), who has also previously undertaken mixing and mastering duties for Ancient, Evergrey, Insomnium, Marduk, Omnium Gatherum etc. is also responsible here for the mixing and mastering of this album, at Unisound Studios. The album releases on June 12th, 2017, via Black Lion Records.
Without much ado let us dissect this beast of an album right away. First up is the opening track titled, 'Reminisce', just as the name goes, it is all about ruminating the past, holds up very well with the album title and the thematic approach to it. Kicking the song off with a very grande, rather theatrical and atmospheric section from the keyboards. It's evident from the following lyrics the song speaks of sorrow and utter grief,
"Gone are the days,
Gone are the light,
I embrace the eternal night.."
With repetitive guitar sections accompanied by melancholic melodies that blend in perfectly with the cinematic yet depressive void like ambient aura the keyboards heave, the song sails through perfectly on an endless sea of dark emotions. A perfect start to your melancholic journey, with this six and a half minute opener.
Next track that caught my attention and would like to focus on is the third track, 'Angelmaker'. Øyvind Rosseland hits the keys perfectly with a very spooky bell like intro, soon gathering some momentum into a slow tempo symphony. As the guitars kick in the foreground with an old school groovy, raise-your-fist kind of riff, it slowly gathers pace and changes gears into the fast lane. The atmospheric section does well to keep up with the fast section, I also have to mention about the incredibly well executed drumming, it is fast, gritty and at the same time very dynamic, as and when the track requires it to be. The track midway descends into a very melodic crevice, reminding you of the ever persisting sadness latched to it. A very dynamic track, laced with several tempo changes. Excellent!
Last and my favorite track I'd shed some limelight on the entire album is the fourth in line, 'Into The Eternal Pits Of Darkness'. This track just completely blew me off. Might not be as symphonic as you want, but I for one who likes his metal in the fast and unforgiving sense, this track is definitely your head turner. Not negating the fact that, there's a total lack of symphony,but you'll understand what I mean when you give it a listen to it, attached down below. This track doesn't hinder to bolt off right from the first second, with Eddie Risdal's vocals piercing through time and space fabric of the music. Hinting at a much more generic black metal sound with fast riffing and skin work, it also doesn't bother to take the melodic route right after the unforgivingly fast section and before it falls into a void of epic orchestral/symphonic section. What really makes this track a favorite of mine is the fact that the symphonic/melodic sections are so incredibly well juxtaposed with the fast nature of the track, thanks to some very gnarly riffs and drumming. This serves as a well balanced contrast to the whole song, which is also a testament to the whole album's nature.
So, despite the flak symphonic black metal receives, the question you might ask is, "Is this trve or kvlt enough?". I would say a straight YES in a heartbeat. 'Over The Past' has enough moments where you can just go crazy with the rapid gritty sections along with the symphonic ones where LEGACY OF EMPTINESS will take you by your neck and drown you in a pool of utter sorrow and despair. Almost all the songs share something in common, the fact that they all have a certain mellow or ambient escape in the mid section where the driving wheel is controlled none but by the epic symphony and it's atmosphere. The entire album provides for the listener an exquisitely crafted ethereal yet grim enough flavour over the wall of sound provided by the guitar riffing.
Mixed tempo, with abrupt changes of speed, LEGACY OF EMPTINESS's displays enough of appreciable musical diversity and prowess. Massive high peaking atmospheric crescendos to the deepest and sudden nosedives plunging the listener into the darkest pockets of eternal grief, or might as well add, existential despair, 'Over The Past' knots together an entire cosmos of brutally cold, angst filled and grim tales of depression of the past. A perfect album to start with the genre of black metal if you're looking for traces to a symphonic and ambient outlook. This album is tantamount to a dream of riding on huge depressive waves in an endless and horizonless vast ocean of utter despair.
LEGACY OF EMPTINESS is:
1. Eddie Risdal – Vocals,Guitars,Programming
2. Kjell-Ivar Aarli – Bass
3. Øyvind Rosseland – Keyboards
Pre-order your copy of 'Over The Past' here.