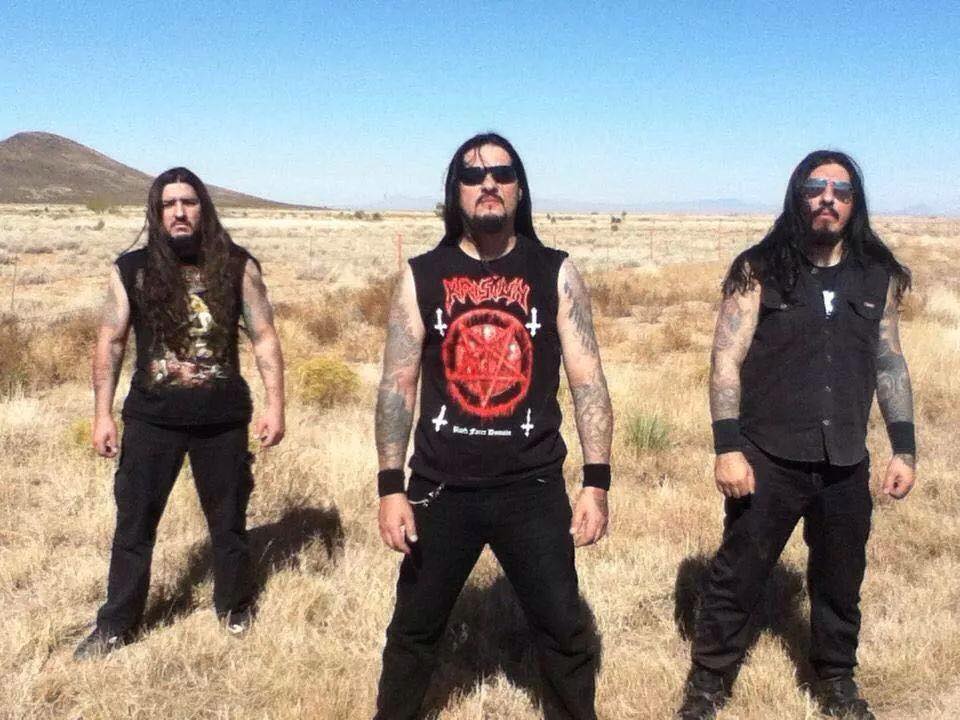 Brazilian death metal masterminds Krisiun have emerged again to unleash some brutality on the masses. Set for worldwide release on August 7th, 2015 via, Century Media Records, "Forged In Fury" will please any death metal fan. The album was produced by Erik Rutan and features cover artwork by renowned artist Joe Petagno who has worked with Motorhead, Marduk and Vader in the past. 
There is no warming up with these guys, they skip the foreplay and get right to business. "Scars Of Hatred" peaks your interest immediately. This track (like any Krisiun song) offers more than one helping of riffs. You have the long drawn out shrieking guitar licks that take you back to the old school death metal sound. Guitarist Moyses Kolesne shreds non-stop throughout each song, while his brother and drummer Max Kolesne has some of the fastest double bass I've heard. Together they form 2/3 of the amazing band that is now releasing its 9th studio album. A track that truly stands out is "Soulless Impaler". It starts out with a slow undistorted riff, and then the drums come crashing in. The chant like vocals from bassist and singer Alex Camargo help this song stand out in comparison to the other 11 tracks on the album.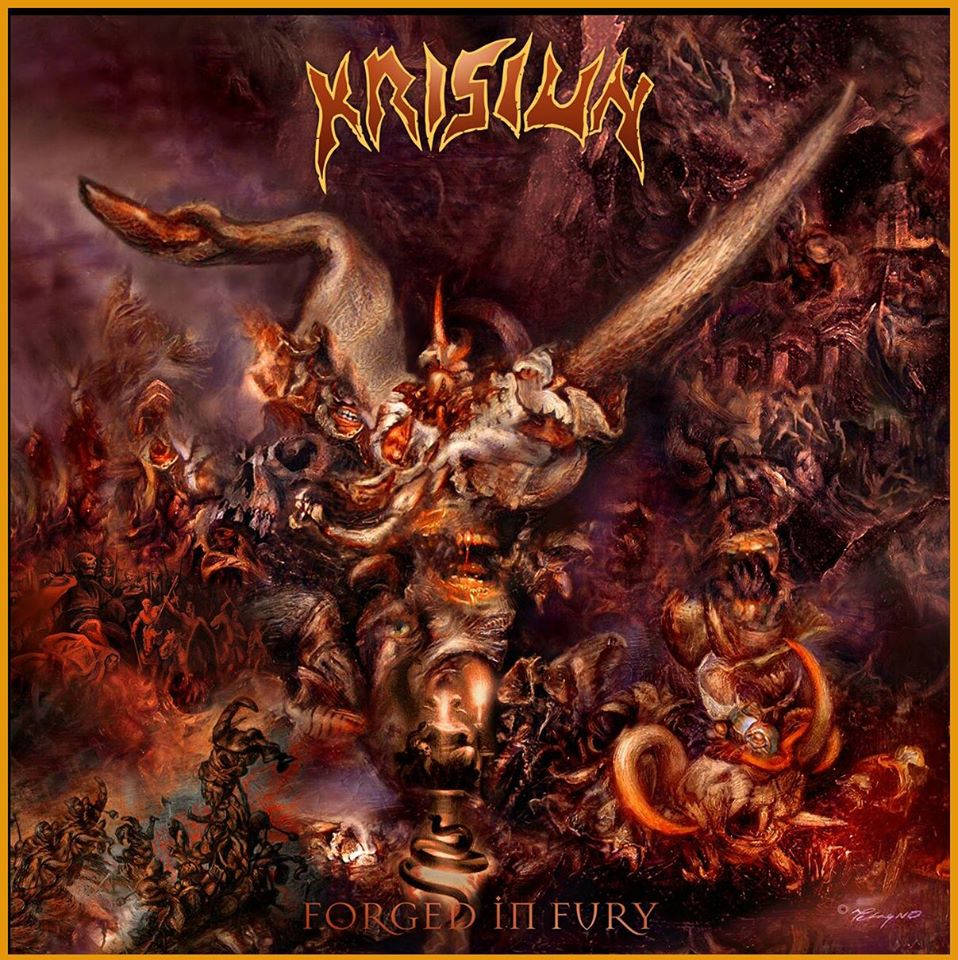 You will not find a ballad anywhere on this album. What you will get on this album though is a 53 second interlude of acoustic guitar, which is a great pause in the kill everything sound of brutality. Alex unleashes his vocals on each song and you can't prevent yourself from headbanging even if you tried. The vocals are in the forefront of each song, but the guitar work and the drums also have their shining moments in each song. Every instrument has a moment of its own in each song, the band is truly aa team effort. Just when you thought things couldn't get any better. Yes ladies and gentlemen there is more. The album ends with a cover of Black Sabbath's Electric Funeral. It is by far one of the best Sabbath covers I have heard. It isn't often that you have two brothers in a band that showcase brutality like this over and over with each album and never mellow out. The only exception may be Tardy brothers in the Florida based band Obituary. Ironically the last time I experienced Krisiun (because you don't watch Krisiun, you experience it) they were on tour with Obituary. It's not often you get to see two amazing bands. As each minute passes the songs continue to get heavier and heavier Make sure to get out and see these guys on tour, it will be worth every penny I promise.
Krisiun will be heading out soon on the Devastation on the Nation tour dates feat. Origin, Aeon, Alterbeast, Soreption, Ingested.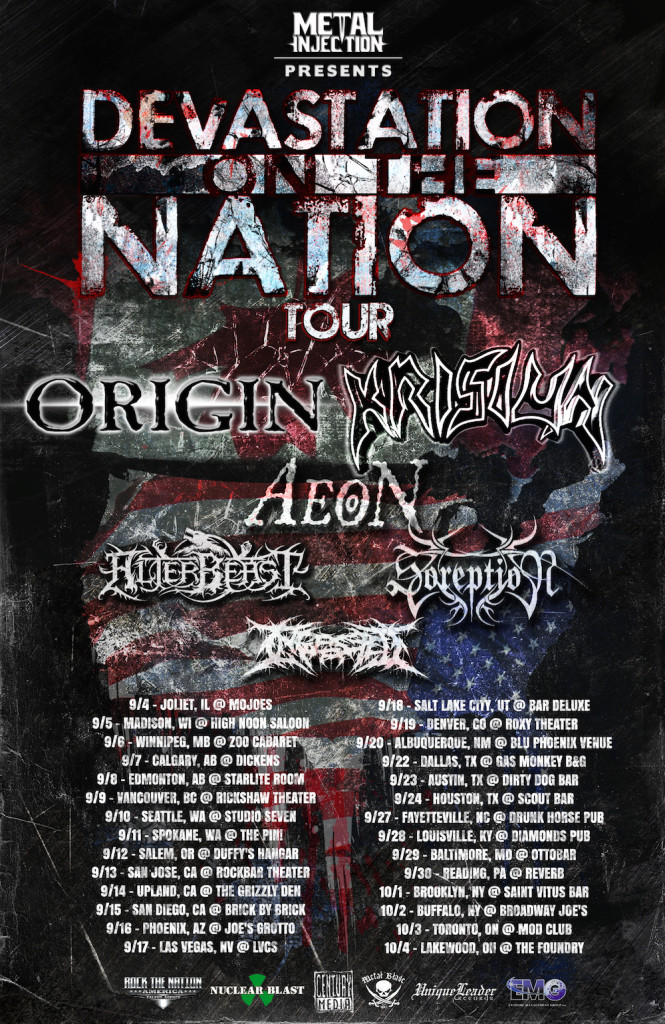 Dates are:

Sept. 4, 2015 – Joliet, IL – Mojoes
Sept. 5, 2015 – Madison, WI – High Noon Saloon
Sept. 6, 2015 – Winnipeg, MB – Zoo Cabaret
Sept. 7, 2015 – Calgary, AB – Dickens
Sept. 8, 2015 – Edmonton, AB – Pawnshop
Sept. 9, 2015 – Vancouver, BC – Rickshaw Theater
Sept. 10, 2015 – Seattle, WA – Studio Seven
Sept. 11, 2015 – Spokane, WA – The Pin!
Sept. 12, 2015 – Salem, OR – Duffy's Hangar
Sept. 13, 2015 – Oakland, CA – Oakland Metro
Sept. 14, 2015 – Upland, CA – The Grizzly Den
Sept. 15, 2015 – San Diego, CA – Brick By Brick
Sept. 16, 2015 – Phoenix, AZ – Joe's Grotto
Sept. 17, 2015 – Las Vegas, NV – LVCS
Sept. 18, 2015 – Salt Lake City, UT – Metro Bar
Sept. 19, 2015 – Denver, CO – Roxy Theater
Sept. 20, 2015 – Albuquerque, NM – Blu Phoenix Venue
Sept. 22, 2015 – Dallas, TX – Gas Monkey B&G
Sept. 23, 2015 – Austin, TX – Dirty Dog Bar
Sept. 24, 2015 – Houston, TX – Scout Bar
Sept. 26, 2015 – Atlanta, GA – The Masquerade
Sept. 27, 2015 – Durham, NC – Motorco Music Hall
Sept. 28, 2015 – Louisville, KY – Diamonds Pub
Sept. 29, 2015 – Baltimore, MD – Ottobar
Sept. 30, 2015 – Philadelphia, PA – Voltage Lounge
Oct. 1, 2015 – Brooklyn, NY – Saint Vitus Bar
Oct. 2, 2015 – Buffalo, NY – Broadway Joe's
Oct. 3, 2015 – Toronto, ON – Mod Club
Oct. 4, 2015 – Lakewood, OH – The Foundry
Oct. 5, 2015 – Warren, MI – The Ritz
"Forged In Fury" releases August 7th, make sure to get out and buy a copy to unleash the sound of brutality.
Keep up with everything Krisiun at the following links:
http://www.krisiun.com.br
http://www.facebook.com/krisiun.official
https://twitter.com/krisiun
https://www.youtube.com/user/krisiunofficial
http://www.myspace.com/krisiun666