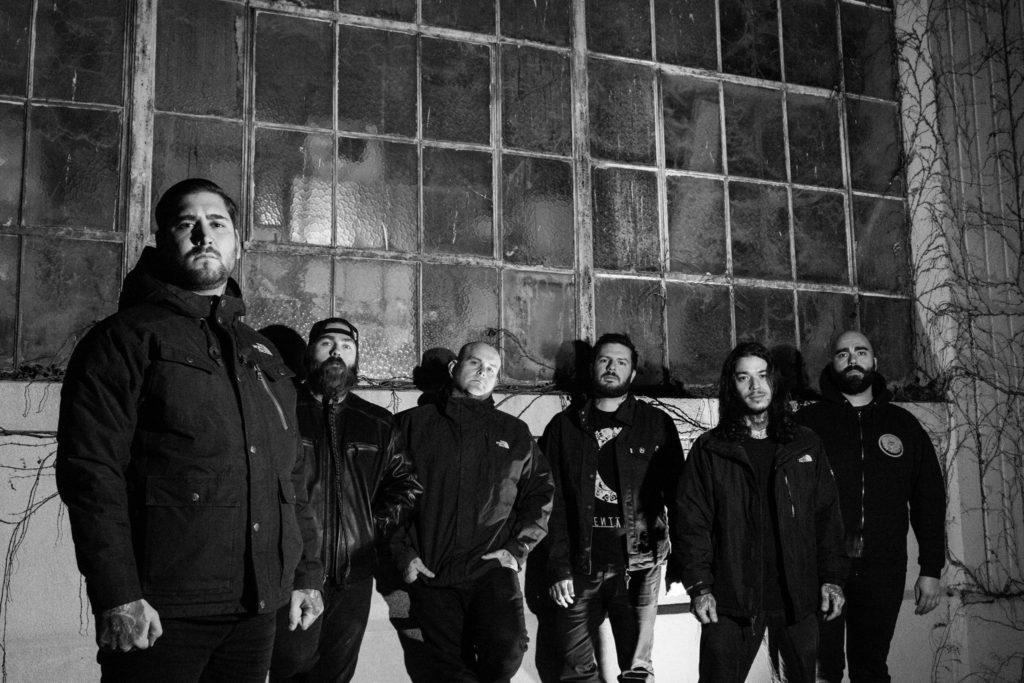 If some bloke asked me to portray Fit For An Autopsy's new album, 'The Great Collapse' in a single picture, I'd happily shove Pantera's, 'Vulgar Display of Power' cover art up on their face. Hell yes, this album is undoubtedly a brutal unforgiving punch to your face. Ever since the New Jersey outfit's emergence nine years ago, they've hurdled successfully across every barrier and put out four albums, starting it off with an EP. And they haven't looked back ever since, the performance curve on their graph has been only rocketing sky high. Although they're pretty much of a new band, it would be justified to say that they've aged like an old fine wine as musicians, as they've been always pushing their musical abilities and ending up showing more prowess. And after the 2015 equally hard hitting release of 'Absolute Hope, Absolute Hell', they're back with a bang, bringing along more brute force to invade every orifice in your body. Fit For An Autopsy's newest installment, 'The Great Collapse' got released on 17th March, via eOne/Good Fight Music in America and SPV Records throughout the rest of the globe, and has been produced by the group's guitarist, Will Putney.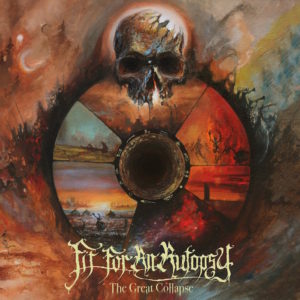 The album has been excellently done and they all sound as a cohesive unit churning out the most brutal and heaviest of music. It just makes you feel like you've been on the receiving end of a kick to your balls, but it's a kick you'd end up craving for more. The album starts off with 'Hydra', where Joe Badolato's monstrous growls pierces through an almost eerie, 'calm-before-the-storm' kinda vibe that the background music tends to build up, then progressing into a massive chuggy, groovy breakdown. A very dynamic track to start off proceedings that makes you go "oomph" right away, followed by a sudden surge of tempo, fast drumming and riffing. Just one song into the album and it already makes me wanna spin the opening track again and again.
The next track, 'Heads Will Hang', is all about how wars may ravage an entire family who's never experienced it and bring them down to the common ground among the ones who've already been suffering. The opening riff is really progressive and you can clearly feel those double bass kicking in. It also has pretty mellow moments, almost something in between a dreamy and melodic vibe.
'Heads Will Hang' is followed by 'Black Mammoth', an emotionally charged track that highlights the Standing Rock/Dakota Access Pipeline issue. I say "emotionally charged" because if this plight of the Natives, who've been protesting against the oil companies in order to stop the pipeline construction which plans to ruthlessly mow down their holy ritualistic burial sites, doesn't make you sad, then I know not what on earth will. Again, a lot of progressive elements are incorporated into the song, with the usual heavy breakdowns and dynamic drumming. It ends with the following lines which shows how the natives have always been exploited in their own land,
"Tragedy Rains Forever
Tragedy Rains Forever
Tragedy Rains Forever"
The next track that stands out in the entire album is, 'When The Bulbs Burn Out'. The band takes on the global issue of 'Climate Change' here very tactfully and with musical mastery. It opens with Leonardo diCaprio's speech from his documentary movie, 'Before The Flood'. I extremely like how they're creating awareness on this precarious issue with their music. This album really throws the limelight on the recent problems the world has been marred with, which in turn creates a sense of introspection among the masses.
So, Fit For An Autopsy's, 'The Great Collapse' is one hell of a groundbreaking deathcore record that I am sure will knock out fans of deathcore and every other metal sub-genre alike. What really impresses me in this album is the lyrical prowess that it spews forth taking on topics and themes that is really important in the modern world, something which not many bands off late have been indulging in. It talks about how we all are poised for a dystopian world, if the current staleness persists. This band has been pushing the boundaries of traditional deathcore as is evident in this album, by fueling their wagon with their own stylistic individual approach. What also stands out is the well balanced contrast between the progressive/atmospheric sections and the heavy, chuggy breakdowns, the latter which successfully obliterates anything that opaques it's way. Along with the above mentioned inputs, there are also a few guitar solos scattered here and there in the songs such as, 'Terraform' and 'Iron Moon', for the mandatory eargasm.
This is a record that'll be remembered for a long period of time by all fans alike, and especially by deathcore fans who might have thought deathcore to be a totaled car and needed to venture out of the usual stuff that comes out in abundance. With lyrical content of such might, Will Putney's excellent guitaring, Josean Orta's inhumanely fast but dynamic drumming, thunderous bass and Joe Badolato's humongous growls, Fit For An Autopsy has put out yet another stupendous record, arguably the best yet in their arsenal. And this record has cemented Fit For An Autopsy's worth in the deathcore scene and they are headstrong on demolishing everything on their way because this freak train clearly isn't stopping anytime soon. Getting punched in your face was never this satisfying!
Follow Fit For An Autopsy on Facebook here