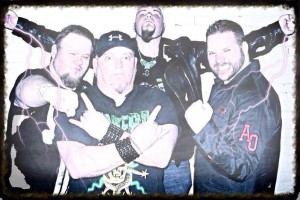 Pikeville, Kentucky isn't a rock destination by any means. To be completely honest it is really hard for a band to survive in an area that doesn't have a very good music scene. Downtrend has been together since 2004 and has several releases in their discography. The band was formed by guitarist Josh Crum and bassist Jeremy Chaney. While most bands would have given up, the band has persevered and continued to dominate stages all around the region. The current line up brings with it great chemistry which can not only be heard but seen with the naked eye when they grace the stage with their presence. Drummer J.D. Hall and bassist Jeremy Chaney have a musical bond that dates back even prior to this band that helps them create a sound that is pure aggression all the while keeping an amazing rhythm. The band has blended together all their influences to juxtapose this eclectic sound. Front man Mike Jackson not only serenades with his authoritative vocal style but he also breaks out his harmonica skills that help the band achieve an original sound.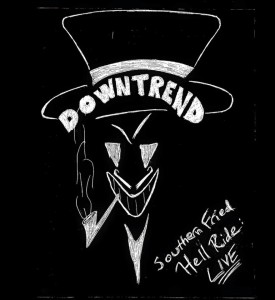 The band is about to release their brand new live album that was recorded by Joey Ferris in Lenore, West Virginia. The album is cleverly titled "Southern Fried Hell Ride: Live". The majority of the time live albums are of a lower quality, but that is not the case with this album. The 2nd track on the album "Trick Bitch" is one of my favorites by the band. It is an anthem to snotty high class women. As Mike Jackson indicates "This one goes out to the Paris Hylton type girls in this world…I don't dig that fake stuff…Give me a tattooed metal girl any day baby" and we couldn't agree with him more. The song carries this low end funk created by bassist Jeremy Chaney that helps the guitar parts stand out even more. The song has these amazing tempo changes and Mike's vocals go from a gut wrenching scream to a delicate serenade. His skills doesn't stop there as the next song has him on the harmonica. When the song first starts you do a double take because you don't immediately expect the harmonica parts. Once guitarist Josh Crum starts to strike some chords it all makes sense. The riffs of the song are this bouncy grit your teeth kind of heaviness. That song which is titled "Roll the Credits" is an amazing creative element the band has brought to the table that you won't find anywhere else. They keep their rock elements while also setting themselves apart from every other band out there. Next up they do a flawless cover of AC/DC's "Whole Lotta Rosie". I'm not sure what it is about this song but seeing them play it live just brings a smile to all of their faces. Drummer J.D. Hall slays this song from start to finish and also makes it fun to watch, with his theatrical drumming style. The final song on the album "13 Reasons" is an old school throwback and was one of the band's first songs they wrote. This song bleeds into a medley of amazing hits that you will immediately be singing along to. If you are looking for something new to listen to these guys just may fill your void. They have some sort of element in their music that is appealing to anyone's ear.
Follow Downtrend on Facebook here.
Pick up a copy of Southern Fried Hell Ride: Live here! Due out 12/4