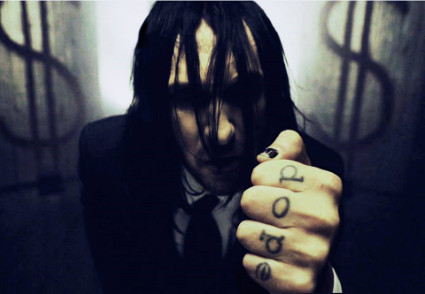 Some bands from the late 90's and early 2000's have faded away. Others have made a stale return and then there are bands like Dope who have stayed true to their sound and succeed since their formation. From the very moment in 1999 when I first saw the video for "Everything Sucks" I was hooked. While their were dozens of nu-metal bands already taking over the airwaves Dope had that extra something that others didn't. One of their keys to success is the lyrics by singer and founder Edsel Dope. The lyrics are some of the most relatable you will ever hear.Any listener can take something away from each and every song. The band is about to release their 6th studio album and the bands first release in 7 years. 'Blood Money, Part 1' will release on October 28th via eOne Music. The band is currently on tour with Flaw and Motograter in what they are referring to as the Dope reunion tour which features the bands classic lineup of Edsel Dope, Acey Slade, Virus, & Racci Shay.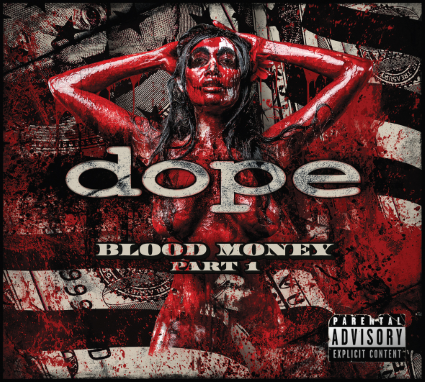 Dope has already released three singles from their upcoming album 'Blood Money Part 1″. Those songs are "Blood Money", "Selfish" and "Hold On". All of those songs are amazing and they are single handily enough reason to purchase the album. I absolutely love "Hold On", it's lyrics filled with emotion and has a chorus that you can feel the passion in Edsel's voice. However, the rest of the album is equally great. The track "1999" starts out with some industrial style sounds and then kicks into some fast past riffs. "I never thought i'd be alive after 1999, I should have mother fucking died in 1999" is some very personal and honest lyrics and it makes for a great song. As I've said before Edsel puts his soul into each and every song, like blood on paper you can feel every ounce of emotion in every track. The song is fierce and powerful from beginning to end. One of the most surprising tracks on the album is the bonus track. Dope is no stranger to cover songs, their 1999 album 'Felons and Revolutionaries' contained covers of N.W.A's "Fuck Tha Police" as well as Dead Or Alive's "You Spin Me Round (Like A Record)". The band has always found a way to make a cover their own by putting their own spin on the song. The cover on this album is "Violet" by the Courtney Love fronted band Hole. The song in my opinion is much better than the original. It's different and Edsel's voice has several different tones throughout the song. The album as a whole is absolutely amazing. Dope was always one of the stronger bands during the nu-metal era, and they are helping the genre rise back to the top. 'Blood Money Part 1' will be in stores October 28th, make sure you pick this album up, everyone needs a little Dope in their life.
You can pre-order the album here, and make sure to follow Dope online here.
You can also still catch Dope on tour with Motograter and Flaw.
Remaining Tour Dates:
10/21 – Dallas, Texas @ Trees
10/22 – Merriam, Kan. @ Aftershock
10/23 – Oklahoma City, Okla. @ 89th St. Collective
10/24 – Lubbock, TX @ Backstage
10/25 – Gallup, N.M. @ The Juggernaut
10/26 – Phoenix, Ariz. @ Club Red
10/27 – San Diego, Calif. @ Brick By Brick
10/28 – Las Vegas, Nev. @ Counts Vamp'd
10/29 – Anaheim, Calif. @ The Grove
10/30 – West Hollywood, Calif. @ The Whisky