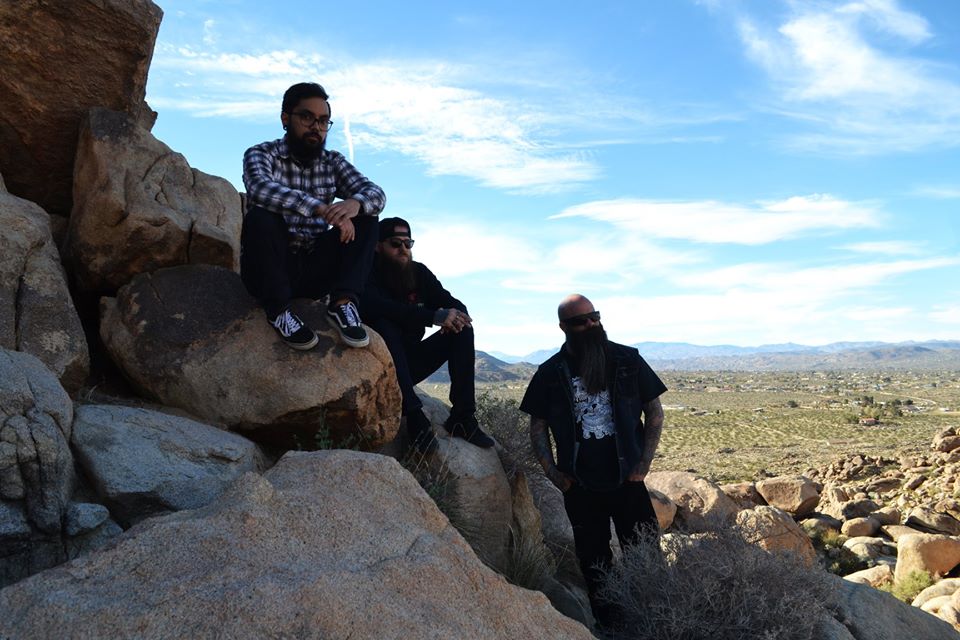 After honing their chops in other touring bands, the members of Atala came together in 2013 when frontman Kyle Stratton, who owns two tattoo shops in their hometown, met up with drummer Jeff Tedtaotao, the brother of one of his shop's tattoo artists. After joining up with their first bassist, the band quickly linked up with producer Scott Reeder (Kyuss, The Obsessed), and released their self-titled first full-length in 2014. In 2016, the band followed up with the release of their well-received sophomore album, 'Shaman's Path of the Serpent', this time with current producer Billy Anderson (Sleep, Melvins, Mastodon) at the helm. After the departure of their previous bassist, current bassist and fellow tattoo artist Dave Horn joined the ranks. Though the band hails from the barren desert of Twentynine Palms they aren't anything like the standard desert rock bands you may be familiar with, Atala are breaking the mold and solidifying a new sound associated with the desert. Now signed to Salt of the Earth Records, Atala seeks to reach new heights and expand their horizons, and they did just that with the 2018 release of 'Labyrinth of Ashmedai.' Their most conceptualized offering yet. Atala have truly found their path, and their groove, with 'Labyrinth of Ashmedai,' and I believe they also reached a new pinnacle in songwriting. We conducted an interview with the band as well which you can read here. The Twentynine Palms doom crew is now back with another album that is bound to please our ears. Atala will release their new full-length 'The Bearer Of Light' via Salt Of The Earth Records on May 21st.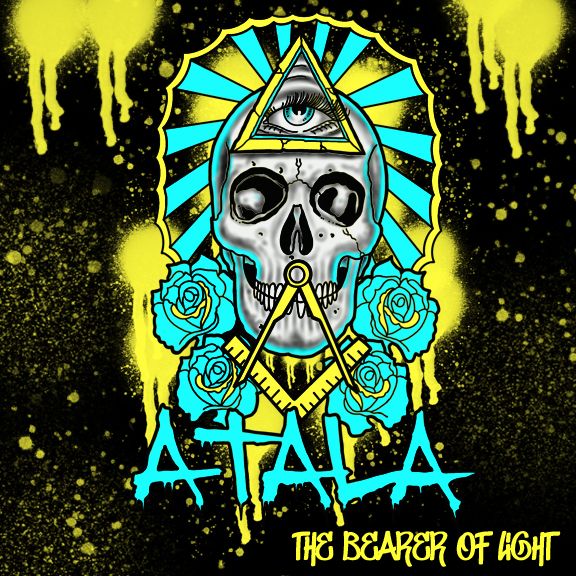 The album opens with the bands newly released single "Desolate Lands," which the band has also released an official video for as well. The songs boasts the bands electrifying rhythmic doom style and also showcases Kyle Stratton's melodic vocal tone. "Desolate Lands" immediately reminds you of doom legends like Saint Vitus and Black Sabbath; yet different at the same time. "Son Worshiper" kicks off with the voice of the late great George Carlin saying "I decided to look around for something else to worship. Something I could really count on. And immediately, I thought of the sun. Happened like that. Overnight I became a sun-worshiper." The quote really falls in line with front-man Kyle Stratton's Atheist views. The song immediately kicks off with a heavy fuzzed out bass line leading the way by Dave Horn.  The 8 minute long track never lets you up for air, smothering you in extreme heaviness, and feedback from beginning to end. The uniqueness of this song is that Stratton's vocals lurk in the background rather than at the forefront. It builds character within the song and also allows the instruments to shine. "Venomous Lure" begins with yet another speaking quote from yet another legend; this time from the literary world. Hunter S. Thompson states ""Different drugs for different things, Right now I think it's in my interest – and ours, perhaps. And maybe in the interest of the greater good for me to smoke a joint and calm down." This track picks up the pace and incorporates a bone chilling groove. Atala give us a punk rock vibe in this song while also maintaining their footing in the doom territory. Jeff Tedtaotao's drumming, specifically the cymbal crashes and Stratton's vocal timing and chugging guitar riffs create this synchronized pattern that keeps your head constantly banging. The longest track on the album is "Won't Subside" which clocks in just over 11 minutes. The song has a 2 minute instrumental prelude before the vocals kick in. Atala take things in a sludgy direction on this song. Both Kyle Stratton and I share an appreciation for Dax Riggs and Acid Bath; and with this song you can hear a lot Acid Bath influence. The sludgy tones and the varying different vocal styles going from melodic to a much harsher scream. Of course Atala are no carbon copy of anything, and all their uniqueness helps them stand out in a crowded genre.
'The Bearer Of Light' from front to back is a constant gear changing trip. Their sound changes enough on each track to keep everything sounding fresh rather than repetitive. So far with each album they have released they continue to impress and this album is no different. They provide us with a cornucopia of varying styles and sounds while still remaining in the confines of the doom world. Atala is bearing the light and leading the way with a modern twist on traditional heaviness.
ATALA w/ Sixes:
6/14/2019 O'Malley's – Mountain View, CA
6/15/2019 Mummer's – Sparks, NV
6/16/2019 Beehive – Salt Lake City, UT
6/17/2019 Streets Of London – Denver, CO
6/18/2019 The Riot Room – Kansas City, MO
6/19/2019 The Lift – Dubuque, IA
6/20/2019 Reggie's Music Hall – Chicago, IL
6/21/2019 Mohawk Place – Buffalo, NY
6/22/2019 Café 611 – Frederick, MD
6/23/2019 The Drunk Horse – Fayetteville, NC
6/24/2019 Alabama Music Box – Mobile, AL
6/25/2019 Come And Take It Live – Austin, TX
6/26/2019 Bond's 007 Rock Bar – San Antonio, TX
6/27/2019 Rockhouse Bar & Grill – El Paso, TX
6/28/2019 House of Bards – Tucson, AZ
6/29/2019 Yucca Tap Room – Phoenix, AZ
6/30/2019 Slidebar – Fullerton, CA