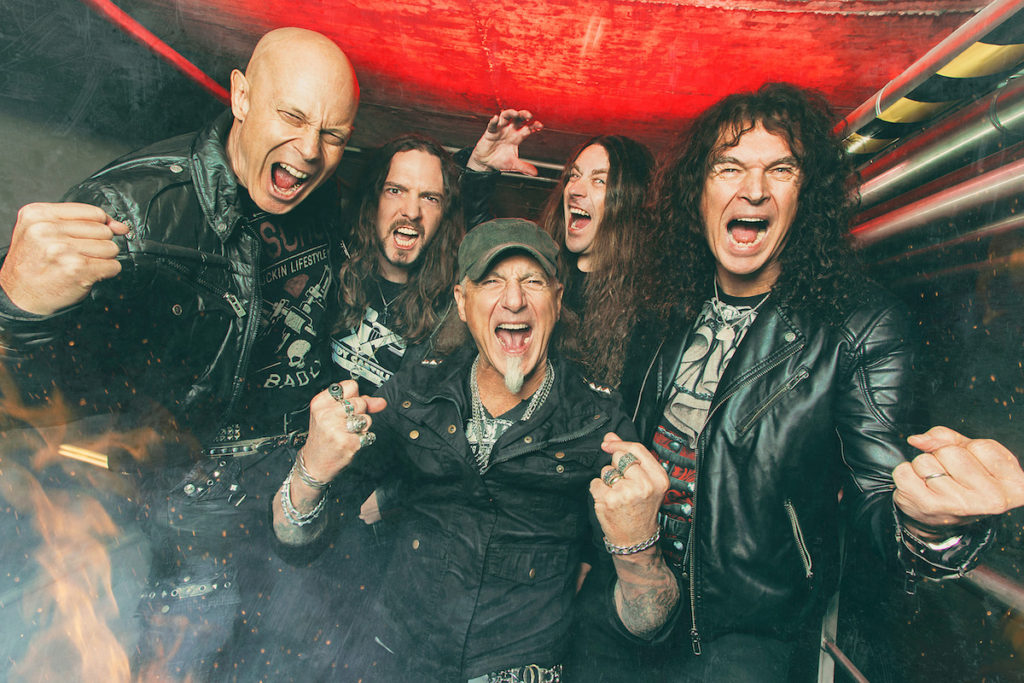 My first encounter of ACCEPT is still vivid and it does evoke the exact feelings the band's music walked me through couple of years down the line, when I stumbled across their legendary song 'Balls To The Wall' of their 1983 album of the same name, which is more than just an album. It is a phenomenon to be honest! Their last three albums have been doing pretty well, with the band achieving more success than they had in their entire career, with Mark Tornillo on vocals it also happens to be my favourites along with a couple of old school classics from the Udo era. After a hiatus and hitting back to the grind in 2009, ACCEPT have been pretty much putting out consistently power packed albums with a cycle of touring followed by the release of each album. They've been busy you can tell, and to hit that off at this age even after 30+ years of existence is worth a huge round of applause.
The teutonic titans are here to continue the legacy and deliver more good old school metal to the masses as they are just a knock away from the release of their 15th studio album, 'The Rise of Chaos', which comes out crashing through the gates on the 4th of August via Nuclear Blast Records. Back with a new line up and rejuvenated spirit, ACCEPT are pretty much consistent with what they do and hence further cements the fact why they are your old school go-to boys, with this record.
'The Rise of Chaos' is the 15th studio album after 2014's 'Blind Rage' which consists of ten tracks in the vein of typical ACCEPT style that we all know of,and without a doubt, this new album surely does pack in a punch. The new album has been recorded for the fourth time on a consecutive run with Andy Sneap who is pretty famous in the metal scene and have had helped many other big shots do the same. The exceptionally detailed artwork(see above) was created by talented artist Gyula Havancsák, who has successfully captured the details of pretty much the current dire state of the world we live in. As Wolf Hoffman and Peter Baltes take charge in the lyrical and composition department, while Mark Tornillo's rashy vocals create a rapture in the fabric of time, and new recruits Christopher Williams' and Uwe Lulis' pounding drums and loud guitars respectively all gel together to form this album, let's dig in and see what 'The Rise of Chaos' has in store for us.
So what do we have here? Opening track on the 46 minutes long album is 'Die By The Sword', and it starts off on a pretty high note, loud groove oriented riffs and hard hitting skin work. The song is no alien to an ACCEPT fan's ears. He gets what he expects, sonic old school guitar riffs, a high octane anthemic chorus, as they rest of the band adds some ambience on the backing vocals, to which you can raise your fist and just bang your goddamn heads. The grandiosity of the track only shoots high with time as Wolf Hoffmann's typical adrenaline filled riff attack and Peter Baltes' thundering bass lay solid base to the opening track. New recruit, Christopher Williams ends the song with a sweet drum roll and right there we have an excellent old school, fist pumping start to the 2017 offering.
The next track that caught my attention is 'No Regrets' with Christopher, the new drummer, hitting that snare like a machine gun fire creating that ratatat sound . Hoffmann's crushing and heavy riffs are intermittently broken through by Mark Tornillo's stark yet raspy voice, it successfully acts as a bridge between his vocals and Wolf Hoffmann's well placed and executed guitar riffs. The solo is quite heavy mind numbing as the twin guitar attack from Wolf and Uwe Lulis create a perfect harmony and engages the listener to dive in the song more and more. What is noticeable in this song is the many layers it possesses, starting from the heavy intermittent riffs, the ambient melodic sing along chorus, that makes the hairs at the back of your neck stand up, where things take a back seat until lead guitars shoot the silence into pieces again. A very diverse track that packs in a punch and captures every emotion in just under five minutes.
The next track took me some good amount of time to wrap my head around. Though 'Analog Man' is one of the best tracks musically on the records that evokes the true old school fist raising and feet thumping vibe, it also at the same time is a weird one lyrically. I can totally or at least try to understand what Mark Tornillo is trying to portray here but someone just singing about cloud storage and data plan seems so funny and irrelevant to me when it comes to metal. Amidst loud retro guitars, stadium sized anthemic, catchy choruses and hard thumping bass, despite singing on an odd topic, the song comes off pretty well. As Mark sings, "I am an analog man, trapped in a digital world", I guess he wants to tell people how today's world has been engulfed with technology and that it is hard for an old schooler like him to survive in this new age of technological hullabaloo. This reminds me 'Computer God' by BLACK SABBATH from their 1992 album, 'Dehumanizer' though.
This whole album is without a pinch of doubt, one very good album if not excellent. But what keeps poking me is the lack of something extra ordinarily new to my ears. I know that Wolf Hoffmann would never risk changing their sound, the sound that has brought this far, the sound which he describes something as the "same as they always sound" but "a better and a stronger one". I have had so many throwback moments all throughout the album barrinf a few songs, stuff that made me go "Oh, this is right from the vaults, from the 'Balls To The Walls'". For example, 'Worlds Colliding' is a track that sounds like more light, stripped down and upbeat version of 'Pandemic' from the 2010 'Blood Of The Nations' album, one of the very first and my personal favourites. Adding on to the list of similarities, the uncanny resemblance the song, 'What's Done Is Done' intro riff holds to IRON MAIDEN's 'Fear Of The Dark' is very subtle but still noticeable, it is just a bit more revved up and high octane version of it. 'Race To Extinction' has yet again a very Maiden-ish feel, laid down straight back to the NWOBHM roots and one can easily say although they are of German origin, the general, mutual feel and vibe of heavy metal is shared by almost every classic act.
While still being a good record, 'The Rise of Chaos' still falls short in some areas, mainly due to the fact that a lot of riffs and melodies seem to be repeated. Some of the riffs can take you straight back to the 80s Udo era or just as recent as 2014's 'Blind Rage' or its 2010 predecessor 'Blood Of The Nations'. But at the same time, tracks like, 'Koolaid', 'Analog Man', 'No Regrets' and not to forget the melodious and sweet but yet heavy 'Carry The Weight' are exceptional ACCEPT tracks. Mark Tornillo's perfect delivery in his coarse vocals even at this age is very gritty and exceptional of him and shows the extraordinary and true mettle imbibed in him. Wolf Hoffmann never disappoints with his classic old school riffs and solos which are also laced with new age energy and monstrosity. Peter Baltes is one such guy like any other bassist who doesn't get much of the limelight he should, but I want to point out to his bass playing which only makes the listener have a hard time quantifying his tremendous thundering bass abilities. He pretty much lays the foundation of every ACCEPT track. New additions, Uwe Lulis on guitars and Christopher Williams on drums have done an excellent job keeping up with the top notch musicianship ACCEPT displays. Wolf and Uwe have gelled pretty well in this record and they sound great both together complimenting each other as and when needed.
All in all, 'The Rise of Chaos' is a pretty solid album barring a few points like the repetition of some riffs that run you into past memories of their music like I mentioned above. I feel ACCEPT can do better in their next record, but that doesn't take away the fact that the band is truly devoted and committed to how they sound in every nook and corner of their songs. This displays their level of dedication and further upholds the fact that even after three decades of blistering old school sonic carnage ACCEPT are still no where close to a dying out flame. Go ahead and jam this excellent record, cause, this is none other than your very own ACCEPT!
Don't forget to live stream ACCEPT's ultimate Wacken Open Air live performance along with Wolf Hoffmann's "Headbanger's Symphony", both with a full orchestra on stage. This promises to be one of the best shows this summer. The live stream will start at 20.00-22.00 CEST(Central European Summer Time) on Thursday, August 3rd. Click HERE for the live stream link!
Get your copy of 'The Rise of Chaos' HERE!