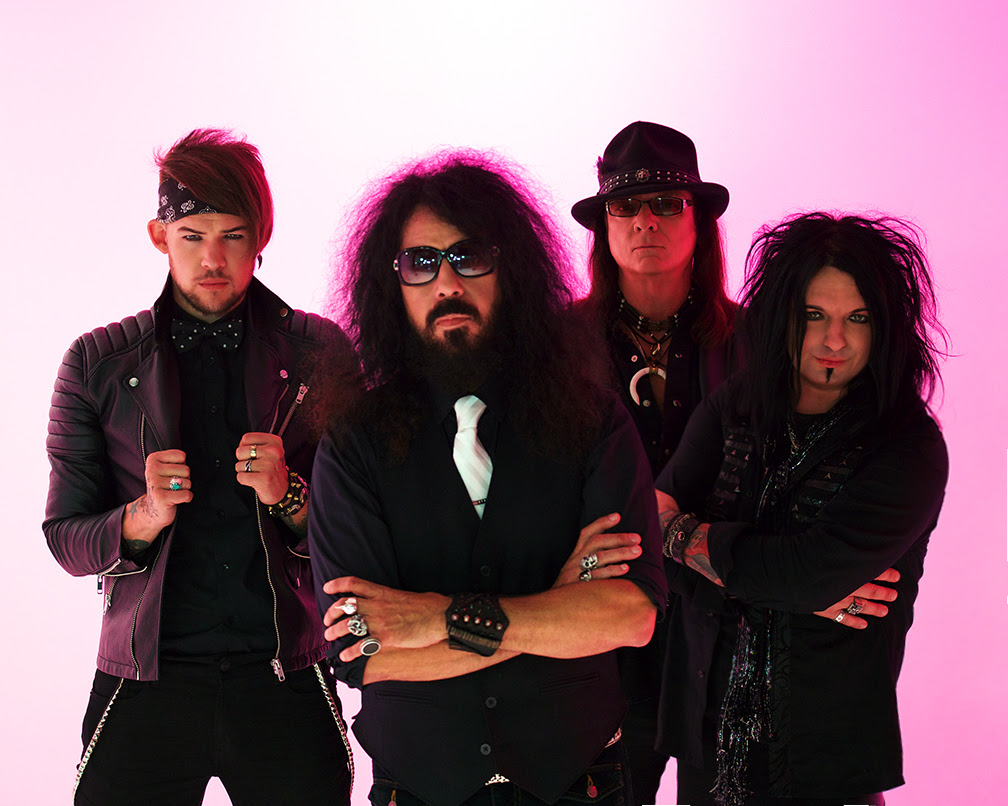 Veteran and legendary heavy metal act QUIET RIOT has released a new song, "Freak Flag" from their upcoming new album "Road Rage", soon to be out on August 4, 2017 via Frontiers Music Srl. This is the first ever track featuring the new vocalist James Durbin, who also happens to be from the 2011 season of American Idol who made news singing hits like "Living After Midnight" and "Breaking The Law" of JUDAS PRIEST. The record was originally meant to be out by spring 2017 and to be sung by former short lived singer Seann Nicols, but after his exit QUIET RIOT decided to re-record with the newly formed line up.
QUIET RIOT is a heavy metal phenomena and made it big after the release of 1983's 'Metal Health'. They take pride in being the very first heavy metal band to break through to the top pop charts, also leading the pack in the Billboard charts. QUIET RIOT's bassist Frankie Banali is the only surviving original member of the band since it's chart busting magnum opus, 'Metal Health'. After ten years of losing his friend and bandmate Kevin DuBrow they're back led by drummer Frankie Banali, who is joined by veteran bassist Chuck Wright (who has been in and out of the band since 1982), guitarist Alex Grossi (who has been in the band since 2004) along with new vocalist James Durbin, they return back to the scene with a new album that promises to revisit their roots, keeping it the old school way. 
"QUIET RIOT has always recorded songs that have a link with the QUIET RIOT "sound" and at the same time always musically moving forward. "Freak Flag" is such a song with a strong connection to our iconic sound from the past, which I think our longtime fans will appreciate and newer fans will embrace," says drummer Frankie Banali. 
Vocalist James Durbin adds, " 'Freak Flag' is a concept I've been holding on to for a few years. It's all about being you no matter what life has labeled you with. We're all broken & searching for acceptance, but there's a beauty in that search & it's something that should be celebrated."
"Road Rage" Track Listing:
1. Can't Get Enough
2. Getaway
3. Roll This Joint
4. Freak Flag
5. Wasted
6. Still Wild
7. Make A Way
8. Renegades
9. The Road
10. Shame
11. Knock Em Down
QUIET RIOT line-up:
Frankie Banali – drums
Alex Grossi – guitars
Chuck Wright – bass guitar
James Durbin – vocals
Go see QUIET RIOT live! 
6/17: Sauk Rapids, MN @ Old Capital Tavern
6/23: Lynchburg, VA @ Phase 2
6/24: Big Spring, TX @ Annual Fantastic Fourth
6/30: Marksville, LA @ MARI CENTER – PARAGON CASINO
7/1: Junction City, KS @ Sundown Salute
7/7: Santa Cruz, CA @ Santa Cruz Beach Boardwalk
7/15: Lake Ozark, MO @ The Horny Toad At Camden On The Lake
7/21: Las Vegas, NV @ The Golden Nugget Casino
8/11: Greenville, TX @ The Texan Theater
8/12: Longview, TX @ Maude Cobb Event Center
8/18: Imperial, NE @ Chase County Fairgrounds
8/25: Le Roy, NY @ Jam At The Ridge
8/26: Port Falls, ID @ Stateline Cruiser
9/1 – San Pedro, CA @ USS IOWA – Fleetweek 2017
9/2 – Wilmington, NC @ The Thorne Theater
9/7 – Jim Thorpe, PA @ Penn's Peak
9/15 – East Durham, NY @ Catskill Mountain Thunder
9/21 – St Charles IL @ Arcada Theater
9/23 – Newkirk, OK @ Southwind Casino
10/19: Houston, TX @ Proof Rooftop
10/28: Brownsville, TX @ Rock The Park Festival
10/29: Pekin, IL @ Avanti's Dome – Rock 'N' Skull Festival
11/4: Pembrook, Pines FL @ Rockfest 80'S -CB Smith Park
11/8: West, Hollywood CA @ The Whisky A Go Go
2018
Feb 15-19: @ Rock Legends Cruise
Purchase tickets to the shows here.
Pre-Order "Road Rage" at the links below:
Amazon: http://radi.al/RoadRageAmazon
iTunes: http://radi.al/RoadRageiTunes
Google Play: http://radi.al/RoadRageGooglePlay