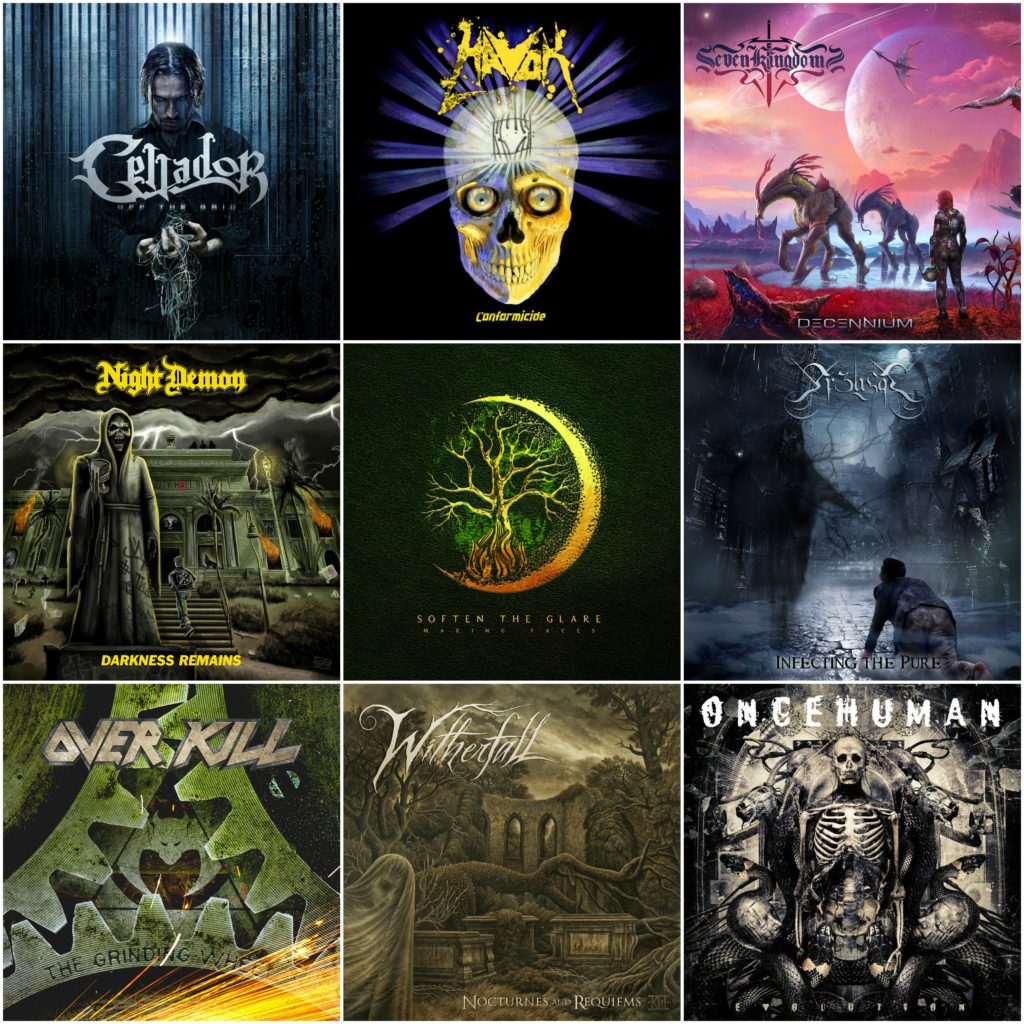 Best of 2017
Like every year, we have been inundated with tons of killer, new Metal in 2017. Thankfully, we here at Metal Nexus have the freedom to share what we personally liked over the course of the year. No sales numbers. No record label affiliation or pressure. No sub-genre infighting. No BS. Just an honest list of what struck us individually. Like past years, my list is as broad as my musical tastes and covers everything from instrumentals, to Tech Death, to Power Metal, to Thrash and even a top-notch Progressive Rock band. Hopefully, some of my favorites will become yours and will propagate the audience for each and every band listed below. I sincerely hope that 2018 brings bands and albums this good. Enjoy and continue expanding our Metal family!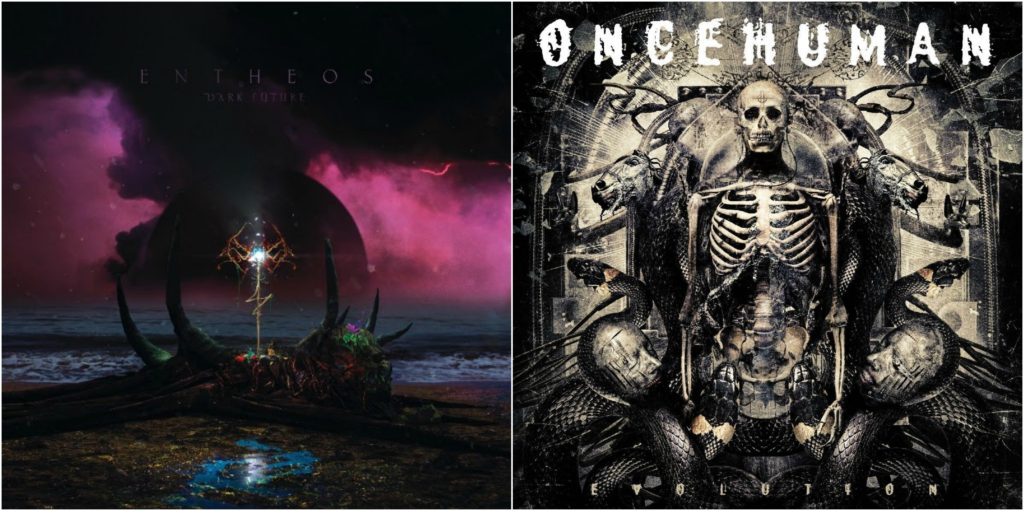 10). Once Human "Evolution" and Entheos "Dark Future"
It would almost be sacrilege to leave off one of my favorite, modern Metal bands, Once Human. Once hearing "The Life I Remember" a few years ago, I have been hooked on the shear brutality Once Human bring to the scene lyrically, musically and, of course, by the brash vocals that can only belong to Lauren Hart. Add to that the wicked guitar machinations of the mighty Logan Mader and Max Karon, the trick bass lines of Damien Rainaud and drumming of Dillon Trollope and you have a winning combination of mind blowing Metal. With the much anticipated release of Evolution, Once Human prove that they are hear to stay for the long haul. Well worth the wait!
Like Once Human, I could not leave off Entheos. I have followed this female-fronted Tech/Progressive Death Metal behemoth for a few years now after discovering that members of Animals As Leaders and The Faceless were forming a new band. While the first couple of releases were excellent, "Dark Future" proves that the synchronicity between Funk, Jazz and Tech Death is not only viable but is very, very cool and unique. Entheos hit the target they have been aiming for dead center with this release. This very possibly defines a new sub-genre of our beloved Metal and definitely defines what Entheos is all about. If you have not heard them before, get busy. Well worth your time getting in on the growing "ground floor" of this Metal supergroup!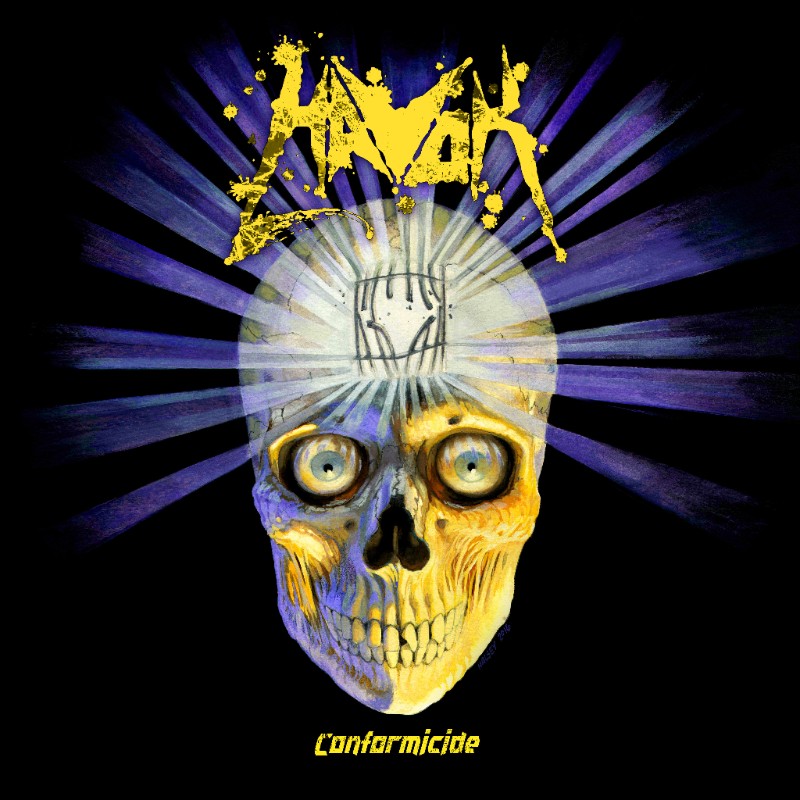 9). Havok "Conformicide"
Growing up on the original evolution of Thrash, Havok always manages to bring something new and different to the mix while remaining true to the purist. "Conformicide" is further proof that Havok have what it takes to please damned near everyone. Hard hitting and melodically complex guitar work wrapped around a traditional Thrash groove make them a shoe-in for the top ten list. This is definitely one of those bands that deserves much more recognition and one that will go down in the annals of Heavy Metal as one of the greats. Horns up to this killer band!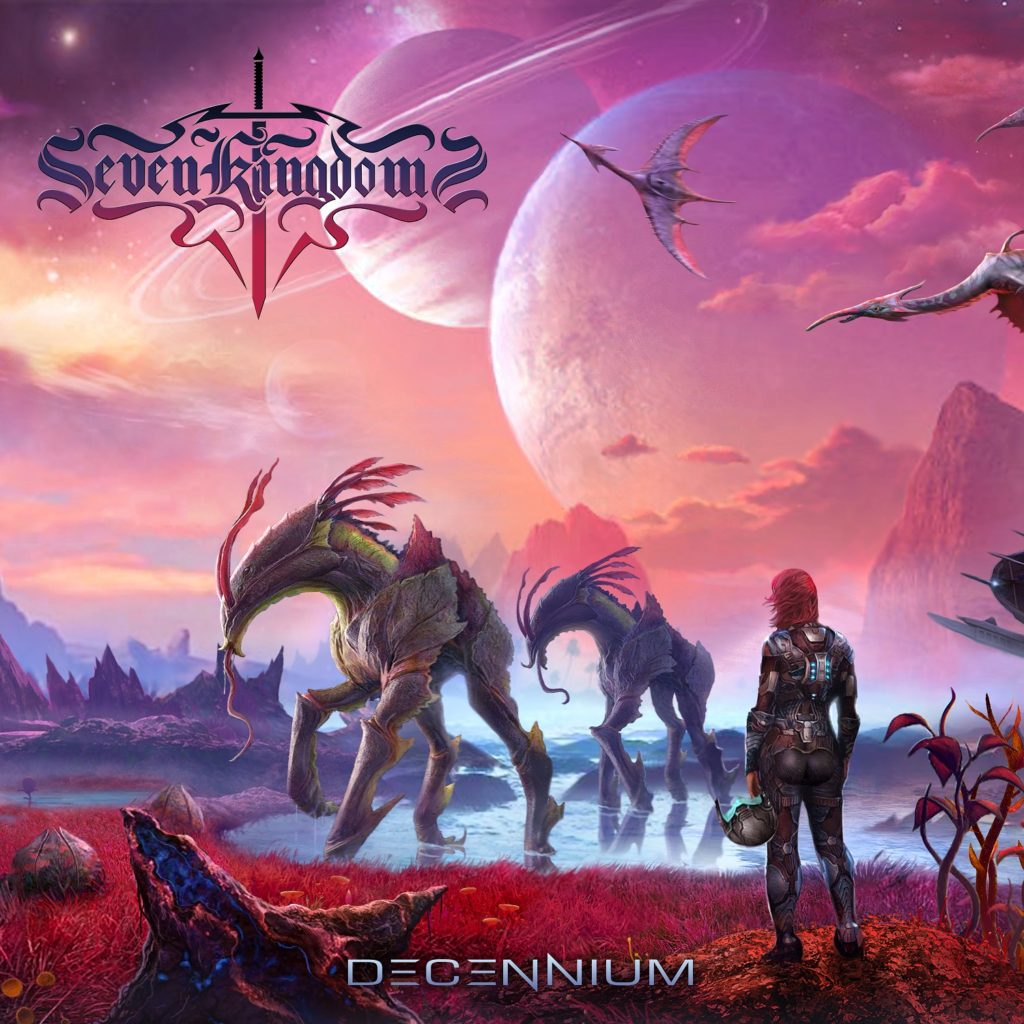 8). Seven Kingdoms "Decennium"
"Decennium" serves as Seven Kingdoms tenth anniversary album as well as the culmination of everything that has come before. Having seen the band a number of times, they are as good, if not better live on stage then they are on the CDs. Unbelievably tight playing and songwriting talent along with a musician's wet dream of gear porn, Seven Kingdom's plays a unique form of non-keyboard Power Metal like no other. There is really nothing not to like on "Decennium". Gorgeous, female vocals? Check. Songwriting prowess? In freaking spades! Musicianship? Some of the best in the business; so good, in fact, that they were just signed to Napalm Records, which allowed them to slip in the 2017 release (the album was originally released by them a few months before the dawn of 2017 and released on Napalm a couple of months into 2017). All the best to my Metal brothers and sister in Seven Kingdoms!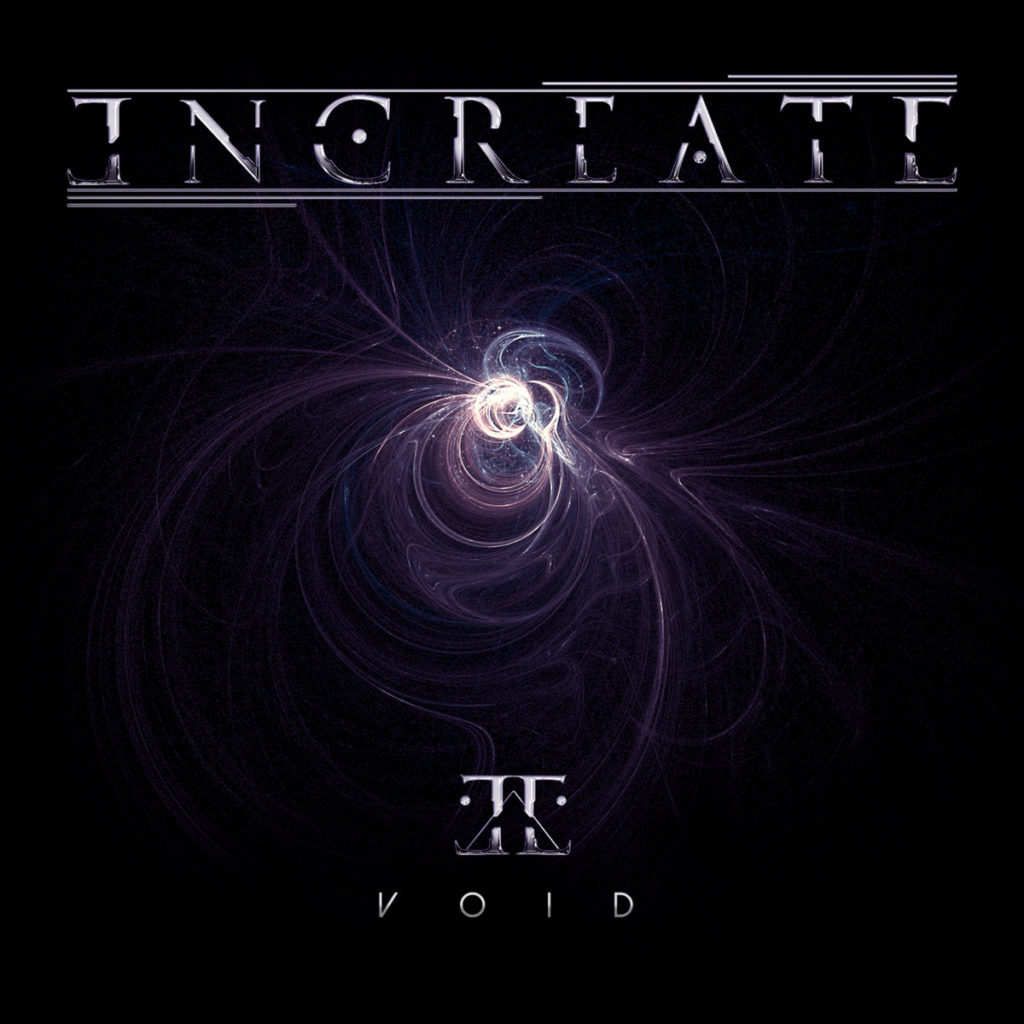 7). Increate "Void"
Insanity. Just freakin' sick. WTF? What more can be said for Increate's "Void"? Being a fan of all forms of technically over-the-top guitar work, Increate is simply wicked and is one of best (bar none!) Instrumental Tech Death bands ever to form. I still am yet to get my head fully wrapped around the polymorphic rhythms, strange time changes and solo talent expounded on this album. If I didn't love playing guitar as much as I do, I would likely quit right now knowing that I will likely never be able to achieve what "Void" does. This is no showy, Neo Classical finger exercise album either. This joker is heavy, melodic and abusive AF without once coming off the rails and spiraling into oblivion. I cannot wait to hear what Icreate brings on next. If you have not checked Increate out, now is the time!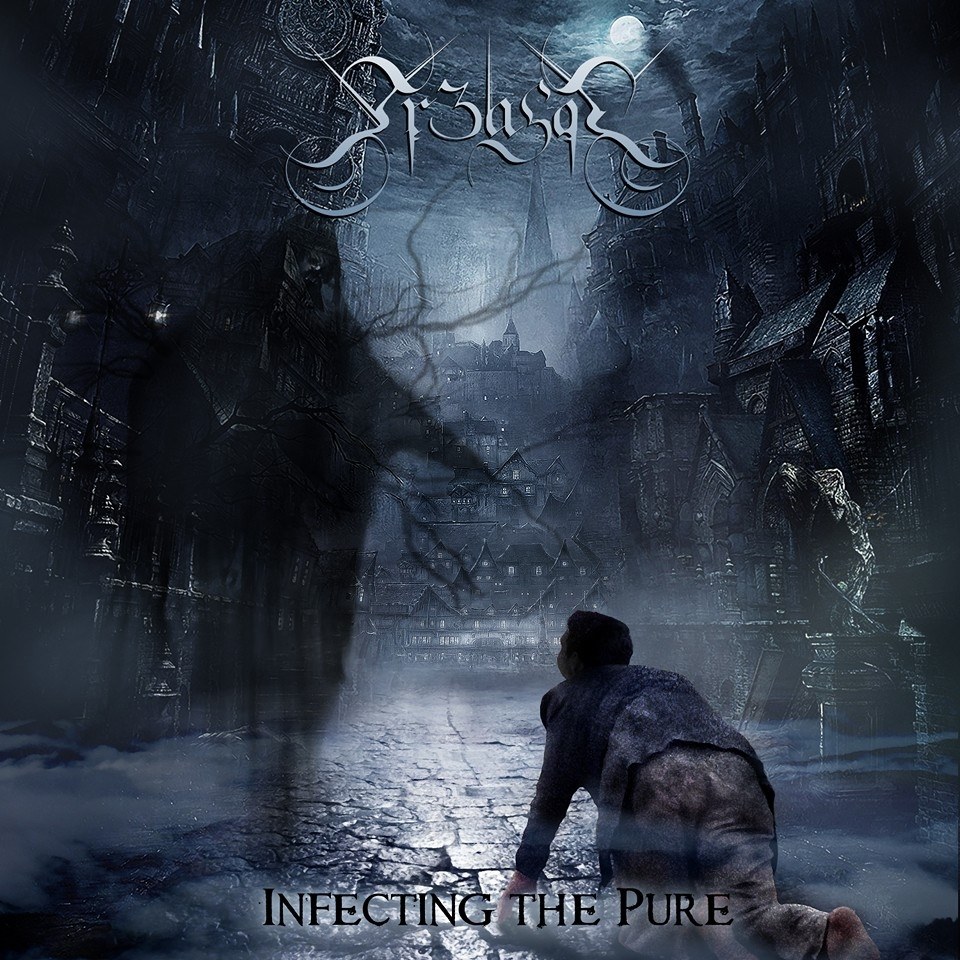 6). Tr3ason "Infecting the Pure"
I love when young, up and coming bands pull off debuts that blow away long standing acts that have been around for years. This is the case with the brutal (much of the times sarcastic) trio that call themselves Tr3ason. With the release of "Infecting the Pure", this killer group of young men give Metal a very bright future. There are no good, new bands coming out with anything new. Psh. Whatever. I remain memorized by Tr3ason and all that they have accomplished in such a short period of time. This album is heavy while remaining melodic, brutal while keeping a certain level of dark, sarcastic humor and played at a level belying their young ages. With the heavy backing of their growing, fanatical fan base, Tr3ason should be getting the attention of labels very quickly. Watch out for these young men. They are coming for you with very sharp weapons!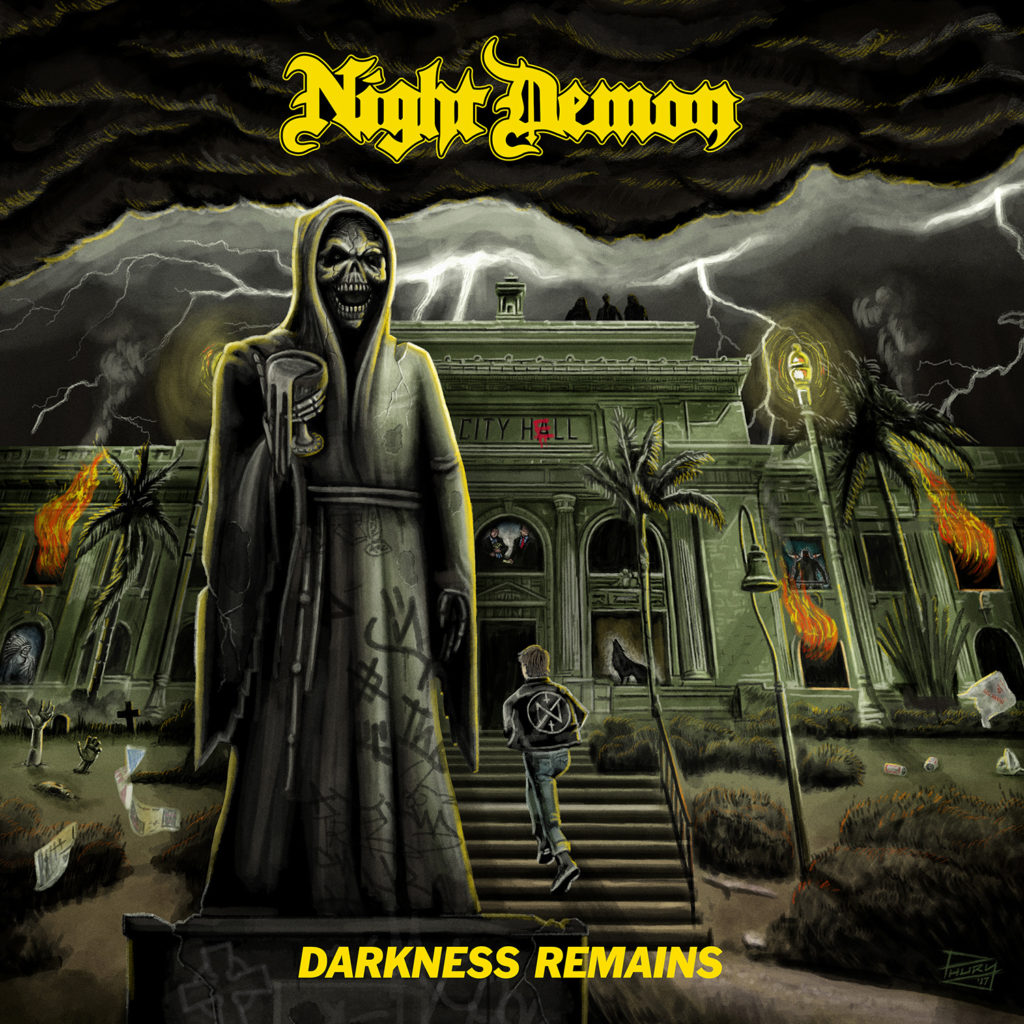 5). Night Demon "Darkness Remains"
Long standing leaders in the NWOBHM music, Night Demon returned with "Darkness Remains" in 2017. While the album is nothing short of spectacular, Night Demon remains a live band first. I have listened to these guys for quite some time, but saw them for the first time when they toured recently with Anvil and Graveshadow. Blown away. Even with the huge fan base Night Demon have, they still have the grit and showmanship shown by the passion often not seen outside of the Metal underground. These guys play Wacken and Ozzfest and are equally comfortable and give 100% at your local bar. Huge amount of respect to the gang! "Darkness Remains" was an easy pick for the top 10 and remains on just about every one of my current playlists. This band-defining album breaks the previous mold of 70s Hard Rock and 80s Metal heard on previous releases and shows the musical maturity an already great band can grow into. While not a complete departure, Night Demon now has their own niche in the Metal world from which to expand. These guys cannot disappoint or release albums fast enough at this point! Long live Night Demon!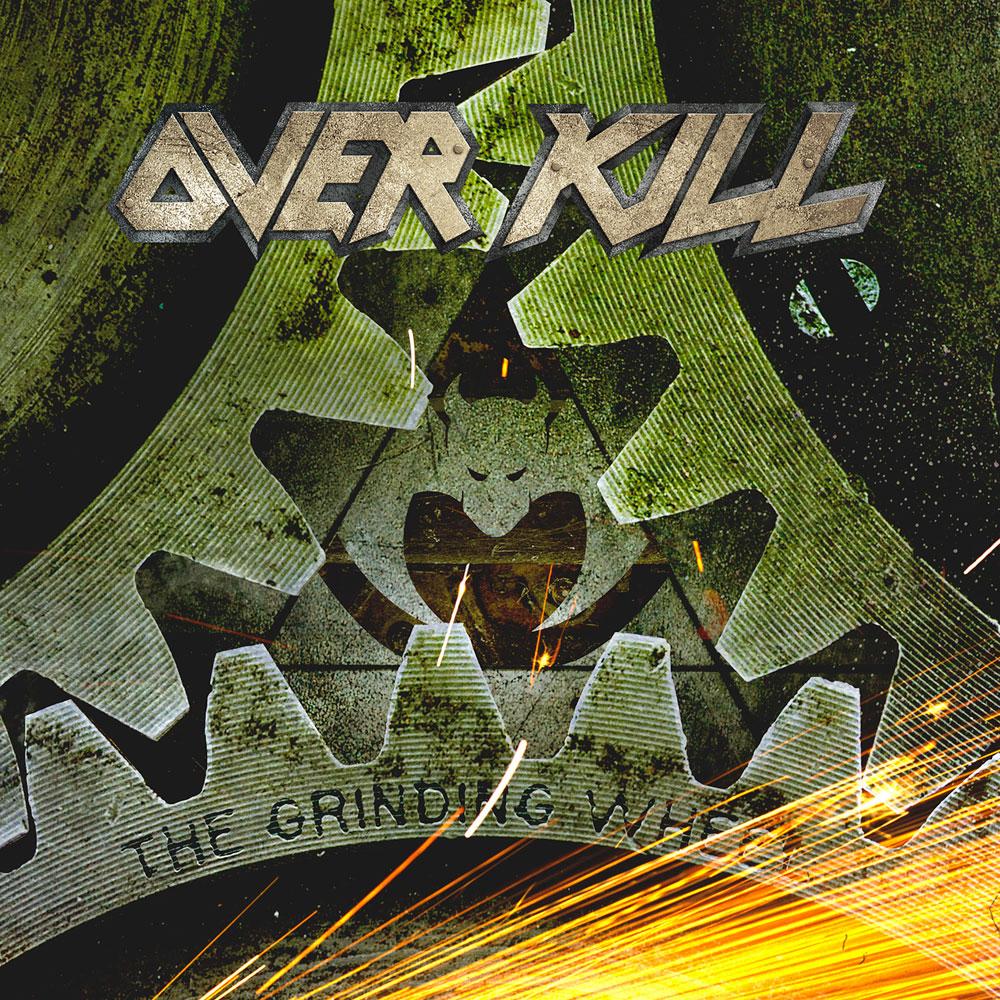 4). Overkill "The Grinding Wheel"
Overkill is one of those rare bands that is not only long standing but continuously releasing quality music at the top of the band's game. Not one Overkill album has ever been even mediocre. Not one. Eighteen albums over the course of almost forty years. Let that sink in for a minute. That is a metric f*ck ton of music created by a band that refuses to ever become stale or answered to the status quo. "The Grinding Wheel" is no exception. This thing is heavy, true to the genre Overkill had a huge hand creating and one of the few trailblazers that continue to produce music at the rate younger bands on three record contracts release albums. I would even argue that Overkill be added to The Big Four and make a Big Five or add Death Angel too and make a Big Six. Maybe even a Lucky Seven with Metal Church. But I digress. "The Grinding Wheel" is unbelievably good giving it an easy place in my top five.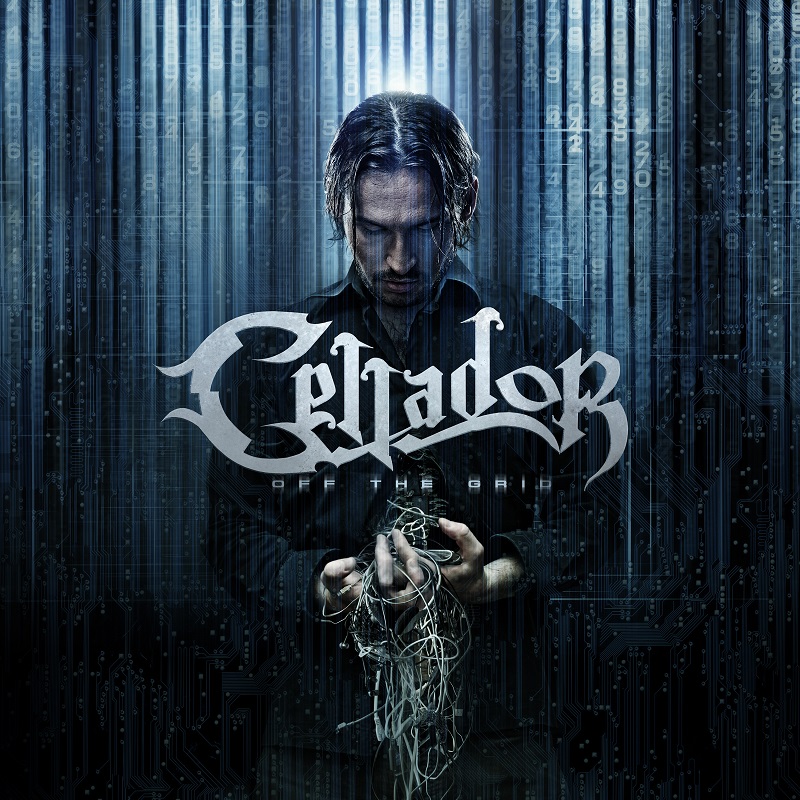 3). Cellador "Off the Grid"
I bugged Cellador relentlessly waiting for "Off the Grid". Is it done yet? Is it done yet? What's going on? Do you have a date yet? To their credit and patience, I was kept up on progress, label shopping and eventually was rewarded with the all too long awaited "Off the Grid" earlier in 2017. Without even hearing the album, it would have likely made my top ten list (sic). I like Cellador that much. Being true to their guitar based theatrics, "Off the Grid" backs off a bit in blatant speed in favor of feel and songwriting style not heard to this level in previous releases. With no loss of power or impressive guitar work, Cellador has been reborn as premiere Power Metal gods with this album. There is not a dog in the bunch and has been worth the frustrating wait. Like all of my top three choices this year, I would consider "Off the Grid" absolutely perfect. Everything, perfect. Hopefully we will not have to wait year after year for the next release because "Off the Grid" is off the freakin' chain (sorry, couldn't resist the cheese…).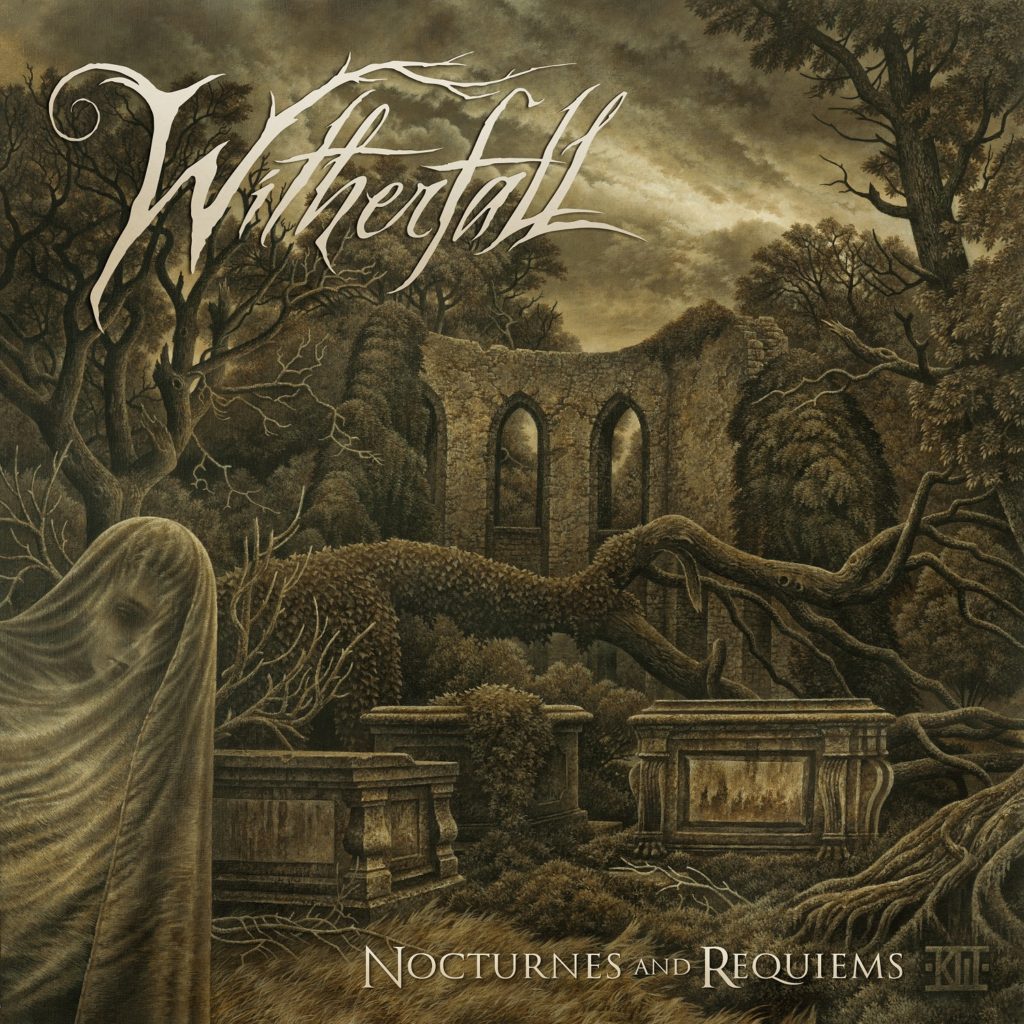 2). Witherfall "Nocturnes and Requiems"
This is really a tie for first, but decided to stay in the one through ten scheme instead of skipping a number two. Formed by guitarist Jake Dreyer (Iced Earth, Kobra and the Lotus, White Wizzard), singer Joseph Michael (White Wizzard) and the late Adam Sagan (Circle II Circle, Into Eternity), Witherfall's "Nocturnes and Requiems" is nothing short of jaw dropping and stunning. The musicianship shown here truly boggles the mind. Perfectly written. Perfectly played. Perfectly themed. Of the pure Metal labeled bands out there, Witherfall is probably the best I have heard since first hearing my last year's pick for number one, "Return to Nothing" by Source. "Nocturnes and Requiems" is truly ground-breaking, no matter what perspective is taken. Incredible guitar work played over impossible rhythms and fronted by powerful vocals that rival all of the Metal greats make Witherfall, by far, one of the best new bands on Earth. Completely unique and moving throughout. I sit in absolute awe of Witherfall's uber-impressive debut. I cannot honestly ding this band on one single thing. I could go all fan-girl from here, but think the point has been made…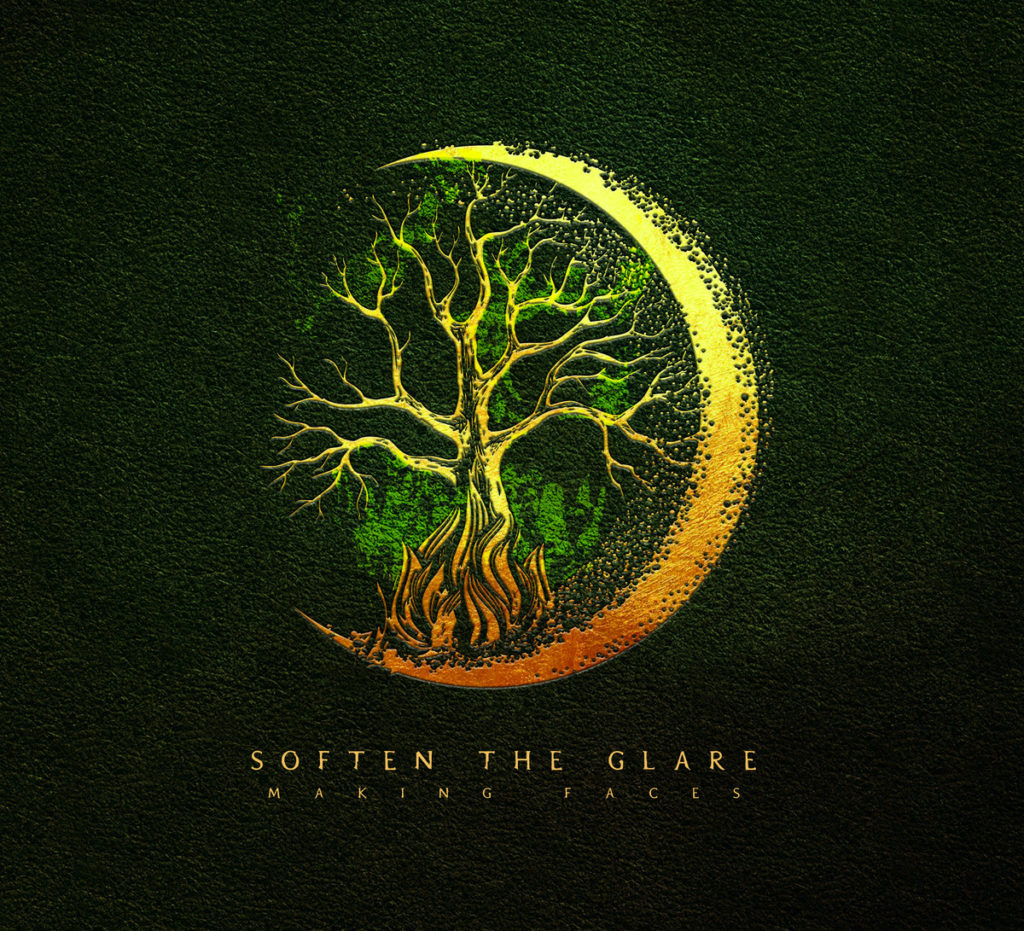 1). Soften the Glare "Making Faces"
Since we are allowed to cover anything from Rock to Metal, I am going to use Mudvayne bass player Ryan Martinie as my "in" for my favorite album of the year: Soften the Glare's "Making Faces". Those that have followed us over the last couple of years know our wide range of musical tastes and long-standing affinity for Soften the Glare and should not at all be surprised by a "less-than-Metal" pick for best album of the year. Alongside Mr. Martinie stand guitarist Bon Lozaga and drummer Mitch Hull to form this unlikely amalgamation of Funk/Progressive/Rock/Jazz/Metal/Chaos. Soften the Glare has been on our radar since we received their first single release and tour dates and grown as more information on their release was made public. I, for one, was about to come out of my skin waiting for this album and have jammed it countless times ever since I got my download copy after throwing money into the pool to get this thing released. So sweet to hear the sonic perfection this trio have managed to achieve. "Making Faces" simply cannot be picked apart. It is so different that there are no current contemporaries that I am aware of and played so smoothly and effortlessly that no one could likely keep up with the songwriting genius anyway. We can only pray that 2018 can bring us something as good as Soften the Glare's "Making Faces", but I am not holding my breath. This is one of those, destined to be great, once in a generation, good albums!
Cheers and the best 2018 has to offer all of you!!!