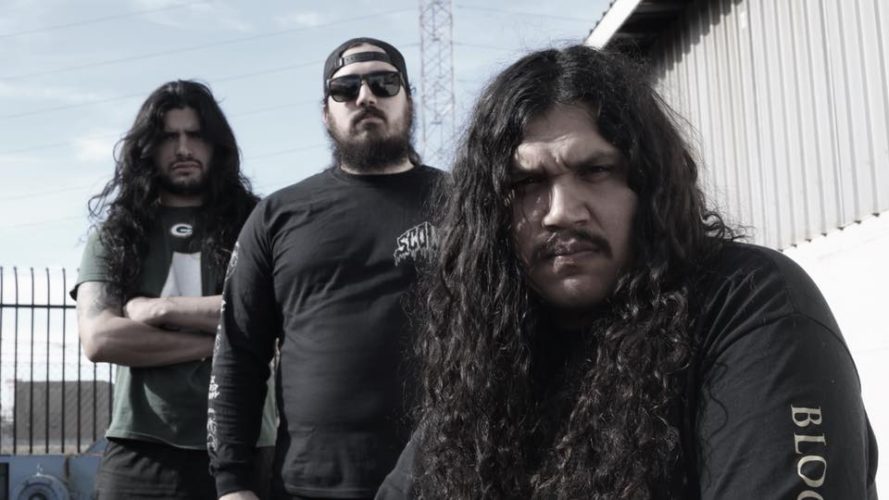 SKELETAL REMAINS, the boys from California will be unleashing yet another horrendous(in a good way) record this coming week on the 13th of April, via Century Media Records and Dark Descent Records. This will be the group's third studio album, titled 'Devouring Mortality', it is going to be an out and out assault on your sonic taste buds. With just a week remaining for the official release, SKELETAL REMAINS today has put out yet another nerve wracking single, "Parasitic Horrors" from the upcoming LP, with two tracks, the title track and music video, "Seismic Abyss" already out to the masses. Mixed & mastered by Dan Swanö (OPETH, BLOODBATH) and featuring impressive art by Dan Seagrave (ENTOMBED, SUFFOCATION, DISMEMBER), SKELETAL REMAINS promises to deliver a mind numbing, ear splitting crushing opus, while maintaining diversity and remaining true old school at heart. The album was tracked at Trench Studios (ABYSMAL DAWN, EXHUMED, HIRAX, etc.) in their home state, California.
April 13th will see the release of yet another album after the impressive "Beyond The Flesh" in 2012 and "Condemned To Misery" in 2015 via German label FDA Rekotz. After both these releases SKELETAL REMAINS played live to a plethora of audience worldwide across Europe, North America and even Japan. The band has managed to land itself up on many prestigious festivals throughout its inception, with the likes of Maryland Death Fest, Party.San, Brutal Assault, Obscene Extreme or also Hellfest, already under its belt. Now with the release of their third LP just around the corner, the band promises to conquer more heights and play to an even wider array of fans all across the globe.
Here's what the band has to say about the release,
"The album is basically the next step up for us! It's a bit more technical compared to our first two albums and we have also used seven string guitars for some songs to add a heavier edge at times, but overall it has the same sound and feeling of our previous releases: Old school death metal from the late 80s and early 90s with a little bit of our own taste added to it!"
The new song is definitely heavy, much more groovier and incorporates a lot of influences from it's parent genre, thrash metal. The drumming is relentless, with machine gun like drum poundings, riffs fast as a shark and vicious and vile. I completely dig the new jam, do you?
While you're at it, also don't forget to pre-order 'Devouring Mortality' HERE, coming out this April 13th via Century Media and Dark Descent Records. Check out the new track below. Cheers!