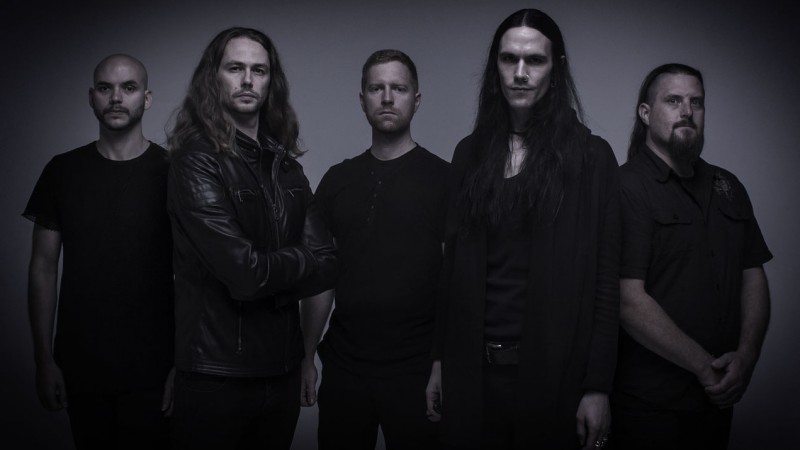 Progressive Death Metal overlords from down under, NE OBLIVISCARIS just released fresh new dates for a North American tour spanning the entire month of November and extending into the first few days of December. Australia's one of the biggest exports in the extreme metal genre, NE OBLIVISCARIS will be touring the States and Canada in support of their upcoming third full length album, 'Urn' which is slated to be released on October 27th, 2017 via Season Of Mist. Joining them on the voyage, will be, American technical melo-death band ALLEGAEON who also will be out also supporting their 2016 album, 'Proponent Of Sentience'. Check out the tour dates below which is also the first of the 'Urn' album cycle.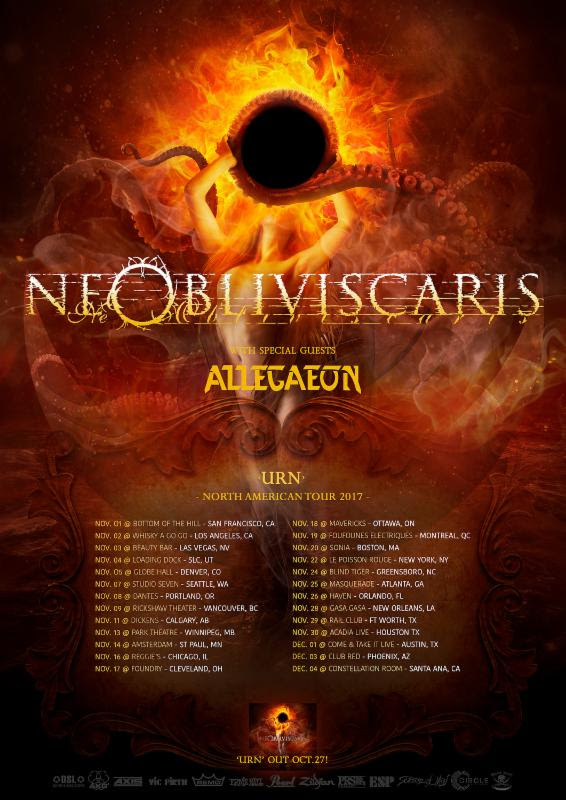 NE OBLIVISCARIS tour dates
w/ ALLEGAEON
Nov. 1 – San Francisco, CA – Bottom of The Hill
Nov. 2 – Los Angeles, CA – Whisky A Go Go
Nov. 3 – Las Vegas, NV – Beauty Bar
Nov. 4 – Salt Lake City, UT – Loading Dock
Nov. 5 – Denver, CO – Globe Hall
Nov. 7 – Seattle, WA – Studio Seven
Nov. 8 – Portland, OR – Dantes
Nov. 9 – Vancouver, BC – Rickshaw Theater
Nov. 11 – Calgary, AB – Dickens
Nov. 13 – Winnipeg, MB – Park Theatre
Nov. 14 – St Paul, MN – Amsterdam
Nov. 16 – Chicago, IL – Reggie's
Nov. 17 – Cleveland, OH – Foundry
Nov. 18 – Ottawa, ON – Mavericks
Nov. 19 – Montreal, QC – Les Foufounes Electriques
Nov. 20 – Boston, MA – Sonia
Nov. 22 – New York, NY – Le Poisson Rouge
Nov. 24 – Greensboro, NC – Blind Tiger
Nov. 25 – Atlanta, GA – Masquerade
Nov. 26 – Orlando, FL – Haven
Nov. 28 – New Orleans, LA – Gasa Gasa
Nov. 29 – Ft. Worth, TX – Rail Club
Nov. 30 – Houston, TX – Acadia Live
Dec. 1 – Austin, TX – Come & Take It Live
Dec. 3 – Phoenix, AZ – Club Red
Dec. 4 – Santa Ana, CA – Constellation Room
Tickets are on SALE now from your local ticketing/venue outlets. VIP meet 'n' greets available via Patreon "Revered" Membership level, click HERE for the same!

Martino Garratoni from Ancient Bards/ The Chronicles Project/ Boys4Road/ O.P.S. will be handling the bass duties of the band in this tour following previous bassist Brendan "Cygnus" Brown's exit of the band earlier this year due to allegations of domestic violence on him, which the band termed it as "irreconcilable personal differences."
Previously having released the first official music video 'Intra Venus' off the upcoming album, which you can see HERE, the band is back with yet another single titled 'Urn (Part I) – And Within the Void We Are Breathless' which is the first part of a two part song, something which the band has been known for doing the past albums. Mark Lewis has done an excellent job of superb mixing on this song!
NE OBLIVISCARIS frontman Tim Charles comments on the new track on behalf of the band: "The 14-minute long title track from our new album 'Urn' comes in two parts and forms the album's grand finale. We are now presenting Part 1, 'And Within The Void We Are Breathless'. This song is one of the more intense featured on our new record and flows through darker territory than the previously released, 'Intra Venus'."
Pre-Order 'Urn' at the following links:
NeO USA Official Store | NeO AUSTRALIA Official Store | Season of Mist EU/USA/AU Stores | DIGITAL (iTunes, Apple Music, Spotify)