King Diamond – vocals, producer
Andy LaRocque – guitar
Michael Denner – guitar, assistant producer
Timi Hansen – bass guitar
Mikkey Dee (Micael Kiriakos Delaoglou) – drums, assistant producer
Roberto Falcao (Roberto Johansson) – engineer, keyboards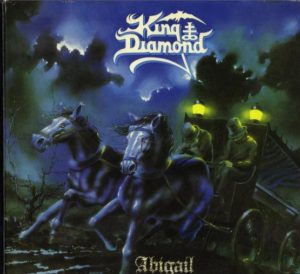 What an honor and a privilege to cover the thirty year anniversary of one of the most beloved, important and influential Metal albums of all time: Abigail by the almighty King Diamond! AThirty years. Man, how time does fly. I can remember listening to Mercyful Fate as a kid, loving King's first solo album, Fatal Portrait and the first time I heard Abigail shortly before graduating from high school back in 1987. Like many others from that time, my jaw dropped into my lap and has still not fully recovered to this day. It never comes close to getting old and is the album that scared the shit out of my girlfriend (now my wife of almost thirty years), shying her permanently away from the darker side of Metal this thing gave rise to. Hell, I was jamming it shortly before I learned that I would have this rare indulgence to cover a timeless Classic! It just always manages to snake its way into just about every playlist I listen to and/or create. Like many from my era, Abigail remains one my most loved albums of all time.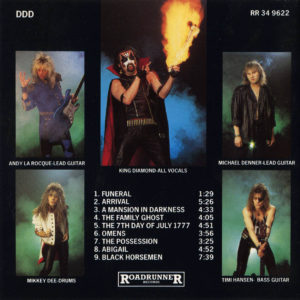 After Diamond formed the overtly dark/Black Metal band, Mercyful Fate with Hank Shermann back in 1981 and released a trilogy of classic albums, the band broke up due to musical differences that arose as time had passed. With continued fire and drive, King set off on a journey that would continue for three decades and continues as strong as ever today. With three of the five members from Mercyful Fate kept intact, King Diamond's solo project released the aforementioned Fatal Portrait in 1986 on the Roadrunner Record label. While very good, the band had not fully yet gotten their legs under themselves or fell into the groove of the new direction, where music was to be tightly wrapped around brilliant and terrifying storytelling. Incidentally, the debut is also the only King Diamond album without guitarist Andy LaRocque's music writing fingerprint imprinted on it and one of only a few that is not a fully recognized concept album. Just under a year later, everything would very quickly change.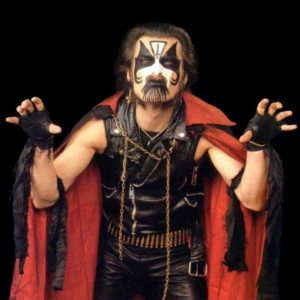 On January 24th, 1987, Abigail was released from her sarcophagus onto the unsuspecting world. King was about to become the first musician to cross wickedly good Metal with the horror storytelling prowess of greats like Poe, Stoker and Lovecraft. Written on a dark, stormy night in Denmark after being startled from a nightmare, King wrote about two-thirds of the album's story line based on the dream that had shaken him from sleep (Billboard). For the uninitiated, this groundbreaking concept album tells the story of a couple that move to an inherited mansion in the summer of 1845 after ignoring seven horsemen that attempt to warn them off. On the first night after their arrival, Jonathan La'Fey is faced with Count La'Fey, the family ghost of a long dead relative who reveals the casket of a still born, bastard child, Abigail. His wife, Miriam, is then said to be carrying the spirit of the dead girl about to be reborn and she must be killed to prevent this abomination. The Count then tells the tale of his July 7, 1777 discovery of his wife's adulterous relationship resulting in an illegitimate pregnancy. In a rage, the Countess is cast down the mansion staircase, breaking her neck and killing the unborn child. After cremating his wife, the Count names the fetus Abigail, mummifies her corpse and lays her to rest in the basement. Flashing back to 1845, the young couple is faced with a number of omens foreshadowing the evil that is about to come. The following day, Miriam who is clearly pregnant, and with the unborn child developing at an unnatural rate, seems to validate the Count's narrative. As Abigail gains possession of Miriam, Johnathan is thrown from the stairs to his death. Once Abigail is reborn, Miriam soon dies, staring into her daughter's yellow eyes. The seven horseman return to find the child feasting on her former self in the sarcophagus. In abject horror, she is taken to the forest where she is impaled by seven silver spikes and buried in hopes of preventing future rebirth.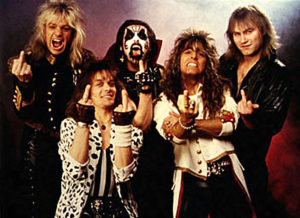 This was like nothing any of us had ever experienced before and stands today as the concept album all others would aspire to be. The bar had been set impossibly high with Abigail, and has not even been approached since its inception thirty years ago. That said, it would be remiss to ignore the fact this is a concept Metal album. Great story with so-so music a great album does not make and Abigail, of course, excels on this front as well. Carefully listen to each track, ignoring the lyrical content for a moment and an absolutely brilliant, palpably dark and oppressive atmosphere emerges from the shadows that precisely lays down the framework from which the story pivots. Everything just fits together perfectly and simply cannot be picked apart. Wickedly heavy rhythms by Hansen and Dee scintillate and smolder just below incredibly cohesive and effective harmonies and melodies provided by Falcao's chilling keyboards, the otherworldly six string acrobatics of LaRocque and Denner (two of the most talented guitarists on the freaking planet!) and the ungodly range and power of King Diamond's spectacular vocals chords. Love him or hate him, he undeniably rails the vox like no one else can; turning on a dime from visceral growling to male characterizations and his trademarked and lofty falsetto screams to cover everything else. Incredibly fitting and it provides a portal directly into this grotesque and disturbing tale. Taken together, one can easily get lost and/or overwhelmed with the sheer magnitude of Abigail. Even thirty years later, it remains the single most lauded concept album from which all others are judged; an awe inspiring, all-out musical assault for musicians of all tastes and one that remains just as fresh and gut wrenching as it was when it was released. It also spawned a new level of brutality for Metal in all its colorful flavors, especially for Finnish, Danish and Swedish Black Metal bands that continue to follow in King's enormous footsteps to this very day. There are no words that even come close to giving Abigail its due justice. There are few albums I would consider "perfect". Abigail sits proudly at the top of this very short list of albums and not likely to ever be dethroned!
Within months of its initial release back in 1987, Abigail sold more than 175,000 copies in the US alone and became the first Roadrunner Records release to break into the Billboard 200. Those of us that were already tiring of soft, Hair/Pop Metal, bailed en masse to embrace this new brand of Metallic Horror and have not looked back since. In the interim years since its release, the Abigail line up of King Diamond's band have also gone on to do great things as well. Guitarist Andy LaRocque continues to be a familiar face on all of King Diamond's solo projects and has played with countless artists to include Death and Snowy Shaw and produced albums for Critical Solution, Everygrey, Falconer and many others. Fellow axeman Michael Denner reunited with Diamond and Hansen to reform Mercyful Fate a few years after Abigail and recently released Masters Of Evil with Mercyful Fate's other secret weapon, Hank Shermann. Drummer Mikkey Dee has also prospered, earning himself a spot behind the kit with the Scorpions, Motorhead and Don Dokken. Abigail may be his only foray into Metal, but keyboardist Roberto Falcao continues to produce music to this day and eschewed the way for keyboards to have a viable spot in our beloved Metal (remember, this was a time when keyboards were scorned as weakening the genre). While the individual players have grown and expanded over the years, so has the album itself. On the tenth anniversary of this Metal masterpiece, King Diamond's Abigail was remastered and re-released with three bonus tracks in 1997, released as a live DVD beside Deadly Lullabyes (In Concert 1987: Abigail – Deadly Lullabyes) and was even followed by a sequel entitled Abigail II: The Revenge in 2002 (another great album, by the way!). In addition, it has also just been announced that King Diamond will be headlining Psycho Las Vegas 2017, playing Abigail in its entirety to celebrate thirty years of musical royalty. That's right. Think about that for a second. King Diamond's thirty year old album is headlining a major, highly publicized and anticipated festival. If that, by itself, is not enough to illuminate the legendary status of King's, Abigail, I don't know what will! If you have heard the album, you know exactly what I'm talking about. For those of you too young to remember or have been living under a rock for the last thirty years, Abigail needs to be listened to right f*cking now! Seriously, go! Why are you still reading this?!? Go buy and listen to the album now! This is undeniably one of Metal's crowning achievements.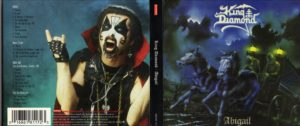 Tracklist for Abigail:
"Funeral"
"Arrival"
"A Mansion in Darkness"
"The Family Ghost"
"The 7th Day of July 1777"
"Omens"
"The Possession"
"Abigail"
"Black Horseman"
Remaster bonus tracks (1997 reissue):
"Shrine"
"A Mansion in Darkness" (Rough Mix)
"The Family Ghost" (Rough Mix)
"The Possession" (Rough Mix)
In Concert 1987: Abigail – Deadly Lullabyes
Abigail II: The Revenge (2002)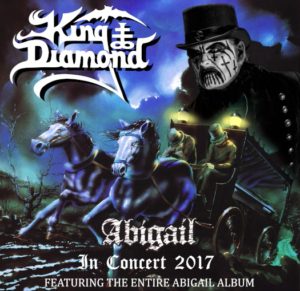 More on King Diamond can be found on The Web  Facebook  YouTube  Twitter