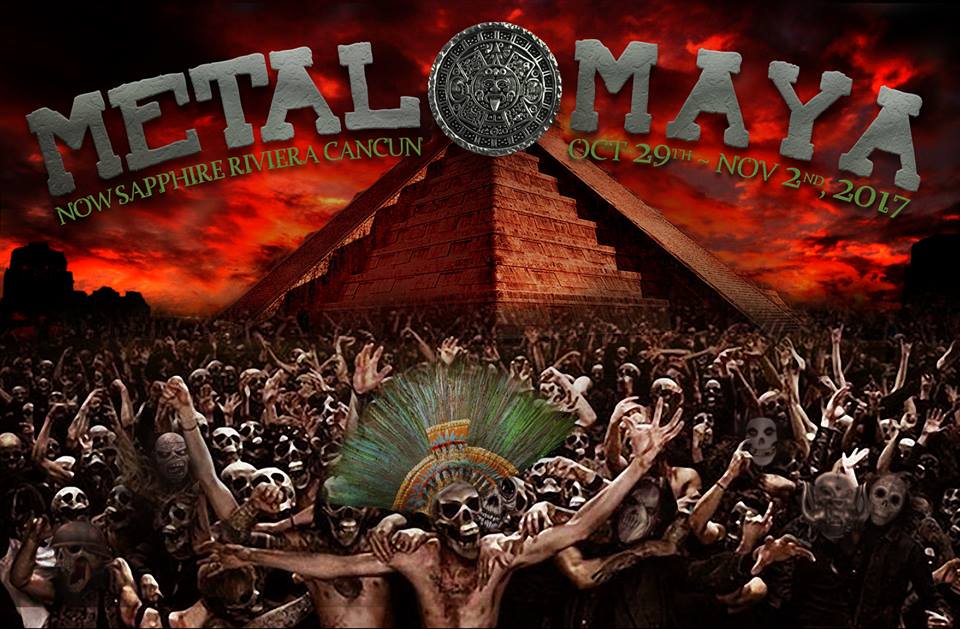 In recent years, metal festival brainchilds and promoters have taken a different but very appealing and exciting approach to treat metal fans the best indulgence they could ever sink their teeth in.  Festivals and unique endeavours such as Full Metal Mountain, Full Metal Cruise, 70000 Tonnes Of Metal have left no stone un-turned in trying to break away from the typical monotony of a festival set in large grounds, with camping etc. No doubt that the stereotypical festival is fun, but festivals like 70000 Tonnes Of Metal have set the bar high up when it comes to live performance and the overall thrill and fun it comes along with. Another one such festival that will debut this year is METAL MAYA, an all inclusive heavy metal destination-festival vacation, that promises to be the ideal holiday vacation for metalheads all across the globe. Including live performances from some of the best metal bands out there, it also has a plethora of other lucrative offers and activities, METAL MAYA will begin on October 29 up until November 2. Can this get any better!? 
Running for a period of five days with all things metal you could ever ask for, METAL MAYA will be held at at the luxurious Now Sapphire Riviera Cancun, just south of Cancun in the sun drenched tropical paradise of Puerto Morelos on Mexico's Yucatan Peninsula. METAL MAYA also offers you a wide range of activities and events on their palette to take part in along with the artists themselves. Events like snorkeling, excursions, tours and many more stuff will keep you engaged in the fun when you're not headbanging. METAL MAYA excursions include ATV Riding with Metal Allegiance at Emotions Native Park, Deep Sea Fishing with Death Angel, and the Rio Secreto tour with KYNG, Otep and Jose Mangin.
Guests will enjoy festive celebrations on both Halloween (October 31) and the traditional Mexican Dia de los Muertos. Adding in more spice to the entire festival and to make your Halloween even more cool, host Philip H. Anselmo will curate select cuts from his personal collection for a special Halloween Horror Movie night.
April saw METAL MAYA announce the first leg of artists to be a part of the inaugural version of the festival, which included Anthrax, Overkill, Superjoint, Death Angel, Metal Allegiance, Otep and Tim 'Ripper' Owens. Since then more bands have been added to the bill with Hatebreed, Crowbar, Whitechapel, Prong, KYNG and ONI set to demolish the serenity in Cancun. In addition, Lamb of God's Chris Adler joins Metal Maya as an event host.

Hatebreed's Jamey Jasta says, "We're honored to have been invited to play at the inaugural Metal Maya in Cancun this October. We plan on losing our minds for a few days in Mexico, and we'd love for you to join us…and to top it all off…free booze!"
"KYNG is honored to be a part of this festival, and share the stage with all of the gut-wrenching bands that have inspired us to play heavy music," says KYNG singer/guitarist Eddie Veliz. "To top it off, this will happen in our motherland! Can't wait for Metal Maya!"
METAL MAYA guests will enjoy luxury accommodations, and tickets include gourmet meals, and all beverages (including alcohol). The all-inclusive heavy metal dest-fest vacation will feature bands performing on multiple stages in an intimate environment with only 1,000 guests, artist-hosted events, onsite activities, excursions and tours (available for additional fees), theme nights and more. A lot of cool offers also await you, so what are you waiting for? Go ahead and book yourself a lifetime of an incredible experience with all the metal and beer flowing to satiate your thirst. Get your tickets to METAL MAYA here.