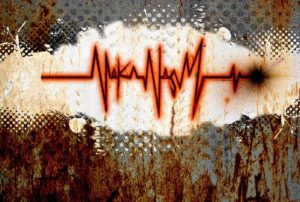 If you are a Metal fan out of Central Florida and don't live under a rock you have surely heard of my next Mayfest feature band. Bar none, they are one of my favorite bands and not just because they are relatively local to me. Their music is incredible and all of the band members are beyond being just nice people. They are a true testament to a band that loves their fans as much as their fans love them. As stated by the band: "Our fans are what drive us. We want to create music that people love and connect with. The reaction from our fans at shows is priceless". That's right folks, I am talking about the mighty Meka Nism out of Orlando, FL.
Meka Nism was formed in 2010 by vocalist Meka, lead guitarist Bobby Keller, guitarist Reed Tyack and bassist Alvin Bauer under the name Meka Nism and Her Rusty Tears prior to Bobby's arrival. With the addition of Jeremy Mansfield on drums and Jay Adkinson on keyboards, the band stands as it does today. They are admittedly influenced by many genres of music and that is reflected by their sound being, as they put it, a "mix and match" of musical genres. Even so, the music is immediately identifiable as Meka Nism because all of their music is so heavily collaborated on by all band members. Releases to date include: "The Dance at the End of the World" EP (2013), "The Shift: Anthems for a Revolution" EP (2015) and "Meka Nism: Live from the Machine Shop" Live CD (2016). Their favorite haunts include House Of Blues, Orlando, The Machine Shop, El Paso, Texas and of course Mayfest, which they have been a part of for all but one, including the premier show five years ago. Being "pioneers" with Mayfest, they have gained a huge following out of Melbourne and consider being "part of something very special… We love Melbourne and have always had a huge response there. We hope you are all ready!". Meka Nism has also toured and played extensively with prominent bands like Otep, Trapt, Wilson, Gojira and Mastodon. They are currently headed out with international sensation, Avatar (More to come on this tour. We here at MN have a special treat for our loyal readers and fans of Meka Nism! Stay tuned!). Endorsements for Meka Nism: Klotz Cables, Coldcock Whiskey along with Bobby Keller's endorsements with ESP Guitars, EMG pickups, Richter Straps and Graph Tech.  Bobby has also recently started the BFK Clothing Company (Facebook  Web)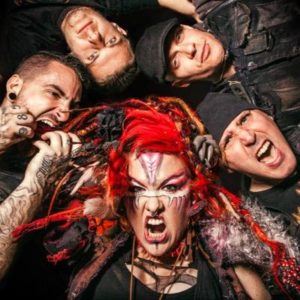 For those of you that have not heard Meka Nism before, be sure to check them out (like, right now!). They are very, very special. Their music is raw, in-your-face and generally aggressive as hell with a mixture of Meka's incredible clean vocals and harsh growling along with everyone else being a master of their chosen weapon (if in doubt, check out Bobby Keller's ESP guitar demos on YouTube!) and their scintillating genre-twisting style assuredly has something for everyone. The Doom influenced "Dance At The End Of The World" and my personal favorite, "Bring The Sun Back" could not be more different than the Death and Thrash influences heard in "The Shift" and "The Phoenix". Lyrics range from Japanese themes to calls for revolution against commonality and banal thought processes, often much more brutal than the music itself. Nowhere does Meka Nism have a dull moment. This carries over a thousand times on to the stage as well. Full of energy, this band never fails to strike a chord with everyone sharing the stage from the audience. Meka's vocals are the antithesis of the ever-present smile on her face that lights up the room. This lovely woman genuinely smiles with her eyes. The entire band is simply memorizing. Meka Nism is one of those bands that must be seen live. Don't hesitate to meet them either. All of them are engaging, genuine and make you feel like the rock star!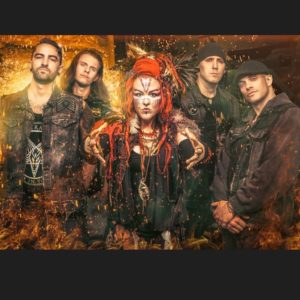 From Meka Nism: "We would like to shout out Chris Mash for having us be a part of Mayfest and to Murderfly for always being the amazing group that they are, and for everything they have helped us with. Also a huge shout out to the fans of Melbourne for giving us everything you got and in return we always promise to do the same." I honestly cannot say enough about Meka Nism. Great music coming from wonderfully kind people. What else could any Metal fan ask for?!?
Be sure to watch out in the next few days for something special from Meka Nism and our staff. Exciting stuff! Until then…
Check Meka Nism out at: Web  Facebook  YouTube  and Twitter & Instagram: @mekanismband