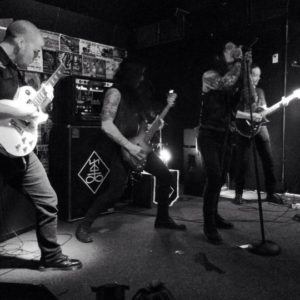 Quickly: what comes to mind when you think of the state of Kentucky? Hillbillies? Country music? Horses and bourbon? Maybe UK basketball? Whatever it is, I highly doubt that death metal is among what pops up.  Defying what outsiders think they know about the Bluegrass State, Louisville (aka Louis-evil) based Order Of Leviathan has launched an all out assault on convention via an "eternal quest for total darkness through transcendent art."  Founded in March 2012, these guys pulled the band together not for the promise of fame, but to create art purely for the sake of art. 
Comprised of vocalist Nathan Bowling, Levi Crandell-guitar, Derek Tipton-guitar, Dustin Rawlings-bass, and Mike Hargrave-drums, Order Of Leviathan have released two full albums thus far, and have played with such acts as Cannibal Corpse and Cattle Decapitation.  2013 saw their first full length release, "The Infernal Path To Total Darkness", an absolute BEAST of a debut, and more recently, the sophomore satanica offering of "Death Worship" in August of 2016.  This band of nihilistic misanthropes are only growing in scope and skill, and with razor sharp intent, they're hellbent on opening your eyes to ultimate nothingness of life.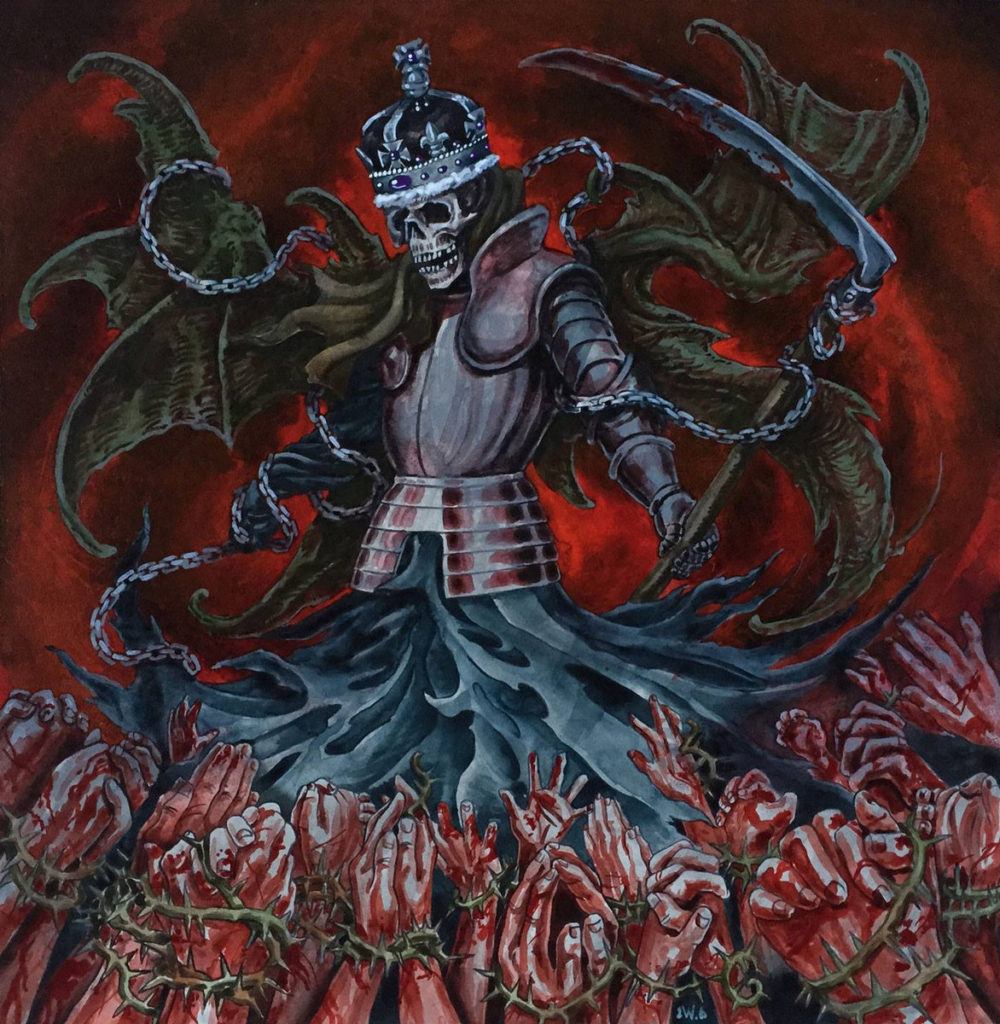 'Death Worship' contains 7 tracks, all of which weave together the band's philosophy of being the servants of chaos, a  cult of wolves among sheep.  Order Of Leviathan put in some major work here, having written, produced and recorded this album on their own, along with some assistance from Jordan Haynes.  This album busts wide open with "Cult of Wolves", which starts out almost serene in it's introduction. Do not be fooled.  This song, much like life itself, snakes through with heavy, fat riffs playing in the background before launching a fiercely precise sonic attack.  Declaring that they are the chaos and grave diggers, this group of explorers of the abyss vow to drag you through the shadows. With the exacting skill of surgeons, and a voice that could only come from the depths of Hades, Order Of Leviathan deliver on their promise to become chaos.  Nathan Bowling, with those hellish vocals, channels the authority of a cult leader, inviting you to journey through the abysmal side of this dichotomous life.  The stop and start drums stomp hard in places here, while the guitar work of three members present an interesting mix in the lead and rhythm sections.  Drummer Mike Hargrave brings in some moody, lumbering skin work at about the minute mark, while lead guitar work shrieks over a slightly calmer rhythm section, effectively evoking a sense of suffocation and death.  That harrowing howl at the end of the song cuts like a knife, making for a fitting end that fades into the black. 
"Disenchant", track #3, slides in with a ferocious beat that pummels the listener immediately, and establishes the mood of the song effectively. A MONSTER of a track, it opens with some nice pedal work on that bass drum before grabbing you by the throat.  Keeping the grip firmly on the pulse of the listener, "Disenchant" demands your attention throughout the track as it takes you beyond the pale. This song presents some very cohesive and solid work from a band that plays like they've been together forever as these agents of chaos showcase the darkness that lies around and within us all. Track #5, titled "Divide", gets my pick as the album favorite.  Ghastly vocals roar with a strong sense of purpose while the drums pulse in tempo, and gives the feel of running as if one is trying to escape the grasp of an unseen hand.  Strong, muscular riffs abound here with the lead shredder, showcasing what is possibly the best six string work on the album.  Here, OoL, declare that "beyond the great divide, we are nothing, we are no one", preaching their metaphysical nihilism to all open ears.  If you had any beliefs before, these guys are adamant in destroying that faith with their blatantly misanthropic approach. "Constant Perdition", track #4, was voted by the readers of Keep Louisville Loud (a local publication covering the diverse underground scene in Louis-evil), as the third best metal song among the local contenders, and it's easy to see why.  Opening with a siren call of string work, it almost comes across as a place to rest after "Disenchant" beats you down like Tyson long before he developed a taste for Holyfield's ear.  This changes as the track progresses, featuring a slow drop into the darkness at roughly five minutes in, and it's truly a highlight of the album. "Mortem Knell" springs into the ears with some tasty, frantic fretwork.  That menacing bass, provided by Dustin Rawlings, powers the rhythm while the dueling sounds of guitars provide an interesting contrast, effectively emoting the feeling of being torn apart.  Sprinkled with short dashes of skilled technical finger play throughout, this track is fitted perfectly with the abysmally deep vocal work of the frontman.  
Order Of Leviathan are not only on a mission to be a wolf amongst lambs; these Kentucky breaded death metallers are launching a short tour with Tyranny Enthroned as of May 13th in their home base of Louisville, with stops in PA, IN, IL, and VA.  Based solely on both albums, this group of Nietzsche-esque ideologists are worth saving the date for fans looking to support underground/unknown metal.  Their recorded material is beastly and would, by all appearances, bring down the house when played live.  Truly a snake among vermin, OoL have expressed that  "there is no sense of accomplishment nor reward in what we are doing, only the blessing of death"; a vow to devote themselves to the self imposed mission of being eternally devoted to their collective, their cult ov wolves, appears on their webpage.  I, for one, want to hold them to that promise, and I look forward to seeing what's in store for my fellow Kentuckians. 
Follow Order Of Leviathan on Facebook here: