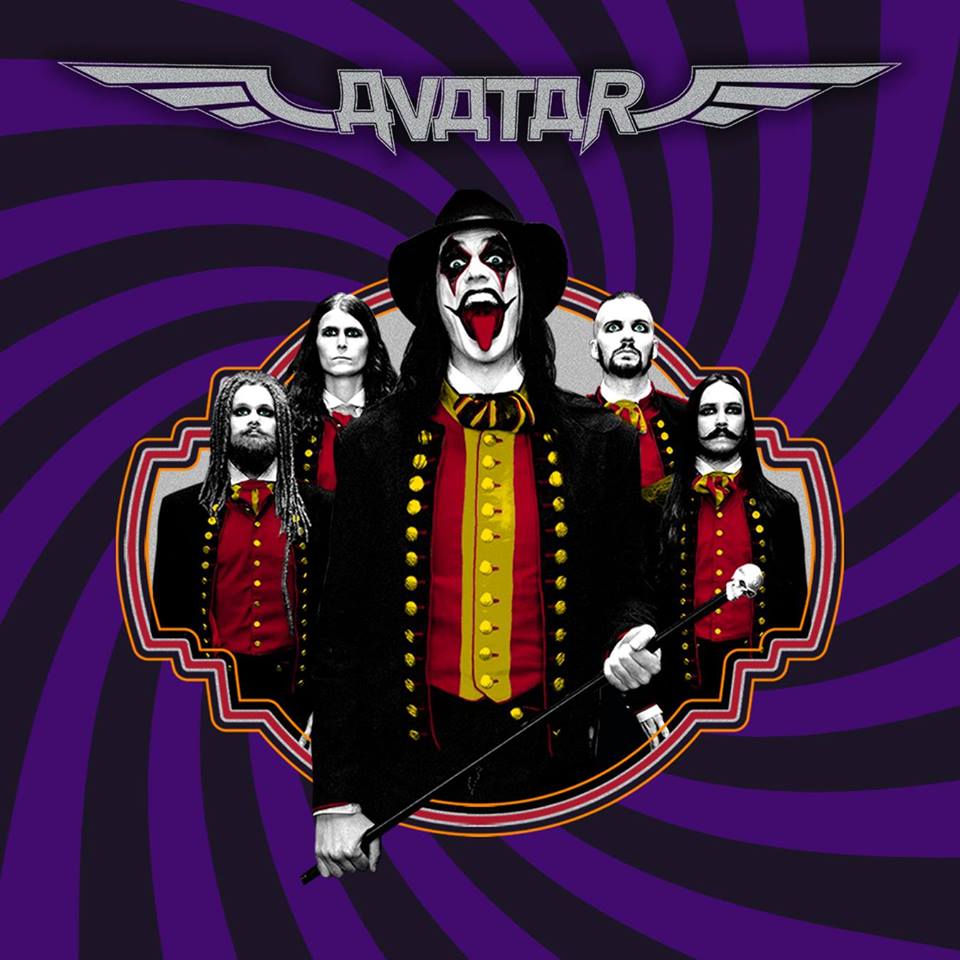 *Every Thursday from now until Chicago Open Air gets here we will be releasing an article about a band playing the festival to get you familiar with them.*
This week's artist is Avatar!
Swedish metal band Avatar will be making their debut at Chicago Open Air to "steal the show" on July 15th. Forming in 2001, the band went through several lineup changes before releasing their first full length album, 'Thoughts of No Tomorrow' in 2006. 'Schlact' followed that in 2007 and then their self titled album was released in 2010. This was the start of the band's rise to fame having been signed by Sony Music and releasing their biggest song yet "Queen of Blades". The song received recognition from Blizzard Entertainment as it was about a character from the game Starcraft. Throughout these years they hit the road with many experienced bands like In Flames, Obituary, Helloween, and Dark Tranquility.
In 2012, 'Black Waltz' dropped and was a strong contender as one of the best albums of the year. The combination of groove metal, rock n roll, and death metal made for a very addictive record that I couldn't put down for a long time. Pretty soon the band started to get airplay on Sirius XM Octane with their song "Smells Like A Freakshow" which led to a huge increase of popularity in the US. This was a huge turning point in Avatar's career as vocalist Johannes Eckerström debuted the face paint and took on what is currently one of the most intense front man personas in the hard rock genre. He talks in a deep, scary voice sporting the paint and drinking out of a gasoline can without ever breaking character. Soon after this large amount of growth, Avatar released their second major album 'Hail the Apocalypse'. Songs like "Bloody Angel", "Vultures Fly", and the title track were played all across the nation as Avatar continued to come here more frequently. The band was a huge hit at the first Louder Than Life festival in Louisville, KY with many people still not knowing who they were. By the end of their set in the middle of the afternoon, their crowd had almost tripled from what it was at the start. I took a last minute trip to Chicago to see the final leg of the Hail the Apocalypse tour in 2015 and it was well worth it. While the band is incredible at festivals nothing will ever match how ferocity I saw that night. The headbanging machines ripped through a psychotic set that had the crowd going batshit crazy. I have met the band twice and they are also some of the nicest people you will meet from a band. They truly cared if we enjoyed the show and showed a ton of gratefulness for the fans. After that tour, the band went away for some time to begin work on their next album. Just last year in May they released the concept album 'Feathers and Flesh'. It took some time for it to grow on me but it also ended up being a favorite of 2016. Avatar never tries to make the same album twice and the variety of them really shines on this album. This record also brought forth new red and yellow stage attire. More songs like "For the Swarm", "The Eagle Has Landed", "Night Never Ending", and "Tooth, Beak, and Claw" all have gotten radio play. I feel like just about the entire album could be released as singles though because there isn't a bad song on there. The dynamic of Avatar has turned into something breathtaking as the band continues to go down unexplored paths of metal. You can check out a handful of music videos below including the newly premiered "New Land" which was released on Monday.  This is a can't miss band at Chicago Open Air Festival. Buy tickets here and be sure to follow the band on Facebook.
Avatar is:
Johannes Eckerström – Vocals
Jonas Jarlsby – Guitars
Tim Öhrström – Guitars
Henrik Sandelin – Bass
John Alfredsson – Drums