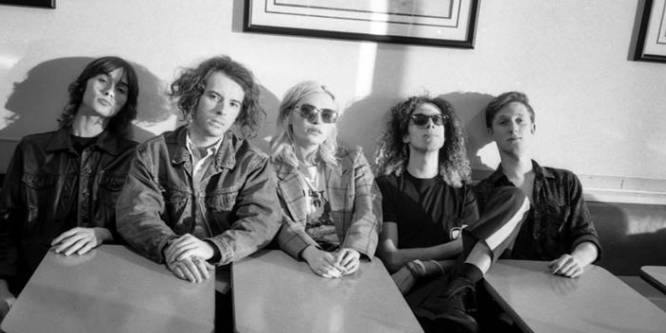 Welcome back to our ongoing series of LOUDER THAN LIFE 2019 artist profiles, our weekly guide through the lineup of acts who'll take the stage at Louisville, Kentucky's Highland Festival Grounds at Kentucky Expo Center September 27-29 in what's sure to be one of the biggest concert events of the year. This week, we're taking a closer look at the Los Angeles based synth-punk band The Pink Slips.
Louder Than Life is bringing a wide variety of musical genres to Louisville, Kentucky this year. From Celtic punk rock and hair metal to southern sludge and the synth-punk rockers The Pink Slips. Formed in 2013 in the City Of Angels aka Los Angeles The Pink Slips have been building their sound and their fan base along the way. The band cut their teeth in legendary Hollywood venues like The Troubadour and the Viper Room, well before the band's members could legally drink at the bar. The Pink slips is led by vocalist Grave aka Grace McKagan the daughter of Guns N Roses bassist Duff McKagan. Duff has also showcased his vocal talents on his side project Loaded, and he is also a member of several other talents bands like Velvet Revolver, Hollywood Vampires and various others. So it's easy to that musical talent courses through her veins. The remainder of the band is filled out with Trent Peltz on keyboard and backing vocals, Keenan Bevans behind the drum kit and Desi Scaglione  on guitar.
One thing the band pushes is self-empowerment. The Pink Slips call out to the outcasts, they glorify underdogs and the disenfranchised everywhere. Their music speaks for those that have yet to become motivated to speak for themselves, and it empowers them to stand on their own and fight back against society. While their music provides all this amazing empowerment it still also rocks. The band not only puts thought and passion into their music and lyrical content but their stage show is well thought out and is something fans covet to see in person. The bands newest single "Seek You" is by far one of their heavier tracks, its like a mixture of Blondie, Marilyn Manson and Orgy all combined. It has an incredible groove that will be in your head for days. The song followed up the bands previous single "Sweet Talker" which is great and shows the bands versatility and variation from song to song. The Pink Slips are a band you won't want to miss. The band performs on Saturday September 28th, make sure to pick up your tickets here today.