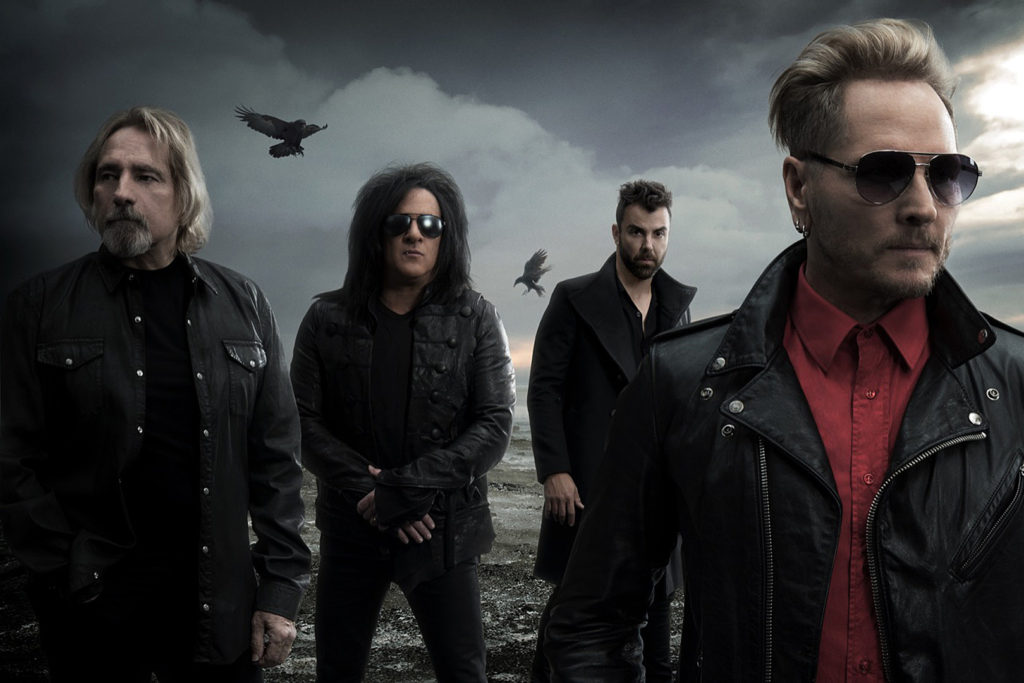 Welcome back to our ongoing series of LOUDER THAN LIFE 2019 artist profiles, our weekly guide through the lineup of acts who'll take the stage at Louisville, Kentucky's Highland Festival Grounds at Kentucky Expo Center September 27-29 in what's sure to be one of the biggest concert events of the year. This week, we're taking a closer look at newly-formed supergroup DEADLAND RITUAL.
Not every unsigned band can grab a spot on the lineup for a festival on the magnitude of LARGER THAN LIFE. But then, not every unsigned band can unravel the certified Hall of Fame pedigree of DEADLAND RITUAL. Boasting the assembled firepower of drummer Matt Sorum (VELVET REVOLVER, GUNS N' ROSES, THE CULT), guitarist Steve Stevens (BILLY IDOL, VINCE NEIL), bassist Geezer Butler (BLACK SABBATH, HEAVEN & HELL), and vocalist Franky Perez (APOCALYPTICA, SCARS ON BROADWAY), DEADLAND RITUAL's deft audio alchemy combines a century's worth of hard rocks and heavy metals into a sleek and shiny new alloy that's both classic and cutting edge. Judging from their two officially released singles, "Down in Flames" and "Broken & Bruised," a kind of sultry doom will be the unit's primary stock-in-trade, riding the Big Groove of the formidable Butler/Sorum rhythm section on a thick slab of power riffs and impassioned vocals underneath a desert sky of electric gray.
The band made their live debut at the end of May, and they spent most of June on a mostly-festivals jaunt through Europe. Even based on this admittedly small sample, we can confidently go ahead and extract that the live DEADLAND RITUAL experience will offer punters a fairly even mix of original material (half of the band's twelve songs received airings on the European tour) and covers from the members' collective illustrious past (VELVET REVOLVER and BILLY IDOL cuts have graced the setlists thus far, along with BLACK SABBATH tracks from both the OZZY and DIO eras). As you can imagine, a crack lineup like this packs one hell of a wallop, and relative newcomer Perez more than proves himself a worthy addition to this musical Murderer's Row, handling both the classics and the originals with aplomb, conviction, and a healthy dose of the necessary swagger.
At press time, LOUDER THAN LIFE is the first of only two scheduled DEADLAND RITUAL dates in North America (the other being October's AFTERSHOCK Festival). While I'd have to assume there will be other dates filling the space between festivals, we all know how unpredictable things can be in the topsy-turvy world of heavy rock, and we all know the all-too-flighty nature of projects like this. You don't want to miss the boat on this one, campers; grab your tickets and confirm your spot in the pit HERE!