After being forced into a flood-induced sabbatical last year, LOUDER THAN LIFE 2019 roared back to life the last weekend of September. Over 50 artists and nearly 130,000 fans descended on Louisville, Kentucky's Fair and Exposition Center, making Derby City the undisputed capital of the hard rock world (for at least a couple days). Your intrepid METAL NEXUS away team braved the teeming throngs and the suffocatingly oppressive heat, chasing slivers of shade while soaking in the sights and sounds in order to bring you these dispatches from the front lines of the biggest rock festival in America.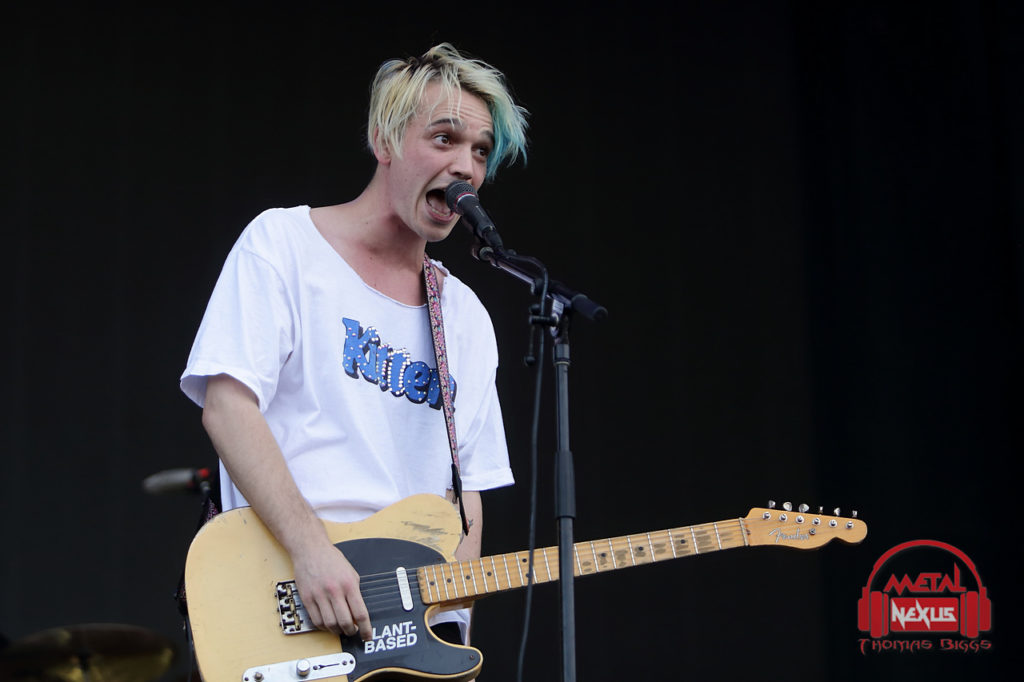 The LA-based BADFLOWER hit the Oak Stage, and immediately took the rapturous crowd into the palms of their grimy little hands. From the word "go," the band was a frenetic maelstrom, whipping through the whole aesthetic of modern rock with conviction and abandon. On tracks like "White Noise," "The Jester," and the set-closing "Ghost," BADFLOWER combined talk-singing leading to strong-yet-vulnerable vocalization, pop hooks giving way to stoner riffs, the occasional skronk, and full control of the quiet-loud-quiet dynamic into something resembling heavy RADIOHEAD.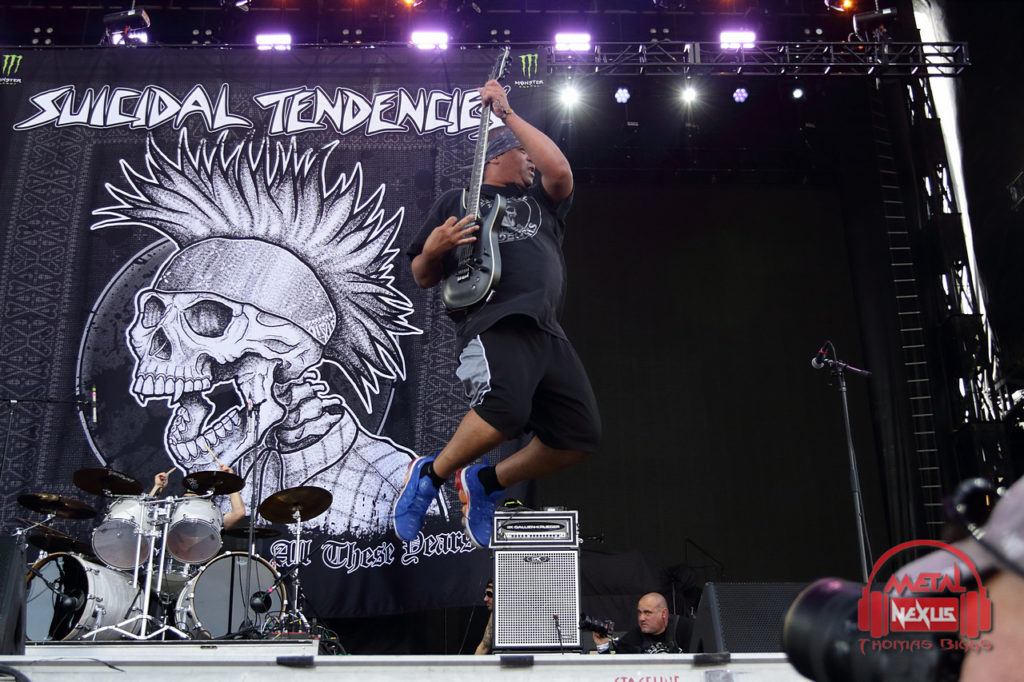 For nearly four decades, SUICIDAL TENDENCIES have been lovingly laying waste to audiences far and wide; on Saturday, it was Louisville's turn. Led by mainman/whirling dervish Mike Muir, SUICIDAL threw down thrash punk grooves and pummeling riffs that felt like a friendly beating, with more energy and fire than bands half their age. With a set mainly comprised of ST classics like "You Can't Bring Me Down" and "Possessed to Skate," Muir and Company's joyous aggression was a celebration of the unity to be found and forged in fury and noise.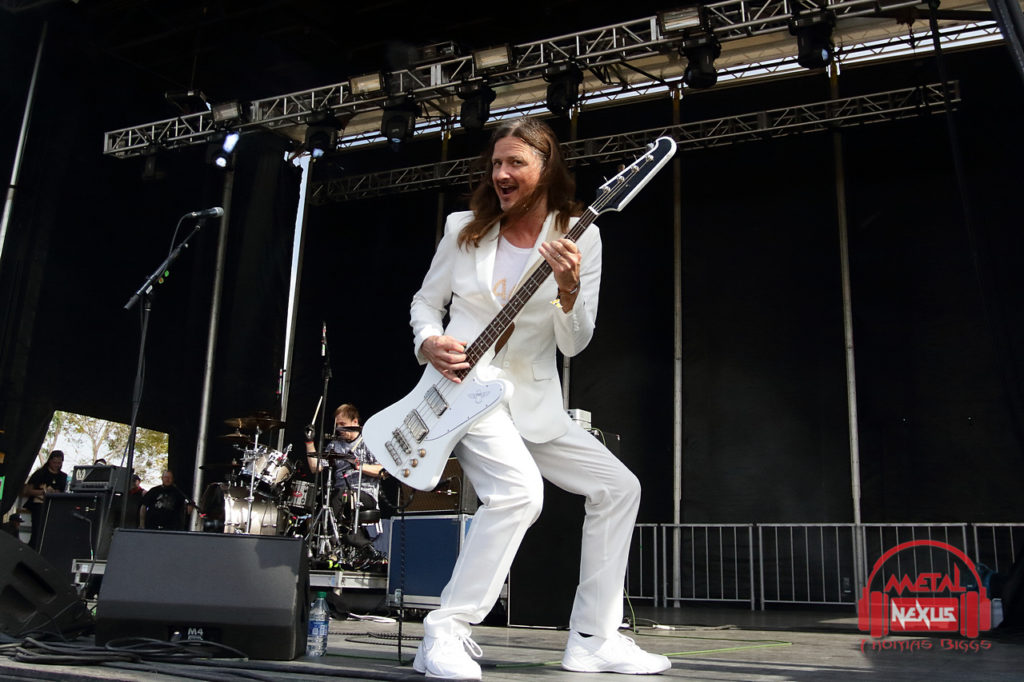 Maybe the only band on the LTL lineup that could best SUICIDAL in terms of sheer longevity are their SoCal brethren REDD KROSS. Since 1978, Jeff and Steve McDonald have been pumping out sticky chunks of muscular, ramshackle power pop, and let me tell you, they are masters of their craft. Their bright harmonies and hooks on cuts like "Peach Kelli Pop" and the title track from this year's Beyond the Door provided a much-welcomed counterpoint to a lot of the weekend's more…ummm…primal proceedings. In a lot of ways, they may have been my favorite band of the whole weekend.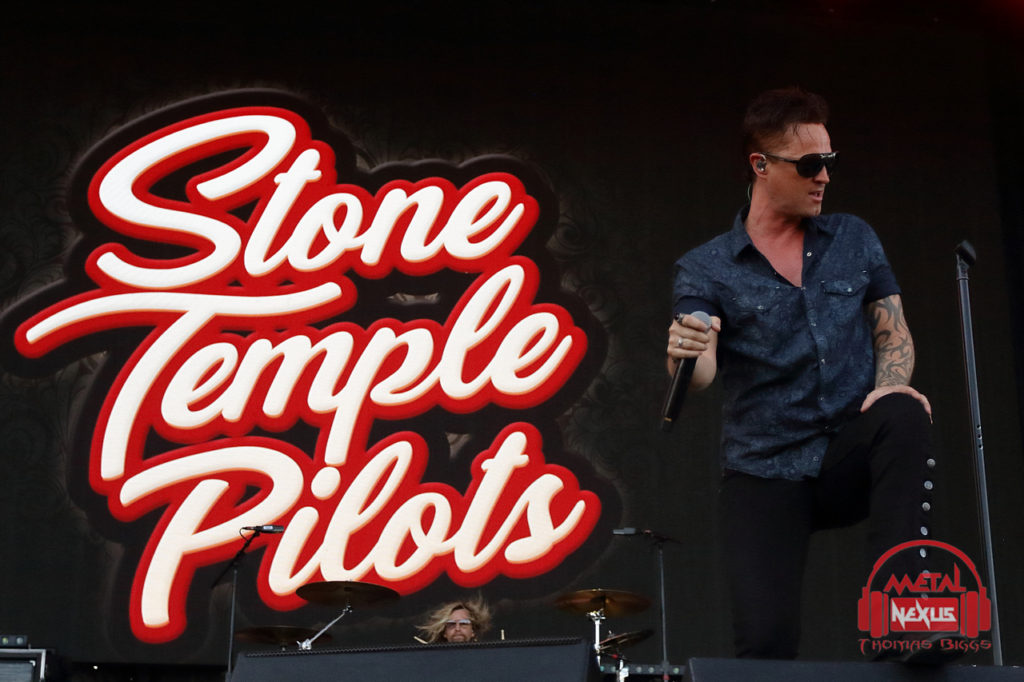 With the possible exception of the evening's headliners, no other act on Saturday could claim the sheer setlist firepower that STONE TEMPLE PILOTS could; ten out of eleven tunes were stone-cold classics that led to warm feelings and automatic singalongs. This was my first time seeing STP with vocalist Jeff Gutt, and I think he did a more than admirable job working his way through the Scott Weiland songbook, adding his own flair while still maintaining a healthy dose of respect. Eric Kretz and Robert DeLeo are still an amazingly fluid rhythm section, and hearing them churn through "Vasoline," "Big Bang Baby," "Wicked Garden" and a bunch more is still a thrill, even a quarter century down the road.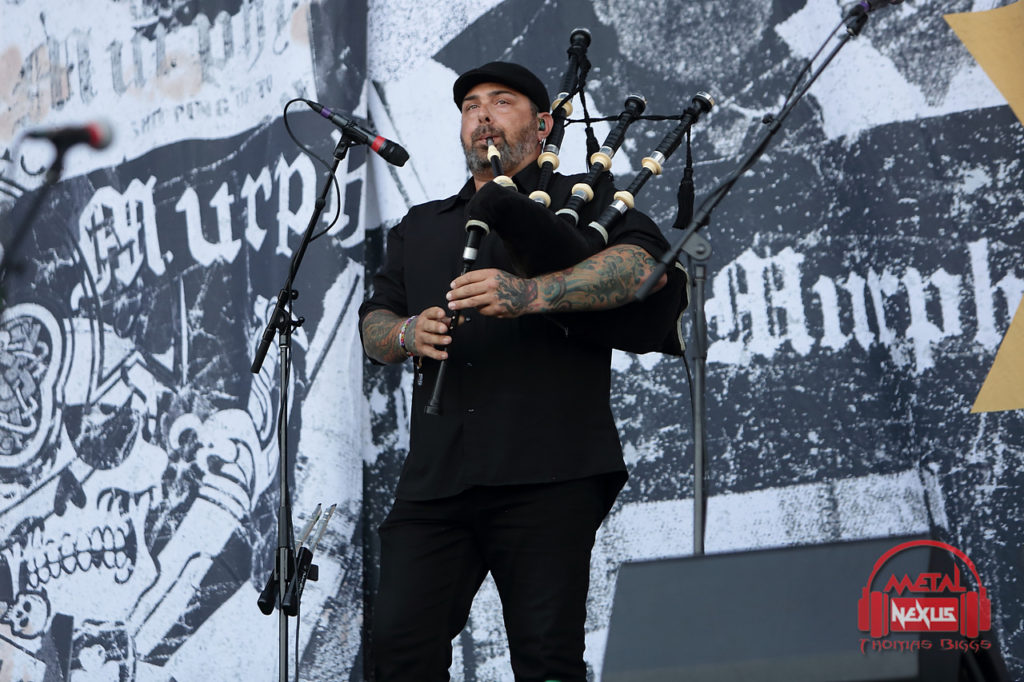 DROPKICK MURPHYS have often cited AC/DC as an influence on their style, and after seeing them at LOUDER THAN LIFE I finally get it; they've built a veritable empire by specializing in doing one thing really, really well. Their set was a forty-five minute Celt-punk call to arms, a non-stop banjo and bagpipe stomp through working class anthems like "Blood," "First Class Loser," "Rose Tattoo," and the inevitable "I'm Shipping Up to Boston" that seemed to concurrently rile up and unite an audience at the midway point of a long, hot weekend.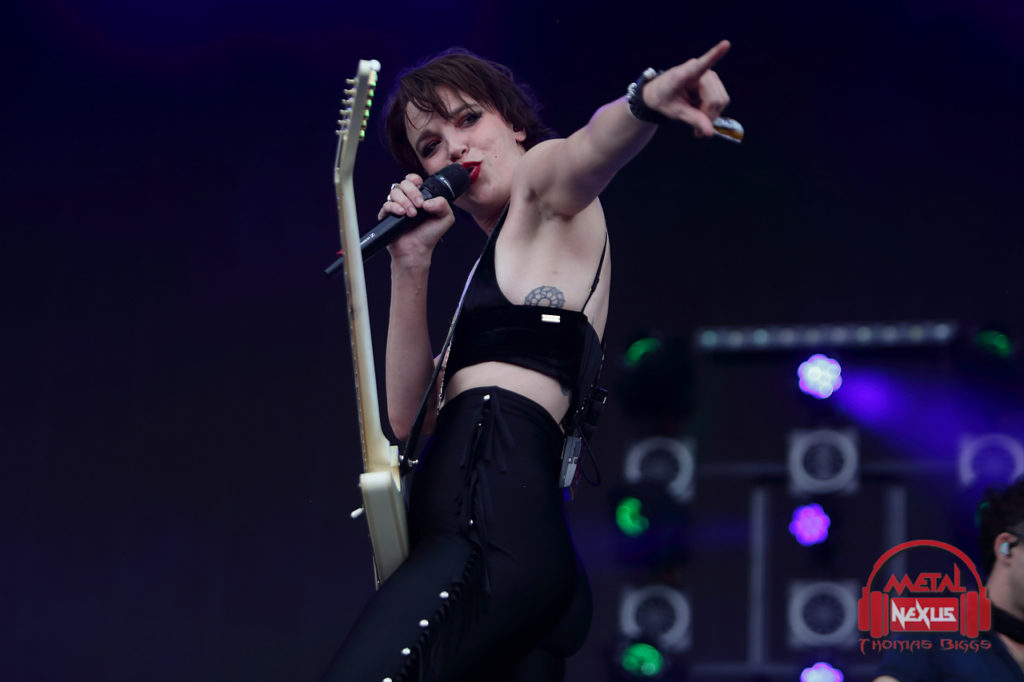 One of the hardest touring bands of the past ten years is HALESTORM, and man does it show. They've become a road-hardened rock and roll machine, capable of controlling any stage they step onto, and in frontwoman Lzzy Hale they've got one of the era's most complete, full-on rock gods. It also doesn't hurt that they can pack a setlist with a decade's worth of sharp, sexy mainstream rock hits like "I Get Off," "Freak Like Me," "I Miss the Misery," and "Uncomfortable."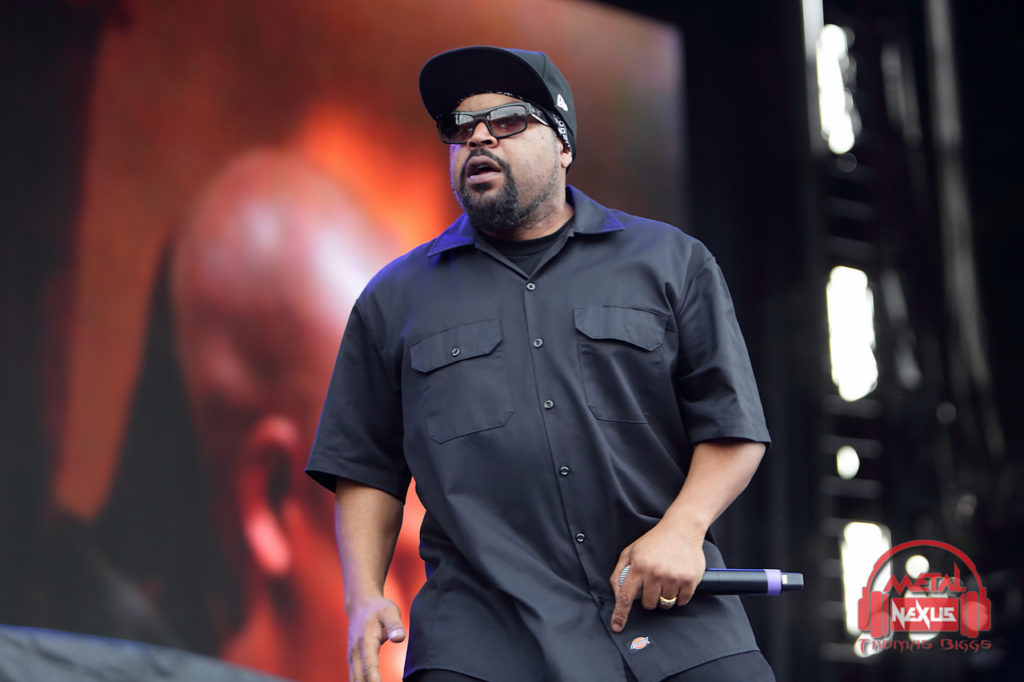 I was given a dubbed copy of N.W.A.'s seminal Straight Outta Compton in the fall of 1988, and I've been a fan of ICE CUBE ever since. From his incendiary early solo albums like Amerikkka's Most Wanted and Death Certificate on through to last year's long-gestating Everythang's Corrupt I've followed the career of Mr. Jackson, and it was a real thrill to get to see him do his thing on a festival stage. He delivered a rapid-fire, non-stop journey through his entire career, and the crowd was completely enraptured, bobbing and weaving along with classic bangers like "Check Yo' Self," "No Vaseline," and the forever-iconic "It Was a Good Day."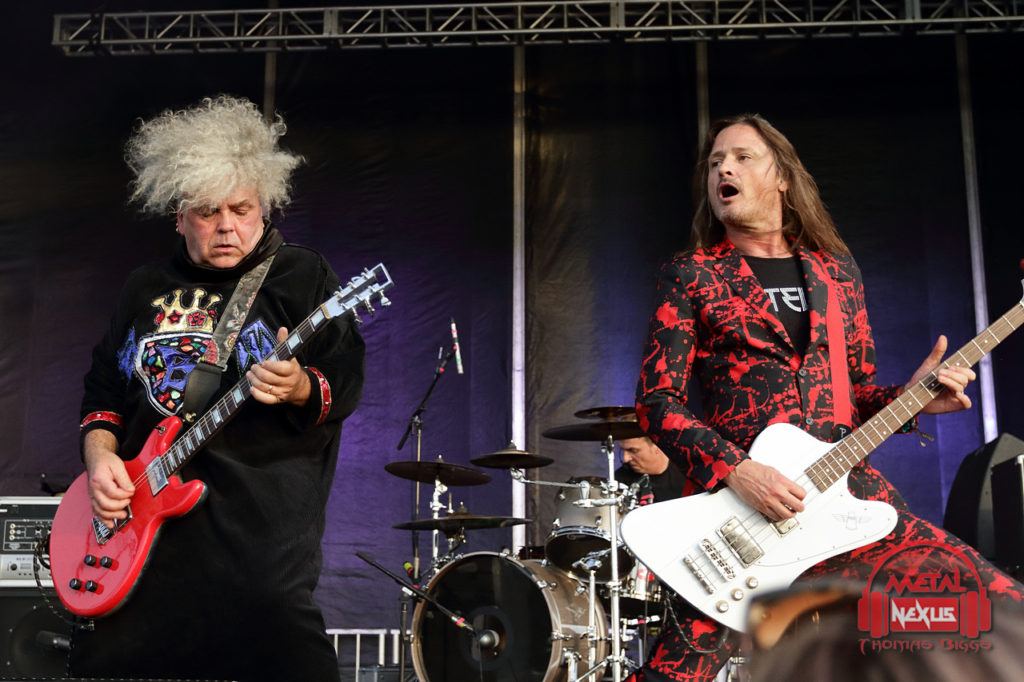 Saturday's Loudmouth Stage finale was provided by Evergreen sludge kings MELVINS. I'd never seen them in a trio configuration before, and I can't help but think that the streamlining plus the addition of bassist Steve McDonald (from the aforementioned REDD KROSS) has had a positive influence. This was as tight and song-oriented a MELVINS as I've ever been privy to; feedback freakouts were kept to a minimum and most of the tunes had recognizable bridges and/or choruses. I'm not saying they've become CHEAP TRICK, but I am glad they've scraped off a bit of the scuzz to expose the beating heart of the beast beneath the layers of grime.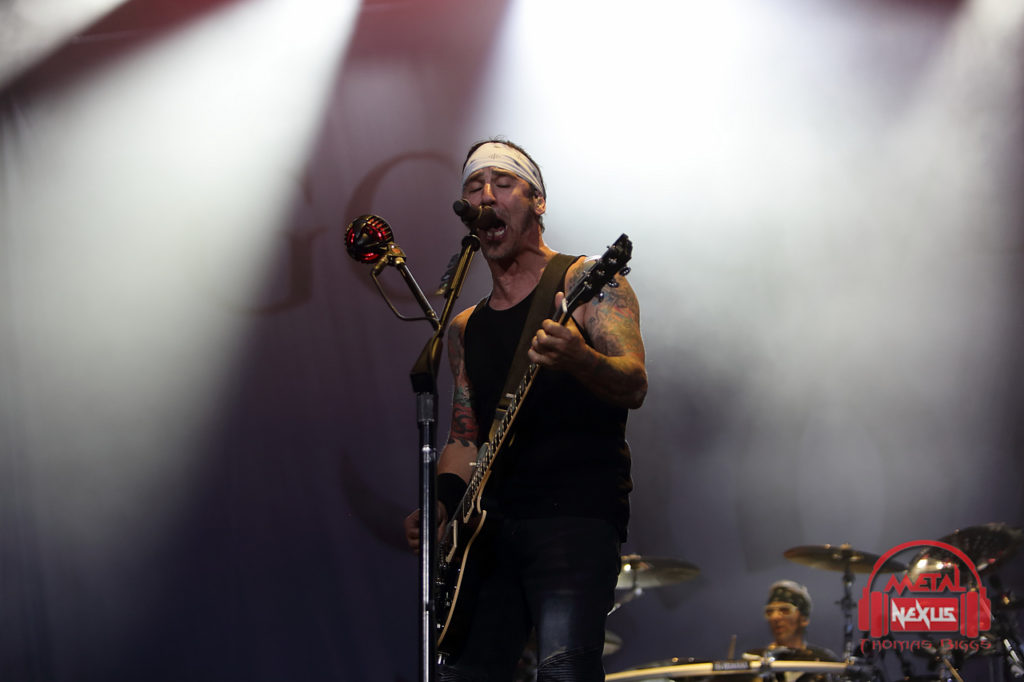 In the past few weeks, I've seen several artists bemoaning the fact that they've been "unfairly" lumped in with the nu-metal genre. Now, most of these artists are either full of shit or completely delusional (or a bit of both, I guess), but after seeing GODSMACK close out the Oak Stage I can say that Sully Erna may have a legitimate gripe. They may have been contemporaries and tour mates of a lot of those bands, but GODSMACK is really an arena rock throwback, more attuned to extended drum solos than hip-hop overtones. They are to nu-metal what TESLA was to glam metal, in the scene but not really of the scene. Anyway, enough of my yammering; they played eleven songs and the crowd absolutely ate it up. Erna mentioned the band's longtime connection to Louisville, and you could see and feel that it was true, not just a contrivance.
To say the crowd got a little restless during the forty or so minutes between GODSMACK and headliners GUNS N' ROSES would be putting it mildly. As the band's animated intro video played on a seemingly endless loop, I heard plenty of boos and more than a few snide remarks. But once the opening throb of "It's So Easy" rang out through the Festival Grounds, it seemed all was immediately forgiven and forgotten. In the three years since the "Not In This Lifetime" tour kicked off, GNR has honed and sharpened their act into a near-monolith of super hits and deep cuts from every era, with a healthy smattering of covers and oddities thrown in for good measure. Yes, there was a little delay coming on, and no, Izzy Stradlin did not make an appearance, but after a jam-packed three-hour set, those were minor quibbles, at best. GUNS N' ROSES played the songs of your youth real loud and real well, and what better way is there to spend a Saturday night?