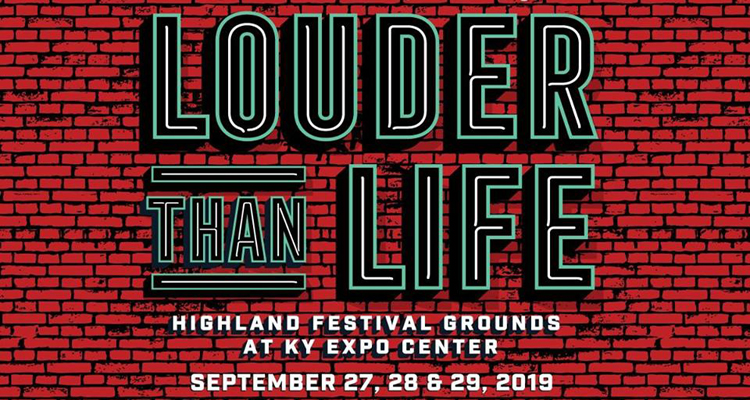 We're a scant week-and-a-half from the return of LOUDER THAN LIFE, one of the nation's premiere hard rock/heavy metal events. After flooding cruelly scuttled last year's festivities, Danny Wimmer Presents worked with the city of Louisville to find a new home for the festival, settling on the Kentucky Expo Center's Highland Festival Grounds (with "highland" being, hopefully, the operative word). 2019's potent lineup packs some major firepower, with headliners GUNS N' ROSES, SLIPKNOT, and DISTURBED alongside an array of current acts like HALESTORM, A DAY TO REMEMBER, and IN THIS MOMENT, rising stars such as DIRTY HONEY and CROWN LANDS, and metal mainstays like ROB ZOMBIE, GODSMACK, and MARILYN MANSON. A lineup of this magnitude will invariably force punters to make some hard choices between this band on that stage and that band on this stage; after poring over this year's daily schedules, here are some of the weekend's biggest scheduling snafus and how your intrepid reporter plans to unravel them.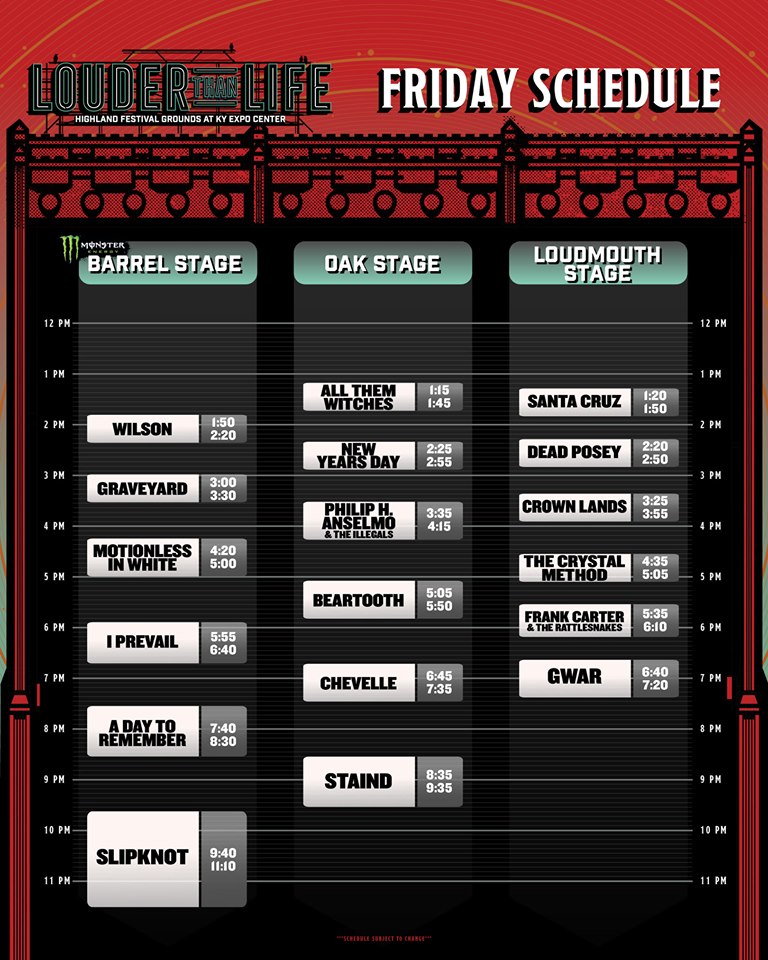 Friday's festivities begin a little past 1, and right out of the gate I'm torn between the psych rock stylings of Nashville's ALL THEM WITCHES and the neo-glam antics of Helsinki's SANTA CRUZ. ALL THEM WITCHES is a fearsome beast live, quite capable of blowing out eardrums and melting minds every time they take the stage. But I grew up a Hairball, and the Finnish imports have a way of scratching that certain itch and bringing a smile to nine-year-old Stone's face.  It's a line in the retro rock sand, aesthetic wise, one I plan on crossing; I think it's better to see at least some of both sets rather than miss all of either. The other big conundrum I see for Day One is hitmakers CHEVELLE on the Oak Stage directly against your intergalactic lords and masters GWAR on the Loudmouth Stage. CHEVELLE have sold a ton of records over the past couple decades, and have become kind of a cornerstone of modern rock playlists (almost like an alt-metal COLLECTIVE SOUL). But do you know what can ruin a fresh coat of polish? Gallons and gallons of blood. It's been twenty-five years since I last saw GWAR, and I can't wait to see what holy hell they unleash on a festival crowd. If you've never borne witness to their fluid-spattered ritualistic mayhem, I suggest you mosey on back and pay homage.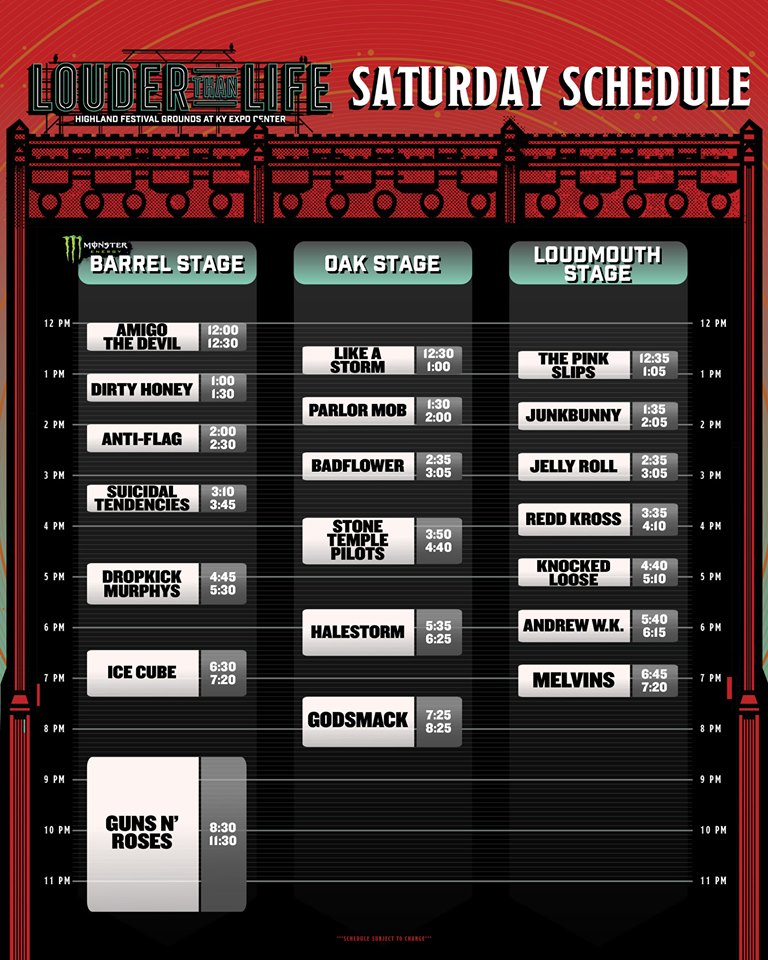 Saturday night, Derby City becomes Paradise City as the legendary GUNS N' ROSES take the stage as part of their seemingly endless "Not in This Lifetime" tour. But before that three hours of sublimity, we have the most entangled and talent-strewn day of the festival, one jam packed with tough decisions; do I take in the grungy primordial sludge of THE MELVINS or the big beats of hip-hop icon ICE CUBE? HALESTORM comes highly recommended, and I am a big believer in the hooks and power of Lzzy Hale and her gang, but as a lifelong party enthusiast can I really afford to miss a presentation by world-renowned authority ANDREW W.K.? The Loudmouth Stage will undoubtedly draw one of its biggest and most riled-up crowds of the weekend when local hardcore act-made-good KNOCKED LOOSE let loose their aggro cacophony directly opposite DROPKICK MURPHYS over on Barrel. And it's Saturday afternoon that brings me my biggest LTL conundrum, when the Loudmouth set from stoner-pop legends REDD KROSS straddles the performances of SUICIDAL TENDENCIES on the Barrel Stage and STONE TEMPLE PILOTS on the Oak. These are three of the acts I was most excited to see, and I'm not looking forward to having to miss some of each so I can see some of all. Festival life just ain't fair sometimes.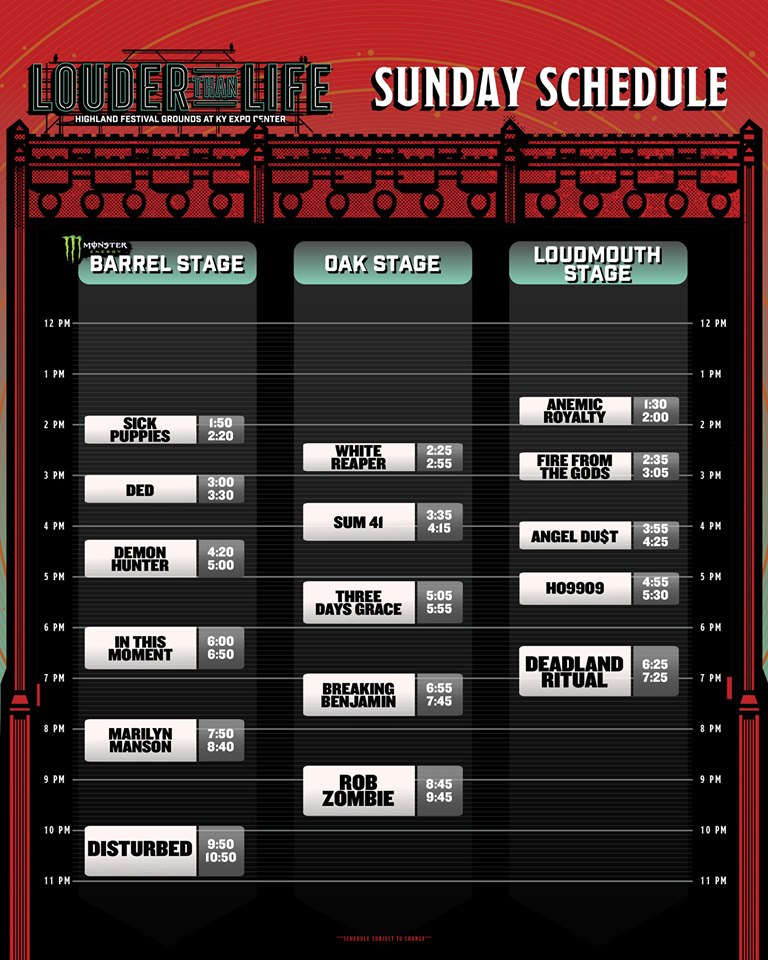 Even with a scaled-back lineup, Sunday closes LOUDER THAN LIFE with its own list of quandaries. The World's Best American Band, Louisville's own WHITE REAPER will be playing at the same time as rising modern rockers FIRE FROM THE GODS. The punk camp will be split between the hardcore stylings of ANGEL DU$T at Loudmouth and pop-punk stalwarts SUM 41 on Oak (oh, and if you go with Angel Du$t, you'll run the risk of missing some of DEMON HUNTER at the Barrel Stage.) The weekend's final conflict will be a doozy, when supergroup DEADLAND RITUAL hits Loudmouth at the same time IN THIS MOMENT and BREAKING BENJAMIN are on the main stages. I haven't been to a festival in some time, and I'm already exhausted just thinking about all this; hopefully all this walking will work off some of the copious amounts of festival food I'm planning on consuming which we all know will include Island Noodles at least once.
Fall's already coming up behind us, preparing to bury its seasonal boot in our collective ass; you know you don't wanna blow your last chance to get your rock n' rolls off while the sun's still warm and the beer's still cold. There's still time for you to join the teeming throngs getting ready descend on Louisville to throw down with the biggest names in hard rock and heavy metal at LOUDER THAN LIFE 2019; go ahead and grab your tickets here, so you won't feel like a chump when October rolls around.