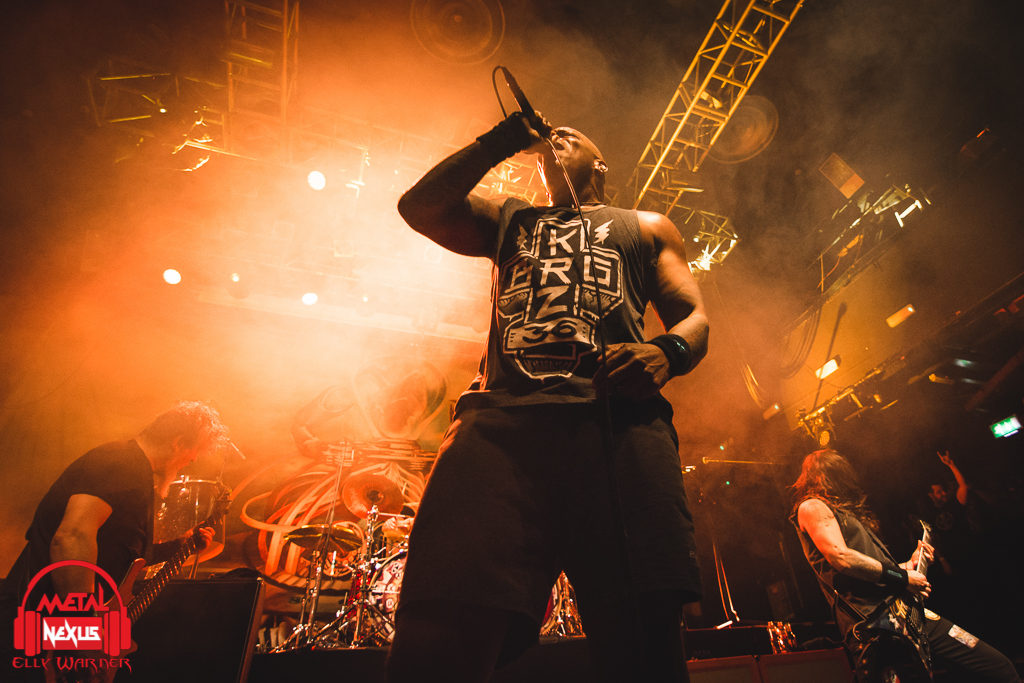 Arriving a half hour early to any gig is perhaps not the best idea, especially when it is freezing cold with snow in the air, but I wasn't the only one keen to get into Londons iconic Koko in Camden town ahead of tonight's monumental performance. On their headlining tour in support of their record 'Machine Messiah' that just so happens to coincide with vocalist Derrick Green marking 20 years with the band, the mighty Brazilian legends Sepultura. There was a decent crowd joining me already and the vocal topic of choice was the Cannibal Corpse gig happening right around the corner, but we were all in agreement that tonight's line-up of Fit For An Autopsy, Goatwhore and Obscura as supports was far too appealing.
Londons Koko is perhaps one of the most beautiful venues I have been too. Formerly one of the largest theatres outside of Londons West End, the venue itself boasts numerous viewing platforms with many touches celebrating its mixed and magical past as a theatre, cinema and now as a dedicated music venue. Inside the lights were already dim with the stage illuminated red and blue spotlights gleaming across the lower floor. Many fans rushed to the pit barrier to claim their front row spot for the evening and within about 10 minutes the 2000+ capacity venue was already looking full.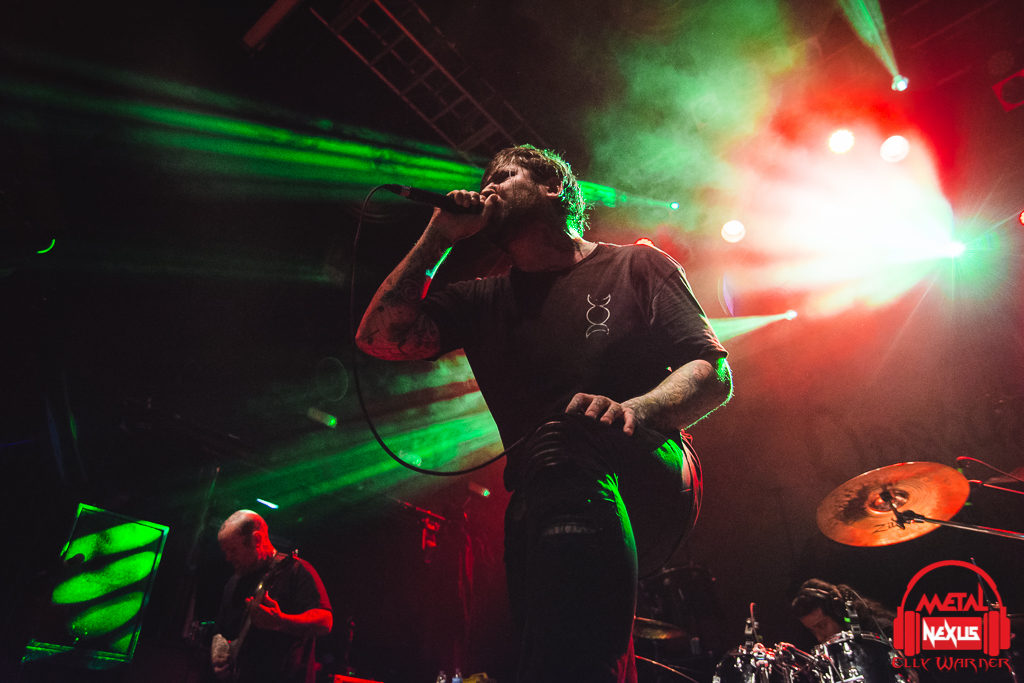 FIT FOR AN AUTOPSY
The venue was a hive of energy when Fit For An Autopsy took to the stage. Replicating the intensity from their 2017 release 'The Great Collapse', their high-energy from the get-go appeared to take much of the audience by surprise. Although it seemed that a vast majority were a little unfamiliar with FFAA, the energy on-stage was soon echoed off-stage with the crowd mirroring the passion from vocalist Joe Badolato who was violenty thrashing about the stage like he was wholly consumed by the music. "Hydra" and "Still We Destroy" proved big hits with their slamming down-tempos and memorable licks that soon had the crowd swinging arms in the air with horns raised.
"It's a f**king honour to be to be playing here at Koko theatre tonight with you guys tonight here in London! F**k yeah!" – J.B
Throughout "Hydra" bassist Peter Spinazola was roaring the lyrics whilst speedily sliding his hand up and down the fretboard, with the whole band giving it their all with a fiery demeanour. Positively entertaining was guitarist Tim Howley whose beard was whipping around with a life of it's own. Badolato took every possible opportunity to respect the crowd "thank you so f**king much…thank you so much for hanging out with us" which was greatly received and rapidly strengthened the bond between artist and audience. The gratifications and respect continued mid-set during a momentary tuning pause.
"London, we are on an amazing f**king tour! Make some noise for Goatwhore! Make some f**king noise for Obscura! And make some f**king noise for the f**king amazing Sepultura!"- J.B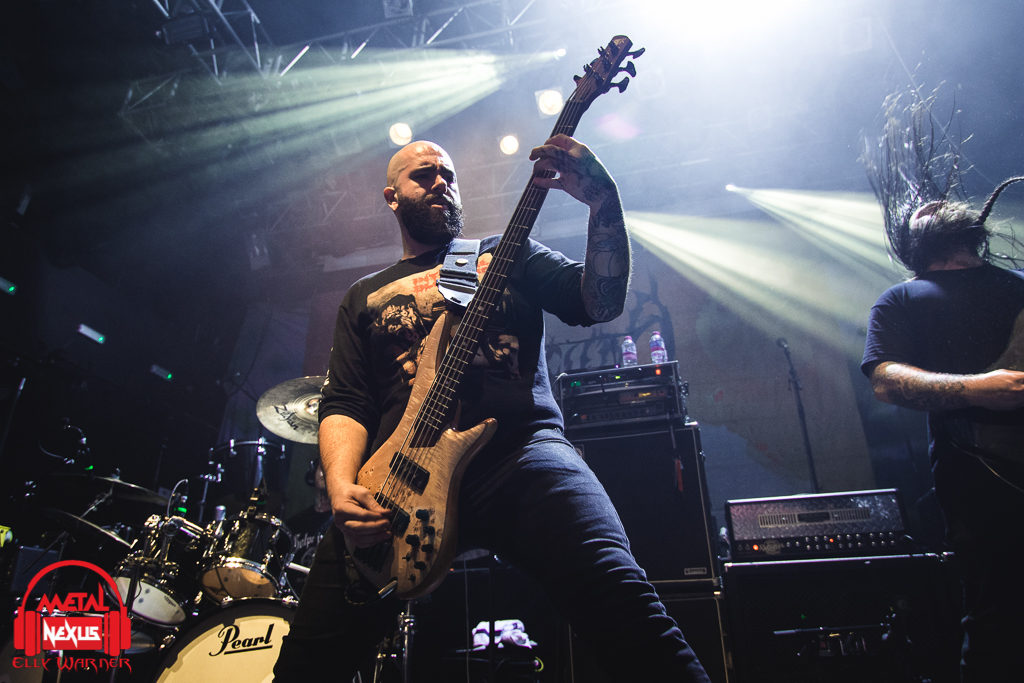 Ironically "Slow Move" had the crowd really charged up with guitarist Patrick Sheridan egging the crowd on further with his passionate beating to his chest and arms outstretched wide. I think that FFAA were a little taken back by the lack of mosh-pits as Badolato shouted "you guys in the middle have got to wake up" but I think that many were saving themselves for the final act – either that or they were still defrosting from the cold. The audience were clearly enjoying themselves with so many headbanging and raucous cheers after every single song! There was a unifying feeling of solidarity across the venue with so many grinning faces during each and every song, everyone was bouncing off of the energy of one another.
"London, thank you guys for being here tonight! You guys down here and you guys up there…our album titled 'The Great Collapse'…came out exactly one year ago yesterday so it's technically it's birthday…thank you guys!" – J.B
"Iron Moon" and "Black Mammoth" closed this fantastic set and on the announcement that this performance was a very special birthday celebration, the whole room was electric with even more excitement. Howley lept onto a speaker and backlit by a spotlight cast an empowering shadow that was a sight to behold. A mixture of the ever-passionate roaring and headbanging from Badolato entwined with the squealing from the guitars gave this opening performance a climatic flair, with infectiousness for more!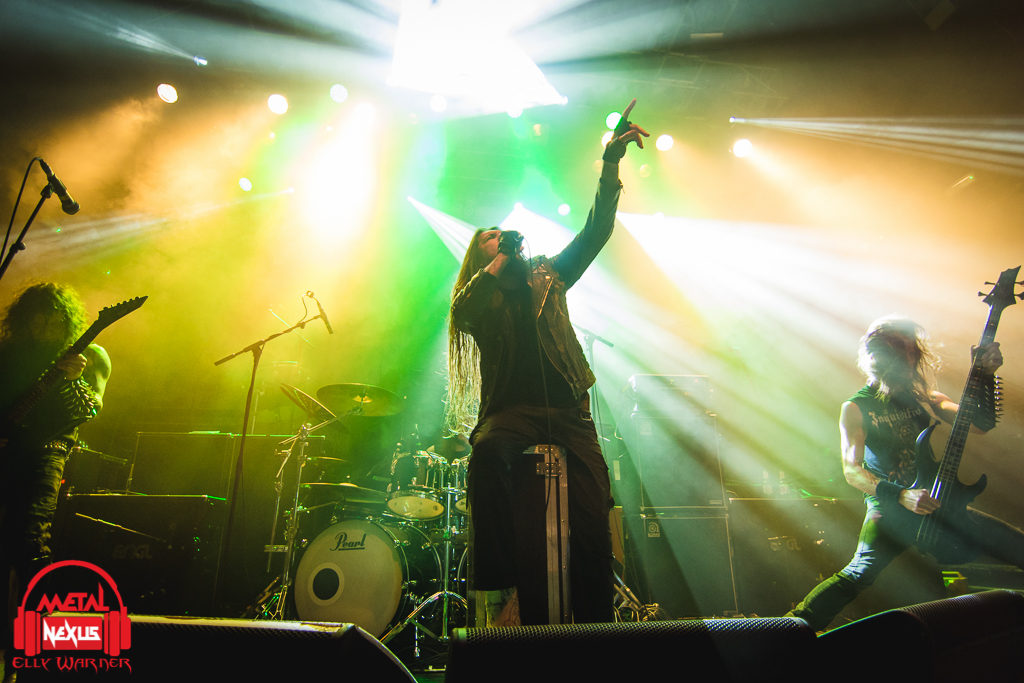 GOATWHORE
With the audience now on a high black thrashers Goatwhore took to the stage. The venue that already looked full had somehow had an influx of bodies by this point and it was getting harder to move around. Initially the audience were a little restrained during opening song "Alchemy of the Black Sun Cult" but all they needed was a little coaxing. Vocalist Ben Falgoust was hugely energetic despite being confined to sitting on a box due to his broken leg with windmilling and air-guitaring between verses, and gesturing profusely with his hands. Together with the fast tempo and chugging riffs, the crowd soon began to let loose once again, especially to the title track "Vengeful Ascension" off of their latest 2017 release of the same name! This was clearly a favourite with loud cheers!
"It's time for everybody to stop acting so calm, and to start acting like complete animals! Pit troll, I want you to get in the centre and crank this sh*t up! You know what I'm talking about" [gestures circle pit]. – S.D
"How many of you first time seeing us this evening? Let's go, lets see some hands [cheers from crowd]. Alright, we've played 6 songs, that means we've made out, we've touched private parts, we should be totally on a different level right now. You should all be on the floor getting f**king crazy, right? Let's go…this one goes out to our good friends in Obscura, this is Chaos Arcane!!!"
On this announcement "Chaos Arcane" generated the first proper full-on pit of the night with the 'pit-troll' at the helm, becoming a huge force in the events of the night. Picking up person after person to be swept up by the crowd towards the stage – the security were loving it and welcomed the fun with open arms. The absolutely pounding rhythms and high velocity of this track sent the whole crowd into a frenzy with people jumping, surfing, headbanging and really getting lost in the fast-paced music, especially to the squealing whammyed solo. "Collapse Eternal Worth" generated a similar response with the crowd all across the levels jumping and thrashing about, and the bassist Robert (TransAm) Coleman getting insanely low!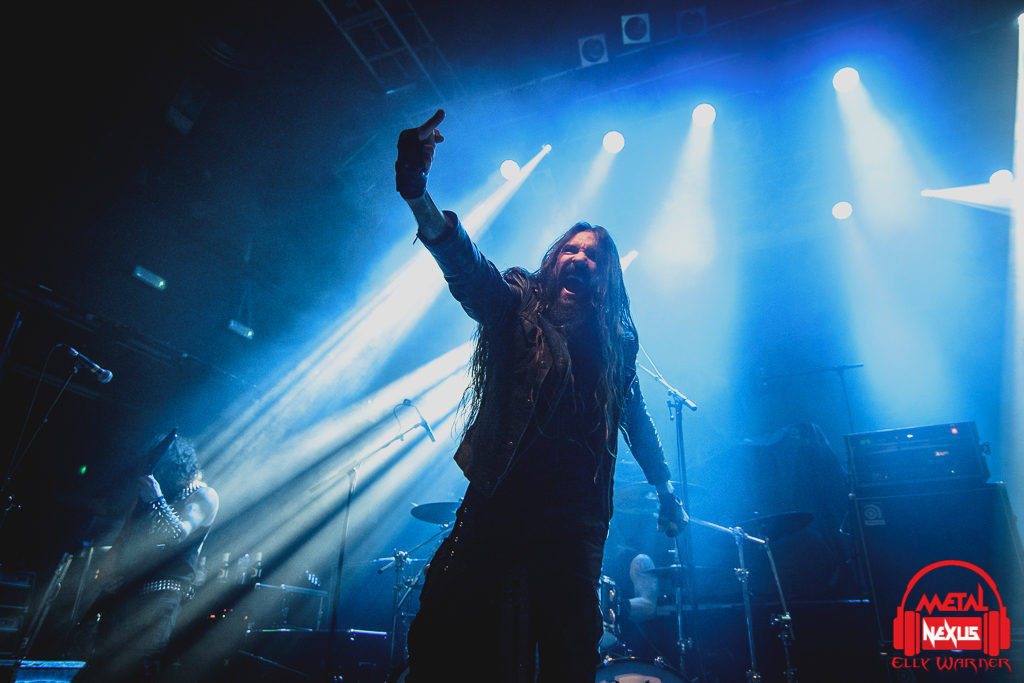 "I want everyone to applause Ben! He's kicking you arses with a broken f**king leg" – S.D
With this diverse set now coming to an end, everyone gave it one huge final push for their closing song "FBS" were the atmosphere was completely electric! Guitarist Sammy Duet was on fire with his intense solos adding another layer of hype to this insanely energetic song, which had an old-school flair and groove. With the crowd joining in with a whole room of fists pumping the air to a unified "hey, hey, hey…" this song was a climatic way to end on!
"Thank you all very much London we are Goatwhore! But before we go, have to give a huge round of applause to these 3 fine gentlemen right here! Let's go! Thank you very much…we'll see you this summer!"- B.F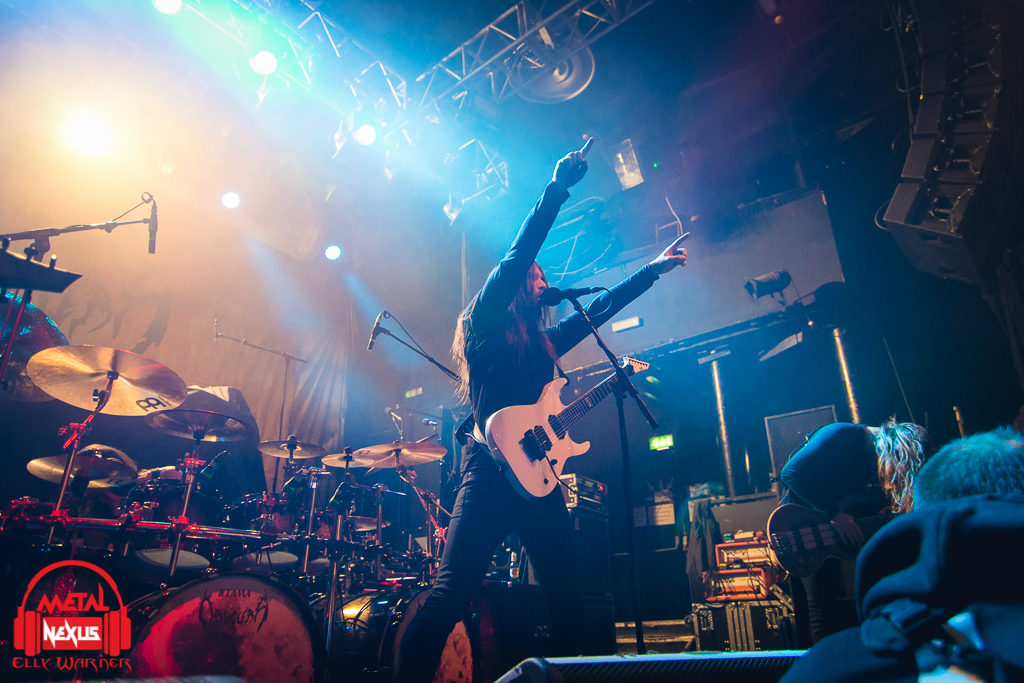 OBSCURA
It's fair to say that technical metal has a bit of a reputation when it comes to live performances, and this is not necessarily one that does it justice. Certainly there will be some constraints (yes of course it is far easier to windmill to chugging power chords than to an intricate web of sweep picking at 180 bpm), but when Obscura took to the stage they took 'technical metal is boring live' and showed it a new one! The whole set was a spectacle of beauty and brutality with the added visual effects of smoke jets blasting to the pounding rhythms and at pinnacle moments in each song – such as guitarists Rafael Trujillos squealing tremmelo in "Akroasis". Whilst he may have been a little static in his whole body movement, we were all in wonderment at his insane technical ability that in person lived up to the standard set on their latest release of the same name – simply put, his hands did all the talking! During this aural assault of insane sweeps, vocalist/guitarist Steffen Kummerer and bassist Linus Klausenitzer were headbanging with power stances, hair whipping back and forth.
If you ever want to get a British crowd really going, all you have to do is compare us to the Irish (or the Welsh or Scottish)! Yes we love our neighbours dearly but there is still an ever so slight rivalry between the nations. Kummerer was an excellent frontman and he used this to connect and joke with the audience.
"So you guys know what is a circle pit? The Irish knew, so you should! Also yesterday was St Patricks day so how's your hangover…?" – S.K
With the mix of red and yellow lights it was like the stage was on fire with Obscura reining high in their devastation. The brutality continued in "The Anticosmic Overlord" where Kummerer shook the ground with his mix of roaring gutturals and harsh death metal screams. The crowd responded positively with windmilling commencing across all levels of the venue with bodies moving in time (as best they could) to the fast and ever changing pace of the music. The crowd were further enticed to join in when Kummerer shouted "hey, hey, hey…". With a passion everyone joined in the chant and many a pint was thrown into the air – even the sound techs were joining in at this point headbanging, a nice touch with one wearing an Obscura t-shirt.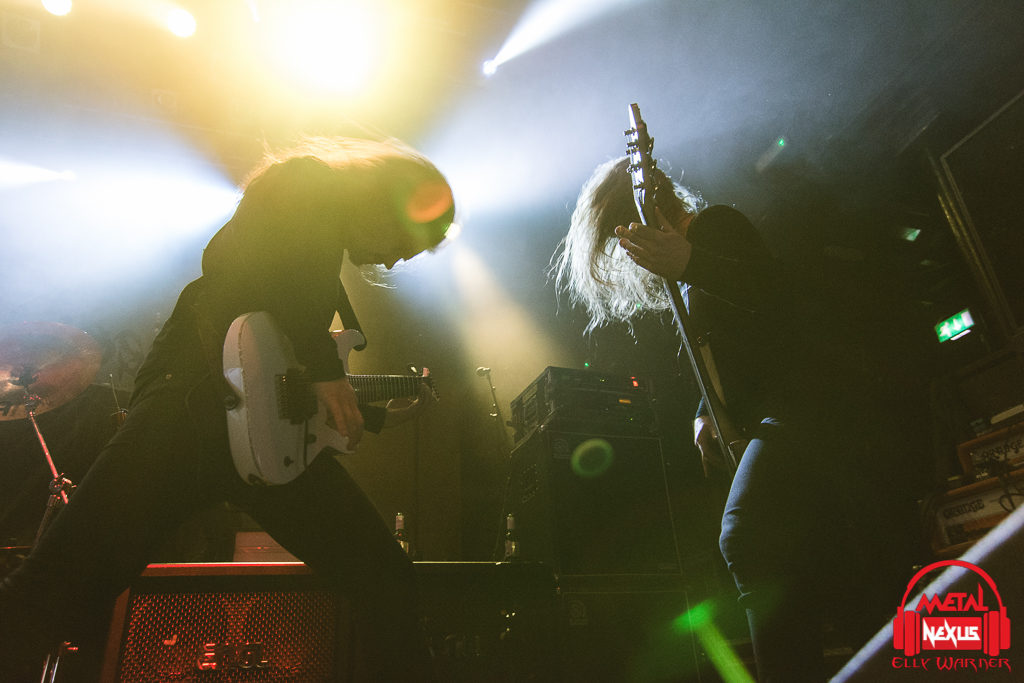 By this point in the night there was an infectious energy all across the venue with the crowd fully alive for the "Centric Flow". The rapid fire of the strobe lights beautifully mirrored drummer Sebastian Lansers rolling fills and thundering double bass and arms from the crowd were raised high in the air, clapping along to the beat. For the first time in the set Kummerer stepped to one side and Trujillo stepped into the spot light to be in centre stage for his uplifting solo with the sound on all others temporarily halted to emphasise it. This song was perfect to end on with it's dynamic and contrast, mixing ferociousness and sublime melody. Ending with another incredible drum roll, Klausenitzer holding his bass high in the air and Kummerer jumping with a passion – damn I wish I was still in the photo pit for that beauty of a shot! The quartet unified together, joined in arms and took a final bow. The crowd cheered eruptiously!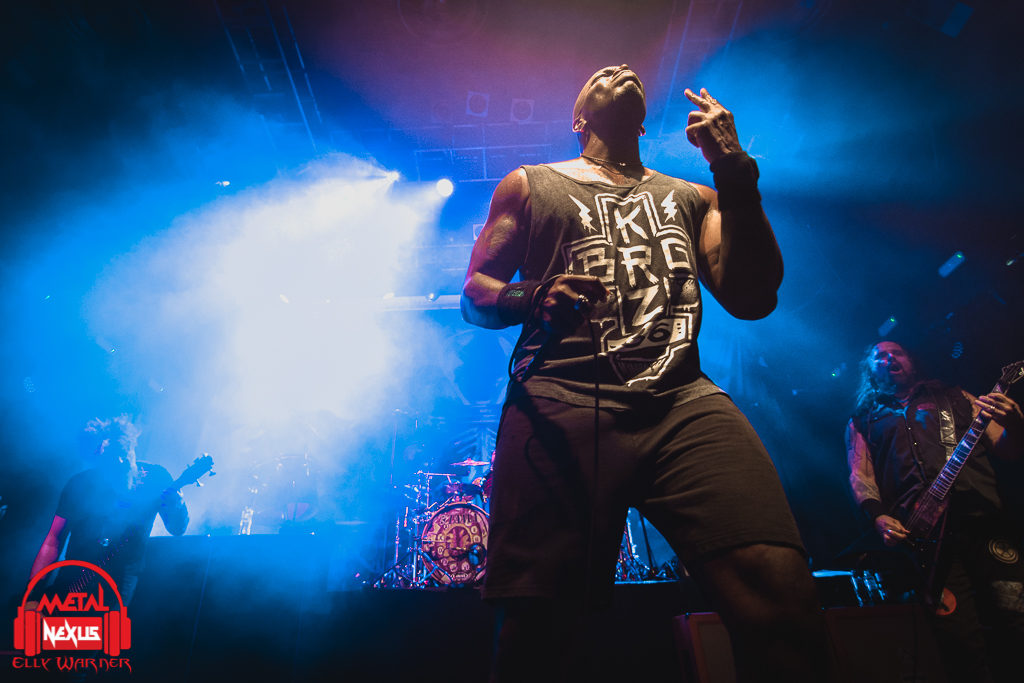 SEPULTURA
There are many reasons why Sepultura had been referred to as mighty already this evening and they more than lived up to this name. Obscuras banner with was replaced with Sepulturas own huge one adorning the 'Machine Messiah' album art, the stage suddenly became twice as big with the removal of Obscuras drum kit and the unveiling of their own higher up on a platform – and rightly so, for drummer Eloy Casagrande put on one hell of a performance! All the changes screamed that something big was about to happen, this was what everyone had been waiting for and literally all hell let loose when the moment finally arrived. Taking to the stage one by one in dim light the crowd went from general chatter to passionate cheers, with no time for introductions (not that they were necessasary).
"At this time…and in this age…prepare to bow down to the Machine Messiah!" – D.G
"I Am The Enemy" where vocalist Derrick Green was jumping around, arms gesturing intently welcoming the many, many crowdsurfers lunging forward, diving over the pit barrier. The whole room was sent into a frenzy to the chugging rhythm and the squealing of lead guitarist Andreas Kissers sliding licks, where he was relishing in every single moment that he could take a step forward and perform such mindnumbing speed and intricacy. Everyone on and off stage was having a real good time and the energy was completely consuming!
The heat intensified when the introductory tell-tale beat of "Phantom Self" began with a response of a huge pit forming and more fans climbing over one and other to get as close to the action as they could. Even us photographers were squeezed for space when we all rushed forward for another mesmerizing solo from Kisser that was beautifully hypnotic. The light techs certainly highlighted the many Kisser solos and absolutely insane drum rolls and fills from Casagrande with spotlights radiating to them during each of these incredible moments. One of the biggest highlights was "Iceburg Dances" where Green vacated the stage and the spotlights were completely on Kisser and Paulo. Jr, who heavily played off each other for this song. An acoustic was brought on stage for the absolutely climatic guitar mastery that we were about to witness with moshing very much in full swing during the heavier portions and a more subdued atmosphere for the latter.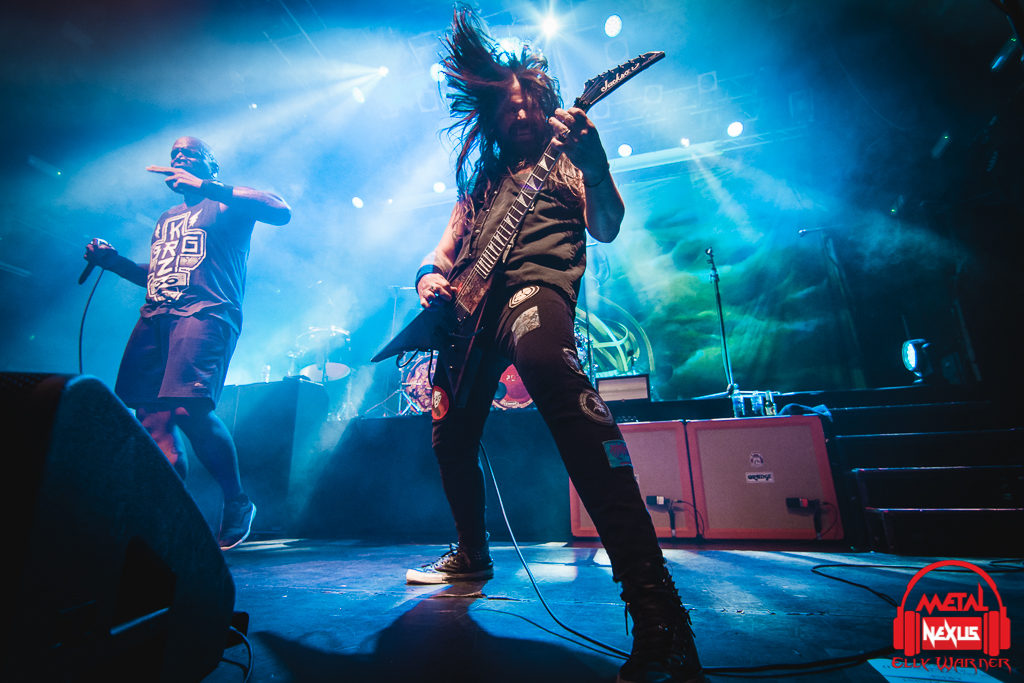 "Do we have some old-school Sepultura fans there? We're going to play something a little bit older, a little bit faster. Are you guys with us?" – D.G
The entire hour and a half long set was an incredible mix of old and new Sepultura which featured many songs off their latest record, but also many hits from across their discography including "Kairos", "Inner Self" and "Against". During each and every song every single member gave it their all with such a fiery passion but also with such a respect towards each other to let each other share in the limelight. The whole performance was an insane experience where every single person where everyone was in ecstasy. On closing their set it was only natural that they would return for an encore! Ending on "Roots Bloody Roots" what better way to really affirm Greens place as frontman and celebrate his 20th anniversary then by ending on the bands first single from their most loved and highly acclaimed 6th album 'Roots'.
SEPULTURA SET-LIST
I Am The Enemy
Phantom Self
Kairos
Territory
Desperate Cry
Sworn Oath
Resistant Parasites
Against
Choke
Boycott
Machine Messiah
Iceberg Dances
Inner Self
Refuse/Resist
Arise (Encore)
Slave New World (Encore)
Ratamahatta (Encore)
Roots Bloody Roots (Encore)