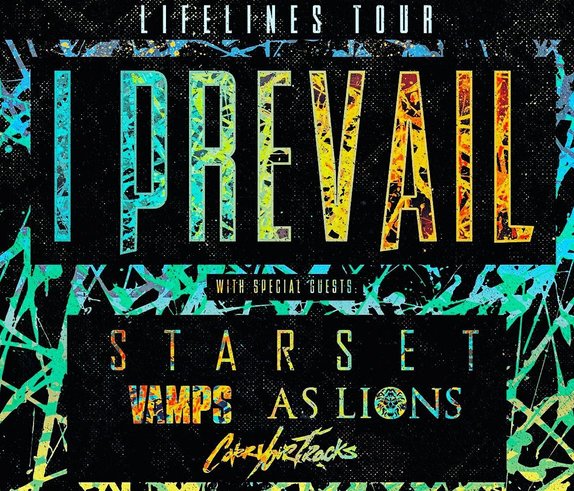 I Prevail have announced that they will be headlining a North American tour this April and May with support Starset, Vamps, As Lions and Cover Your Tracks. I Prevail are currently headlining the North American 'Lifelines Tour' with support from Wage War, Islander and Assuming We Survive in support of their record 'Lifelines', which was released Oct. 21, 2016.  After I PREVAIL'S Taylor Swift cover propelled them to stardom they have been building off the success ever since. Their most recent effort 'Lifelines'  landed at #15 on the Billboard 200. The band has continually surrounded themselves with amazing talent when putting together a touring package.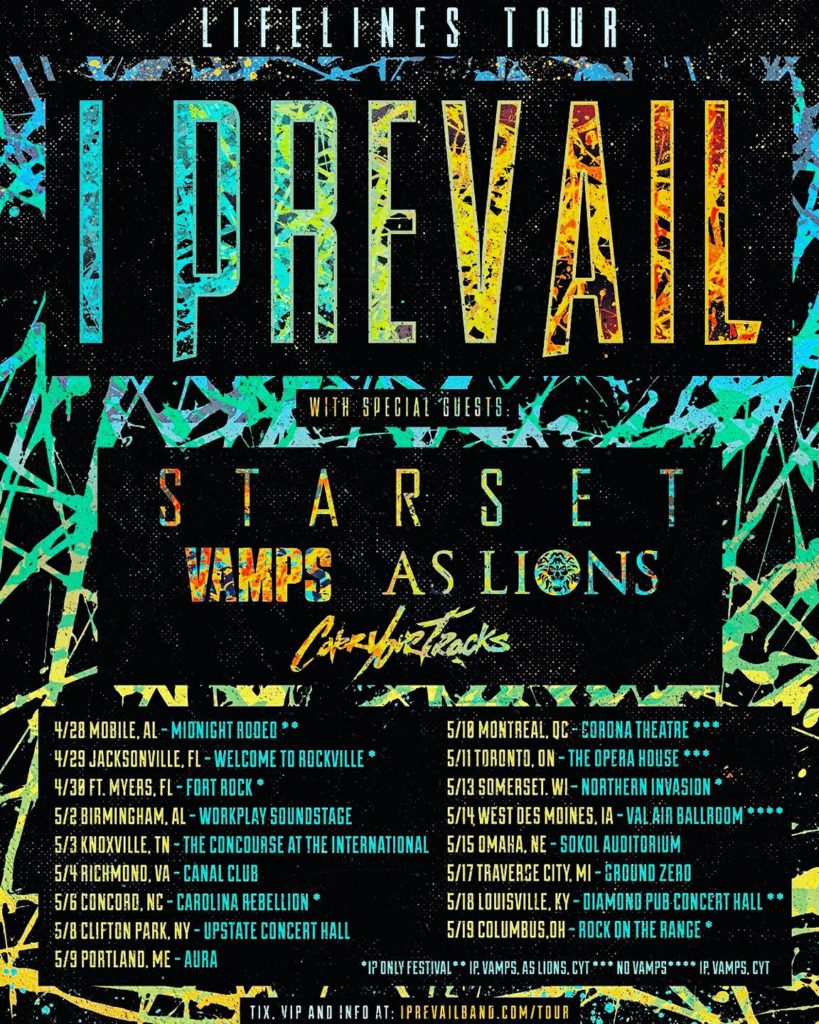 Starset's sophomore album 'Vessels' debuted at #11 on the Billboard Top 200 Album Chart with more
than 23,000 equivalent album units. This is one of the most impressive sales weeks from a new rock band in the last year and a confirmation that Starset is charting a new and ambitious course to refresh and redefine rock in 2017. This makes the second band dominating the Billboard charts to be added to the tour; and it only gets better from here.  Japanese rock band VAMPS are a great addition to this touring package. The band has a extremely dedicated fan base that has no boundaries. VAMPS just wrapped up in the studio with writer/producer KANE CHURKO (In This Moment, Five Finger Death Punch, Ozzy Osbourne, Papa Roach) to put finishing touches on their next full length album, out later this spring. While the other bands on the bill have already acheived success with sales and fans the next band is a new comer to the arena. British rock outfit AS LIONS released their debut full-length album 'Selfish Age', on January 20 via Better Noise Records. 'Selfish Age' is the follow-up to As Lions' debut EP 'Aftermath' released earlier this year. Produced by award-winning producer David Bendeth (Of Mice & Men, Paramore, Bring Me The Horizon) and the same producer that worked on the new VAMPS album; Kane Churk. Cover Your Tracks is an Atlanta, GA based four-piece – vocalist Paul Rose, guitarist Omar Magana, bassist Cory Ferris and drummer Brent Guistwite – formed in 2014 from the ashes of previous bands which included Woe, Is Me, Decoder and Cursed Sails. The band is touring in support of their September 9, 2016 release 'Fever Dream'. This is a tour that should not be missed for anyone that enjoys high energy rock. Every band brings something different to the table. Whether it be I Prevail's wild stage climbing antics, Starset's obscure stage attire or Vamps emotional connection to fans. Check out the dates and pick up your tickets now!
If your unable to attend stay tuned as we will have coverage from one of the dates from the tour.
Tour Dates!
04/28 Mobile, AL – Midnight Rodeo
04/29 Jacksonville, FL – Welcome To Rockville (I Prevail only)
04/30 Ft. Myers, FL – Fort Rock (I Prevail only)
05/02 Birmingham, AL – Workplay Soundstage
05/03 Knoxville, TN – The Concourse
05/04 Richmond, VA – Canal Club
05/06 Concord, NC – Carolina Rebellion (I Prevail only)
05/08 Clifton Park, NY – Upstate Concert Hall
05/09 Portland, ME – Aura
05/10 Montreal, QC – Corona Theatre (no Vamps)
05/11 Toronto, ON – Opera House (no Vamps)
05/13 Somerset, WI – Northern Invasion (I Prevail only)
05/14 Des Moines, IA – Val Air Ballroom (no Starset/As Lions)
05/15 Omaha, NE – Sokol Auditorium
05/16 Traverse City, MI – Ground Zero
05/18 Louisville, KY – Diamond Pub Concert Hall (no Starset)
05/19 Columbus, OH – Rock On The Range (I Prevail only)