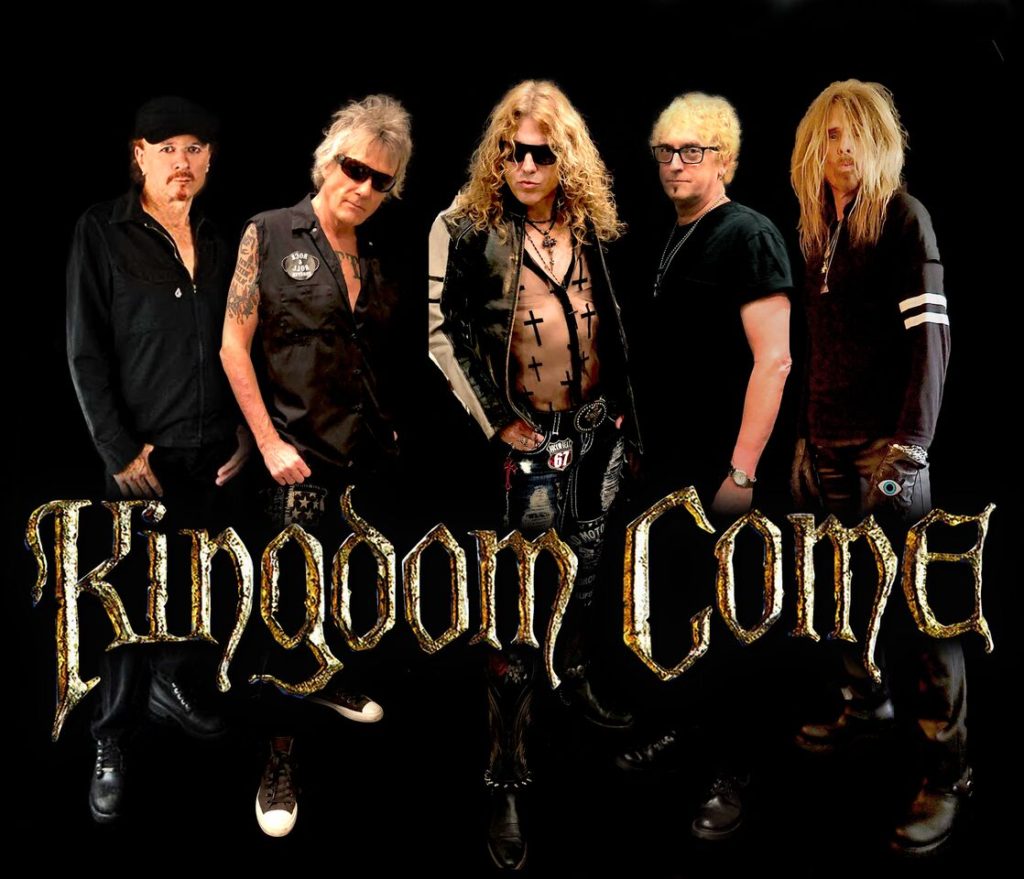 In celebration of the 30th Anniversary of their platinum-certified debut album, hard rockers KINGDOM COME have reunited and will be touring the U.S. this fall. The band's original lineup is largely intact (drummer James Kottak, guitarists Danny Stag and Rick Steier, and bassist Johnny B. Frank), with longtime MONTROSE vocalist Keith St. John stepping in for original frontman Lenny Wolf (who declined to take part but has given the project his blessing). They will be performing Kingdom Come in its entirety, along with selections from their 1989 follow-up In Your Face.
Produced by the legendary BOB ROCK (METALLICA, MOTLEY CRUE, BON JOVI), Kingdom Come became the first debut album in history to ship gold, based largely on the massive success of the lead single, "Get It On." The song's heavy-duty groove and almost-immediate familiarity made it the most requested song on AOR radio for six weeks, and its accompanying video went into heavy rotation on MTV. The ballad "What Love Can Be" followed suit, and the band took to the road as part of the now-infamous 1988 Monsters of Rock tour with VAN HALEN, SCORPIONS, DOKKEN, and Metallica. Kingdom Come eventually reached number 12 on the Billboard sales chart, and has sold in excess of two million copies worldwide.
The band will be criss-crossing America throughout September and October, including an October 3 performance at the venerated Whisky a Go-Go in West Hollywood, California, a co-headlining gig with the also-newly-activated AUTOGRAPH and special guests KILLER DWARFS on October 13 in Versailles, Ohio, and an October 20 show in Poughkeepsie, New York, in support of ZEBRA. A full list of current tour dates is below; for more information, check out the band's official website at https://kingdomcomeband.com/.
September 27 – Seattle, WA – Club Sur Rocks
September 28 – Vancouver, WA – Cascade Bar & Grill
September 29 – Sacaramento, CA – Holy Diver
October 3 – West Hollywood, CA – Whisky a Go-Go
October 5 – Las Vegas, NV – Vamp'd
October 6 – Ramona, CA – Ramona Mainstage
October 7 – Scottsdale, AZ – BLK Live
October 8 – Santa Fe, NM – Camel Rock Casino
October 11 – St. Charles, IL – Arcada Theatre*
October 12 – Westland, MI – Token Lounge
October 13 – Versailles, OH – BMI Indoor Speedway**
October 14 – Louisville, KY – Bourbon Hall
October 17 – Warrendale, PA – Jergel's
October 18 – Sellersville, PA – Sellersville Theatre
October 19 – Baltimore, MD – Fish Head Cantina
October 20 – Poughkeepsie, NY – The Chance***
October 21 – Derry, NH – Tupelo Music Hall
October 23 – New Bedford, MA – Greasy Luck Brewpub
October 26 – Granite City, IL – Eddie's Bar & Grill
October 27 – Kansas City, MO – The Scene K.C. Rock Bar
*with special guests Killer Dwarfs
**co-headlining with Autograph and special guests Killer Dwarfs
***supporting Zebra