Starbynary is:
Joe Caggianelli – Vocals
Leo Giraldi – Guitars
Luigi Accardo – Keyboards
Andrea Janko – Drums
Sebastiano Zanotto – Bass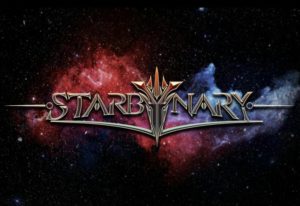 Starbynary is an absolutely amazing heavy, Progressive Power Metal band from Trieste / Milano, Italy. Started by friends, vocalist Joe Caggianelli and guitarist/composter Leo Giraldi in September of 2012, Starbynary was the result of a project idea after Joe left his former band Derdian. With the addition of Luigi Accardo on the keys and taking a collaborative effort with Mike LePond (Symphony X bass player), Starbynary released their full-length debut, Dark Passenger in 2014 before completing the existing lineup with drummer Andrea Janko and permanent bass player Sebastiano Zanotto in 2015. At this point, Caggianelli pitched a fifteen year old idea about a trilogy of concept albums based on Dante's Divina Commedia and the band got to work and ultimately released the first of the series, Inferno a little over a month ago. I have to say that this huge undertaking is off to one helluva great start! Everything about Inferno has been done tastefully, professionally with mind-boggling musicianship. A real stunner. Once you read what Joe has to say, be sure to check it out on Spotify, iTunes, Amazon or wherever you get your musical fix. Well worth the time!
Before we begin, I want to thank you for taking the time to answer my queries! In my time researching your band and listening to your music, I have developed a real affinity for what you do. Impressive material, to say the least. So glad that you were brought to my attention! Killer, killer band!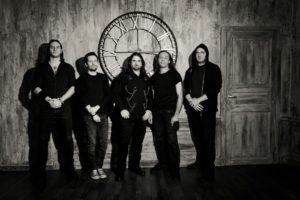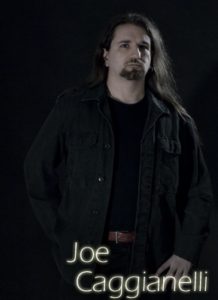 Interview with Joe Caggianelli:
Joe: Hello first of all introduce myself, I'm Joe, singer of the band! Thanks you very much, I'm very happy that somebody does this effect our music!
Odyssey: Knowing that Starbynary was formed by yourself and Leo Giraldi, please give us a brief history of the additional artists and development of your signature sound.
Joe: Yes, actually we were only two musicians, only a few months, then immediately Luigi Accardo, our great composer was joined us! So we were 3 in the first months. With recordings of INFERNO, however, we have acquired Sebastiano Zanotto, a great bassist and drummer Andrea Janko impressive which is currently traveling the world with the Angelcorpse! I think that in HELL you hear all this because I believe it is the result of collaboration of three minds who write music and lyrics.
Then, the addition of Seba arrangements and Andrea, have given a great impact on all the work.
Odyssey: How has Starbynary been compared to past projects like Derdian and other bands?
Joe: You've mentioned my old band, but I do not think that there are similarities with Starbynary! It 'a different story, we work in a different way and the musicians involved have a completely different approach and character, I think that the past is the past, not to deny ever because for example the CD that I made them myself with them I will bring always in my heart, because my soul power will always exist, but now it's a whole other "MOVIE"!
Odyssey: You have a very unique and heavy take on Power Metal that almost borders on Thrash at times and drops back to Hard Rock like Triumph at other times. What are the roots of this chosen direction?
Joe: I am very happy with this question! In this album there is no a direction determined first, what you feel in our sound is the result of the musical backgrounds of the musicians who wrote the tracks! The Leo guitars are very aggressive, as well as the piano Luigi is so present, and I think it's something that you do not hear so often in this genre, then I am a lover of melody…. then add the power of the rhythm section we have and it's clear as the sound that is taking lives is something that has in many colors, and I'm proud of this!!
Odyssey: What influences do each member bring to the table to create such finely written and played music to life?
Joe: As we said, we get all from very different musical backgrounds, we go from Janko (who plays with Angelcorpse) that sounds extreme metal, up to Luigi He graduated in baroque harpsichord: it becomes clear that with this range of tastes and cultures can only be an explosion of styles which increases the contamination of our music!
Odyssey: You released Dark Passenger back in 2014. Tell us about your newest release, "Divina Commedia: Inferno" that was released February 3, 2017.
Joe: What can I tell you, this is a project that I personally had in mind to achieve more than 13 years. In those days I could not realize it but now, with the right "fellow travelers" who are also fantastic musicians, I have taken the opportunity to realize this that I think is a real challenge! I proposed to Louis and Leo to do it: Leo has immediately accepted it as a great challenge, but Louis did not react well … Then, as time goes on, slowly in his head is on something, and then he locks himself in his studio and in about ten days had almost all drafts of tracks completed! at that point I realized that the project began to take him too!!! I am proud of this record and these musicians.
Odyssey: Please describe your manner of song/album writing.
Joe: Our way of thinking about burning discs is much changed from dark passenger because now, with DIVINA COMMEDIA, I, as a first step, I have to write a kind of storyboard (which necessarily had to follow the story written by DANTE), track by track to which Luigi and Leo write and build musical textures. At that point, I create the melodies, and lyrics, it was then my job, with the help of my good friend Ivan Morari who helps me with translations of the texts and the writing of the best forms of English, and this for DIVINA COMMEDIA was even more valuable, considering that we translate from Italian archaic.
Odyssey: This new album holds a very heady and intelligent theme. How did this concept develop into this killer release?
Joe: It was quite normal: as said I had to write a storyboard that was to follow the original story written by Dante. So my job was to be able to take the most famous passages, and more engaging and even more characteristic of the poem, extrapolate and create a tracklist that would fit to the usability of a music CD. I hope to be able to do this and that the disk, regardless of Dante, result a pleasant drive to the listener!
Odyssey: How has the album been received by fans and press so far? (I have listened to it pretty extensively now and think it is spectacular!)
Joe: The album was released a short time ago, there are already many excellent reviews. Hopefully continue so even if, you know, you certainly can not please everyone!!
Odyssey: I love your cover artwork! Please give us what is behind the development of such a stellar and appropriate cover.
Joe: The cover was created by Italian artist, Gaspar Frazzitta, which started from a Charon painting reinterpreting setting and details!
Odyssey: Do you have any tours planed in support of the new album? Can you share dates and venues? Any plans outside of Italy?
Joe: Not for now, but we're working!!
Odyssey: We are based in the U.S. What was the motivation to sing in English especially since this theme is inherently Italian? Did you already know English or was this knowledge developed so that you could sing in a foreign language?
Joe: The obvious choice to sing in English as the main language and to make more accessible to all [fans] around the world. I wanted to sing a few phrases in Italian and so I have included famous phrases of DANTE, sometimes leaving them in the original version, other times reinterpreting a concept. I think it was made the right choice. Even for Purgatory and Heaven I think I'll do that!
Odyssey: Are there any plans to tackle another piece of literary greatness? If so, please tell. If not, what other literature has sparked your interest since you are obviously well read?
Joe: Hahaha! Meanwhile let me finish DIVINA COMMEDIA and then who knows, I think I have other concept, but I do not think we will stay on literary themes…. we'll see!!!
Odyssey: Being a relatively young band, you can still pretty much go in any direction you choose. Is there something that you would like to attempt that you have not done to this point?
Joe: I can not tell you. Surely, we will try some new composition, and as I'm concerned I will try to use a choral true for Purgatory. For the rest it is early to say.
Odyssey: Are there any other contemporary bands in and around Italy that you would like to put on the radars of myself and our readers?
Joe: I believe that there are lots of incredible level, that if I will point out one, I would definitely be wrong to all the others! So, I invite you to discover them and the next interview I'll tell you some names! All right?
Odyssey: What can we expect from Starbynary in the future?
Joe: DIVINA COMMEDIA – PURGATORIO, PARADISO and then…… live!
Odyssey: Once again, I really appreciate your time and efforts answering my questions. Really honored to have the opportunity!
Joe: Thanks so much to you! We're so glad you liked our work as much as you said, for us in the end is the most important thing!
Odyssey: As with any of our interviews, that final words are left to your discretion… (parting shots, comments, anything of interest I left out, whatever strikes your fancy…)
Joe: Thank you all for the space dedicated and, if you liked HELL, that is, stay tuned because we are only at the beginning of the trip…….
More on Starbynary can be found on The Web  Facebook  YouTube