If you are a fan of any New Orleans band you should be thanking Jimmy Bower. Jimmy has been one of the forefathers of metal in Louisiana. You may know him from Eye Hate God, Down or Superjoint Ritual. Jimmy is one of the most celebrated guitar players in heavy metal, and while he is a legend on that instrument he is also a well accomplished drummer as well (as you may have seen in Down). Jimmy has often been called "The Godfather of Southern Metal." If the iconic bands mentioned above wasn't enough he also had brief stints in the bands Corrosion of Conformity, and Crowbar. Another band that Jimmy has shredded for was The Mystick Krewe of Clearlight. It was an instrumental project so it allowed our ears to consume even more of Jimmy's sacred sound.
Bower has been one of the most iconic figures in southern metal since the late 80's. His guitar work has inspired more musicians than we could possibly list. I've been fortunate enough to see him perform with several different bands. While on stage with Eye Hate God you can feel his passion for music as he shreds on stage. His tone and style is something that many guitar players try to reproduce but are unsuccessful. One of the greatest things about Jimmy is that even after all the praise and notoriety he has earned he still remains as humble as ever. Jimmy is by far one of the most compassionate and genuine people I've ever had the pleasure of meeting. At almost every show Jimmy will come out in the crowd prior to his set and meet fans, take pictures and just bullshit with people.
The names often mentioned when talking about legendary guitar players are Randy Rhoades, Zakk Wylde, Slash, Uli Jon Roth, Eddie Van Halen, B.B. King, Dimebag Darryl and certainly many more. While all those guys are truly deserving of the legendary status Bower is someone that fits into that category as well. His style of music is by no means mainstream, but his bands still have a massive cult like following. The music that he has created over the years has helped mold an entire genre and inspire and influence musicians all over the world.
If you haven't yet had the chance to experience Bower Power live and in the flesh I suggest you get your ass out there and catch Eye Hate God on their current tour.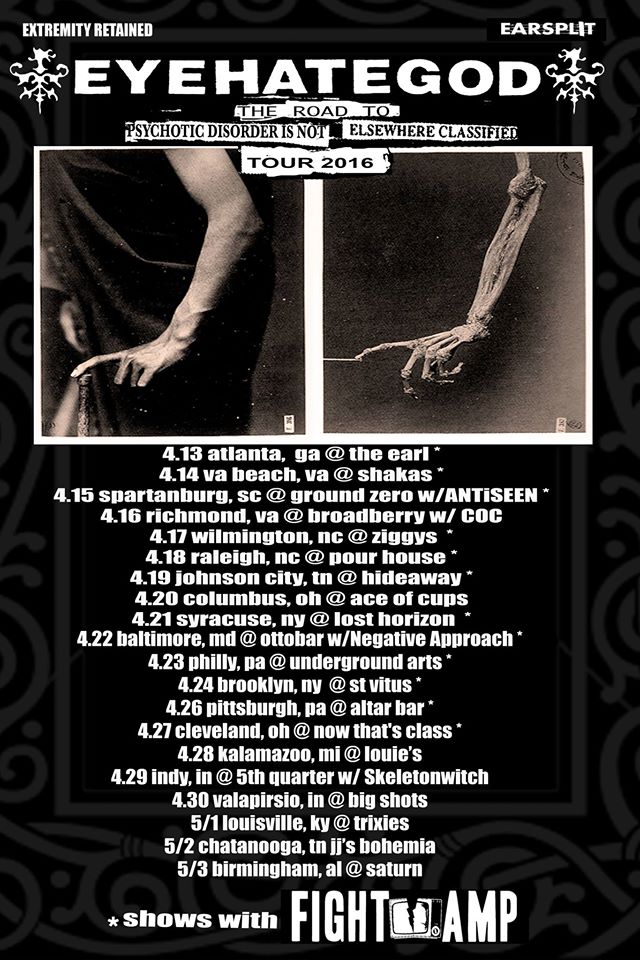 EYEHATEGOD:
4/13/2016 The Earl – Atlanta, GA *
4/14/2016 Shakas – Virginia Beach, VA *
4/15/2016 Ground Zero – Spartanburg, SC w/ Antiseen *
4/16/2016 Broadberry – Richmond, VA w/ Corrosion Of Conformity
4/17/2016 Ziggys – Wilmington, NC *
4/18/2016 Pour House – Raleigh NC *
4/19/2016 Hideaway – Johnson City, TN *
4/20/2016 Ace of Cups – Columbus, OH * *
4/21/2016 Lost Horizon – Syracuse NY *
4/22/2016 Ottobar – Baltimore MD  *
4/23/2016 Underground Arts – Philadelphia, PA  *
4/24/2016 Saint Vitus – Brooklyn, NY *
4/25/2016 Saint Vitus – Brooklyn, NY w/ Tombs, Ache, Haan
4/26/2016 Altar Bar – Pittsburgh, PA *
4/27/2016 Now That's Class – Cleveland, OH  *
4/28/2016 Louie's – Kalamazoo, MI
4/29/2016 5th Quarter – Indianapolis, IN
4/30/2016 Big Shots – Valparaiso, IN
5/01/2016 Trixies – Louisville, KY
5/02/2016 JJ's Bohemia – Chattanooga, TN
5/03/2016 Saturn – Birmingham, AL
* w/ Fight Amp
EYEHATEGOD w/ Discharge, Toxic Holocaust:
5/29/2016 Brighton Music Hall – Boston, MA
5/30/2016 Webster Hall/Marlin Room – New York, NY w/ Ringworm
5/31/2016 Reggies – Chicago, IL w/ Ringworm
6/01/2016 Rickshaw Theater – Vancouver, BC
6/02/2016 Studio Seven – Seattle, WA
6/03/2016 Dante's – Portland, OR
6/04/2016 Slim's – San Francisco, CA
6/05/2016 Glass House – Pomona, CA
6/06/2016 The Roxy – Los Angeles, CA