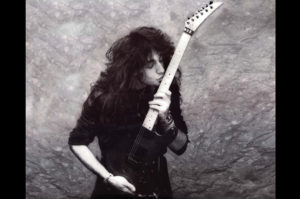 So, this being my final International Guitar Month spotlight, I toiled about who I wanted to cover. I wanted something special so I stopped and let my mind wander a bit. Who do I love? Who has moved me? Who has had my attention for years? Man, there are so many to choose from that are so deserving. Once Jason Becker's name flashed across my mind, my breathing slowed and I comfortably knew who I needed to write about. Not a "want," a "need".  This man holds a very dear place in my heart and I can only pray that my words even come close to giving this man's story justice with my utmost respect…
First off, some (well-known) history. Jason Eli Becker was born July 22nd, 1969 (a few months before I was born) in Richmond, California. Early on, he was encouraged to play guitar by his father and uncle, who both play as well. While being influenced by all types of music growing up, early guitar heroes included Eddie Van Halen, Jimi Hendrix, Bob Dylan and Eric Clapton (Wiki). After playing in school bands and talent contests, Jason was introduced to fellow guitar guru, Marty Friedman, who remains close to Jason to this day. Soon afterward, Mike Varney with Shrapnel Records, produced and released two of the best shred albums of all time with their band, Cacophony: "Speed Metal Symphony" (1987) and "Go Off!" (1988). Once being accepted around the world and touring to sold out audiences, Becker decided to split with the band and released his solo masterpiece "Perpetual Burn". Other solo albums include "Perspective" (1996), "The Raspberry Jams" (1999), "The Blackberry Jams" (2003), "Collection" (2008) and formerly unreleased songs on "Boy Meets Guitar, Vol. 1 Of The Youngster Tapes" (2012). His playing has also been included in many compilations, his "Hot Licks" instructional video, tribute albums and two films: "Jason Becker: Not Dead Yet" (2012) and "One Track Heart: The Story of Krishna Das" (2012).
His band and solo releases, resounding critic and fan respect, winning the 1990 "Best New Guitarist" award and replacing Steve Vai in David Lee Roth's band, put this 20 year old guitarist on top of the world. After developing a limp with his left leg, Becker was soon diagnosed with Amyotrophic Lateral Sclerosis (ALS or Lou Gehrig's Disease) and was given only a few years to live. While he was able to finish recording Roth's "A Little Ain't Enough" he quickly lost use of his limbs and eventually his ability to speak and has remained wheelchair-bound ever since, although he has been relatively stable since 1997. Being heavily supported by his father who developed a computer system allowing Jason to communicate using his eye movement and by friend Mike Memesderfer who built a computer program allowing Becker to continue composing, his mind remains sharp and engaged almost 30 years later.
There have been multiple tribute albums released to help with Jason's medical expenses from various artists including greats such as Marty Friedman, Steve Vai, Paul Gilbert, Rusty Cooley, Joe Becker, Mattias Eklundh, Greg Howe, Joe Satriani, Michael Lee Firkins and Steve Hunter. Jason has also released a number of signature guitars with Hurricane Guitars, Paradise Guitars and most recently with Kiesel/Carvin. He continues to compose, being influenced by violinist Niccolo Paganni along with many others and has helped develop some of the most exotic guitar techniques known.  He remains a heavy influence on modern music and an inspiring force to those coming up playing today.
Those are the facts, but Jason Becker's story is so much more. For me, "Perpetual Burn" is another "safe haven" album. It never gets old and can pull me out of just about any funk that rolls my way (I listened to it for the billionth time a couple of days ago, as a matter of fact). It is grounding and just feels like "home". Along with both Cacophony albums, they hearken back to a time when I was a young man, unsure of myself and the world around me; naive about what was going to happen the next day, or month or year. It still makes me feel like I am 18 again and I value that feeling more and more as I get older. It can rile me up or calm me down, awe me or make me cry; all depending on my mood and what I need at any given moment. When I learned of Jason's illness back in the early 90's, I took it personally; much like the loss of Eva Cassidy and Michael Hedges. Theirs is the music that truly touches my heart and have had a hand in my appreciation for beautiful things in life, expanding my musical tastes (Michael Hedges single-handedly pulled me out of my "only Metal" frame of mind), allowing me a productive outlet for my pent up rage, angst and sadness; an always available means of relaxation. Thankfully, we did not lose Mr. Becker. Over the years I have kept up with him from the outside, looking in via his website, articles and others' perspectives about him even though I have never contacted him. His music and his story feel like old friends to me. I sense humor, a value for life, an ever positive outlook even when faced with overwhelming adversity, honesty, and a good heart. Like so many others, I find his story inspiring and heart-warming. A gentle soul with an ever present smile and positive attitude doing what he was born to do, overcoming obstacle after obstacle. His is the story that continues to inspire so many to be better human beings, to believe in themselves, to do whatever it is that inspires them no matter what stands in front of them. My respect for Jason Becker, the man, far outweighs my respect for Jason Becker, the guitarist/composer, even though he is undeniably one of the best modern guitarists/composers to live on this planet. If he is considered handicapped, maybe we should all be a bit more handicapped as well… Much love and respect, my brother and THANK YOU for a lifetime of solstice…