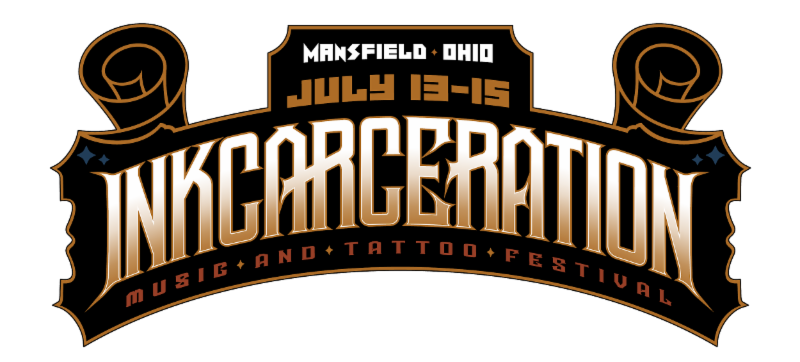 Metal and tattoo, it's a perfect marriage isn't it? Yes; this July Inkcarceration Music and Tattoo Festival will bring to you the ultimate summer holiday getaway. It is a a one-of-a-kind destination event that presents to you heavy and hard rock music from over 30+ plus bands on two stages, with some big names from the industry, such as the likes of RISE AGAINST, A DAY TO REMEMBER, BUSH, BLACK LABEL SOCIETY, CLUTCH and many more. It's a star studded line-up. Adding more to the festival's appeal, it will also host a tattoo festival inside of one of the country's most infamous prisons, plus so much more.
The inaugural Inkcarceration Music and Tattoo Festival will take place on a perfect sunny weekend,  July 13, 14 and 15 in Mansfield, Ohio. You might ask a prison for a venue? Why not? It's metal to the bone after all. The venue is the Historic Ohio State Reformatory (100 Reformatory Rd), the massive, awe-inspiring locale is recognized primarily as one of the most haunted buildings in the country. Remember the Shawshank Prison used in the 1994 blockbuster "Shawshank Redemption"? It was this very location that was used as a filming location for the movie, starring Morgan Freeman and Tim Robbins. Mansfield sits directly between two major cities in Ohio, Columbus and Cleveland, and is under a five-hour drive from major cities such as Cincinnati, Indianapolis, Detroit, Louisville, Buffalo, and Pittsburgh. So, pick out your band shirts now or your battle vest if so inclined because this is going to be one hell of a festival.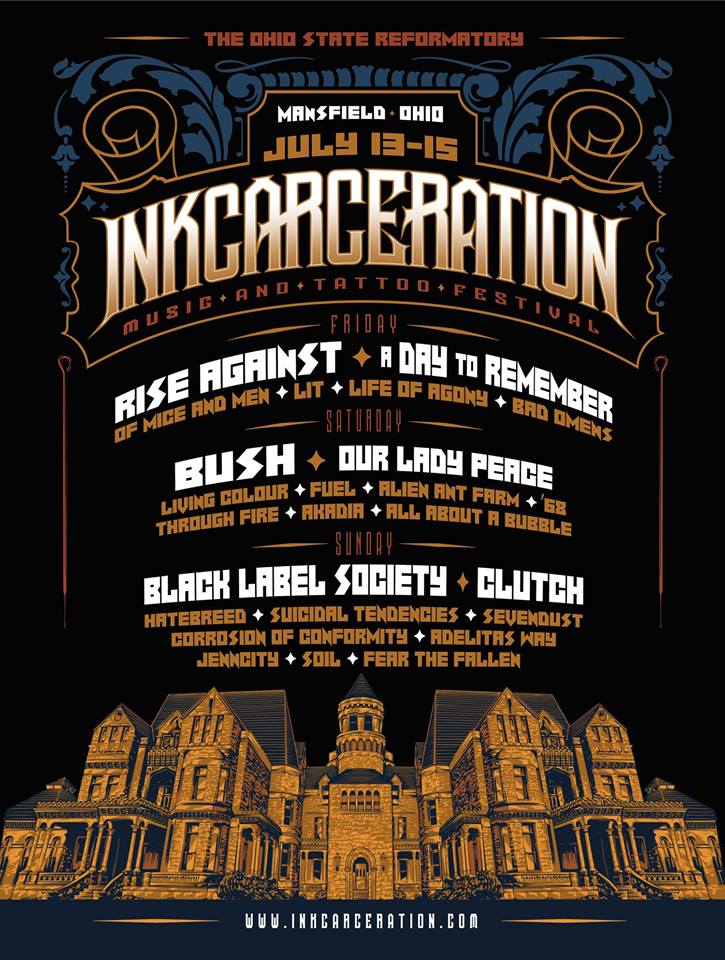 Inkcarceration Music and Tattoo Festival will feature performances from a vast array of rock artists from yesterday and today! Scheduled to perform are RISE AGAINST, A DAY TO REMEMBER, BUSH, BLACK LABEL SOCIETY, CLUTCH, OUR LADY PEACE, SUICIDAL TENDENCIES, FUEL, HATEBREED, SEVENDUST, LIVING COLOUR, OF MICE AND MEN, CORROSION OF CONFORMITY, LIT, LIFE OF AGONY, ALIEN ANT FARM, '68, SOIL, ADELITAS WAY, JennCity, BAD OMENS, FEAR THE FALLEN, AKADIA, THROUGH FIRE, ALL ABOUT A BUBBLE and more lots more yet to be announced. Individual performance times and stages will be announced leading up to Inkcarceration.
CLUTCH drummer Jean-Paul Gaster says, "We just finished our new album and now it will be fun to get back out and play some shows. Come hang with Clutch at this year's Inkcarceration!"
The lineup is what has really sealed the deal for most metalheads. Playing this festival isn't your normal run of the mill bands that you can see yearly at any festival. Life Of Agony for instance, doesn't tour very much outside of New York/New Jersey and they are rarely ever seen on the summer festival circuit. They are an amazing hardcore act that still has plenty of life left in them and put out likely one of the best albums of the year in 2017. Our Lady Peace who has toured the U.S. recently was one of Canada's biggest rock bands back in the late 90's and early 2000's. Their hit song "Superman's Dead" was a nostalgic song we can all remember back in those years. They are incredible and it's a band that has been absent from the music scene for a while and I personally am tremendously excited to get a chance to see them. Speaking of nostalgia, Alien Ant Farm is also going to be a part of the weekend, and we just seen the band back in September and they played a tremendous set and are still full of energy. You can see an interview we did with guitarist Terry Corso here. Make sure you don't miss 68′ either. They are by far the best 2 man band you will ever get a chance to see in your life. Featuring vocalist Josh Scogin, formerly of the hardcore band The Chariot, its almost unbelievable to witness how much sound they can bring to the stage with just two musicians. I could go on and on about Bush, Living Colour, C.O.C., Lit, or Suicidal Tendencies, but we are sure you know what your in for. This is a show that features much more than just music. Tattoos, an iconic venue, possible paranormal events, food trucks, and a circus side show? You don't want to miss any of this so pick up your tickets here, get your camping gear read, book your hotel and we will see you convicts in Mansfield. We also may have some interviews leading up to the festival just to get you that much more pumped.
And it's not just a music and tattoo festival. Along with listening to your favorite rock/metal artist, getting tattooed by acclaimed local and regional artists, and to enhance your experience the festival organizers have chosen to also include a self-guided tour of the reformatory. Yes, you can take a walk around the prison without any time limit, while learning about the history of the facility and the many unique Hollywood and paranormal connections. Isn't that so cool? 
As if things were not enough for you to savour, there will also be a full rock n' roll circus sideshow(brought to you by Hellzapoppin) who have recently been on tour with Avatar, where fans can witness death and gravity defying stunts by some of the most talented daredevils, to the beat of heavy rock music.
If you haven't seen the Historic Ohio State Reformatory yet, take a look at the pictures below, to get an idea.
Paul Smith, Executive Director of the Historic Ohio State Reformatory says, "We are very excited to host the 2018 Inkcarceration Music and Tattoo Festival. They plan to bring next level entertainment to our venue and we hope to have a long and prosperous relationship with them that helps benefit and secure the future of our organization, the Historic site itself, and the community."
Susan Fisher, marketing lead for Inkcarceration adds, "Inkcarceration brings a powerhouse line-up to the Historic Ohio State Reformatory – home of the Shawshank Prison – for a summer weekend festival that's sure to be an amazing experience for the fans and our partner brands."
If you're planning to pitch in your tent or bring your own cozy RV, then fret not, Inkcarceration Festival has you everything sorted. RV Weekend Camping packages are available for just $1053.50 for four people, and include four weekend tickets to the event and available hookups for water and electric. Tent campers can also buy a Weekend Tent Camping package at $803.50 for four people, which includes four weekend tickets to the event and a 20×20 camping space. All RV and tent camping will be located under five miles from the festival at Richland Fairgrounds. Shuttle service to and from the venue will be available.
Additional ticket prices, parking prices/details, event hours, and other important FAQ's can be found HERE!
The tickets for this extravaganza are already up and running. Weekend tickets – which include the concert portion, self-guided prison tours, tattoo festival, circus sideshow, and more – are a steal at a starting price of just $89 per person. Attendees can further accent their experience with a Weekend VIP or Premium VIP ticket, which will render fans access to multiple services such as VIP lounge, and many other added bonuses. For more info regarding ticketing details, click HERE!