Planning an event? There are a few things you must never forget to organise. You should always provide some light nibbles, look at Event Photography Pricing and get a photographer to capture the best moments of the night and the music. The right music will make or break the theme of your event, so it's vital to find the right band for the job. Here's how to book a band.
If you ever have to plan events–whether they're office parties or family celebrations–you know that music can make or break the event.
An excellent band and promotional material like a wristband, a t-shirt or even custom chapsticks can bring your party to the next level, and a poor pick can make your party less than appealing. The key to planning a truly perfect event knows how to book a band that all guests can groove along to.
Never hired a band before, or unsure of the best practices for booking? In this article, we're sharing 9 tips on how to book an awesome band for your next event, so you can truly impress your guests.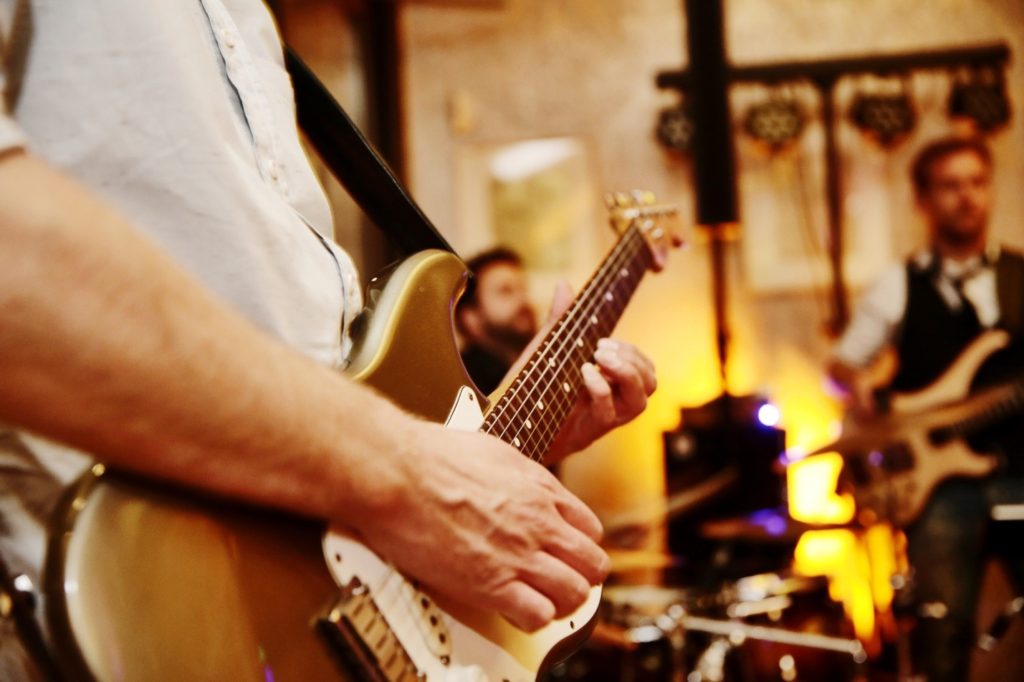 9 Tips on Booking an Awesome Band
Booking a band for functions like a corporate event or wedding party can seem stressful. But it doesn't have to be!
Here are 9 tips for making the booking process as easy (and fun) as possible.
1. Plan Your Event First
Booking a band can often be the most exciting part of the party planning process, but it shouldn't come first. The actual event should! Think about how you want your overall event to flow, where it will be held, and how this band fits into the equation.
Will this band just be background music for a dinner event? Will there be a cocktail hour, or are people expecting to dance the night away? These questions will help you determine the size of band and type of band you'll you need for your event.
2. Consider the Logistics of Your Venue
The last thing you want to do is book a band that won't actually work in the space you're hosting your event in. So if your space is small, only consider smaller bands.
You should also let the overall acoustics of the space dictate the type of musical group you hire. You don't want to hire a great band that ultimately sounds bad because of the event space.
3. Set Your Budget
The first thing you need to do when you begin your band search is to determine how much you're willing to spend on their services. How much can you actually afford to spend on this band with other costs like venue rental, food and drinks, etc.? Cheap bands will cost you between $750-$1200, whereas a larger or more well-known band can cost you upwards of $2500 for a wedding or corporate event.
By setting your budget, you can narrow down your list of bands, and only consider ones that fit within your price range. This will help you set expectations and keep you from chasing after bands you can't afford. You can then use the spare money left over for corporate gifts for the people attending the event.
4. Think About Your Audience
Booking the perfect band is all about finding a group that connects with both your audience and the thematic nature of your event. Who is your audience expecting or hoping to see perform?
If you have an older crowd, you may want to book a band that plays classic songs that everyone knows and loves. If there will be children at this event, you'll only want to consider family-friendly options. Thinking about your audience might even make you decide to completely change your decision and go for a DJ Violinist or a solo singer instead of a band to add an extra level of enjoyment to the evening.
5. Book the Band as Soon as Possible
When it comes to booking a band, the last thing you want to do is wait until the final hour. If you do, you'll end up with limited options that are less than desirable. Great bands can be booked out months in advance, so it's essential that you start reaching out right as you begin the planning process.
Quickly figure out what kind of band you want and then start reaching out. If you find a band you love, hire them then and there. By doing this, you can have your dream band from the beginning, and focus your energies on other party planning activities.
6. Look for Promo Videos & Sample Songs
If a band piques your interest, the first thing you should do is ask for promotional videos, albums, or sample clips. These will give you a great idea of what they truly sound like, how they look, and how they'll perform at your event. These are also a great way to share the band's sound with other people if you are planning your event on someone else's behalf.
7. Attend a Showcase If Possible
Sometimes videos aren't enough to tell whether a band will work for your event. That's why it's always a great idea to attend a showcase so you can see them in action. This will tell you a ton about how they sound live, what their group dynamic is like, and whether they have the energy and performance chops you need for your event.
8. Ask the Right Questions
It's important to get to know your potential band before you book them. That's why you should absolutely meet with them prior to hiring so you can ask them questions about how they work, and what services they're ready to provide for your event.
Here are some important questions you should definitely ask before agreeing upon any band:
• What are your favorite songs to perform?
• What's your standard setlist look like?
• What do you wear during your performances?
• How many band breaks will you take?
• What are your costs, and how many hours are included in that?
• Do you do multiple events in one day?
• How many singers and instruments are available?
• Will you help us create a setlist?
• Will someone from the band serve as an emcee?
You should create a loose playlist, but ultimately trust your band to know what they're doing. You should also discuss meals and breaks, so you aren't surprised on your big day. These questions will help you quickly narrow down your options, so you can find the best option for your event.
Wondering if you should be asking different questions for a corporate band? Here is more info on how to hire a band for a corporate event.
9. Review the Contract
The finals step in this process is reviewing the proposed contract between you and the band so you're all on the same page. Ensure that the event time, venue, and fees are all outlined clearly. Additionally, these things should be present in your contract:
• The name of the band, number of members, and instruments
• Band outfits
• Set up time and breakdown time
• Payment schedule
Expect the contract to potentially have a rider, which is a list of requirements from the band, and what you're expected to provide. If you're unhappy with any contract terms, feel free to negotiate with the band so you can get exactly what you need.
Final Thoughts on How to Book a Band
People may not forget all the little details of your event, but they'll remember your band–especially if they're amazing! If you know how to book a band and keep these 9 tips in mind, you'll be able to book a truly amazing band for your event.
Did you find the content in this article helpful? Have any extra questions? Contact us to learn more about bands!