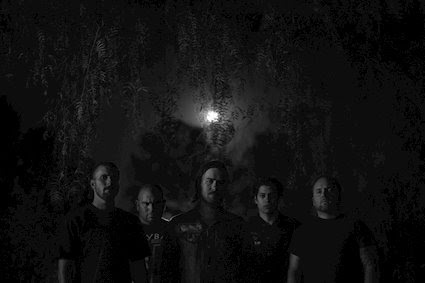 Christian metal act Impending Doom are back to their roots with The Sin and Doom Vol. II. For over a decade, these guys have found inspiration from their faith and their Southern California thrash and deathcore influence. Straying away from the typical themes of meaningless violence and blasphemy, instead Impending Doom have created their own style of "goreship". While playing heavy riffs and macabre melodies, reverence is the heart of the band. Examining all the sin in today's world, Impending Doom find solace in their Christian beliefs. Challenging the metal norms, these guys stand out against metal stereotypes. The Sin and Doom Vol. II is a revisit of their early days working with Christopher Eck, producer of The Sin and Doom.
God-fearing and gruesome, Impending Doom live up to their reputation. Inspiration and crushing tracks are scattered all over this record. I'm getting pumped not to just fight personal demons but literal demons from Hell. Thrashy tracks like "EVIL" and "The Serpent's Tongue" are crusades against the darkness of evil and finding strength in personal faith. "Unbroken" and "Everything's Fake" are dedicated and inspiration tracks with a thick rhythm section to back it up. Spitting in the face of evil with "Burn" and "Paved with Bones", Impending Doom has no fear.
            This album was a war anthem for the apocalypse, ready for the crusade against evil. Now seasoned veterans of the scene, Impending Doom hasn't lost sight of what they are about: killer riffs and their covenant with God. I would recommend Impeding Doom to fans of Thy Art Is Murder or Winds Of Plague who are looking to branch out a little. I would also recommend this to Christians who are looking for worship music with a sharper edge. The Sin and Doom Vol II is out June 22 via Entertainment One. For updates on Impending Doom follow them on Facebook, Twitter, and Instagram.