It's been awhile since I've reviewed a melodic death metal album on the site. Perhaps that is too long of a while, as the guys in Iapetus dropped a killer work of melodeath last month that only re-established my admiration for the beloved subgenre. The Long Road Home is the debut LP from Long Island duo, Matthew Cerami (vocals, guitars, bass) and Jordan Navarro (guitars, keys, drum programming), and it is a genuine trip into the cosmos. Weaving melodious death metal riffs into a dreamscape-like atmosphere, Iapetus is a band that fans of Be'Lakor, Dark Tranquility, or In Flames would be wise to keep on their radar.
The Long Road Home commences with an instrumental called "Nomads". The track is a perfect introduction to the atmosphere that Iapetus melds, with shifting, fluctuant noises and eerie, distant voices. The intro then bridges over into track two, the melody-driven epic – "…Of Hangmen & Vertebrae". This song may be my favorite on the album; Iapetus starts the track on a path of epic, melodious phrasing before unveiling a monster barrage of unforgettable melodeath riffs around the two minute mark. In addition to the crushing distortion found in the guitar riffing, the presence of oscillation at the forefront of some of these riffs is also extremely satisfying. After further exploring these melodic realms on "…Of Hangmen & Vertebrae", Iapetus diverges into "Lachrymae Rerum". Here we first bear witness to Cerami's emotional roar that promotes rage within a listener. Along with the relentless heaviness that Iapetus delivers, there also come beautiful arrangements with clean vocals that perfectly counteract the heavy. That may be best exemplified on this monumental, ten-minute opus.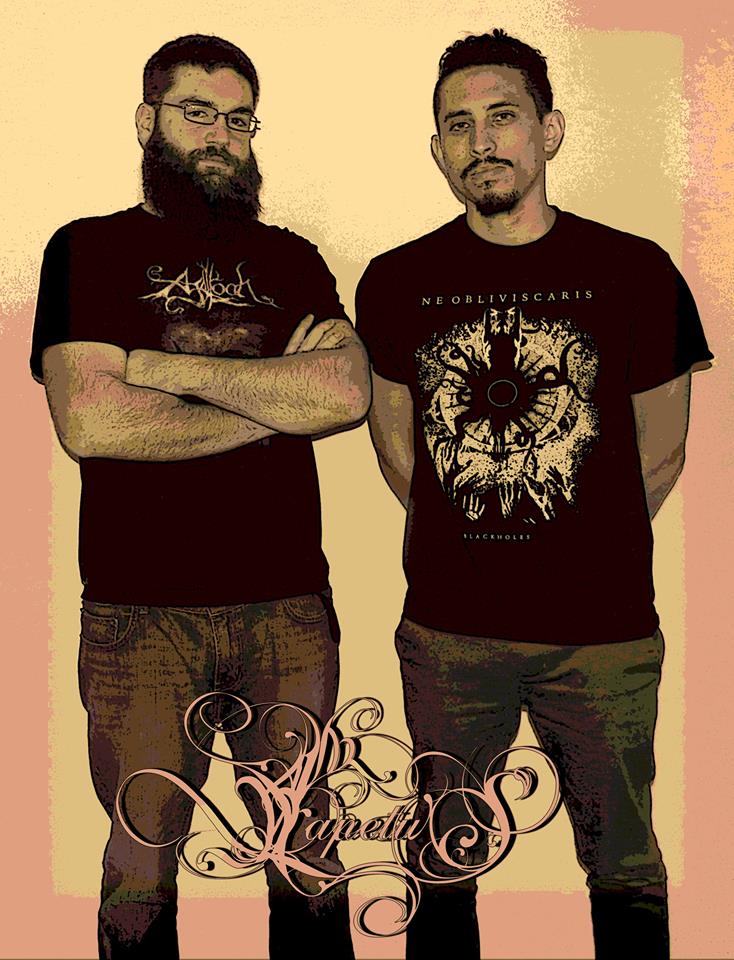 "Lachrymae Rerum" flows flawlessly into track four – the acoustic instrumental "I Sing Of Satellites". It's a seamless interlude that carries into "Savior Solitude", a rejuvenating track that alternates between soothing passages of folk guitar and pulverizing fury via distorted riffs. Iapetus ends track five on a graceful note before thrusting headlong into "My Father, My God". A harmonious illustration of grandeur, "My Father, My God" is also a heavy contender for my favorite song on The Long Road Home. Clocking in at over fifteen minutes, the song is an eventful journey in and of itself. It's amazing how Iapetus is able to paint this picture of such feeling and emotion in a faithful melodic death metal context – they even produce an aura of hopefulness and prosperity on the following track, "Crown Of Stars". I wholeheartedly respect an artist that can blend these positive vibes so effortlessly into the often times harsh construct of metal. Iapetus is covering a lot of ground on this debut; showcasing this explorative nature, are the final tracks of the album. "Eviscerate Divine" and "The Long Road Home" are a pair of lengthy gems of melodeath chivalry, a fitting farewell for this saga of an album. Be sure and listen to them streaming below, along with the rest of The Long Road Home!
To learn more about Iapetus, visit them on Facebook here!
The Long Road Home is available as a free download on the band's Bandcamp page here!
"The universe is in us."