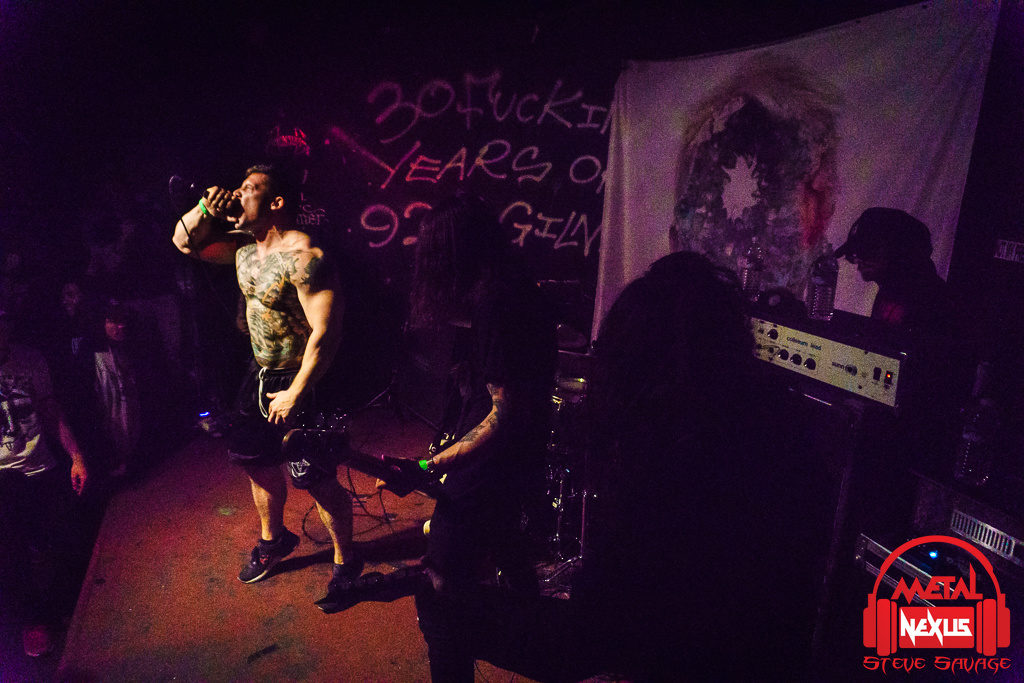 Last Friday night (March 9th) I attended the Harm's Way show at the Alternative Music Foundation in Berkeley, CA. The "Gilman," as it is locally referred to because of its Gilman Street address, is a small, historical punk/hardcore venue that has hosted countless significant names in music for over the last thirty years. Groundbreaking and trendsetting acts that have gone on to receive huge notoriety or commercial success have roots that trace all the way back to early career performances there. Monumental names such as Green Day, The Offspring, AFI, Bad Religion, and Operation Ivy have all graced the Gilman stage at one time or another. Last Friday night, however, providing the metal-infused, adrenaline-fueled energy to lead today's current generation of hardcore music was Chicago's own Harm's Way.
Joining Harm's Way for the evening were three opening acts – Queensway, Vein, and Ringworm. The show was scheduled to start at 7:00 PM and I arrived shortly thereafter. Upon first walking into the small local bar-sized, graffiti art-decorated venue, I noticed all the bands just sort of hanging around shooting hoops – most of the fans hadn't arrived yet. As you walk into the main room there's a basketball hoop right near the door above the restrooms. I was caught off guard a little bit as I unknowingly, literally walked right through the middle of their game. Harm's Way vocalist, James Pligge seemed to have the best jumper.
In order to keep the peace and avoid getting shut down by police in the city, Gilman has a strict no alcohol, no drugs, and no fights policy. Additionally, the club strongly enforces a welcoming and inclusive culture that does not tolerate racism, sexism, or homophobia. As someone who is much more familiar with the culture of metal shows where alcohol flows plentifully and clouds of weed smoke are commonplace, this was definitely something unique to me – but a refreshingly positive vibe was felt nonetheless. It was a fun atmosphere that felt more similar to a high school basketball game vibe than that of a rock show. This could also be largely due to the crowd being very youthful, appearing to range from teen to mid-twenties in age.
Starting off the show powerfully was Baltimore's Queensway. Immediately their music resonated with the crowd who got the circle pit going without hesitation. Their sound was pure hardcore heaviness with a full armory of breakdowns. The vocalist barked ferociously as he stalked the stage back and forth authoritatively. Front stage crowd interaction was welcomed often on the mic while circle-pitters arm-milled and spin-kicked violently and energetically. One fight broke out but security quickly swarmed and ejected the offenders from a conveniently located side door right next to the stage. The show kept going without missing a note.
Literally all of the bands' gear was piled up in one corner of the main room, and in between each set, the next band would dig their stuff out and set everything up themselves. Essentially, there was no backstage.
Next up was Boston hardcore band, Vein, who right away announced that their drummer had been injured and that Harm's Way drummer, Chris Mills would be filling in. They played a short but vicious set that the audience and the pit seemed to be responding to just as they did with the first band. Front stage fans knew most of the lyrics, and again, were often obliged in sharing the mic. In a similar way Queensway did just before them, Vein brought a youthful energy to the show that seemed to connect well with the crowd.
The third and final opening slot was filled by Ohio crossover thrash metallers, Ringworm. Upon some brief research, I learned that these guys have been at it since 1991. Onstage, their veteran status was solidified and apparent in the tightness and power of their performance. Comparatively, Ringworm clearly knew their way around their instruments in a way that only years of experience can achieve. Vocalist, James "Human Furnace" Bulloch belted with a visceral rage that often reached levels of intensity reminiscent of the late Seth Putnam.
Noticeably, however, the crowd was watching more than moving for the first half of their set which had a distinctly more "metal" sound than the previous acts. Bulloch had great in-between-song crowd rapport and even commented humorously something to the effect of, "I don't wanna confuse you guys with guitar solos." The latter half of their set transitioned more toward straight up hardcore as they pulled out some of their classics from the arsenal. The crowd responded back accordingly by stirring things up more in the pit.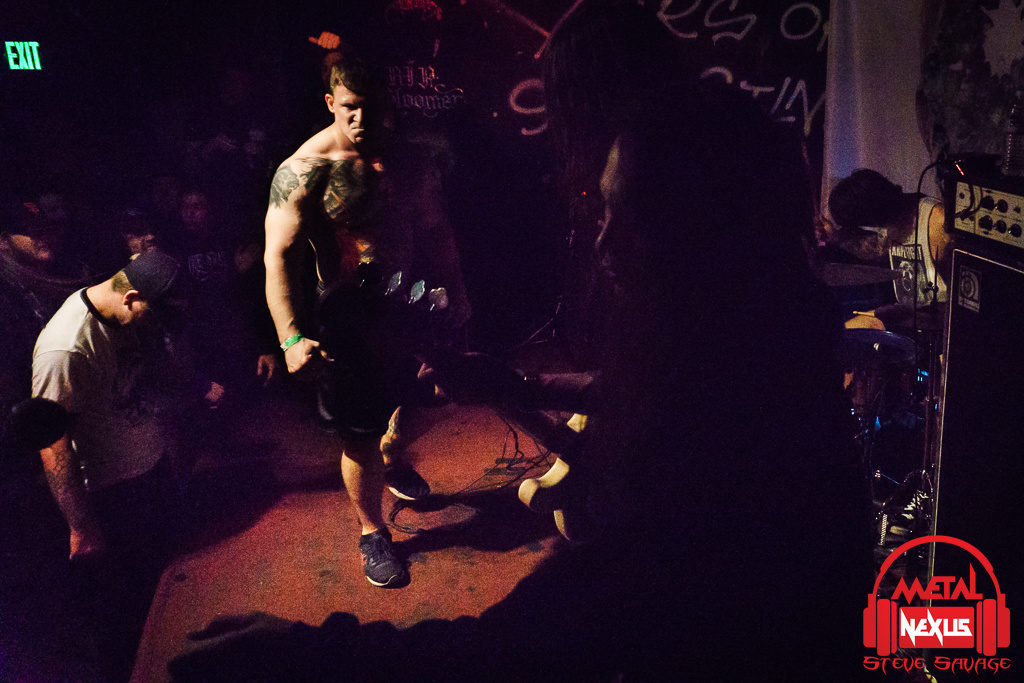 Finally, metallic hardcore beasts, Harm's Way took the stage.  I became a follower and a fan of this band after having done the album review of their most recent release, 'Posthuman' for Metal Nexus several weeks ago – which you can read here. Having been impressed with the awesomeness of their studio sound, I was eager to experience what they could offer live.
From the opening notes of "Human Carrying Capacity" until the end of the final song, Harm's Way completely annihilated the room in an onslaught of sheer muscle and brutality that included primarily new songs with a few older tunes sprinkled in. Favorites of the setlist were "Sink" and "Become a Machine."
Their performance seemed as though fueled by pure testosterone and adrenaline. Vocalist, Pligge was a commanding presence onstage, both physically and sonically, as he prowled around like an enraged, primal warrior searching for a kill. The energy was definitely felt by the crowd as well who responded with the most violent circle pit of the night. Two separate all-out brawls were incited during the set, and once again, instigators were quickly tossed out the side door. The band played on, and song after song, kept the intensity of the energy at maximum threshold.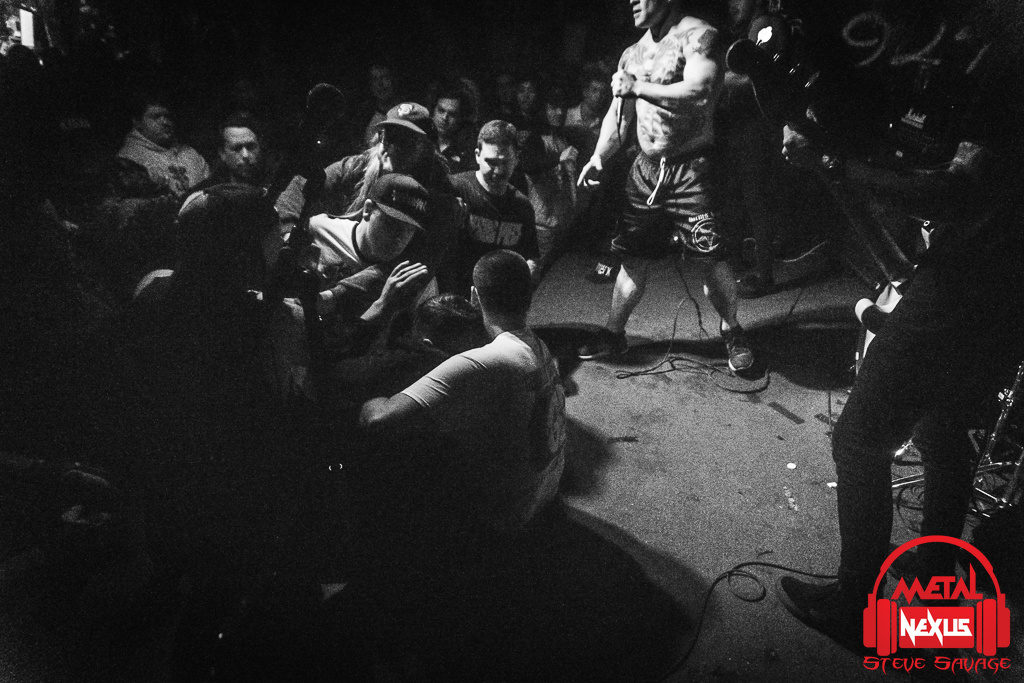 Although Pligge figuratively and literally takes the spotlight for the most part, the rest of the band put on a solid performance as well. Guitarist, Bo Lueders provided his own type of punk rock energy as he pogoed and spun impressively throughout his playing. Other band members handled their instruments just as effectively, and as a group, Harm's Way was a well-oiled machine and dominating force as a live act.
At the end of the set, Pligge said, "We're Harm's Way" and stepped right off the front of the stage, through the crowd, and over to the merch table. No messing around, no bullshit – just straight to the point, and done.
Overall, it was a great show that was an intense, fun, and positive experience. With the amount of rage and energy exuded by all four bands, it was like a total catharsis and release – like a hardcore workout of the body and mind, and at the end of it, you feel somehow more enlightened. No wonder these kids don't need drugs or alcohol!