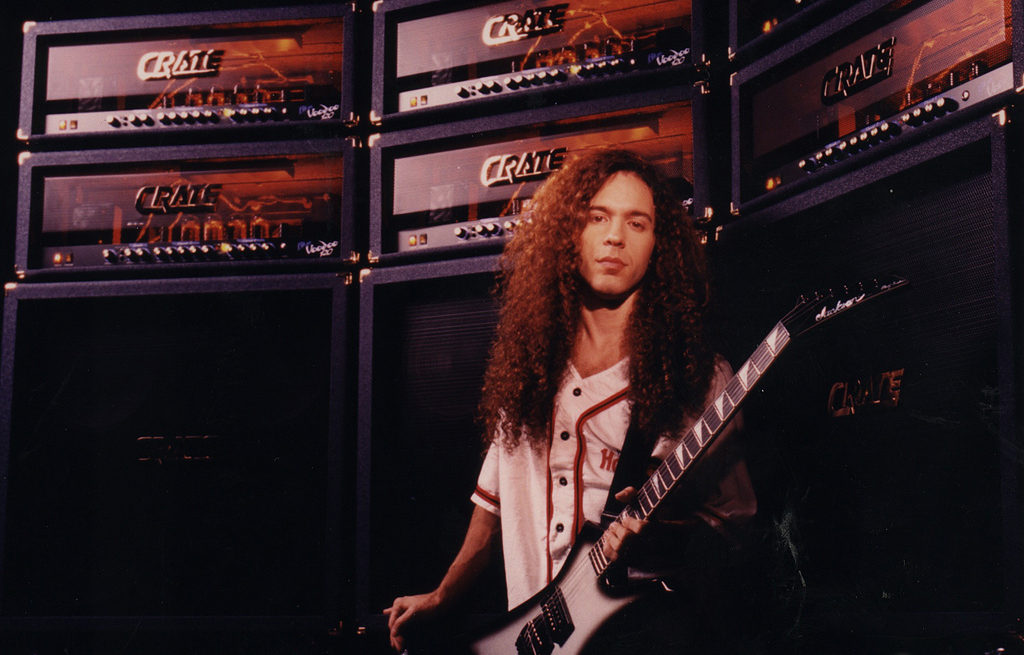 It was just last week that MARTY FRIEDMAN unveiled the details of his 13th studio solo album, 'Wall Of Sound', which will be released on August 4, 2017  via Prosthetic Records. Now he is back with another killer announcement, he is all set to make a comeback for a headlining tour in support of his new album in The United States this coming August. He will be supported on tour by  Houston's top progressive outfit, SCALE THE SUMMIT, along with Madison, WI-based technical progressive three-piece, THE FINE CONSTANT. The tour kicks off in Philadelphia on August 2, just two days before 'Wall Of Sound' is released, and has 22 shows lined up for fans to enjoy!
Former MEGADETH axe man Friedman comments, "We're coming to you direct from Tokyo, to make you smile or make you cry, or even drag you up on stage with us. What's for sure is that we will definitely get your blood pumping."
About the band, in Friedman's own words: "Kiyoshi is the most aggressive bassist on the planet. You will either fall in love with her, admire her skills or both. Jordan Ziff is an up-and-coming guitar superstar. The youngest of the select few who have played beside me in the band. Anup Sastry (on the first week of the USA tour) played drums on Inferno as well as Wall Of Sound, and is the most innovative young drummer I`ve ever seen. Chargeeee (on the remainder of the USA tour) has been my touring drummer for 8 years – he steals the show from me every night. He has an inhuman amount of energy."
US fans who pre-order Friedman's new album at Prosthetic Records' official store will be entitled to a VIP meet and greet for one of the dates below. Once ordered, please email [email protected] with your order number and what date you would like to attend. Please note, tickets to the show will still need to be purchased. The pre-order VIP offer will expire on June 30th at which time VIP packages will only be available at www.martyfriedman.com. Pre-orders for the new album are available here. 
MARTY FRIEDMAN WALL OF SOUND TOUR 2017
w/ Special Guests SCALE THE SUMMIT and THE FINE CONSTANT
8/02 The Foundry at the Fillmore, Philadelphia, PA
8/03 Brighton Music Hall, Boston, MA
8/04 Highline Ballroom, New York, NY
8/05 Crossroads, Garwood, NJ
8/06 Baltimore Soundstage, Baltimore, MD
8/08 Grog Shop, Cleveland, OH
8/09 Diesel, Chesterfield, MI
8/10 Reggie's Rock Club, Chicago, IL
8/11 Studio B at the Skyway, Minneapolis, MN
8/12 Sokol Underground, Omaha, NE
8/13 Fubar, St, Louis, MO
8/16 Scout Bar, Houston, TX
8/17 The Rock Box, San Antonio, TX
8/18 Trees, Dallas, TX
8/19 Tower Theater, Oklahoma, OK
8/20 The Riot Room, Kansas City, MO
8/23 Marquis Theatre, Denver, CO
8/24 Launchpad, Albuquerque, NM
8/25 The Rebel Lounge, Phoenix, AZ
8/26 The Whisky, Los Angeles, CA
8/27 The Parish @ HOB, Anaheim, CA
8/28 Brick By Brick, San Diego, CA
Buy your tickets here.