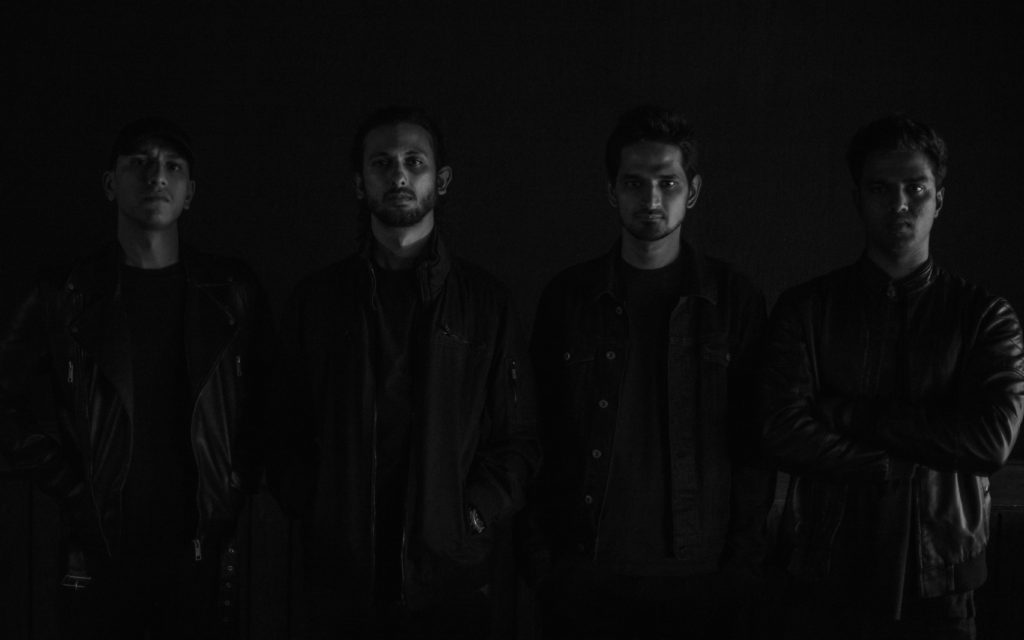 As the name suggests, GODLESS are an unforgiving and ruthless death metal quartet from Hyderabad, India. Back after a short German tour, which also featured the band's very first show at the mecca of metal, Wacken Open Air. The Wacken show left the crowd shouting for more wholesome Indian death metal. So here they are back quenching your thirst for more uptight, fearless and devastating death metal with a new single titled, "From Beyond" off of their upcoming EP, 'Swarm'. The sophomore EP is a follow up of the hugely successful debut EP, 'Centuries of Decadence'. The all new single is a blistering piece of aural assault, which will definitely leave the listener picking his jaws from the floor. High speed, technical and utter brute force, that is the new GODLESS track for you, if you wanna put it down in words, although they're not enough to describe until you put on your headphones.
The song is a little over three and a half minutes long and having heard and bought the debut EP I can definitely tell the new track breathes more power, aggression, monstrous blitzkrieg riffing, definitely thus setting the bar high up. Lead vocalist Kaushal LS growls are killer and are a tad bit different from what the debut EP offered, they're more of raspy and on the high end. But you do get moments where he unleashes his gruesome growls that plunges the listener in a downward spiral, definitely a multifaceted skilled vocalist. Abbas' vicious pummeling bass work, Aniketh's relentless drum pounding, Ravi's sick and frenetic groovy riff and Kaushal's attacking vocals, they all combine to form one hell of an amazing track.
'Swarm' releases this October 27th internationally, featuring five brand new nerve wrecking tracks. And to add to more excitement, let me break this to you, Tom "Fountainhead" Geldschläger (ex-OBSCURA, DEFEATED SANITY) can be heard playing a guest solo on the song "Empty Graves".
Here's what Tom had to say, "I'm happy to have been invited to play on the new Godless EP. I've had a ton of fun playing on it, as the track is just a huge rush of adrenaline and I love the way everything came together in the final product. Godless is a band that is definitely going places and will conquer the world, and I'm glad to have been a small part of that."
"From Beyond" has definitely left me stoked for the 'Swarm' EP, and I can't wait to get my hands on that record. Guess what? The pre-orders are up and running already and I definitely recommend the new GODLESS to you. Here are the pre-order details, if you're an Indian click here and for the rest of the world dig in here, and order your goddamn copy of 'Swarm'. In the meantime, let "From Beyond" severe you till you can't get enough!
GODLESS is: 
Kaushal LS on vocals 
Abbas Razvi on bass 
Ravi Nidamarthy on guitars 
Aniketh Yadav on drums
Socials:
Youtube: https://www.youtube.com/godlessindia
Bandcamp: https://godlessindia.bandcamp.com/
Instagram: https://www.instagram.com/godlessindia/