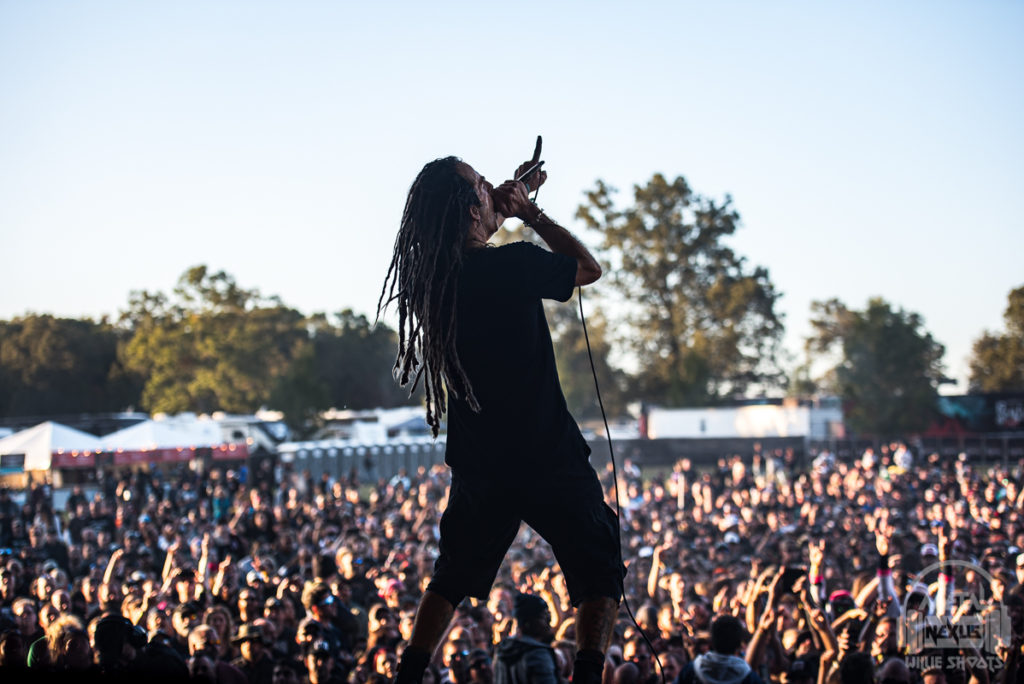 Days one and two of the inaugural Exit 111 Festival in Manchester, TN featured 30 bands and over 20 hours of southern rock, thrash, metalcore, alt rock and just about every other heavy music genre on one small farm in Middle Tennessee. Day three was poised to wrap things up with a bang, with another 15 bands and a scheduled three hour set from headliner and recently resurging late 80s rockers Guns N' Roses. So pitter patter, let's get at'er.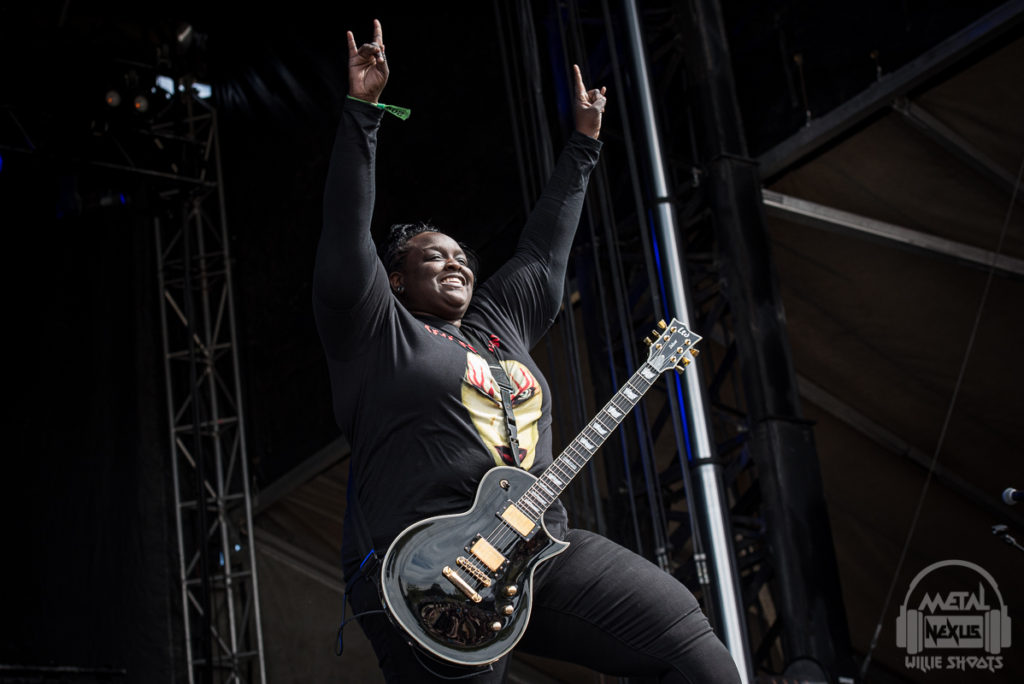 Up first at 12:45 on the Rise Above stage was Atlanta formed but now LA based alt metal quartet Tetrarch. Lead by frontman Josh Fore and Diamond Rowe on the guitars, Ryan Lerner on the bass and Ruben Limas behind the drum kit, Tetrarch blazed through a quick 30 minute set with a few originals like "Pull the Trigger" and "Freak" while mixing in an awesome cover of Limp Bizkit's "Break Stuff" which really got the crowd fired up. Tetrarch hit the studio at the end of October to begin recording their sophomore album, and a not so cryptic message on their Facebook page says they will be playing "arenas all over the world pretty soon. We hope to see you there." Looks like 2020 is poised to be a big year for Tetrarch.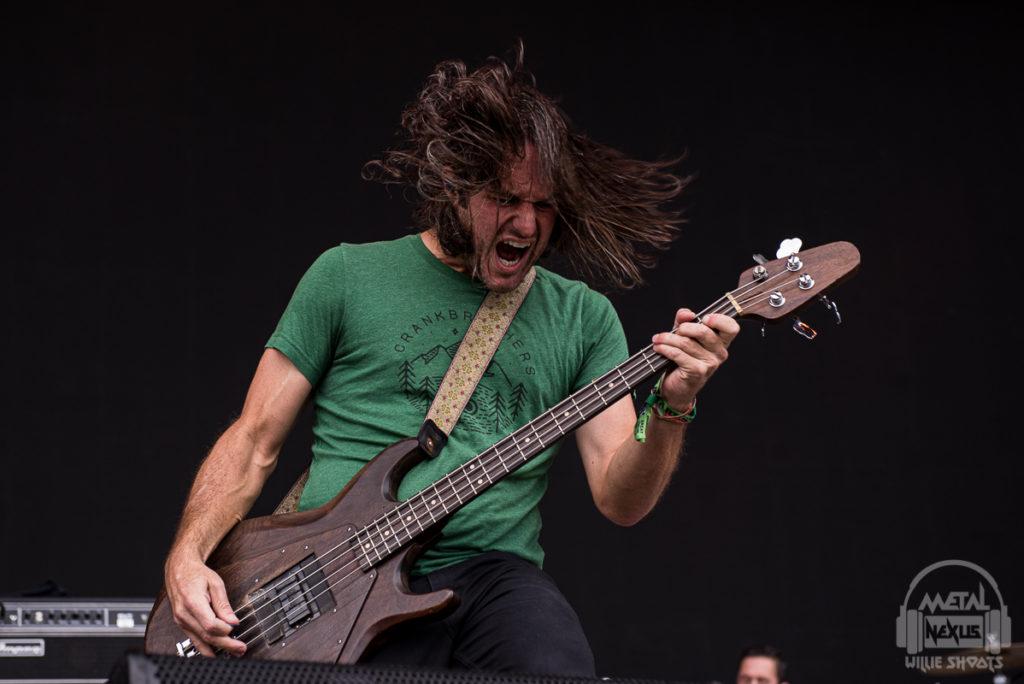 364 days after their last appearance in Nashville, veteran post-hardcore rockers Thrice returned to Middle Tennessee and hit the main stage still in support of their 2018 release, 'Palms.' Backed by soulful raspy voice of Dustin Kensrue, the overdriven bass and beats from the brothers Breckenridge, and rounded out by the six string stylings of Teppei Teranishi, Thrice took a moment to tune before breaking into a career encompassing setlist of 13 songs that included some of their most popular tunes like "Black Honey," "The Artist in the Ambulance," "Hurricane," "Only Us," and "Image of the Invisible." They even broke out their newest song "Deeper Wells." Founded while Kensrue and Teranishi were still in high school, Thrice has been going strong for over 20 years and show no signs of slowing down. They hit the road again in early 2020 to celebrate the 15 year anniversary of their post-hardcore genre defining album 'Vheissu.'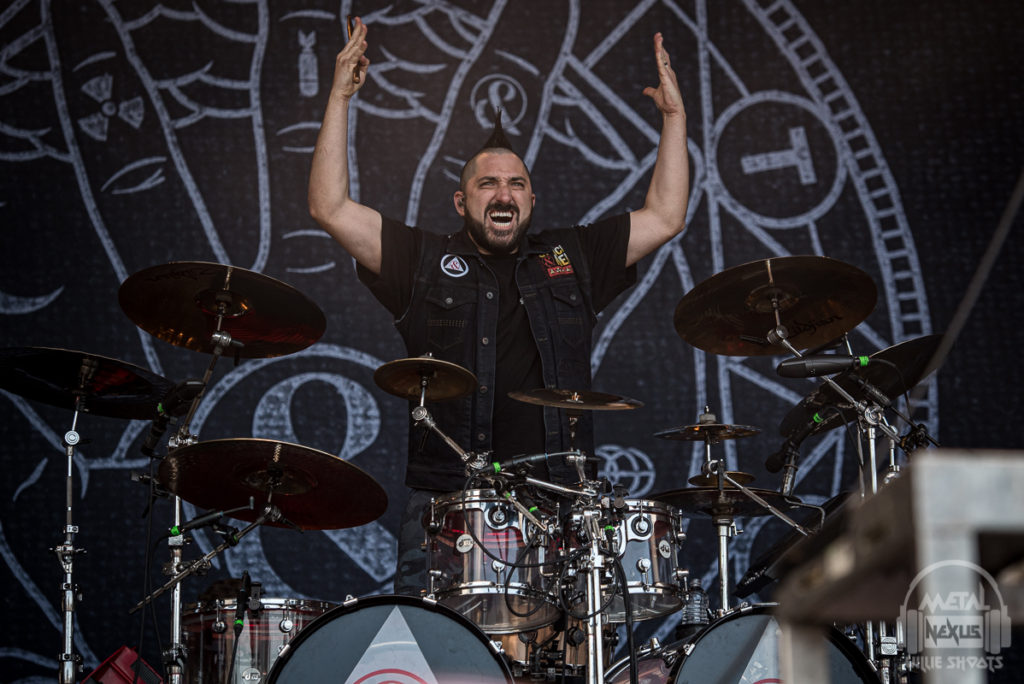 Back over on the Hell stage, Orange County CA metalcore band Of Mice & Men took the stage in support of their newly released album 'Earthandsky.' After the mohawked Tino Arteaga took his place behind the drum kit, horns and sticks in the air, the rest of the band, Aaron Pauley on vocals, guitarists Alan Ashby and Phil Manansala and touring bassist Raad Soudani stormed the stage and injected some much needed energy into the crowd who seemed to still be recovering from the long and heavy Saturday. Playing a heavy selection off their new album, including "Taste of Regret" and the title track "Earth & Sky," Of Mice & Men put on a great show for the TN crowd, with as much headbanging on stage as there was in the crowd and Pauley beautifully handling both clean and unclean vocal duties as the now sole lead singer since the 2016 departure of former lead man Austin Carlile.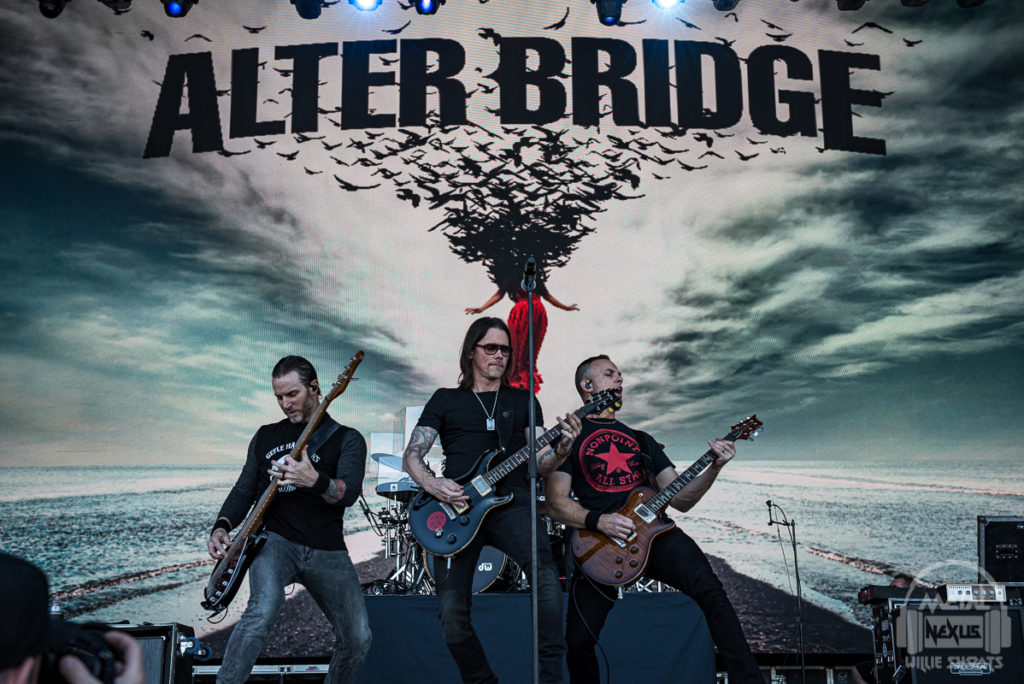 Next up on the main stage was Alter Bridge who was in the middle of a 21 date US tour to support their upcoming sixth release, 'Walk the Sky,' which came out five days after their Exit 111 appearance. Alter Bridge formed back in 2004 right before the official demise of 90s juggernaut Creed, with guitar player Mark Tremonti and drummer Scott "Flip" Phillips reuniting with their former bass player Brian Marshall and joining up with vocalist and equally skilled guitarist Myles Kennedy. Fifteen years and six albums later, Alter Bridge's popularity amongst rock and metal fans continues to grow as was evidenced by the horde that had nearly packed either side of the barricade at the Heaven stage. After walking to the stage to "One Life," the lead track off 'Walk the Sky,' Alter Bridge tore into "Wouldn't You Rather" and "Isolation" on their way to a blistering setlist of ten songs. As usual, Alter Bridge was one of the tightest bands of the weekend, with the always impressive shredding duo of Kennedy and Tremonti and the thunderous rhythm section of Flip and Marshall. Alter Bridge is currently in Europe for their 'Walk the Sky' world tour and will be heading back to the states in 2020 with Clint Lowery of Sevendust and Deepfall.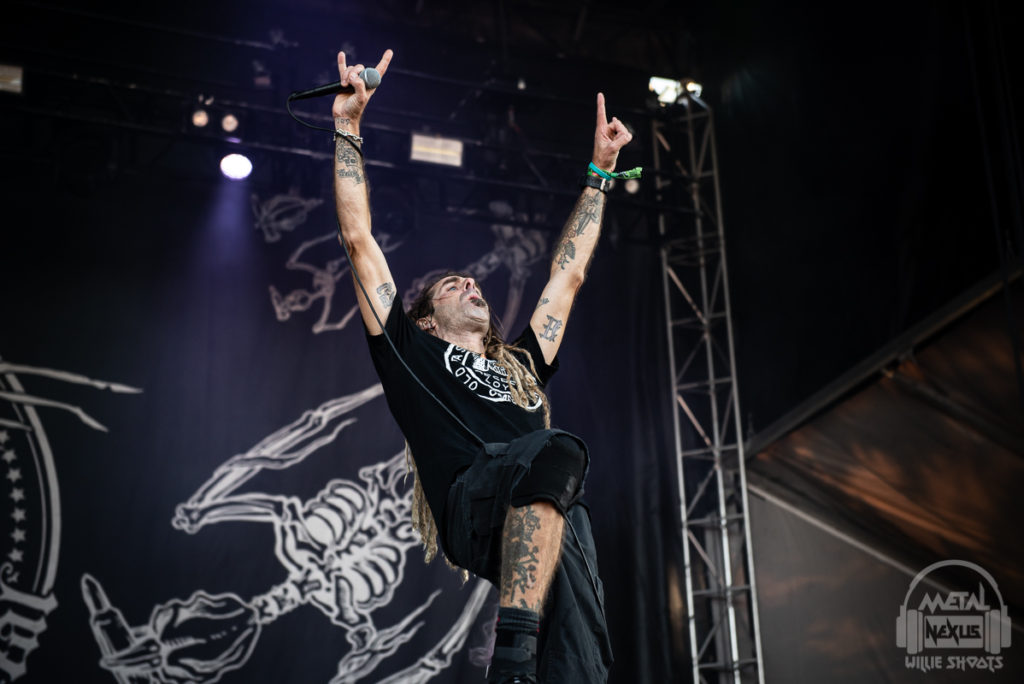 Destroying the Hell stage next was metal giants, Lamb of God, often credited as one of the bands responsible for the New Wave of American Heavy Metal movement. Lamb of God spent a lot of 2018 and 2019 on the road supporting Slayer on their extensive farewell tour and Exit 111 marked Art Cruz's second performance as the official new drummer for the band. He'd been filling in for founding drummer Chris Adler since early 2018, but in July Lamb of God officially welcomed Cruz as the new drummer via social media, thus ending Adler's stint with the band. Following a quick introduction by Exit 111 host Eddie Trunk, Lamb of God opened up with "Omerta" and lead man Randy Blythe greeted the crowd with a "What's up Tennessee?!" and almost immediately a circle pit erupted in the middle of the crowd. After going straight into "Ruin," the pit turned into an elbow and dust filled warzone. For their entire 11 song intense set, Lamb of God kept their feet to the throats of the crowd and didn't let off until they wrapped up with 'Redneck,' when Blythe fired up the crowd to form the biggest circle pit of the weekend. Lamb of God recently confirmed that they were in the studio beginning pre-production and recording of a new album, so add them to list of what's shaping up to be a stellar year for new music in 2020.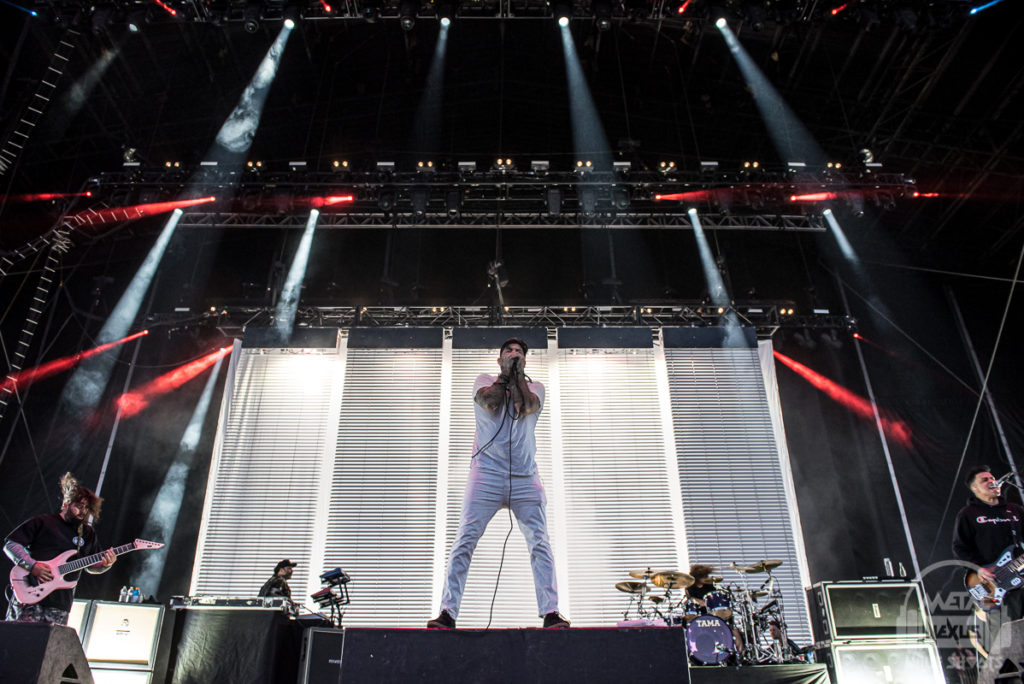 The last band we covered on the main stage was the ever-evolving Sacramento band Deftones. Making only their second appearance of 2019, Deftones stopped by Exit 111 three years removed from their most recent album, 2016's 'Gore.' The band kept their song selection fairly festival friendly, no deep cuts and nothing from their first or last albums, but plenty of fan favorites like "Change (In the House of Flies)," "My Own Summer (Shove It)," "Be Quiet and Drive (Far Away)," "Minerva," and "Swerve City." They also kept their stage setup pretty simple, backed only by a large screen that rotated colors from red to white to blue. Despite the stripped down atmosphere of their performance and only appearing live once this year, Deftones sounded as polished as ever. Deftones rounded out the year with their second annual Dia De Los Deftones concert back in November before Chino and the boys wrap up the finishing touches on their new album which they have stated will be released in 2020.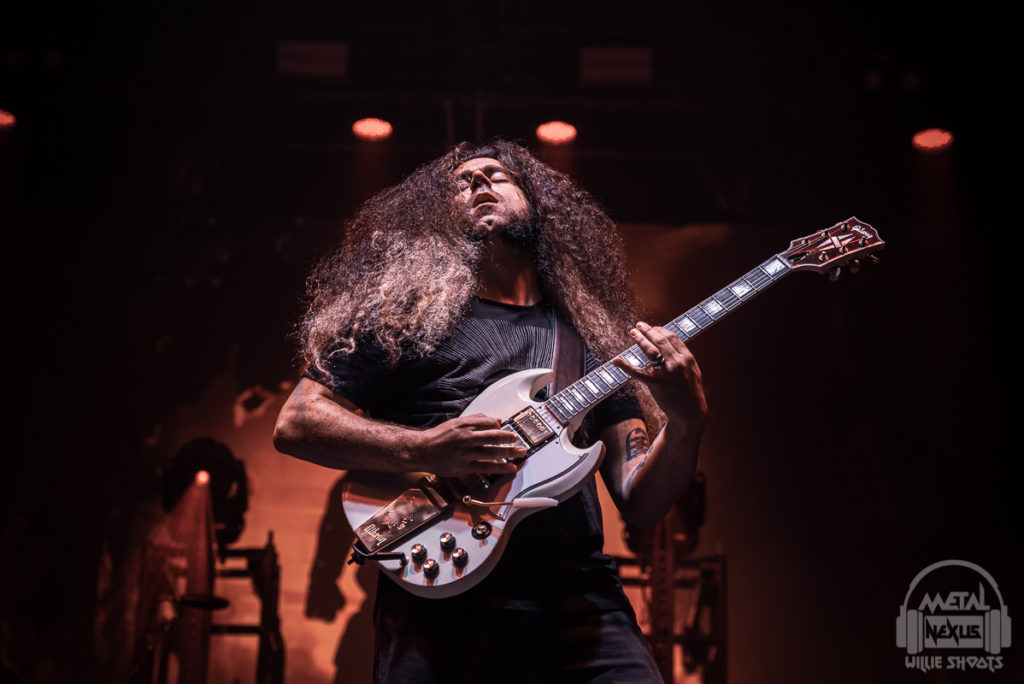 Wrapping up our coverage for the weekend on the Hell stage, New York progressive rockers Coheed and Cambria brought a truly eclectic and mesmerizing experience to the Exit 111 festival. Known for their sci-fi themed concept albums and visuals, Coheed's stage show was as lively and colorful as their music, complete with a huge orange backdrop portraying who I assumed was Cambria Kilgannon (a character from their Amory Wars concept/comic series) and a light show that was rivaled only by Killswitch Engage and Mastodon this weekend. Coheed's setlist spanned only four of their studio albums, but included fan favorites "A Favor House Atlantic," "The Suffering" and their most well-known song, "Welcome Home." Six days following their Exit 111 performance, drummer Josh Eppard fainted during the band's set at the House of Blues Orlando in Florida, only to return and finish the set after being evaluated by paramedics. Their remaining 2019 shows were cancelled, however, when doctors advised Eppard to undergo a cardiac ablation in order to correct an irregular heartbeat. In a Facebook post, Coheed and Cambria promised to return bigger and stronger in 2020, with big announcements on the horizon.
Closing out the inaugural (and perhaps final, more on that later) Exit 111 Festival was 80s hard rock icons and one of recent years' top earning touring bands, Guns N' Roses. Since reuniting with Slash and Duff McKagan back in early 2016, Axl Rose and the band have become one of the most sought after live bands by fans worldwide, consistently ranking in the top of lists of highest-grossing concert tours. Photographers weren't permitted to cover GNR at Exit 111, but needless to say they put on a helluva show. Going on relatively timely despite their long earned reputation of being late to the stage, Guns N' Roses captivated the crowd with nearly three hours of classic tunes, covers and a Slash guitar solo, opening with "It's So Easy" and closing out with "Paradise City."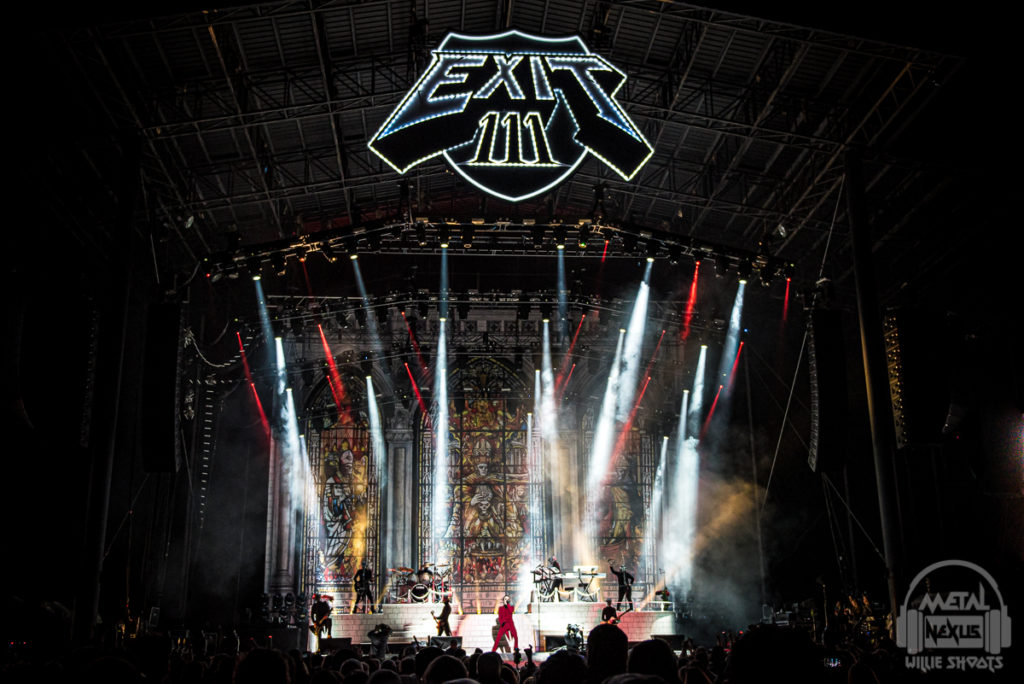 The first Exit 111 Festival on the small farm in Manchester, TN where the annual Bonnaroo festival is held was, by all accounts of the folks who attended, an overwhelming success. The first year lineup was varied but stacked with heavy hitters, the weather, even at its coldest, was pleasant, the schedule was efficient, and the grounds were eerily pristine for a large gathering of metal heads. However, on November 29th, the Exit 111 Festival social media accounts announced that the show would not go on and it would not return in 2020. Does this leave the door open for a possible resurrection beyond 2020? Who knows, I hope they figure it out, but for now, Godspeed Exit 111 Festival, we hardly knew ye.